Are you following the keto diet but worried you'll have to give up your favorite day of the week — Taco Tuesday? With this Low Carb Chicken Taco recipe (brought to you by the power of almond flour!), you'll be able to indulge in your favorite cultural cuisine without the worry of maintaining ketosis.
Traditionally, tortillas are made from ground corn or wheat flour, both of which can have a severe impact on your glucose levels, due to their tendency to cause rapid insulin spikes. However, there are a few low carb substitutes you can use instead. So what makes almond flour a great alternative to use for homemade tortillas?
As you can imagine, almond flour provides many of the same benefits as almonds. Almond flour provides several important health benefits. Some of these include improving heart health, improving blood sugar, preventing cancer formation, helping maintain healthy waistlines, and improving overall energy.
How does almond flour improve your heart health? Research published from the U.K. showed that consuming almonds drastically increased levels of antioxidants found in the subjects. The subjects also had a significant increase in blood flow and reduction of blood pressure[*]. Another study published by the Journal of Nutrition showed that almonds actually decreased the levels of insulin found in the blood as well as the subjects blood pressure[*].
Pretty nutty, huh?
Are you concerned about starting the keto diet and having to give up your favorite cuisine? No need to stress. These almond flour chicken tacos are the perfect addition to any festive dish without the carbs or unnecessary worry. The next time you're at your local grocery store, pick up a few of these key ingredients or find pre-packaged almond flour tortillas in the organics section to make the perfect Low Carb Chicken Tacos.
Print
Zesty Low Carb Chicken Tacos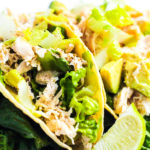 These tasty low carb chicken tacos are a great alternative to your favorite Mexican dish, packing all the volume without the carbs or unnecessary calories.
Author:
Prep Time:

15 minutes

Cook Time:

35 minutes

Total Time:

50 minutes

Yield:

4

1

x
Scale
Ingredients
1/3 cup

water (tortillas)

3/4 cup

egg whites (tortillas)

1/4 cup

coconut flour (tortillas)

1/4 cup

almond flour (tortillas)

1/2 tsp

salt (tortillas)

2 tbsp

avocado oil (tortillas)

1

lb boneless skinless chicken breast (tortilla filling)

1

avocado (tortilla filling)

2 cups

lettuce (tortilla filling)

1

lime (tortilla filling)
Instructions
Preheat oven to 400 degrees.

Cover a baking sheet with parchment paper and place chicken on baking sheet.

Bake the chicken in the oven for 35 minutes or until fully cooked.

While the chicken is baking, prepare the tortillas.

Combine all the tortilla ingredients into a bowl, mixing all the ingredients and then letting it rest for up to ten minutes for all the ingredients to absorb.

Preheat a skillet or pan on medium heat.

Lightly oil the skillet with avocado oil and place roughly ¼ a cup of the batter onto the skillet/pan forming around 8 inches in diameter. Flip once there are no more signs of a sticky/shiny top.

Repeat step seven for the following three tortillas.

Place the tortillas on individuals surfaces on parchment paper to let them cool.

While they're cooling, prepare the insides of the tortillas. Cut up avocado, lettuce, and slice lime in half.

Take chicken out of the oven and pull it apart with two forks, making pulled chicken.

Combine the chicken, avocado, and lettuce into a bowl and top with lime.

Once the tortillas are cooled, stuff them with all of the toppings.
Nutrition
Serving Size:

1

Calories:

348

Fat:

22g

Carbohydrates:

Net Carbs: 5g

Fiber:

6.5g

Protein:

30g
Keywords: low carb chicken tacos