Turmeric lattes (also known as golden milk lattes) are a twist on a traditional Eastern Indian remedy.
The anti-inflammatory properties of the spices, plus the comforting creamy flavor, make this the perfect drink to satisfy some cravings while offering some serious health benefits.
While most turmeric lattes are caffeine-free, this golden milk latte brings things up a notch with a packet of keto coffee.
There are several different ways you can prepare your latte
Some people prefer to make it with unsweetened almond milk and to skip any added sweeteners. Others like to add in extra spices like black pepper or fresh ginger.
Traditionally, golden milk would be made with a small amount of raw honey. Although honey has a host of health benefits, for keto purposes, you can stick to monk fruit or stevia.
This turmeric latte recipe is:
Warm
Soothing
Spicy
Gluten-free
The main ingredients are:
Optional additional ingredients:
3 Health Benefits of This Turmeric Latte
#1: Anti-Inflammatory
Turmeric is a spice that's been used for thousands of years in Eastern cultures. As far back as 5,000 years ago, Ayurvedic practitioners were harnessing the healing power of turmeric to bring balance back to people's bodies.
This bright orange spice is packed with nutrients that have gotten the attention of mainstream healthcare practitioners across the country.
Today, one of the active compounds in turmeric, called curcumin, is often isolated for its profound anti-inflammatory activity.
Animal research shows that curcumin may be beneficial for a wide range of inflammatory diseases. This includes inflammatory bowel disease, pancreatitis, arthritis, and certain types of cancer[*].
The activity of curcumin in your body may work by inhibiting specific genetic pathways. It also has strong antioxidant potential, which can also enhance your inflammatory defenses[*][*].
#2: Promotes Skin Health
Collagen is a crucial protein for the extracellular matrix layer of your skin. This connective tissue layer helps keep your skin tight, firm, and wrinkle-free.
Of course, it's natural to begin to see fine lines and wrinkles appear as you age, but it doesn't have to be all doom and gloom. In fact, what you eat has a significant impact on the health of every layer of your skin.
In one study, researchers gave a group of women aged 35-55 either a placebo or a collagen supplement for eight weeks. After just four weeks, the women who were taking the collagen supplement showed significant improvements in their skin elasticity[*].
By improving the health of their connective tissue, these women were able to improve the appearance of their skin and reverse some signs of aging.
#3: Helps Balance Blood Sugar
When choosing cinnamon for your turmeric latte make sure you go with ceylon, as opposed to cassia cinnamon. While both forms of cinnamon provide health benefits, ceylon is far superior to its cassia cousin.
Ceylon cinnamon contains a compound called cinnamtannin B1. This is a phytonutrient, specifically a polyphenol, that can lower your glucose absorption after meals. In addition, it also increases your insulin sensitivity.
These two properties make cinnamon an excellent tool in preventing blood sugar spikes[*].
Turmeric Latte
Why is it that the most delicious lattes seem to come from Eastern culture?
Both matcha and turmeric lattes originated on the other side of the world. And for that, we should be very grateful.
While this fresh take on classic Indian golden milk adds a boost of collagen and coffee, you don't have to worry. Even with these additions, you're still getting all the health benefits of turmeric in a dairy-free, delicious package. For a vegan option, simply omit the collagen.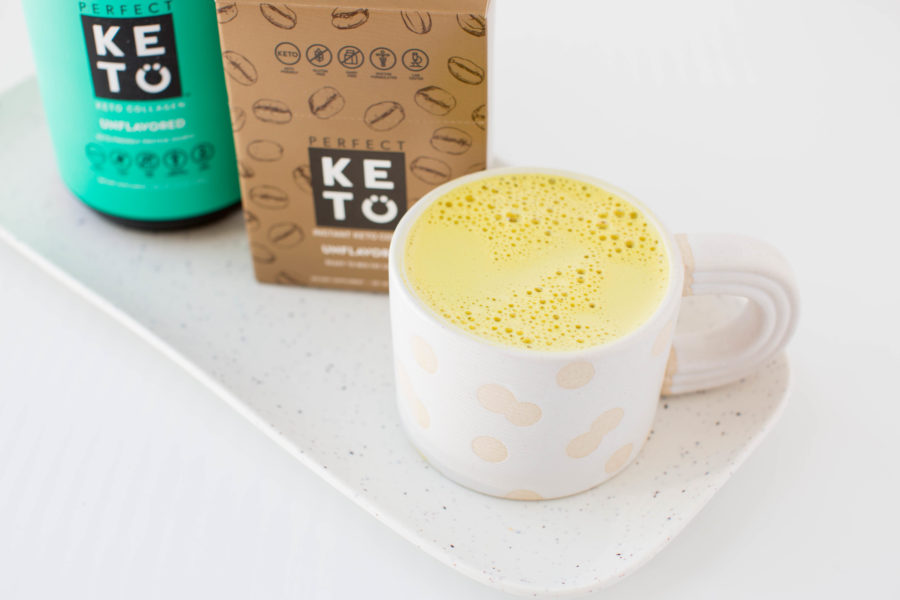 Print
Turmeric Latte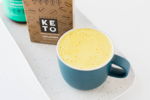 This turmeric latte recipe (aka, golden milk) is packed with the health benefits of turmeric and ground cinnamon. Relax with this anti-inflammatory beverage.
Author:
Total Time:

5 minutes

Yield:

2

lattes

1

x
Instructions
Add all of the ingredients to a high-speed blender, blending until well-combined. 
Nutrition
Serving Size:

2

Calories:

115

Fat:

5.5g

Carbohydrates:

2g (1.5g net)

Fiber:

0.5g

Protein:

10.5g