If you want to lose weight, healthy smoothies are the perfect way to banish cravings, speed up your metabolism, and provide your body with balanced nutrition as you shed pounds.
And if you follow the keto diet, weight loss shakes are also a convenient way to incorporate powerful ingredients shown in studies to increase energy and raise ketone levels, like MCT oil and BHB, into your daily health regimen[*][*][*].
In this guide, you'll learn the most effective fat-burning smoothie recipes of all time, plus a list of research-backed shake ingredients proven to boost your metabolism so you can create your own weight loss smoothies.
The Best Fat-Burning Ingredients for Your Weight Loss Shakes (According to Research)
These flavorful, filling, and fat-burning ingredients work synergistically to curb your appetite, increase fat oxidation, and keep you energized all day long — and not only that, but they're also delicious.
Begin with a low-carb, keto-friendly liquid base of your choice (such as water, ice cubes, sugar-free almond milk, or another low-carb milk alternative like hemp milk or coconut milk), then blend in protein, healthy fats, and other cornerstone ingredients listed here and you're on the path to fat loss success!
Whey Protein Isolate
Getting enough protein in your diet is essential for healthy weight loss because high-quality protein supports your metabolism, decreases your appetite, reduces belly fat, and helps prevent the loss of lean muscle[*][*][*].
Whey protein isolate is a high-quality, complete protein source and a convenient way to add protein to your smoothies.
According to a 2011 study of 90 obese and overweight adults, drinking 56 grams of protein in the form of whey each day resulted in 5 pounds of body fat loss, which didn't occur in people who consumed soy protein or carbohydrates[*].
Add 20-40 grams of grass-fed whey protein to your smoothie creations for an instant metabolic boost.
Perfect Keto Whey Protein is an all-natural, yummy, gluten-free, grass-fed whey protein isolate powder with added MCTs, no added sugar, and reduced lactose content.
Medium-Chain Triglycerides
Going keto turns your body into a fat-burning machine, which results in the production of healthy, high-energy ketone bodies from your liver[*].
Medium-chain triglyceride oil (MCT oil for short) is a unique healthy fat with the ability to burn fat and boost ketone production, just like the keto diet[*][[*]
The fascinating part, though, is that it works for weight loss regardless of whether you follow keto or not[*].
According to a 2008 study, participants who consumed MCT oil daily while following a weight loss diet lost over three times the weight compared to those who received olive oil[*].
And as an added bonus, evidence also suggests that if you do follow the keto diet, taking MCT oil can help you get into ketosis faster and reduce keto flu side effects[*].
Try adding in a serving or two of MCT oil powder to supercharge your fat loss shakes.

Our powdered MCT oil tastes amazing, blends easily, and supports ketosis and healthy weight loss. It may also be less likely to result in an upset stomach compared to liquid MCTs.
Collagen Protein Powder
Collagen protein naturally supports joint, skin, and nail health[*][*][*]. It may also have anti-inflammatory properties according to research[*].
And when it comes to fat loss, collagen may help you manage your appetite and lose more weight by increasing levels of an anti-obesity hormone known as GLP-1[*].
As an added bonus, some studies also indicate that collagen can also help reduce the appearance of cellulite[*].
Add 10-20 grams of collagen protein powder to your fat loss smoothies for a restorative, filling, high-quality protein boost.

Perfect Keto Grass-fed Collagen Protein is formulated to support happy, healthy joints and to help you move better and feel better. It's easy to mix and comes in six delicious, keto-friendly flavor options as well as unflavored.
Beta-Hydroxybutyrate Ketone Base
Beta-hydroxybutyrate or BHB is one of the three ketones your body makes when you restrict carbohydrates and enter ketosis.
Most researchers think it's the star player behind the beneficial role of nutritional ketosis for anti-inflammatory effects, increased energy levels, heightened mental clarity, and other keto benefits[*].
You can also take BHB in a supplement form, called BHB ketone base. Whether or not you're in ketosis, BHB supplements result in an immediate increase in your blood ketone levels[*].
BHB ketone base supplements lower appetite hormones, hunger levels, and the desire to eat, and also help support fat-burning, especially during exercise[*][*].
If you want greater mental and physical performance, fewer cravings, and increased fat-burning during exercise, add a serving of BHB ketones to your next weight loss shake.

Our exogenous BHB ketones are formulated to be less bitter and are sweetened with keto-friendly monk fruit, making them the best-tasting and highest quality exogenous ketones available. 
Keto Nut Butter
According to a long-term eight-year study of weight trends and obesity in women published in 2009, consuming nuts and nut butter was associated with a lower risk of weight gain and obesity[*].
The researchers concluded that incorporating nuts and nut butter may help with weight control[*].
This study is good news if you're on the keto diet, because nut butters like almond butter, macadamia nut butter, and cashew butter are healthy, delicious, and an excellent way to satisfy cravings for treats without consuming carbs that halt fat loss.
A tablespoon or two of nut butter also adds a creamy, nutty, satisfying consistency and deepens the flavor of fat loss smoothies.
Perfect Keto Nut Butter is a healthier alternative to peanut butter that contains antioxidant-rich ingredients like almonds, cacao, macadamias, cashews, coconut, and MCTs that help you stay fuller longer.
Low-carb Veggies and Keto-friendly Fruits
Low-carb fruits and vegetables not only help fill you up and make fat loss easier, but also deliver essential nutrients that support cellular health and immunity[*].
Getting enough healthy fruits and veggies can be challenging if you're busy, but blending them into smoothies and shakes is an excellent solution to this conundrum.
If you're not sure where to begin, it's impossible to go wrong with our top three recommendations: avocados, berries, or leafy greens (or all three!).
Keto Micro Greens Powder
Okay, we've established that getting plant foods is important for fat loss and general health. You can up your daily intake by incorporating them into shakes and smoothies, but that still requires a blender.
If you're traveling, stranded at the office, or simply supremely busy, a high-quality greens superfood powder is the next best thing to whole food vegetables, and it doesn't require any special equipment — just mix and go.

Our MicroGreens blend packs the nutritional punch of 26 fruits and vegetables, including greens and berries. It's absolutely packed with micronutrients to help you function optimally under any circumstance.
The 5 Best Shakes and Smoothie Recipes for Fat-Burning and Weight Loss
If you're not yet a seasoned pro at dreaming up your own delicious fat loss smoothies, you can look to this section to learn how it's done.
The secret lies in balancing flavor, fun, texture, and powerhouse ingredients for fat loss support, as well as what the shakes don't contain (processed or artificial ingredients or unnecessary carbs that interfere with weight loss).
1. Best Chocolate Weight Loss Shake: Creamy Triple Chocolate Keto Shake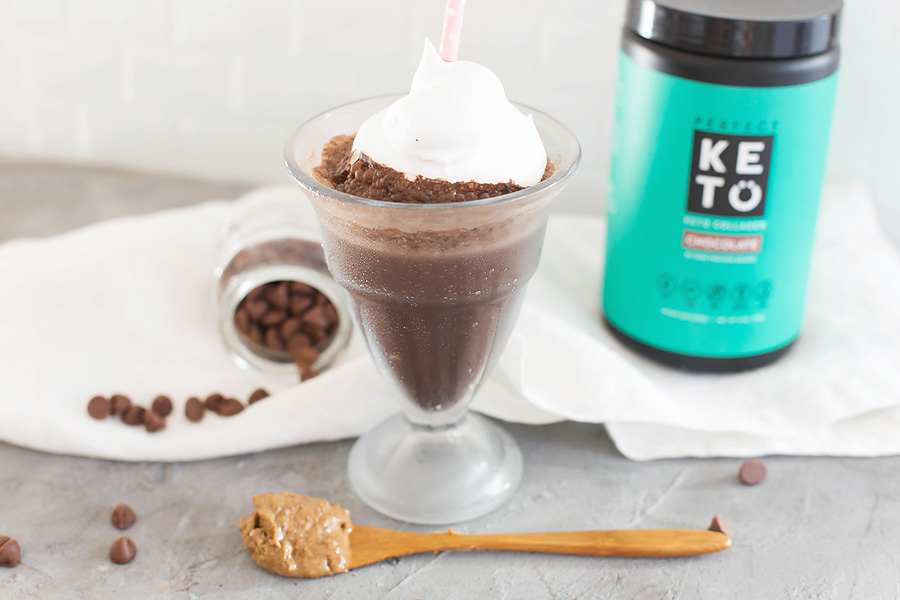 You already know chocolate is delicious, but did you know that it can help reduce cravings, boost your metabolism, and support healthy blood sugar levels?
It's true — as long as you stick with high-quality dark chocolate that's high in cacao[*][*][*][*][*].
As the name suggests, this Creamy Triple Chocolate Keto Shake recipe doesn't lack for chocolate or cacao, because it contains a combo of:
and:
Add all ingredients except ice to a high-speed blender, then mix on high until thoroughly blended. Add ice and blend until smooth, or serve over intact ice.  If you want, you can also top with cacao nibs or sugar-free chocolate chips.
2. Best Energizing Fat-Burning Shake: Keto Iced Coffee Smoothie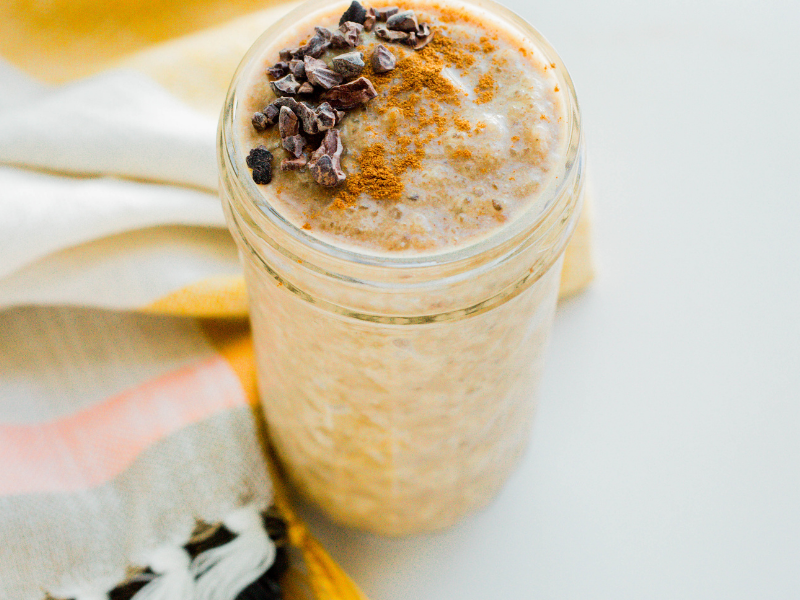 Any of the smoothies from this list make excellent breakfast smoothies, but there's nothing quite like a strong shot of coffee to wake you up first thing.
With powerful ingredients like MCT oil and collagen protein, you can enjoy this Keto Iced Coffee Smoothie as a fat-burning shake in the morning or any time you need extra energy and alertness.
Ingredients:
Add all ingredients to a high-speed blender and blend until combined, then serve and sip.
3. Best Green Smoothie for Weight Loss: Mean Green Matcha Protein Shake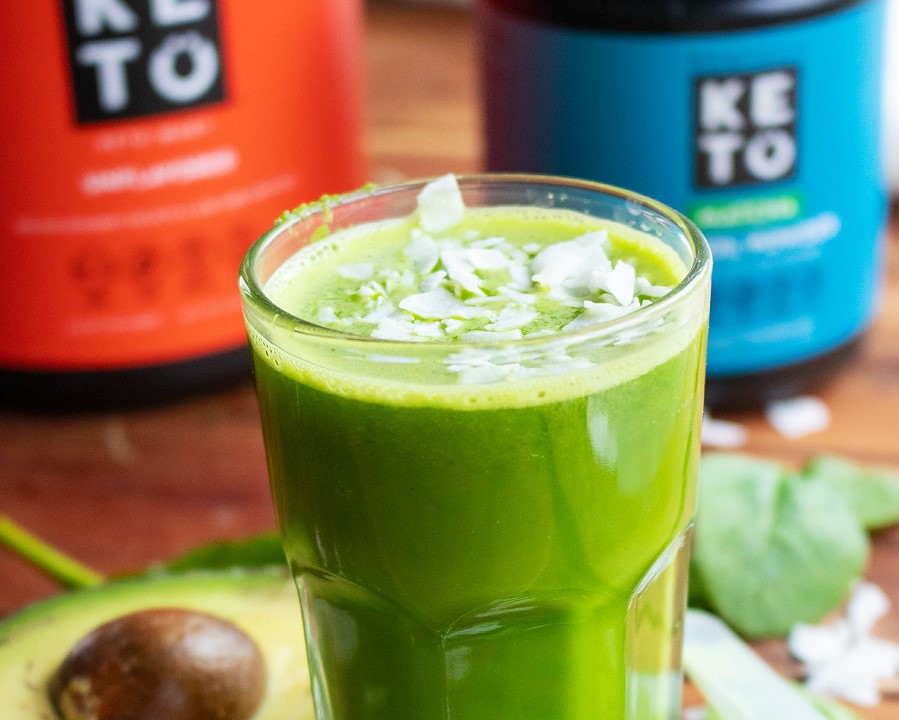 This matcha-based weight loss protein shake is refreshing, delicious, and filling. It also happens to be bright green.
It boasts energizing, focus-boosting, and relaxing properties thanks to the matcha (a type of green tea powder), and green tea is also associated with added weight loss benefits[*][*].
Ingredients:
Add everything to a high-speed blender and mix on high until smooth.
Optionally garnish with mint leaves and a few blackberries, then serve and enjoy.
4. Best Brain-Boosting Weight Loss Smoothie: Nootropic Berry Chocolate Protein Smoothie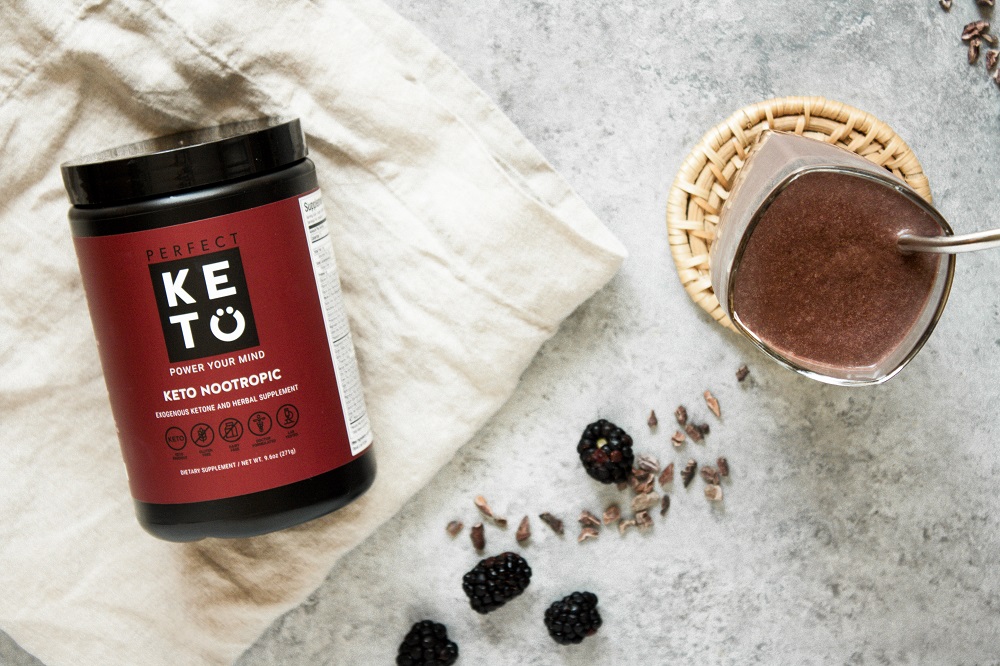 The Nootropic Berry Chocolate Protein Smoothie is loaded with tasty, energizing, satiating fat, protein, and exogenous ketones, and helps your brain fire on all cylinders with Perfect Keto Nootropic (a supplement designed to support healthy brain function and long-term brain health).
And not only that, but it's also chocolatey, sweet, tart, and slightly nutty!
Ingredients:
Add all ingredients to a high-speed blender and blend until smooth, then sip smartly.
5. Best Keto Dessert Fat-Burning Smoothie: Keto Cookies and Cream Shake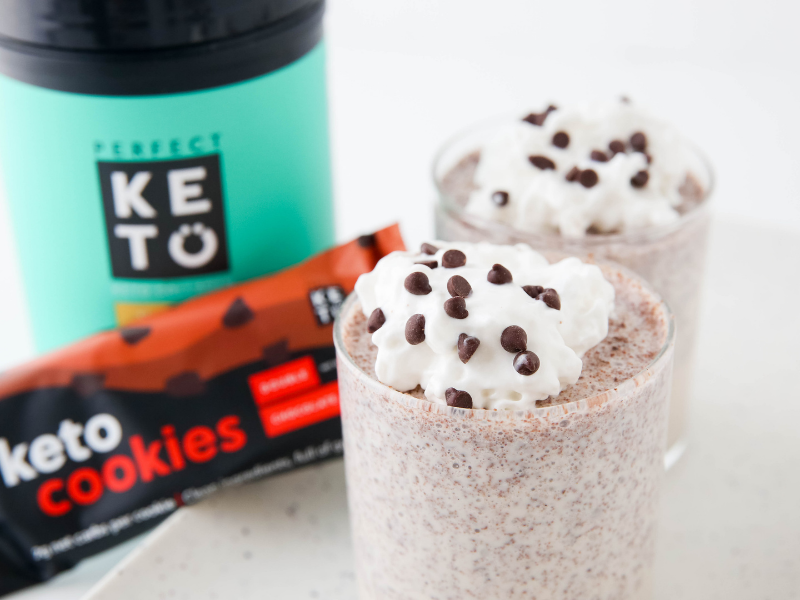 Dessert and fat-burning in a single smoothie? Yes, that's the magic of the keto diet.
The Keto Cookies and Cream Shake requires a bit more prep compared to the other recipes in this list, but it's worth it (and the kitchen time to make this smoothie is still minimal, not counting waiting for the keto ice cream to freeze).
Ingredients:
Instructions:
Make the keto ice cream according to the recipe.
Add all ingredients, except cookies, to a high-speed blender, blending on high until thoroughly combined.
Add cookies and pulse the blender enough to mix evenly.
Serve and enjoy!
Note that this smoothie is exceptionally filling. Luckily, it keeps for several days in the fridge in a glass mason jar if needed.
The Takeaway
Smoothies can be one highly effective part of a nutrition and fat loss plan, and the ones listed above are the best of the best.
That said, there's more to a healthy keto lifestyle and losing weight than making delicious smoothies.
If you're serious about your health and wellness and weight loss goals, be sure to also eat nourishing, healthy keto whole foods, work out and walk regularly, and test your ketone levels to ensure you're in ketosis.