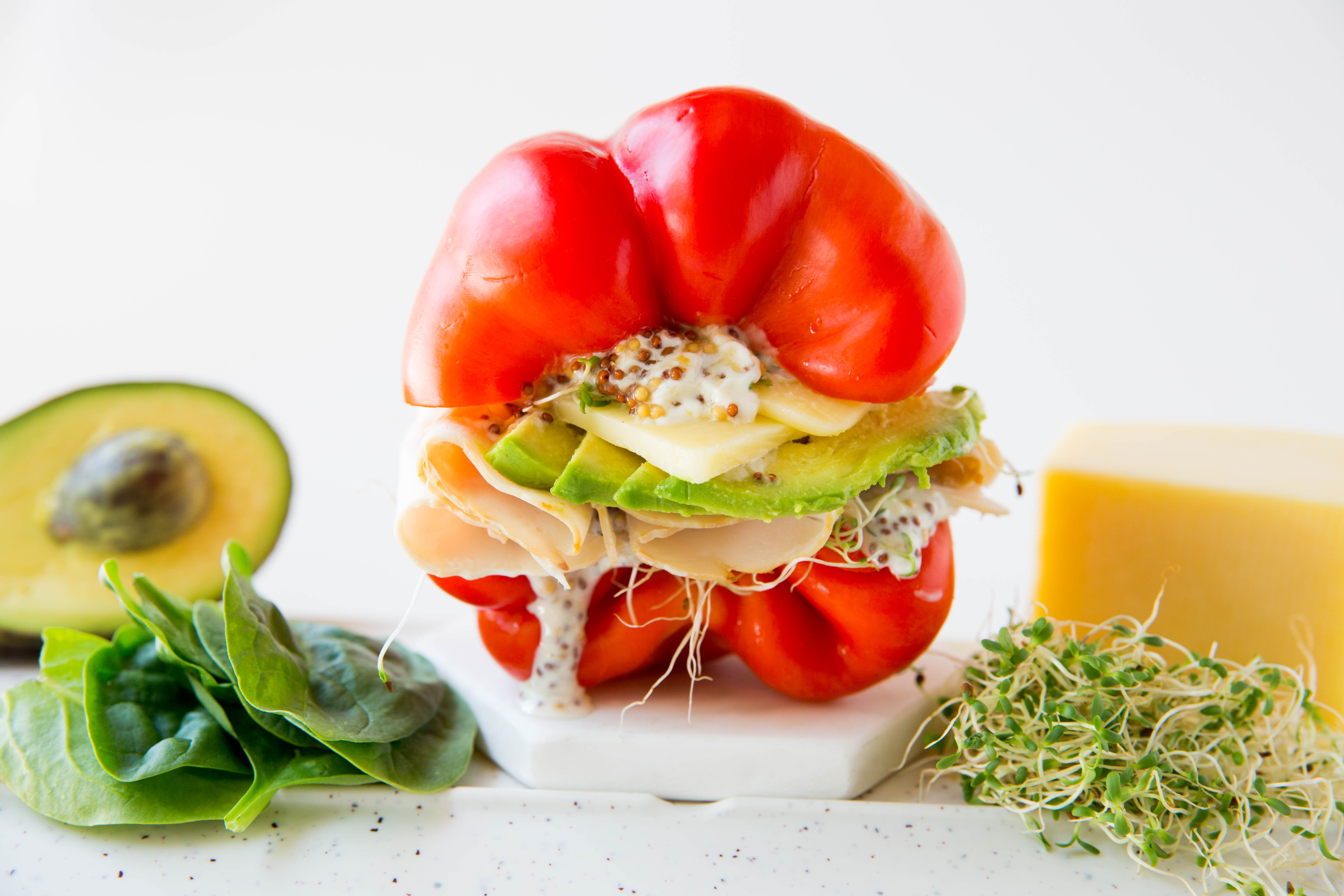 It's a whole new world when your veggies can take the place of bread slices. Just imagine the possibilities.
Or at least start with this flavorful bell pepper sandwich.
Even if you're paleo or gluten-free, this low-carb sandwich recipe works perfectly into your diet.
Just grab a red pepper, chop it in half, empty the center, and fill it with your sandwich favorites.
This recipe is:
Light
Healthy
Satisfying
Delicious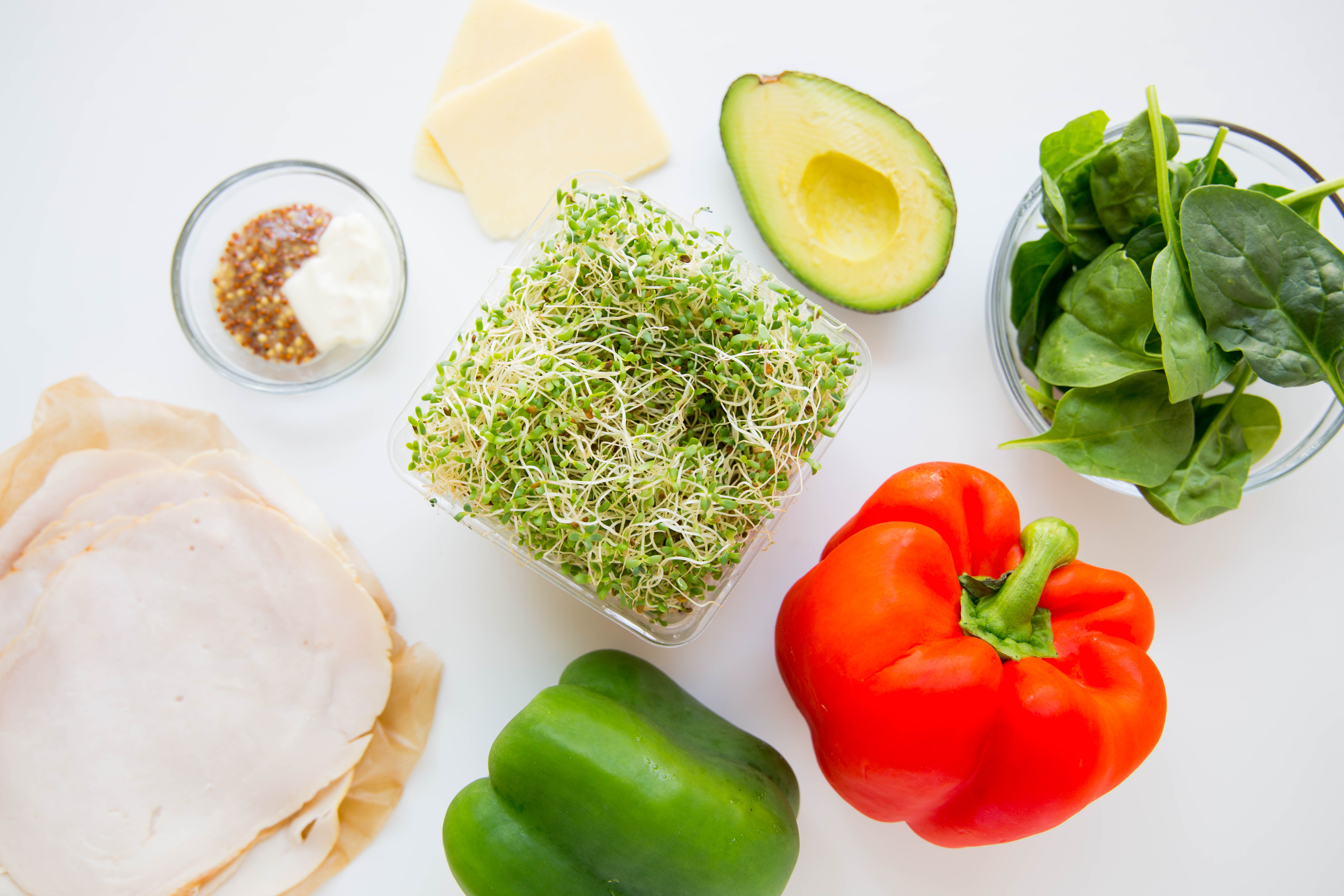 The main ingredients are:
Bell peppers
Smoked turkey breasts
Avocado
Optional additional ingredients:
Mozzarella cheese
Fresh basil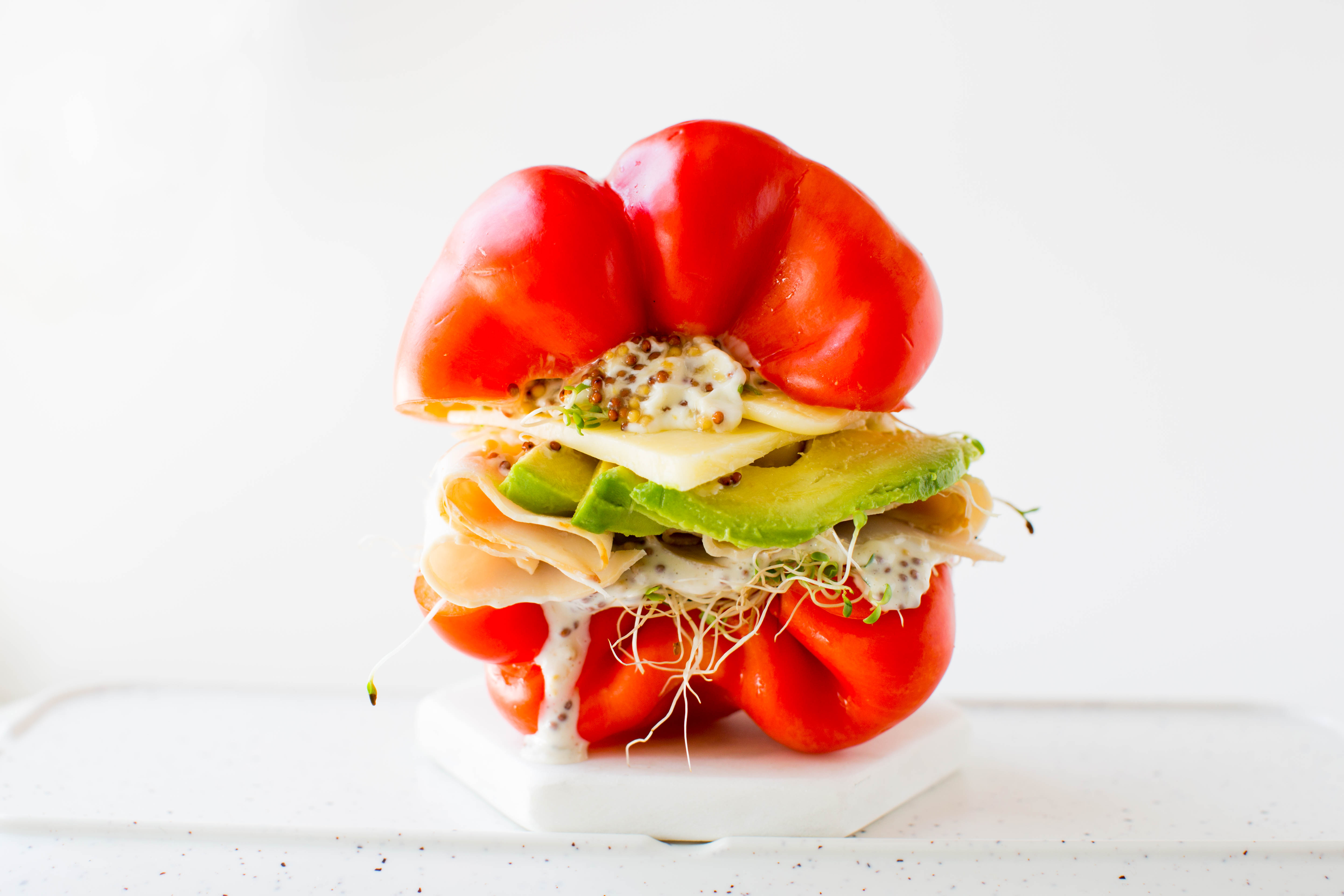 3 Health Benefits of This Bell Pepper Sandwich
#1: Anti-Inflammatory
Avocados are a staple of the ketogenic diet. These delicious vegetable-like fruits are loaded with nutrients, and with their abundance of fats, leave you feeling full and satisfied.
But avocados aren't just supplying you with any old fat;  they're packing monounsaturated fats (MUFA). Unlike saturated fat, which is pretty easy to get into your diet, MUFAs are a bit harder to come by.
And for someone following a high-fat diet, getting a good balance of MUFA's, PUFA's, and saturated sat is essential.
One of the most well-studied benefits of MUFA's is their anti-inflammatory activity. Inflammation is a key risk factor for heart disease, making the inflammatory biomarker C-reactive protein of utmost importance if you're tracking your risk for cardiovascular disease.
In a Japanese population study, researchers found that increased consumption of MUFA's was inversely related to levels of C-reactive protein. In other words, the more that people consumed MUFA's, the lower their inflammatory markers[*].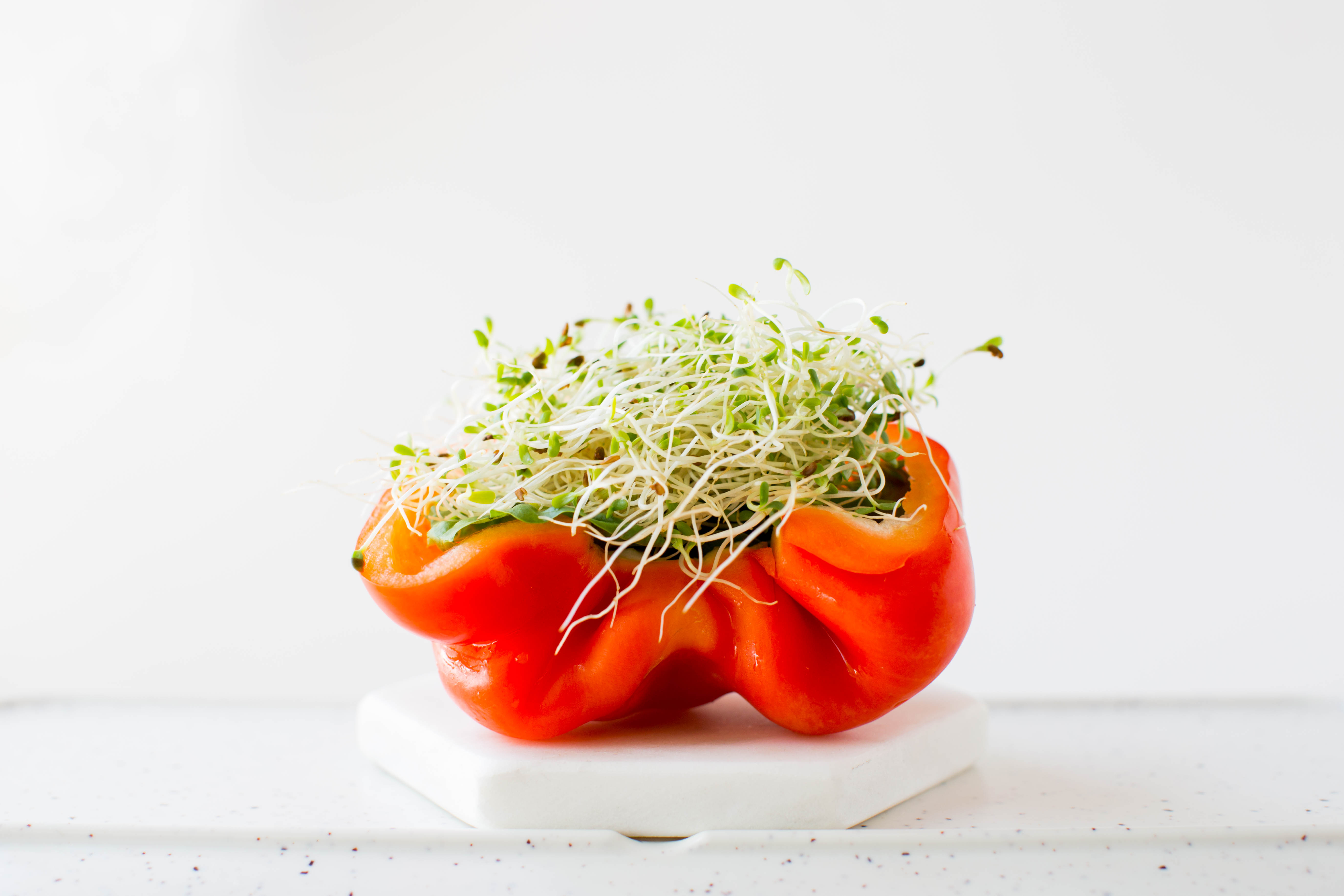 #2: Rich In Vitamin C
One medium bell pepper has 156mg of vitamin C, with the RDA for vitamin C being around 90-75 mg. That means if you eat one medium red bell pepper, you're getting 175% of your vitamin C for the day in. Talk about nutrient density[*].
Vitamin C plays a wide variety of roles in your body. It acts as an antioxidant, supports the health of your extracellular matrix and collagen, is vital for heart health, and enhances your immune system[*].
Some animal studies even support large doses of vitamin C as a potential treatment for certain types of cancer[*].
It's likely vitamin C's antioxidant activity that lends so many health benefits. As an antioxidant, this water-soluble vitamin can support your immune system and protect your cells from damage.
Population studies show that individuals that consume higher amounts of vitamin C have a lower risk for many chronic diseases including; cancer, heart, and neurodegenerative disease[*].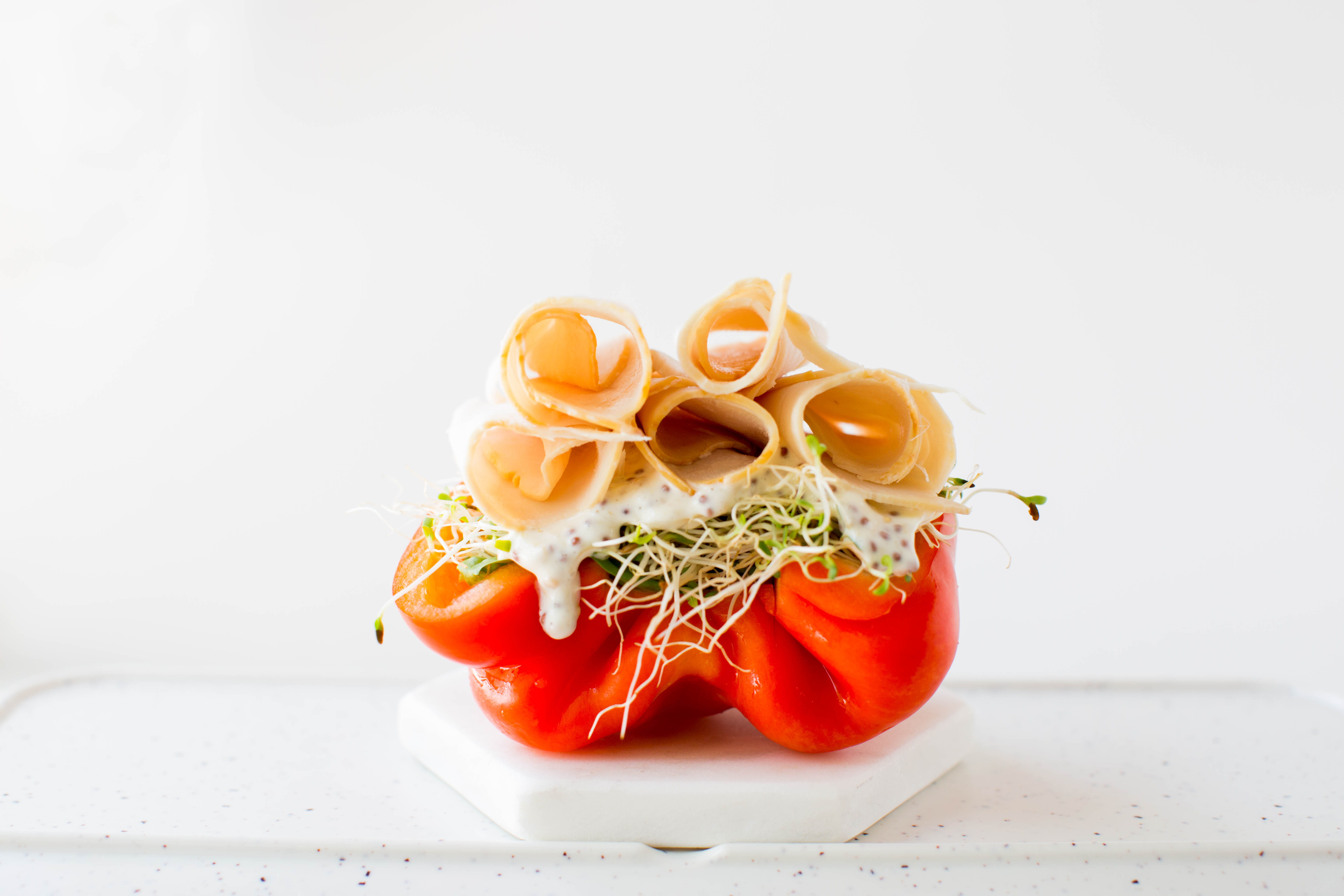 #3: Antioxidant
Along with the antioxidant activity of vitamin C, spinach also provides a potent source of protection against oxidative stress.
Reactive oxygen species (ROS) love to wreak havoc on your cells, and one target, in particular, is your DNA. In a small study, eight participants consumed spinach over a period of 16 days, while researchers assessed DNA stability in their immune cells.
The results showed that moderate consumption of spinach had a protective effect against oxidative DNA damage. The participants also experienced increased levels of folate ( a vitamin found in abundance in spinach).
The researchers note that earlier studies found that folate may prevent oxidative damage to DNA — which may have been the case here[*].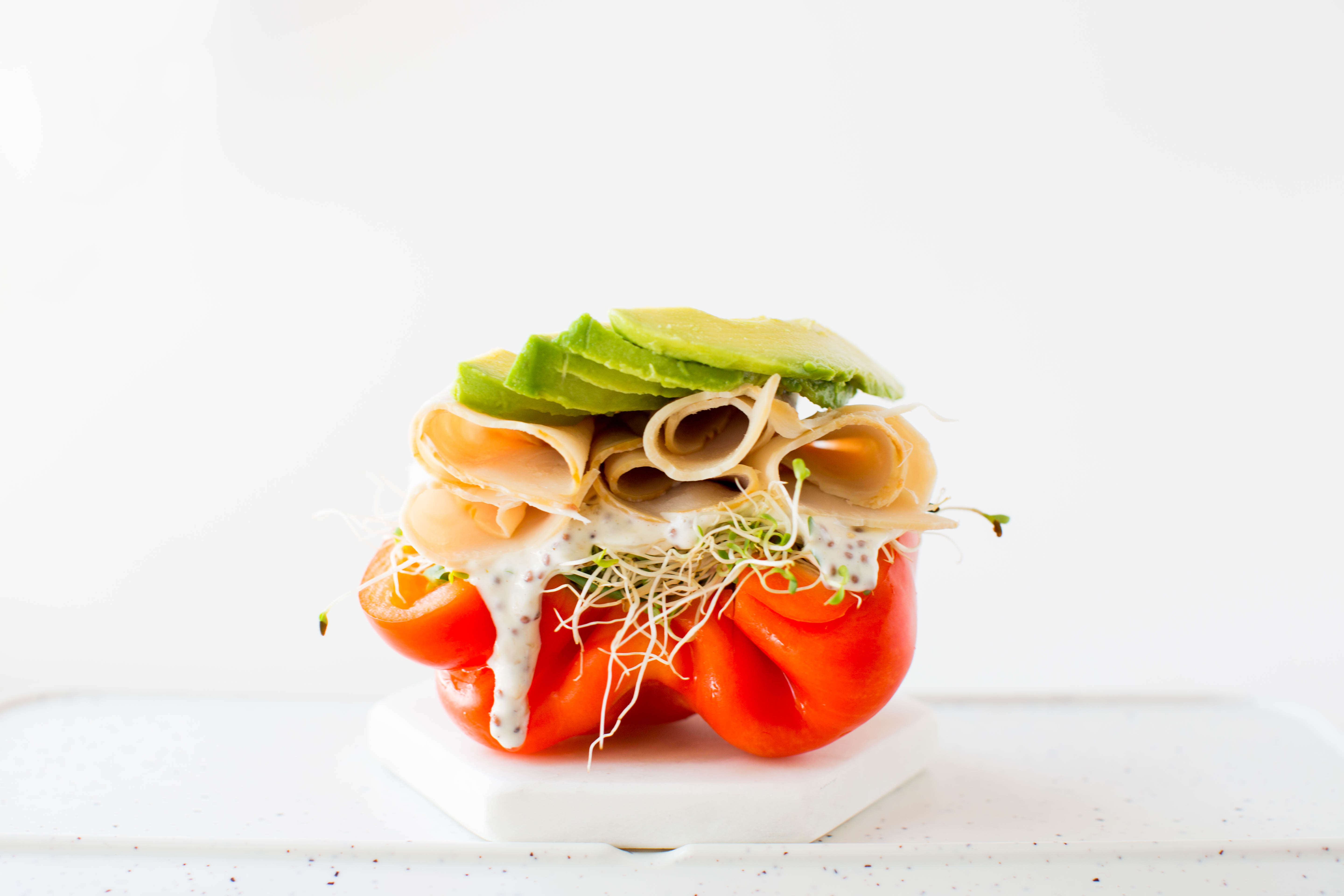 Bell Pepper Sandwich
Sometimes, as a keto dieter, you have to think outside the box a bit.
Want some rice? Cauliflower.
Want some noodles? Zucchini.
Want a sandwich? Bell pepper.
Life never gets boring when you know how to harness the plant world to satisfy your cravings.
You can make this sandwich for lunch, or if you're having guests cut it into fourths as an appetizer.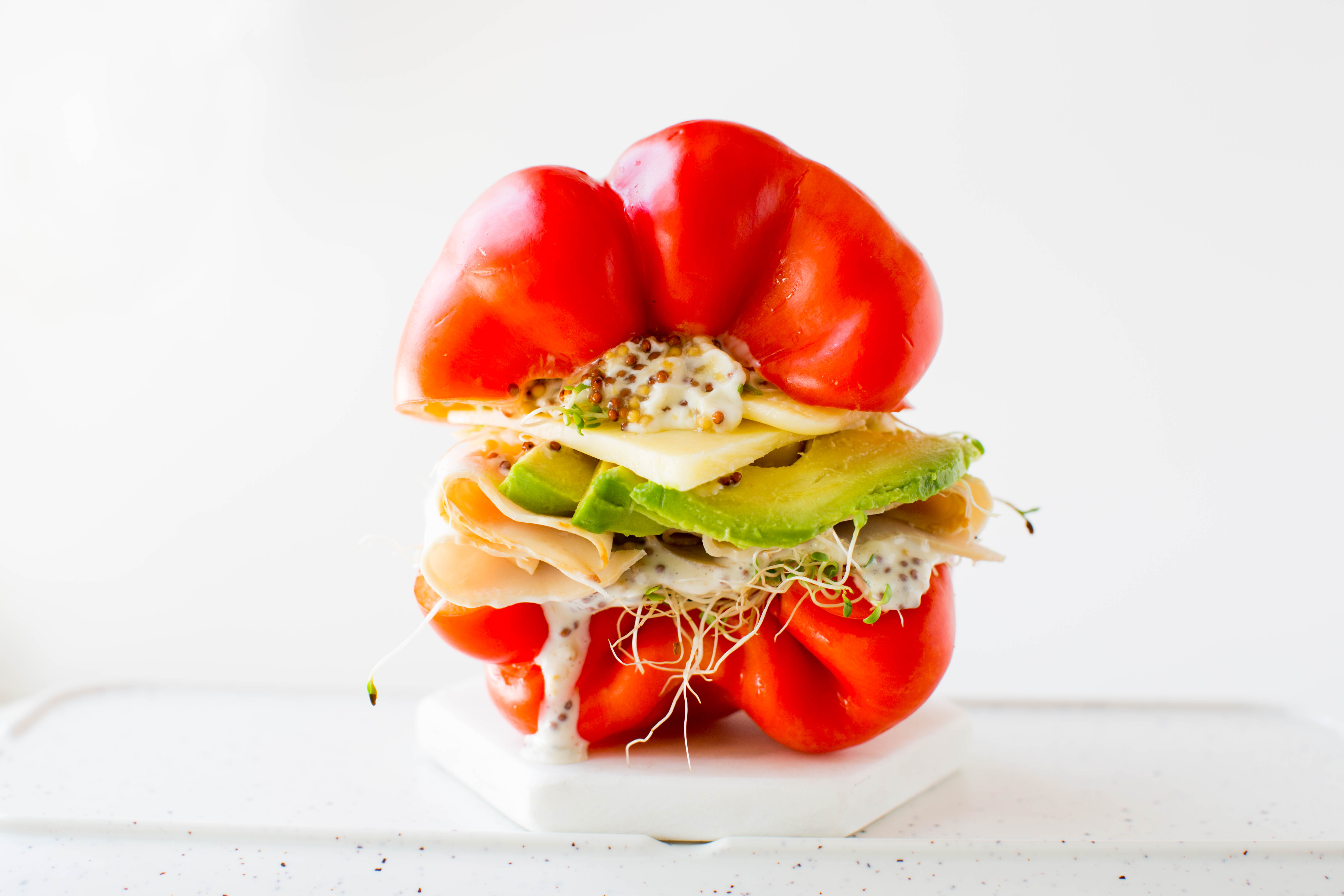 Print
Bell Pepper Sandwich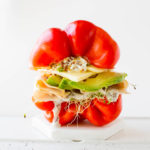 This bell pepper sandwich works for your keto diet, as well as paleo and gluten-free. The red bell pepper is crunchy and sweet, and prep time is only five minutes.
Author:
Total Time:

5 minutes

Yield:

1

sandwich

1

x
Instructions
Use the bell pepper halves as "bread" and add the sandwich fixings in between.
Nutrition
Serving Size:

1 sandwich

Calories:

199

Fat:

20.1g

Carbohydrates:

10.8 (4.9g)

Fiber:

5.9g

Protein:

20.6g
Keywords: Bell Pepper Sandwich