on December 29, 2017
Few things are better than a rich, wholesome casserole on a brisk, winter day. If you're following a ketogenic diet, you might think that casserole is out of the question, but it's actually a very keto-friendly meal.
We've created numerous casseroles like our bacon, egg and cheese breakfast casserole to make sure you're fulfilled with warm-ooey goodness without the worry of potentially damaging carbohydrate intake.
Our short list of ingredients for this cheesy bacon brussel sprouts casserole is packed with vitamins and nutrients to leave you energized and ready to go for the day, compared to other casseroles that can leave you feeling sluggish and tired from the insulin spike of the loaded carbohydrates you just digested.
This recipe has a high nutritional value and is loaded with healthy fats. In fact, just one serving of this casserole has 27 grams of fats and only six grams net carbohydrates!
So, what makes this casserole a must for those of us following a ketogenic diet?
Brussel Sprouts
Brussel sprouts seem to be a staple in most healthy recipes these days — and for good reason. Brussel sprouts provide an abundant amount of health benefits. Some of these benefits include:
Strong source of Vitamin K

Strong source of Vitamin C

Anti-inflammatory properties

Helps with digestion

Improves cognitive function

Helps balance blood sugar
While brussel sprouts are the featured ingredient in this dish, avocado oil is another component that makes this recipe bursting with nutrients.
Avocado Oil
Avocado oil is an amazing monounsaturated fatty acid (MUFA) and is one of the top fats you can have while following the ketogenic diet.
Both avocados and avocado oil are one of the top recommended types of MUFAs for ketosis. MUFAs health benefits have been recognized for many years, unlike saturated fats. Recent research has shown just how important they are for cholesterol and insulin resistance. [*].
Feeling bored with your ketogenic diet foods? There's always a way to switch it up! Try something new this week with this simple cheesy bacon brussel sprouts casserole loaded with fats and sure to satisfy.
Cheesy Bacon Brussel Sprouts Casserole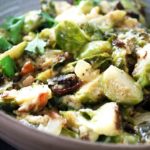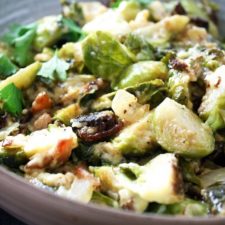 This Cheesy Bacon Brussels Sprouts Casserole is nutrient-dense, full of bold flavors, satiating and makes for a perfect holiday dish or weeknight meal.
Author:
Prep Time:

15 minutes

Total Time:

45 minutes

Yield:

6

Category:

Breakfast

Cuisine:

American
Ingredients
8 slices bacon, cut into strips
1 lb fresh brussels sprouts, washed, dried, quartered
2 tbsp avocado oil
Salt and pepper
Avocado oil cooking spray
1 small yellow onion, diced
1 tbsp minced garlic
1 cup grated parmesan
1/4 cup shredded sharp cheddar
3/4 cup heavy whipping cream
1/8 tsp nutmeg
Instructions
Preheat oven to 375 degrees. Line a baking sheet with aluminum foil.
Cook bacon strips until crisp. Transfer to paper towel lined plate to remove excess grease. Do not discard grease in pan.
In a mixing bowl, toss quartered brussels sprouts with avocado oil, salt, and pepper.
Transfer brussels sprouts to prepared baking sheet and bake for 15 minutes.
Lightly grease casserole dish with avocado oil cooking spray.
In the same pan that bacon was cooked in, saute diced onion and minced garlic in bacon grease until fragrant, stirring frequently. Add cooked bacon and cook until heated throughout. Remove from heat.
In a medium mixing bowl, whisk together parmesan cheese, cheddar cheese, heavy whipping cream, nutmeg, salt, and pepper.
Pour brussels sprouts and bacon, onion, and garlic mixture into prepared casserole dish. Stir until mixed.
Pour cheese and cream mixture over brussels sprouts in casserole dish.
Bake for 15 minutes.
Increase heat to broil and broil for 2 minutes, until cheese is golden brown.
Remove from oven and allow to cool before serving
Nutrition
Calories:

325

Fat:

27.3g

Carbohydrates:

9g (Net: 6g)

Protein:

14.2g
Keywords: cheesy bacon brussel sprouts casserole