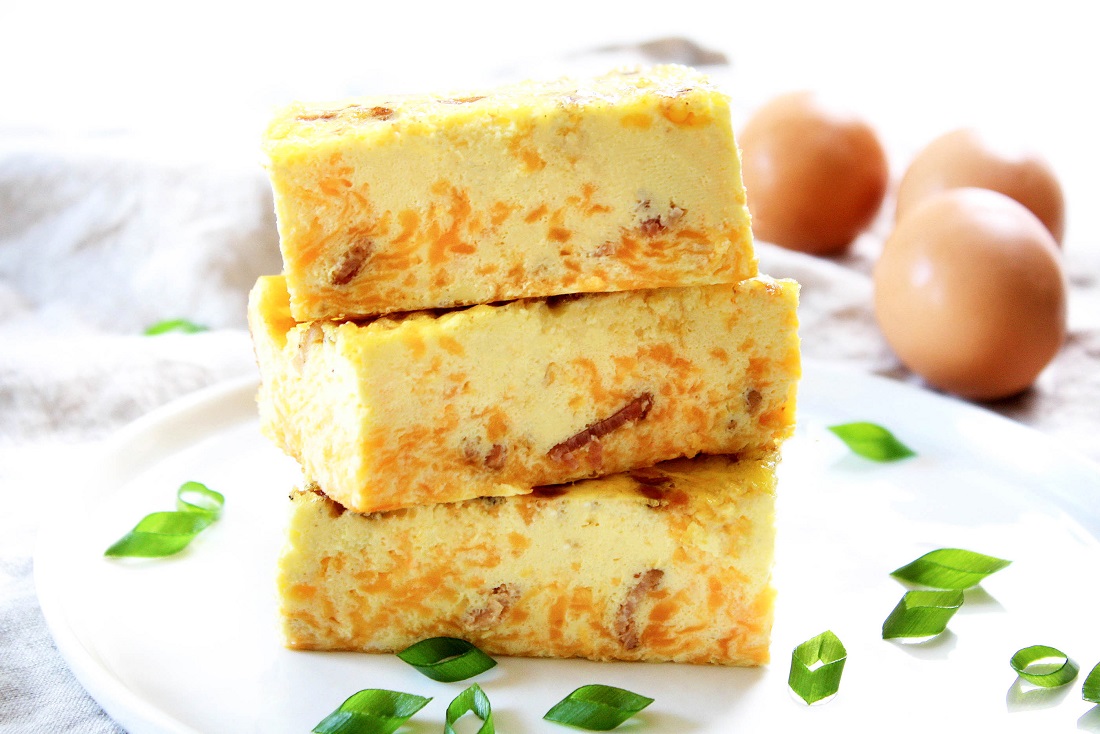 This easy keto breakfast casserole with bacon, egg, and cheese is about to change your weekday meal prep game. Not only does it involve minimal ingredients and only 2 net carbs per serving, but it also stores perfectly in your refrigerator.
The total cook time is just under an hour and you can do something else while it's baking. Even better, the total time includes the cooking time of the bacon, so there's no extra time needed.
During busy weeks you can cook this keto recipe with very little prep time. Pre-cutting the finished casserole to serving size will make it easy to grab a piece from the baking dish on your way out the door. Having a quick and convenient option every morning makes a huge difference when you're just starting out on keto.
Feel free to customize this keto breakfast casserole by adding some of your favorite low-carb veggies like bell pepper or broccoli in addition to the green onions. You can also try adding avocado or zucchini, which is a great way to sneak in additional dietary fiber and nutrients. Don't be afraid to mix things up and try a variety of cheeses, or substitute the bacon for ham or breakfast sausage.
Along with being easy to make, this keto breakfast casserole is gluten-free, soy-free and sugar-free. But you might be wondering if the cheese is a good idea. Read on to find out why this recipe works, and get ready to enjoy a healthy start to your day the keto-friendly way.
Is Cheese OK on Keto?
This is a very common question and the answer is "it depends." There's a lot of confusion about dairy products. While low-lactose and high-fat dairy is acceptable on keto, low-fat dairy products are not.
Why? Because they usually contain way more carbs than the high-fat versions.
For many years, saturated fat was considered harmful for your heart health, so organizations such as the American Heart Association began recommending eating less saturated fats[*]. However, recent studies have debunked this concept, showing no significant link between saturated fat and the risk of heart disease. As it turns out, including healthy fats in your diet has many health benefits [*].
When buying ingredients for this keto recipe, you'll want to make sure to get full-fat sour cream and heavy whipping cream. It's not just cheese where you need to be vigilant about fat content.
Remember: Fat is fuel. You want all the fat in cheese, and it's important to opt for fat that is high quality[*]. It's best to avoid low-fat yogurts and shredded cheeses, as well as items made with skim, 1%, or 2% milk.
Cheese is one of the most common foods that people stress about when considering a lifestyle change like keto and other low-carb diets. But the only thing you need to worry about is depending too much on cheese as a food source. And avoiding dairy altogether if you have a dairy allergy or sensitivity.
Health Benefits of Cheddar Cheese
You might not think of cheddar cheese as a health food, but take a look at the nutritional information below. There are plenty of health benefits thanks to its dense nutrient content per cup.
High in Calcium and Vitamin D
These essential minerals may help protect your body from chronic diseases like diabetes, heart disease, high blood pressure, and other cardiovascular diseases[*].
Vitamin D helps your body absorb calcium, and you need both to build and maintain strong bones, in addition to supporting your muscles, nerves, and heart. Calcium deficiency may lead to osteoporosis, a common ailment especially among adults over the age of 50[*].
Dental Health
Calcium and vitamin D also promote dental health by supporting your gums and teeth. Most adults don't get enough of either of these[*], which is why it's important to make sure you're consuming enough through food like full-fat dairy products[*].
Loaded with Vitamin A
Vitamin A, which the body converts from beta carotene, is vital for promoting eye health. It's an antioxidant that may prevent eye dryness and night blindness and has been shown to guard against loss of vision caused by age-related eye diseases[*].
Contains Zinc
Zinc is an essential trace element that you need in small amounts every day. It supports growth and development as well as brain function. It also boosts your immune system, helps with hormone function, and aids your reproductive system.
It acts as an anti-inflammatory agent, which may help protect against chronic diseases like heart disease[*]. When you have a zinc deficiency, you may feel constantly tired or get sick frequently.
Supports Blood Health
Many nutrients that keep your blood, bones, and muscles healthy are found in cheddar cheese. In particular, vitamins B6, E, and K all support blood health in various ways. Vitamin B6 and E help your body form red blood cells, and without vitamin K, blood would not stick together[*].
Boosts Immunity
Probiotics, the live bacteria that maintain the healthy balance of microorganisms in your gut, are essential for boosting the immune system. Not all cheeses are good sources of probiotics, but cheddar happens to be one of them[*]. The vitamin D content also supports healthy immune system function.
Protects From Free Radical Damage
Free radicals can be harmful to the body because they damage DNA, cellular membranes, and fats stored within blood vessels. This damage has aging effects on both the body and mind[*]. The best way to prevent free radical damage is by eating foods rich in antioxidants and vitamins like cheddar cheese.
Packs the Protein
One ounce of cheddar cheese contains 7 grams of complete protein. Not only is protein filling and keeps you satiated throughout the day, but it builds and repairs tissue, and is essential for muscle, cartilage, and skin health[*].
The Perfect Low-Carb Breakfast
Combining cheddar with high-fat bacon, eggs, and cream, you're sure to have a filling keto breakfast with 38 grams of total fat, 43 grams of protein, and 2 grams of net carbs per serving.
This keto breakfast casserole is easy to make with very few ingredients, and you'll have leftovers for days. Simply store in the fridge for the week.
If you have a few extra minutes or want to enjoy a leisurely meal, you can whip up other brunch recipes like cauliflower hash browns or keto pancakes while you cook this casserole recipe.
You could also whip up some keto chocolate chip muffins for snack or tea time if you want to break up all those savory flavors. The bottom line is that this delicious recipe goes well with just about anything. Be sure to check out these recipes for more keto-inspired cooking ideas.
Print
Bacon, Egg, & Cheese Breakfast Casserole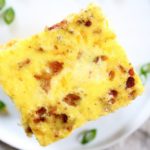 Make meal prep easy with this simple keto breakfast casserole. This delicious recipe will give you a week of low-carb breakfasts.
Author:
Prep Time:

15 minutes

Cook Time:

35 minutes

Total Time:

50 minutes

Yield:

8

1

x
Category:

Breakfast

Cuisine:

British
Instructions
Preheat oven to 350℉.
Cook bacon on stovetop. Once cooked and cooled, crumble into bite-sized pieces.
Crack eggs into medium-sized bowl. Add sour cream, heavy whipping cream, salt, and pepper and mix with a hand mixer or in a blender until well-combined.
Spray a 9×13 pan with avocado oil cooking spray. To pan, arrange single layer of cheddar cheese.
On top of cheese, pour egg mixture then top with crumbled bacon.
Bake for 35 minutes, checking after 30 minutes. Remove from oven once edges of casserole are golden brown.
Allow to cool before cutting and serving. Garnish with green onions.
Nutrition
Serving Size:

1

Calories:

437

Fat:

38

Saturated Fat:

17

Carbohydrates:

2

Protein:

43
Keywords: bacon egg cheese breakfast casserole