Traditional tuna salad is already a keto food with its simple ingredients of canned tuna and mayonnaise. (As long as it's keto-friendly mayo.) But that can get pretty boring after a while if you don't mix it up. This recipe takes keto tuna salad to the next level with tasty ingredients including chili lime seasoning, Dijon mustard, and crunchy celery.
No longer do you have to settle for the same ol' mayo and tuna without much else to make it interesting. This recipe brings in some zesty, tangy flavors to spice up your keto meal plan.
Mix It Up: Keto Tuna Salad Alternatives
Toss a scoop of this tuna salad atop a green salad dressed with vinegar and olive oil for a delicious low-carb lunch. Or transform it into tuna lettuce wraps. Use dill pickle spears to dip in and eat. Stuff half an avocado with a generous scoop for the perfect keto fat bomb. For an on-the-go snack or lunch, fill half a bell pepper with this keto tuna salad and enjoy it like an open-faced sandwich.
Aside from its high nutritional value and great taste, the fantastic thing about this recipe is its versatility. If you don't like tuna but are curious about the flavors in this recipe, you can still give it a shot.
Try it with boiled eggs for a delicious egg salad. Swap your can of tuna for a can of wild-caught salmon instead. Or go with chicken — grab a rotisserie chicken from the grocery store, enjoy the dark meat with veggies for dinner, and make the breasts into a zesty chili-lime keto chicken salad. The possibilities are almost endless.
Keto Tuna Salad Ingredients
Tuna is an amazingly versatile fish. The meat is tender when seared or eaten raw for sushi, but it's sturdy enough to keep its shape when preserved in a can. Canned tuna is portable, easy to work with, and it offers a good dose of protein in a number of dishes, even beyond this delicious keto tuna salad recipe.
Sicilians and southern Italians enjoy olive oil-packed tuna atop red sauces in numerous pasta dishes. Swap out the pasta for zoodles or miracle noodles, and this could be your Italian keto feast.
Tuna casserole is popular in the U.S., especially in the Midwest. Skip the breadcrumbs or replace them with almond meal, and use a keto-friendly cream of mushroom soup to transform this American classic into a keto dinner.
Health Benefits of Eating Tuna
There are quite a few health benefits you can gain from tuna. For one, tuna contains omega-3 fatty acids, which are great for your cardiovascular health. They also help stave off inflammation, and increase the production of leptin in overweight people, the hormone your body produces to signal that you're satisfied with your meal[*][*][*][*].
Tuna is also chock-full of micronutrients that help boost your immunity[*]. It's a low-calorie food that can help in weight loss efforts. Eaten alongside keto mayo in this delicious low-carb recipe, this tuna salad will raise the healthy fat content of your daily keto meal plan. You can enjoy this delicious dish without fear of being kicked out of ketosis.
#1: Cardiovascular Health
One of the health benefits tuna offers is a contribution toward good cardiovascular health. Omega-3 fatty acids are incredibly heart-healthy. Clinical trials have shown a relationship between adequate omega-3 intake and a decrease in heart arrhythmias, triglyceride levels, blood pressure, and platelet aggregation[*]. Platelet aggregation can eventually lead to a block in the vascular system that could cause a heart attack or stroke.
Canned tuna ranges in omega-3 content from around 200mg to 800mg, depending on the type of tuna[*]. Albacore and bluefin tuna have the highest omega-3 content, followed by skipjack and yellowfin[*]. Adding tuna to your diet is a great way to increase your overall omega-3 fatty acid intake and boost your cardiovascular health.
#2: High in Beneficial Minerals
Tuna is a good source of phosphorus, potassium, and selenium, which are all powerful antioxidant minerals[*]. These compounds help to reduce oxidative stress and free radical damage in your body.
Phosphorus is a critical component in the production of healthy bones, hormones, and enzymes crucial to good health. It also helps keep the parathyroid healthy and keeps the balance of electrolytes in your blood stable[*].
Potassium is essential for kidney function, healthy muscle function, keeping blood pressure low, and balancing sodium in the blood. A deficiency in potassium, also called hypokalemia, can lead to fatigue, muscle weakness, muscle cramps, and intestinal paralysis. Intestinal paralysis can create bloating, constipation, and abdominal pain[*].
Selenium helps boost immunity, including viral load protection in HIV patients. It's also been shown in studies to have anti-cancer properties, in addition to helping boost healthy sperm count, and boosting healthy thyroid function[*].
#3: Intensifies Weight Loss
The omega-3 fatty acid content in tuna can also help boost you weight loss efforts. This is because there's an established association between omega-3 and the production of the hormone leptin in the human body[*].
Leptin is a hormone critical to a healthy metabolism. It helps regulate hunger by sending signals to the brain from the digestive system that you are full and satisfied. Leptin resistance has been shown to create intense difficulty in weight loss for obese patients[*]. By increasing your omega-3 intake, you can help reduce your risk of leptin resistance and unwanted weight gain.
Caveat: Moderate Your Tuna Intake
Tuna is an incredibly reliable protein if you're on the keto diet. It's the perfect base for a number of keto recipes. But it's not something you should be eating with wild abandon.
Because of its mercury content, it's not a great idea to eat tuna every day. Mercury is present in tuna because it bioaccumulates up the food chain in the ocean[*].
In other words, it doesn't clear out of the system over time. Rather, the more that tuna fish eat smaller fish which contain mercury, the more overall mercury will be in the larger tuna fish. While the FDA recommends eating 2-3 servings of fish per week, they also recommend that only one of those servings be tuna[*].
Print
Zesty Chili Lime Keto Tuna Salad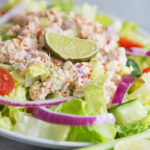 Refresh your taste buds with a new, low-carb spin on a traditional classic with this zesty chili lime keto tuna salad.
Author:
Prep Time:

5 minutes

Cook Time:

None

Total Time:

5 minutes

Yield:

1 cup

1

x
Category:

Seafood

Cuisine:

American
Scale
Ingredients
1/3 cup

mayonnaise

1 tablespoon

lime juice

1/4 teaspoon

salt

1/8 teaspoon

pepper

1 tsp

Tajin chili lime seasoning

1

medium stalk celery (finely chopped)

2 tablespoons

red onion (finely chopped)

2 cups

romaine lettuce (roughly chopped)

5 oz

canned tuna
Optional: chopped green onion, black pepper, lemon juice
Instructions
Add mayonnaise, lime juice, salt, pepper, and chili lime seasoning to a medium sized bowl.  Stir well until smooth.

Add vegetables and tuna to bowl and stir to coat.  Serve with celery, cucumber, or on a bed of greens.
Nutrition
Serving Size:

½ cup

Calories:

406

Fat:

37g

Carbohydrates:

Net Carbs: 1g

Protein:

17g
Keywords: chili lime keto tuna salad