The ketogenic diet is a low-carb, high-fat diet popular for its weight loss and health benefits..
Studies of the keto diet demonstrate rapid fat loss, lower appetite, higher energy levels, improved mood, decreased inflammation levels, reductions in insulin resistance, and more[*][*][*][*][*].
In this article, you'll find a detailed ketogenic diet plan, easy keto recipes, a keto grocery list, and helpful tips to take the guesswork out of going keto.
4 Preliminary Steps for Keto Beginners
These steps are relatively simple, but can help set you up for success before you dive into cutting carbs, making a keto shopping trip, or cooking keto recipes.
#1: Calculate Your Macros
The entire keto diet revolves around achieving and maintaining a metabolic state of ketosis, which requires switching from carbohydrates to fats as fuel.
Normally the carbs you eat are converted into glucose during digestion, which your brain, muscles, and organs use as their primary energy source[*].
But when you eat very few carbs, your body begins to break down more fats (stored fat as well as dietary fats) and your liver produces ketones as an alternative brain fuel[*].
To achieve ketosis, you must eat the correct ratio of macronutrients (protein, fat, and carbs).
Use the easy keto macro calculator to determine the precise amounts and ratios you should be eating each day to stay in ketosis to achieve your goals.
#2: Learn to Count Net Carbs
Counting net carbs is equally as important as knowing what macros to eat.
Most people can stay in ketosis by eating 30-50 grams of net carbs or less per day, which isn't hard to accomplish, but you need to learn how to read labels to discover the net carb content of foods.
#3: Devise a Meal Prep Strategy
Unless you care to spend lots of time cooking and cleaning each day, you'll want to master meal prep. Not into huge meal prep days? Even prepping a couple of sources of protein or washing your veggies right when you get home from the grocery store can help make mealtime easier.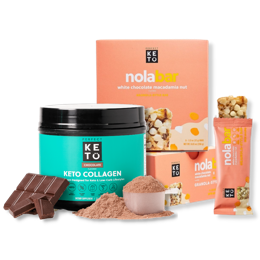 Browse our curated collection of fan-favorites and discover your new favorite snack or supplement.
Shop Best Sellers
#4: Stock Up On Other Supplies
You can get into ketosis, lose weight, and get healthy with nothing but a basic understanding of keto and a solid meal plan based on whole foods.
However, here's a list of keto supplies (other than groceries) that can make your keto journey easier and more pleasant:
If you aren't ready to purchase extra supplies yet, don't be discouraged by the idea of spending money. As you're about to learn, with smart grocery shopping, keto can be nearly as cheap as any healthy diet.
The Best Keto-Friendly Foods for Your Diet Plan
When you're first starting the keto diet, it may seem like you're limited to a short and restrictive list of foods. But that couldn't be further from the truth.
You can incorporate most vegetables, plenty of healthy animal products like pastured, organic meat, eggs, and fish, and a plethora of healthy fats. There's even room for some tasty keto-friendly fruits.
Read on to learn which low-carb, high-fat foods can best support your keto goals.
Fats: Top 13 Healthy Fats on a Keto Diet
On keto, around 70% of your overall daily calories will come from fats.
To ensure your keto diet is healthy, you must choose high-quality fats — the ones that come from nutrient-dense, whole food sources, not the over-processed inflammatory fats commonly found in the Standard American Diet.
There are plenty of fats and oils you should avoid, including the ones from highly-processed seed oils (often found in salad dressings and high-heat cooking oils), packaged processed meats, and "processed cheese foods" to name a few.
Some of the best healthy fat sources on a keto diet include:
Grass-fed meats

and organ meats

Wild-caught seafood

Grass-fed butter

and ghee

Pastured eggs

Extra virgin olive oil

 

Avocados

and avocado oil (the best choice for high-heat cooking)

 

Macadamia nuts

and macadamia nut oil

 Nuts, nut butters, and seeds in moderation
Protein: The 9 Best Protein Sources on a Keto Diet
The standard ketogenic diet includes moderate protein intake or about 20-25% of overall calories from protein. But some people, particularly athletes, opt for 30-35% of their daily calories from protein.
In other words, protein is the second most prevalent macronutrient on keto after fat. And similar to fats, choosing high-quality protein sources is instrumental in ensuring your keto diet remains clean and healthy.
Generally speaking, you should opt for organic animal protein sources, purchased locally or as close to it as you can find, and grass-fed, pastured, or wild-caught whenever possible.
Animal protein that is "factory farmed" or from concentrated animal feeding operations (CAFOs) contains hormones, antibiotics, pesticides, and other toxins not found in organic, grass-fed and pastured meat, eggs, and dairy[*].
Pastured animal protein sources also tend to have more micronutrients and a healthier fatty acid profile[*][*]*].
The best keto protein options for regular consumption are as follows:
Grass-fed, fattier cuts of meat like steak and ground beef

Darker, fattier cuts of chicken, duck, or turkey

Pork chops or other cuts like tenderloin, uncured or naturally-cured bacon, or ham

Fish, including mackerel, tuna, salmon, trout, halibut, cod, catfish, and mahi-mahi

Shellfish such as oysters, clams, crab, mussels, and lobster

Organ meats

Whole eggs

Grass-fed dairy, especially

grass-fed butter

, heavy cream, and cottage cheese (always opt for full-fat dairy when possible, avoiding low-fat options)

Grass-fed keto whey protein

, especially post-workout and in nutritious

smoothies
Carbs: 17 Keto-Friendly Carbohydrate Sources
As you may have noticed from your macronutrient calculator results, approximately 5-10% of your calories will come from carbohydrates on keto.
The very low carb intake on keto is what allows your body to burn fat for fuel.
For the few carbs you do eat, selecting high-quality sources and avoiding processed carbs or added sugar are also crucial practices for a healthy metabolism.
Opt for low net carb, nutrient-dense options such as:
Leafy greens like kale, spinach, Swiss chard, bok choy, and romaine

Radicchio

Brussels sprouts

Broccoli

Cauliflower

Asparagus

Artichokes

Celery

Cucumber

Zucchini

Mushrooms

Kohlrabi

Onions

Bell peppers

Spaghetti squash

Raspberries and blackberries

Chia and flax seeds
Healthy, low-carb plant foods are high in polyphenol antioxidants, which may complement the anti-inflammatory effects of ketones your body produces on the keto diet[*][*].
These healthy sources of carbs also have plenty of fiber, which supports digestion and gut health[*].
High-fiber veggies, nuts, and seeds may also lower blood sugar, reduce your risk for type 2 diabetes, and decrease your cardiovascular and stroke risk[*][*][*][*][*].
And with a little bit of creativity, you can craft healthier low-carb substitutes for foods that aren't allowed on keto, like using zucchini noodles to make this easy two-step garlic parmesan keto pasta.
However, there's one caveat to remember. Although the above carb sources are keto-friendly, you still must limit your carbohydrate intake or you won't stay in ketosis.
If in doubt, you can always check your blood glucose after meals and test your ketone levels to ensure you're not overeating carbs and risking exiting ketosis.
Next, get started using a sample 7-day keto diet plan with a free printable grocery list included.
Super Simple 7-Day Keto Diet Plan For Beginners
This keto diet plan contains recipes that are fast to prepare, yet flavorful and delicious, so everyone in your family — even picky eaters — is sure to enjoy them. Keto-friendly desserts are included, too.
As you scroll down further, you'll see a week's worth of beginner-friendly keto meals first, then, below that, suggested shopping lists. Print them out now or save them for future use.
Here's an easy sample keto meal plan for your first 7 days:
Day 1:
Day 2:
Day 3:
Day 4:
Day 5:
Day 6:
Day 7:
Equipped with factual information and a sample meal plan, you're ready to take the next step–into the grocery store for your first keto shopping trip.
Keto Beginner Grocery List
Take this printable grocery list with you when you go shopping so you can fill your cart with keto-friendly options and avoid the temptation of unnecessary carbs. (After a few weeks, it will all become second nature, so hang in there.)
Keto Beginner Grocery Shopping Food List
Produce
8-16 oz. strawberries

4 large zucchini

6 stalks green onion

2 medium tomatoes

6 oz. fresh spinach

12 oz. romaine lettuce

2 large sticks of celery

10 oz. cherry tomatoes

3 small onions

1 cabbage

2 large bulbs of garlic

1 medium-sized ginger root

3 oz. baby bella mushrooms

1 large lemon (organic for making fresh lemon zest)

1-2 oz. fresh parsley

1-2 oz. fresh oregano

12 oz. frozen riced cauliflower

16 oz. frozen wild blueberries

1 medium green pepper

3-4 oz. cilantro

3 large avocados

16 oz. salsa (all-natural, no sugar added)

2 limes

2 cucumbers
Meats
1 lb. spicy Italian sausage or sweet Italian sausage

6 bone-in, skin-on chicken thighs

1 lb. chicken breast, cooked

16 oz. (1lb.) shrimp (peeled, tail on)

8 oz. sliced pepperoni

4 lbs. 85% lean grass-fed ground beef

12 oz. bacon

16 oz. salmon
Dairy and Eggs
16 oz. full-fat ricotta cheese

48 oz. shredded mozzarella cheese

16 oz. shredded cheddar cheese

1 cup (8 oz.) parmesan cheese

1/4 cup bleu cheese

8 oz. full-fat cream cheese

8 oz. cheddar cheese

30 large eggs

1 lb. grass-fed butter

8 oz. heavy whipping cream

8 oz. full-fat sour cream
Oils and Condiments
Ample amounts of butter, ghee, coconut oil, and lard (or render your own pork fat from bacon)

16 oz.

MCT oil

 

16 oz. avocado oil

Chili paste

Coconut aminos or apple cider vinegar

16 oz. beef bone broth
Spices
Vanilla extract

Ceylon cinnamon

Garlic powder

Chili powder

Cumin

Sea Salt

Black Pepper

Mixed Italian herb seasoning

Red pepper flakes

Nutritional yeast

Chili powder

Paprika
Baking Goods
1 box of unsweetened almond milk

Stevia and monk fruit sweeteners

Cacao nibs

1 package of coconut flour

1 package of almond flour

16 oz. Rao's marinara sauce

No-salt-added tomato sauce

1 can of tomato paste

1 can of diced tomatoes

Baking powder

Baking soda

Cream of tartar

Hemp hearts

Flax meal

Chia seeds

Coconut flakes

Cacao powder

Sesame seeds
What to Expect After Week 1 on Keto
Your very first week on keto is a period of adjustment. 
At best it may be exciting, and at worst it can be difficult, but the good news is that you can look forward to less challenging times ahead.
Here's an overview of changes that can occur as quickly as 7 days into your low carb diet, although you'll no doubt notice continued improvements for at least a few weeks afterward:
The effort you've put into healthy behaviors (like keto grocery shopping and counting carbs) will be paying off as you begin to build permanent habits.

You'll be deep into ketosis (unless you're eating

hidden carbs

)

and on your way to being

fat-adapted

, which will boost your mood and improve your energy levels.

Your appetite will be lower, with fewer

cravings

, less temptation to

cheat

,

and a greater sense of satiety (fullness) between meals[

*

].

Any keto flu symptoms or side effects should already be waning or will do so very soon.

Signs of decreased inflammation, such as clearer skin, may already be noticeable[

*

].

Weight loss from a combination of water weight and body fat will likely be measurable (but will continue to accelerate).
For most people, staying keto gets much easier after just a week or two. And weight loss plateaus are impossible after just one week, so don't worry about your rate of fat loss yet.
But if you're feeling like you've hit a major roadblock early on, you may need to go ahead and troubleshoot potential problems.
The Takeaway: Kickstart Your Keto Diet
The next steps are up to you, so choose wisely. If you're feeling confused or looking for more motivation, the Keto Kickstart program may be right for you.
Or if you prefer paper and ink for learning purposes, check out this list of must-have keto books, which also includes cookbooks.
On the other hand, perhaps by now you've got a solid grasp of keto diet basics and you're ready to begin. 
If that's the case, remember you'll also want to exercise regularly for the best results. You don't have to jump into a new diet and exercise program simultaneously, but when you're ready, the keto exercise plan for beginners is the perfect starting point.