Feel like dessert, but don't want to get kicked out of ketosis? One of the tastiest ways to fuel your body and stay on track is with these yummy and chewy protein cookies.
It's true that most people have a hard time adding more protein to their diet. Amino acids from protein are the building blocks of muscles, tissues, and connective tissues — basically your entire body.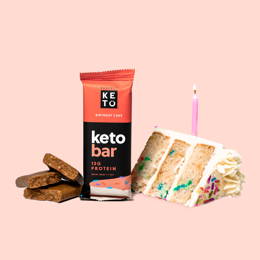 Birthday Cake Keto Bars are here!
The answer to your sweet tooth. 17g of fat, 3g of net carbs, incredibly delicious.
Shop Now
Whether you're a gym regular or want to make sure you're maintaining muscle mass as you age, you might want to consider adding some protein powder — or, in this case, chocolate chip protein cookies — to your weekly meal plan.
These protein cookies not only offer plenty of protein and healthy fats, but they're also free from inflammatory wheat flour and brown sugar.
Add a weekly batch of these incredible chocolate chip cookies anytime you're looking for a gluten-free, keto-friendly treat that also helps you meet your protein needs.
The whey protein powder in this recipe supplies 4 grams of protein per cookie so that you can enjoy this snack guilt-free.
So whip up some of this high-protein cookie dough, and fill your kitchen with the delectable scent of chocolate chip cookies.
These chocolate chip cookies are:
Sweet
Satisfying
Flavorful
Delicious
The main ingredients are:
Coconut flour
Sugar-free chocolate chips
3 Health Benefits of Chocolate Chip Protein Cookies
Feel good about eating your cookies. They're great your gut health, anti-inflammatory, and will help your muscles grow.
#1: Great for Gut Health
Hippocrates said, "all disease begins in the gut." And whey protein is fantastic for gut health.
Whey protein powder can help those with Crohn's disease — a chronic inflammatory bowel disease that can affect the lining of your gut.
When your gut lining becomes inflamed, it can become more permeable; a condition often referred to as "leaky gut." When a group of Crohn's patients consumed either glutamine (a single amino acid) or whey protein, they found that both groups showed significant improvements in gut permeability[*].
Coconut flour may also improve gut health.
In an animal study, researchers gave mice coconut cake made from coconut flour to assess the effect on colon cancer cells. Coconut flour lowered the activity of specific enzymes responsible for cancer cell growth and might protect against colon cancer (at least in mice)[*].
#2: Fights Inflammation
Many chronic diseases are the result of too much inflammation in your body. Managing inflammatory pathways is vital to keeping your body happy and healthy.
Egg yolks are a rich source of carotenoids, specifically the carotenoids lutein and zeaxanthin[*].
These compounds are responsible for the brilliant yellow-orange color of egg yolks and have a host of health benefits, including their role as an anti-inflammatory.
Lutein is a potent anti-inflammatory compound that some researchers think should be considered as an inherent part of treating cardiovascular disease[*].
Monk fruit is a natural sweetener often used in sugar-free recipes and low-carb products. A compound in monk fruit, mogroside, has been studied for its myriad health benefits. This includes anti-diabetic and anti-cancer properties[*][*].
One mice model found that mogroside was able to decrease inflammation in mice with ear edema (swelling). The researchers suggest that mogroside's beneficial effect on cancer and diabetes may come from its anti-inflammatory properties[*].
#3: Muscle Growth
Whether you're trying to gain muscle, lose fat, or just fit into your jeans more comfortably, increasing your muscle mass is an integral part of staying healthy.
Protein is an essential piece to the muscle growth puzzle, especially branched-chain amino acids (BCAAs). There are nine total essential amino acids, and three of them have "branched-chain" chemical structures — leucine, isoleucine, and valine.
BCAAs are well-known in the fitness and bodybuilding world for their ability to stimulate muscle growth. They can activate muscle synthesis following exercise by turning on specific enzymes[*].
Of the three BCAAs, leucine is the most potent protein-muscle synthesis amino acid. Its effect is likely due to the upregulation of specific gene pathways, which increase the rate of muscle growth[*].
Baking Soda or Baking Powder: Which Is Best for Protein Cookies?
Lots of cookie recipes use baking soda, but this one calls for baking powder. What's the difference?
Both are chemical leaveners, meaning they decrease the acidity in things you bake. But you can't use them interchangeably.
Baking soda requires an acid to activate, such as brown sugar or honey. Baking powder, however, only needs some kind of liquid to aerate the batter. Then another reaction occurs when it's heated in the oven.
Since these protein cookies are sugar-free, you need to use baking powder.
Low-Carb Protein Cookie Recipe Add-Ins
Here are some other optional mix-in ideas. If you add any of the following ingredients, keep an eye on the carb counts.
Almond butter
Sugar-free dark chocolate chips
Almond flour
Simple Nut Butter Protein Cookies
Since most conventional peanut butter brands contain added sugars and hydrogenated oils, plus  it's easy to overeat, so it's best to avoid peanut butter cookies on the keto diet.
Instead, make some nutty protein cookies by using almond butter or sugar-free sunflower butter. You'll still get all the nutty flavor and protein.
How to Make Vegan Protein Cookies
It's effortless to turn this keto recipe into a vegan one. Use vegetable oil instead of butter, and almond milk instead of dairy.
Another healthy swap is to use applesauce instead of oil. Just be careful that it's sugar-free. You'll also want to use vegan protein powder instead of whey protein.
Make Easy Protein Bars
Turn these cookies into effortless protein bars. Instead of spooning them onto a cookie sheet, spread them out in a single layer. After they bake completely, cut them into bars and store them in an airtight container.
You can also make the bars taste like brownies by using a chocolate protein powder and unsweetened cocoa powder. It currently uses an unflavored whey protein powder.
This protein cookie recipe is versatile. Mix things up and make it your own.
All you need are a few simple ingredients and a mixing bowl to create your new favorite protein cookies.
Print
Chocolate Chip Protein Cookies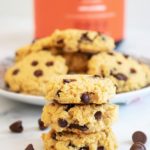 These gluten-free, keto-friendly, chocolate chip protein cookies are ready in just half an hour.
Author:
Prep Time:

10 minutes

Cook Time:

20 minutes

Total Time:

30 minutes

Yield:

12

cookies

1

x
Scale
Ingredients
2

scoops Perfect Keto Unflavored Whey Protein

½ cup

coconut flour

¾ teaspoon

baking powder

½ teaspoon

xanthan gum

¼ tsp

salt

2 tablespoon

s softened coconut oil or unsalted butter

1

large egg

¼ cup

unsweetened milk of choice

1 tsp

vanilla extract

¼ cup

monk fruit sweetener or stevia

⅓ cup

sugar-free chocolate chips
Instructions
Preheat oven to 350°F and line a baking sheet with parchment paper. Set aside.
Add dry ingredients to a small bowl (whey, coconut flour, baking powder, xanthan gum, and salt). Whisk well to combine.
Add butter (or coconut oil) and sweetener to a large bowl or stand mixer. Mix well until light and fluffy. Add egg, vanilla extract, and milk. Whisk well.
Slowly add dry ingredients to wet ingredients. Mix well until dough forms.
Stir in chocolate chips.
Portion and divide dough using a small cookie scoop. Place on baking sheet.
Bake for 20-22 minutes until the bottoms of the cookies are lightly golden brown.
Remove from oven and let cool slightly before serving.
Nutrition
Serving Size:

1 cookie

Calories:

60

Fat:

4g

Carbohydrates:

5g (4g net)

Fiber:

1g

Protein:

4g
Keywords: protein cookies