These chewy chocolate chip protein cookies are a delicious keto dessert — and a great way to add extra protein to your diet, without relying on plain whey protein powder all the time.
This protein cookie recipe is packed with healthy fats and grass-fed protein. It's also low-carb, sugar-free, gluten-free, and satisfyingly chewy. Each cookie has 4 grams of protein and is packed with nutrients. You can also eat the high-protein cookie dough on its own.
The main ingredients in these chocolate chip cookies are:
Baking Soda or Baking Powder: Which Is Best for Protein Cookies?
Lots of cookie recipes use baking soda, but this one calls for baking powder. What's the difference?
Both are chemical leaveners, meaning they cause your cookies to rise.
Baking soda and baking powder make your cookies lighter and more airy by producing carbon dioxide as they heat up. The bubbles of carbon dioxide create little pockets of air in your cookies, improving texture and preventing the cookies from being too dense or dry.
While both baking soda and baking powder are leaveners, there's a crucial difference between them. Baking soda requires an acid to activate the chemical reaction that releases carbon dioxide. Usually, in baking, sugar is the acid that activates baking soda — often brown sugar or honey.
Baking powder, on the other hand, already has an acid mixed in. All it needs is a liquid, followed by exposure to heat, and it will activate, aerating your batter and making it deliciously light.
Because these protein cookies are sugar-free, you don't have an acid that will activate the baking soda. Instead, you need to use baking powder.
Low-Carb Protein Cookie Recipe Add-Ins
These protein cookies are an excellent base for more flavors and add-ins. You can dress them up with extra ingredients, including:
More peanut butter, to make peanut butter chocolate chip cookies (or almond butter, pistachio butter, pecan butter, etc.).
Buttercream or cream cheese frosting. Just whip either butter or cream cheese with powdered monk fruit or erythritol and add a splash of vanilla extract.
Low-carb chocolate bars. If you prefer a chocolate chunk cookie with lots of delicious, irregularly-shaped pieces of chocolate, swap the chocolate chips for a keto-friendly chocolate bar instead. Just break the chocolate bar up while it's still in the package (so the pieces don't fly everywhere) and sprinkle the chunks into the batter. Lily's makes excellent keto-approved chocolate bars that are sweetened with stevia. They're available at most health food stores. 
Chocolate whey and chocolate powder. Turn these into double chocolate protein cookies by swapping the unflavored whey protein for chocolate whey protein powder and adding in 2 tbsp of cocoa powder.
How to Store and Freeze Protein Cookies
To store: keep the cookies in an airtight container for up to five days.
To freeze: put the cookies in a plastic bag, push as much of the air out as possible, and keep them in the freezer for up to three months. Thaw the cookies by leaving them out at room temperature for an hour; don't microwave them, as it will ruin the texture and dry them out.
How to Make Vegan Protein Cookies
It's effortless to turn this keto recipe into a vegan one. Use coconut oil instead of butter and almond milk instead of cow milk to make it dairy-free.
Another possible healthy swap is to use applesauce instead of oil. Just be careful that the applesauce you choose is low in sugar. You'll also want to use vegan protein powder instead of whey protein.
Make Easy Protein Bars
Who said these have to be cookies? This recipe also makes great protein bars.
After you make your dough, instead of dividing it up and spooning it onto a cookie sheet, spread the dough out in a single layer of a 9×13 baking pan greased with butter or coconut oil.. After the dough bakes completely (about 20 minutes), cut it up into bars and store them in an airtight container.
This protein cookie recipe is versatile. Mix things up and make it your own.
All you need are a few simple ingredients and a mixing bowl to create your new favorite protein cookies.
3 Health Benefits of Chocolate Chip Protein Cookies
Feel good about eating these keto protein cookies. They're especially satiating, anti-inflammatory, and good for your muscles.
#1: Extra Satiating
Protein is the most satiating macronutrient, meaning it fills you up more than fat or carbs[*].
Higher-protein diets are great for weight loss[*] because they make it easier to stay in a calorie deficit without feeling hungry.
Keto does this too — ketosis suppresses ghrelin, your body's main hunger hormone, which makes your experience of hunger less pressing[*].
A high-protein snack (like this cookie) in the context of a keto diet is a great way to stay full and sustainably lose weight long-term.
#2: Fights Inflammation
Many chronic diseases are the result of too much inflammation in your body. Managing inflammatory pathways is vital to keeping your body happy and healthy.
Egg yolks are a rich source of carotenoids, specifically the carotenoids lutein and zeaxanthin[*].
These compounds are responsible for the brilliant yellow-orange color of egg yolks and have a host of health benefits, including their role as an anti-inflammatory.
Lutein is a potent anti-inflammatory compound that some researchers think should be considered as an inherent part of treating cardiovascular disease[*].
Monk fruit is a natural sweetener often used in sugar-free recipes and low-carb products. A compound in monk fruit, mogroside, has been studied for its myriad health benefits. This includes anti-diabetic and anti-cancer properties[*][*].
One mice model found that mogroside was able to decrease inflammation in mice with ear edema (swelling). The researchers suggest that mogroside's beneficial effect on cancer and diabetes may come from its anti-inflammatory properties[*].
#3: Muscle Growth
Whether you're trying to gain muscle, lose fat, or just fit into your jeans more comfortably, increasing your muscle mass is an integral part of staying healthy.
Protein is an essential piece to the muscle growth puzzle, especially branched-chain amino acids (BCAAs). There are nine total essential amino acids, and three of them have "branched-chain" chemical structures — leucine, isoleucine, and valine.
BCAAs are well-known in the fitness and bodybuilding world for their ability to stimulate muscle growth. They can activate muscle synthesis following exercise by turning on specific enzymes[*].
Of the three BCAAs, leucine is the most potent protein-muscle synthesis amino acid. Its effect is likely due to the upregulation of specific gene pathways, which increase the rate of muscle growth[*].
Snacking on these protein cookies instead of a lower-protein version can help you hit your muscle gain goals in the gym.
If you're looking for already-made keto cookies with cleaner ingredients, opt for Perfect Keto Cookies, which also contain a serving of grass-fed collagen and only 4 net carbs per serving.

Print
Chocolate Chip Protein Cookies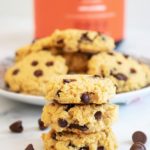 These gluten-free, keto-friendly, chocolate chip protein cookies are ready in just half an hour.
Author:
Prep Time:

10 minutes

Cook Time:

20 minutes

Total Time:

30 minutes

Yield:

12

cookies

1

x
Instructions
Preheat oven to 350°F and line a baking sheet with parchment paper. Set aside.

Add dry ingredients to a small bowl (whey, coconut flour, baking powder, xanthan gum, peanut butter powder, and salt). Whisk well to combine.

Add coconut oil, butter, and sweetener to a large bowl or stand mixer. Mix well until light and fluffy. Add egg, vanilla extract, peanut butter, and milk. Whisk well.

Slowly add dry ingredients to wet ingredients. Mix well until dough forms.

Stir in chocolate chips.

Portion and divide dough using a small cookie scoop. Place on baking sheet.

Bake for 20-22 minutes until the bottoms of the cookies are lightly golden brown.

Remove from oven and let cool slightly before serving.
Nutrition
Serving Size:

1 cookie

Calories:

60

Fat:

4g

Carbohydrates:

5g (4g net)

Fiber:

1g

Protein:

4g
Keywords: protein cookies