Is ketosis safe? is a common question for those who are new to the diet or haven't really researched it thoroughly.
When this question comes up, most people are drawing on what they've heard from the nearest layperson or about the dangers of ketoacidosis, which is much different. So, it's time to set the record straight and shed some light on this confusion about the safety of ketosis!
First, we'll look at common myths, including the difference between ketosis and ketoacidosis, and finally, how to make sure you're following the ketogenic diet safely and healthfully.
Misconceptions about Ketosis
There's a lot of false information out there about ketosis being bad for you, so let's address it and talk about what's untrue.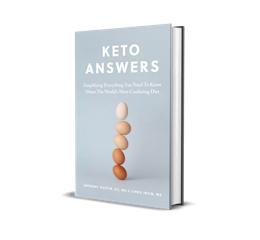 Keto Answers Book
Have a conversation with a leading keto doctor and keto researcher at your fingertips so you can feel better and keto with confidence.
Buy Now
Ketosis Health Myths
The most common myths about ketosis being unsafe or unhealthy usually come down to misinformation. Here are some of the top health myths about ketosis and why they're wrong:
Myth: The ketogenic diet causes heart disease.
We've all been told that fat, especially saturated fat and dietary cholesterol, cause hardening of the arteries and heart disease. This is simply not true based on the latest research. Plus, Dr. Anthony says a high-fat, ketogenic diet is the best thing for reducing inflammation long-term, and inflammation has been linked to heart disease and other diseases.
Myth: It's not safe for your kidneys.
You'll often hear about risk to the kidneys with high-protein diets, and sometimes ketogenic diets are still lumped into that category. But the keto diet is NOT high protein; it's high fat and moderate protein. You'll be eating a healthy level of protein that doesn't overload your system and lots of healthy fats.
Myth: Your healthy muscles will waste away.
Nope, not if you keep fat intake high and protein intake moderate—which is, again, the basis of healthy ketosis. Your body will continue burning ketones for fuel without turning to your lean muscle. Ketosis actually helps preserve and prevent muscle tissue from breaking down.
Myth: You won't get enough fiber.
Sure, if you eat nothing but meats and butter. But eating a proper ketogenic diet involves a lot of whole food, fibrous vegetables and salads, which are full of healthy fiber for the colon. Make sure to check out our full ketogenic diet food list and ketogenic diet grocery list, so that you can include the proper foods for ketogenic diet success.
And finally, one of the biggest misconceptions that causes people to ask "is ketosis safe?" is from confusing ketosis with ketoacidosis. Let's break down the big difference between ketosis and ketoacidosis.
Ketosis Versus Ketoacidosis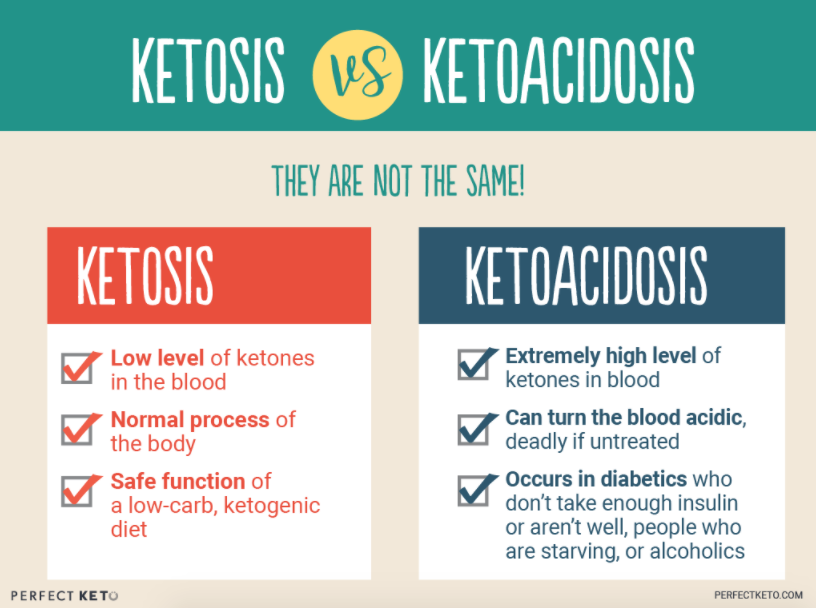 Though the names are so similar, ketosis and ketoacidosis have huge distinctions. Here are basic definitions of each:
Ketosis is a natural process in which the body begins burning ketones for fuel instead of glucose.
Ketoacidosis is a dangerous metabolic state that can occur in type 1 diabetics, if they aren't managing their insulin and diet properly. This is also known as diabetic ketoacidosis, or DKA.
DKA can also occur in diabetics who are sick. Either way, it involves an extremely high level of ketones in the blood that causes it to turn acidic.
In contrast, ketosis is a safe shift in how the body burns energy brought on by changes in diet. On a standard diet, the default energy source of the body is carbohydrates. But with a very-low-carb, moderate-protein, and high-fat ketogenic diet, the body begins to switch from burning carbs for fuel to breaking down fats, releasing ketone bodies that are used for fuel.
Not only is ketosis natural and safe, it's also healthy in many ways, which we'll cover below.
Responsible Ketosis
Contrary to the popular myths we've covered above, there are many benefits of following a ketogenic diet and putting the body into ketosis. Whether you're new to the ketogenic diet or have been following it for years, it's always good to have a refresher on the healthiest (and safest) ways to get into ketosis.
Entering Ketosis Safely
It's important to make sure you're eating whole foods and also keeping the right ratios of carbs, proteins, and fats: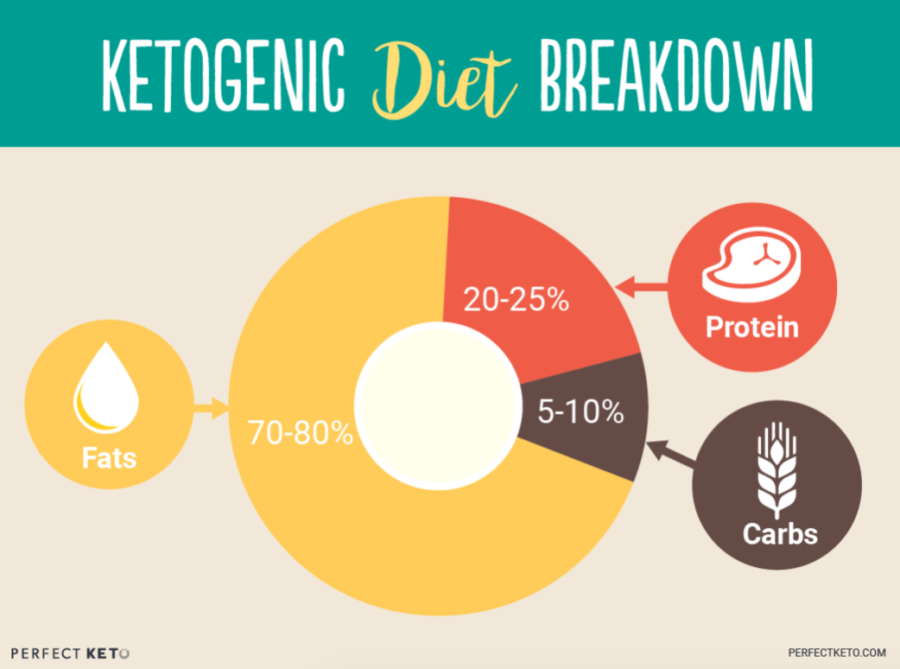 Amounts vary a little depending on the person, but making sure your fat intake is high — and protein isn't too high — is key.
The "Keto Flu"
The only downside to ketosis are the side effects some people experience when the body is switching from glucose to ketones for energy. This is often referred to as the "keto flu" because it mimics actual flu virus symptoms like:
Headaches
Lethargy
Feeling tired
Lacking motivation
Irritability
Confusion or brain fog
It's not uncommon to experience these when first starting a ketogenic diet or after a cheat meal or carb cycling, as your body is burning through that excess glycogen and switching back to burning fat for fuel again.
How to Avoid the Keto Flu
Keto flu symptoms usually diminish with a few days before you start to feel good on your keto diet again. Then again, some lucky people never experience the keto flu at all. For those who do, though, there are ways to prevent the symptoms, including:
Taking exogenous ketones: Increasing the amount of useable ketones in your system helps you reduce the chances or amount of time the keto flu is experienced, since they can help you get into ketosis and reduce transition symptoms faster than just relying on diet.
Drinking a lot of water: It's so important to stay hydrated, starting as soon as you wake up. Try to drink around 32 ounces of water in the morning—especially if you have keto coffee or black coffee, which is dehydrating—and continue throughout the day. This can help reduce headaches and other uncomfortable symptoms.
Increasing your salt intake: Your kidneys excrete more sodium on a ketogenic diet, so you can end up with a need for more of it in your diet. Try adding Himalayan pink sea salt to your dishes, drinking bone broth throughout the day, adding sea vegetables to your meals, eating cucumbers and celery, and snacking on salted nuts (in moderation — see this post on nuts).
Making sure you're eating enough calories and fat: Some people make the mistake of just cutting out the carbohydrates and not replacing them with anything, leading to a super-low calorie intake that is bad for hormones and metabolic needs. Keep your calories up and your brain nourished with plenty of healthy ketogenic-friendly fats.
Getting exercise: You might not feel much like exercising at the beginning of getting back into ketosis, but regular exercise can help make your metabolism better able to handle the switch from carbs to ketones for energy—meaning less keto flu suffering.
Testing your ketone levels: Make sure you're actually getting into and staying in ketosis—and test OFTEN. This article tells you exactly how.
Now that we've covered the main myths and misunderstandings, you can see ketosis is safe and healthy when following a well-planned and whole foods ketogenic diet!