Thinking you can't have delicious chocolate pudding without the high sugar, high carb components that typically come along with it? Well think again.
This chocolate keto collagen chia pudding is the perfect treat to satisfy that sweet tooth while also adding a healthy dose of fiber and collagen into your diet.
This recipe includes Perfect Keto Chocolate Keto Collagen that is a nutritional powerhouse as well as being a delicious, chocolatey treat. Along with Keto Chocolate Mousse, this pudding is a top dessert dish.
For a total time of only five minutes to prepare, there's no reason you can't indulge in this.
Along with Keto Collagen, another main ingredient in this pudding is chia seeds.
We've all heard of chia seeds, but what are they exactly?
The chia seed itself is abundant in nutrients and provides an optimal amount of fuel for the body. They date all the way back to when Aztec warriors would eat them to provide them with endurance and energy. One ounce of chia seeds contains 30 percent of the recommended daily value for manganese, 27 percent of the recommended daily value of phosphorus and 18 percent of the recommended daily value for calcium.
They fit perfectly with almost any food, especially some yummy Keto Oatmeal. However, the benefits of chia seeds don't stop here.
Some Other Benefits of Chia Seeds Include:
#1: Improve Digestive Health
To say that chia seeds are a good source of fiber is an understatement. Not only are they are good source, but one ounce can provide you with all the fiber you need for the whole day.
But wait, why does this matter?
Foods high in fiber keep your blood sugar at healthy levels and allow your body to balance insulin levels properly. The fiber in chia seeds also allows them to absorb a lot of water, making you feel full and satiated at a quicker rate.
#2: A Good Source of Omega-3 Fatty Acids
What is one of the first foods you think of when you think of omega-3s? You guessed it — salmon. So can you believe that chia seeds actually provide more omega-3s than this meaty fish? Omega-3s are extremely important for proper body function, your heart in particular. These fatty acids work to help lower blood pressure and inflammation. Chia seeds are high in a particular fatty acid, linoleic acid. This fatty acid helps the body absorb vitamins A, D, E and K.
#3: Improve Skin Health
One of the top benefits of chia seeds is their insane amount of antioxidants. Not only that, but their antioxidant activity has been shown to stop up to 70 percent of free radical activity[*]. You may be wondering what in the world free radicals are. Free radicals are naturally produced by our bodies, but they become harmful once they start reacting with certain cells and robbing them of their important compounds.
So what does this have to do with skin health?
Antioxidants have the ability to improve the repairing of skin cells and prevent further damage from free radicals and other elements causing inflammation.
Thinking you can't have your cake (or chocolate chia pudding) and eat it, too? No worries here! Pick up this short list of ingredients when you're checking out your keto grocery list and prepare your very own Chocolate Keto Chia Pudding today to satisfy that sweet tooth and stay on the road to optimal health all at the same time.
Print
Chocolate Keto Chia Pudding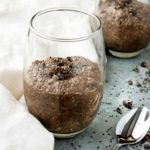 This delicious keto chia pudding recipe uses chocolate collagen and chia seeds to improve digestive health and keep you in ketosis.
Author:
Prep Time:

5 minutes

Total Time:

5 minutes

Yield:

1

1

x
Category:

Dessert

Cuisine:

French
Instructions
In a small mixing bowl, add all ingredients and mix together until fully-incorporated.

Transfer mixture to a mason jar, cover, and refrigerate for 4 hours.
Nutrition
Calories:

330

Saturated Fat:

20.7g

Carbohydrates:

21.4g (4.4g net)

Protein:

18.4g
Keywords: chocolate keto chia pudding