When it comes to breakfast recipes, pancakes and waffles are classics. Toss some chocolate chips on those bad boys, and you have a Sunday brunch favorite.
But if you love cinnamon rolls — you have to try these cinnamon roll twists. They're gooey and sweet, and create the perfect balance of sweet and savory.
They go great with your morning coffee or even a glass of warm milk.
These cinnamon twists are:
Sweet
Gooey
Delicious
Flavorful
The main ingredients are:
3 Health Benefits of Cinnamon Roll Twists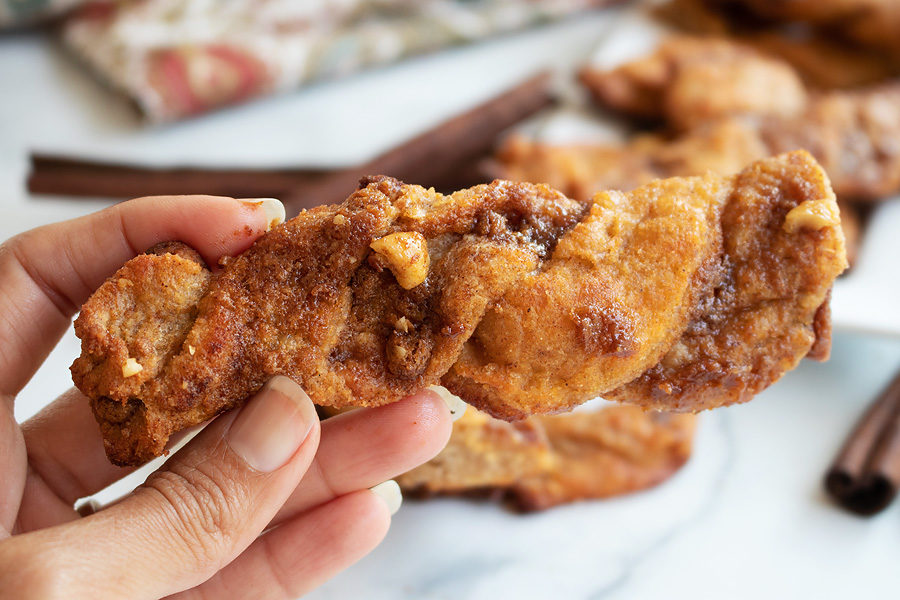 #1: Promotes Heart Health
Gone are the days of fearing full-fat dairy products — thank god.
In the past, saturated fat got a bad rep as being the cause of heart disease. Recent research, however,  is uncovering the fact that saturated may even contribute to cardio-protection.
One fatty acid in, particular, heptadecanoic acid, occurs in the full-fat dairy products and has an inverse relationship with heart disease.
In an epidemiological study, researchers followed study participants for 22 years — keeping tabs on their health markers.
At the end of the 22 years, they found no correlation between saturated fat intake and heart disease.
Even more interesting — it looks like the saturated fatty acid, heptadecanoic acid, may have a protective effect on the heart. The more of this fatty acid in someone's system, the less likely they were to die of heart disease[*].
#2: Protects Your Joints
Collagen is an essential component of connective tissue and helps to maintain the integrity of your cartilage. Cartilage surrounds and protects your joints, and is crucial for the proper movement of your skeletal system.
Due to aging and over-use, cartilage can become damaged, and result in the degenerative joint disease osteoarthritis (OA). When this happens, it can result in pain, stiffness, loss of flexibility, swelling, and a host of other unpleasant and debilitating symptoms[*].
Research shows that when you consume collagen, it tends to accumulate in your cartilage. This stimulates the synthesis of your extracellular matrix, enhancing the health of your connective tissue.
This is fantastic news for people suffering from osteoarthritis. Although more research needs to be carried out, OA patients that supplement with collagen report improvements in measures of both pain and function[*].
#3: Supports Weight Loss
These delicious cinnamon desserts not only take the place of high-sugar alternatives, but they may also boost your bodies ability to burn fat.
Research shows that a component of monk fruit, called mogrol, may be able to halt the growth of fat cells. In an in vitro study, mogrol caused cell cycle arrest at two different stages of fat cell differentiation.
In other words, it stopped the division and growth of pre-fat cells in their tracks, inhibiting their maturation into full fat cells[*].
Cinnamon Roll Twists
Switch up your Sunday brunch with delicious cinnamon twists. They're equally as satisfying as they are delicious, but fair warning — you'll likely want more than one.
Print
Keto Cinnamon Roll Twists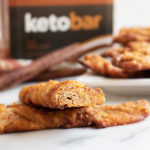 These cinnamon roll twists are gooey and delicious, loaded with cream cheese, cinnamon,  and mozzarella, they make the perfect brunch or breakfast recipe. 
Author:
Total Time:

25 minutes

Yield:

5

large twists/10 small twists

1

x
Instructions
Preheat oven to 350 degrees F and line a baking sheet with parchment paper.

Add mozzarella cheese, almond flour, and cream cheese to a medium sized bowl.  Place in the microwave and heat for 1 minute.

Add egg, vanilla extract, ½ teaspoon cinnamon, and ¼ cup sweetener.  Stir very well until dough comes together.

Add a large piece of parchment paper to your countertop and roll dough onto surface.  Place another piece of parchment over dough. Use a rolling pin and press dough into a 10×10 square.

Sprinkle dough with remaining sweetener, cinnamon, and crumbled Perfect keto bar.  Press into dough.

Using a pizza cutter or sharp knife, cut dough into thin strips.

Take two strips and begin twisting/braiding them together.  Place on prepared baking sheet.

Bake for 18-20 minutes until they just turn golden brown and are firm to the touch.
Nutrition
Serving Size:

1 large twist

Calories:

280

Fat:

22g

Carbohydrates:

8g (4g net)

Fiber:

4g

Protein:

17g
Keywords: cinnamon roll twists