Got a sweet tooth? You're in good hands. Fat bombs are an essential part of low-carb keto diets and these 3-ingredient fat bombs are no exception.
Rich in healthy fats and full of flavor, they're not only delicious and satisfying, but they're also one of the simplest dessert recipes and make the perfect keto snack.
Everyone has their favorite fat bomb recipe. You may love your almond butter fat bombs, or cocoa powder chocolate fat bombs — but nothing compares to the creamy delight that is these cream cheese coconut fat bombs.
You might have your weak moments, but don't let that hankering for ice cream or peanut butter cups get in the way of your keto diet.
To be safe, you better make an extra serving of these 3-ingredient fat bombs as they tend to go fast.
These coconut fat bombs are:
Creamy

Sweet

Delicious

Satisfying
The main ingredients are:
Optional additional ingredients
Health Benefits of Coconut Fat Bombs
Not only do these 3-ingredient fat bombs taste amazing, but they're good for your body and will keep you keto. They're high-fat and one of the easiest keto recipes you can make. Here are a few health benefits of these tasty keto snacks.
May Assist in Weight Loss
In life, cravings are a given. Unfortunately, when you're trying to lose weight your sweet tooth can become an unwanted obstacle. That's why it's essential to have a plan in place — like these no-bake coconut fat bombs.
Unlike your standard dessert options, these fat bombs are going to keep your blood sugar in check. In addition, each of the ingredients in these little treats has its own weight loss benefits.
Coconut butter contains medium-chain triglycerides (MCTs). MCTs are a type of fat that has been shown to enhance weight loss[*]. Part of their fat-burning properties may come from the fact that MCTs increase energy expenditure by your body — especially when compared to longer chain fatty acids. 
When a group of 49 overweight men and women were given either olive oil or MCT oil, the MCT oil group saw a significant increase in weight loss[*].
Aside from being an excellent substitution for sugar, it looks like monk fruit may have a unique effect on your fat cells as well. 
Research suggests that monk fruit may decrease your body's ability to accumulate fat mass. The way that it carries out this function is by inhibiting the pathway necessary for fat cell growth[*].
Dairy isn't generally thought of as a weight loss aid, but it may be time to change that way of thinking. Several studies have reported the benefits of eating full-fat dairy, including its potential benefits for heart disease[*]. 
What's more, researchers have been investigating the potential weight loss benefits of eating dairy.
In one study, clinically obese subjects were placed on a controlled calorie diet. One group was given yogurt as part of their meal plan, while the other group remained dairy-free. With both groups eating identical calories and macronutrients, the yogurt group had significantly more fat loss[*].
Can Boost Immune Health
The lauric acid in coconut butter is a fantastic immune-boosting compound. It's even been shown to have anti-cancer effects. In an in vitro study, lauric acid was shown to stop cancer growth, and kill cancer cells in both breast and endometrial cancer[*].
Monolaurin, which is made from lauric acid, has been shown to display impressive antibiotic activity. Gram-negative (harmful) bacteria can cause a host of issues in your body. Many people turn to conventional antibiotics to get rid of harmful bacteria — which often happens at the cost of some of your good bacteria.
When compared to conventional antibiotics, monolaurin showed statistically significant antibiotic activity against common harmful bacteria. More studies need to be done to determine dose and safety[*].
Monk fruit, the sweetener used in these delicious coconut fat bombs, has been shown to have antioxidant activities. The balance between oxidative stress and antioxidant activity is one of the cornerstones of a healthy immune system. In an in vitro study, monk fruit showed an inhibitory effect against free radical damage to DNA[*].
Monk fruit may also be helpful in combating seasonal allergies. When you have an allergic reaction, your body releases a compound called histamine. Histamine creates inflammation in your body, along with other unpleasant symptoms like itching, sneezing, and watery eyes.
In a group of histamine-induced mice, an extract of monk fruit was successfully used to inhibit itching and scratching. The effect seems to come from monk fruit's ability to inhibit the release of histamine, and therefore the unpleasant side effects[*].
Balances Blood Sugar
Unlike most sweet indulgences that leave your blood sugar a mess, these fat bombs can actually help to stabilize it. And even better, they can help your body use the hormone insulin more effectively.
Keeping your blood sugar stable is crucial if you want to stay in ketosis. If fact, it may be the number one thing for you to pay attention to — especially in the early days of keto-adaptation.
Fat naturally has a small impact on insulin, which is why these 3-ingredient fat bombs are a stellar choice if you're craving a treat. But the real magic comes from the intentionally chosen ingredients in these fat bombs.
Full-fat dairy, like cream cheese,  has been shown to have a number of metabolic benefits. In one study, researchers examined the diets of 3,736 people to determine their risk factors for type 2 diabetes and heart disease. The results showed that people consuming more dairy how lower insulin resistance, along with a reduced incidence of diabetes[*].
Monk fruit is already a great ally to diabetics, offering all the sweetness with none of the blood sugar spikes. However, studies have shown that monk fruit may have an even greater effect on blood sugar by stimulating the release of insulin from your pancreas[*].
These fat bombs are truly indulgences to enjoy guilt-free.
Coconut Oil or Coconut Butter: What's the Difference? 
This recipe calls for coconut butter. But is coconut oil the same thing? No, they are different because they are made in different ways. 
Coconut oil is an oil that is derived from the coconut meat. 
Coconut butter is made by grounding the coconut flesh into a paste. 
They are both made from the same part of the coconut, but the butter is a thick paste. If you use coconut oil instead, the texture will be greasier. 
How Many Net Carbs Are in Each Fat Bomb? 
There is only 1 net carb in each of these fat bombs. To calculate net carbs, subtract the fiber from the total amount of carbohydrates. You can use the Perfect Keto macro calculator to help you on your keto diet. 
Are These Fat Bombs Vegan and Paleo? 
These fat bombs are not vegan, but they do qualify as paleo. Since they use dairy, they are not vegan. But if you buy grass-fed, organic dairy, you can eat these on both the paleo and ketogenic diet. 
Keto Fudge: 3-Ingredient Fat Bombs You Will Love
Fat bombs and keto fudge are pretty much the same thing. The main difference is in the presentation. Fudge is typically cut into squares, but fat bombs are usually shaped into circles or other shapes. Either way, these are sugar-free treats you can enjoy without worrying about getting kicked out of ketosis.  
Erythritol or Monk Fruit Sweetener
When you make this recipe, you can use either erythritol or monk fruit sweetener. Both are keto-friendly sweeteners. 
Erythritol is sugar alcohol without any calories or effects on your blood sugar. 
Monk fruit sweetener is also a zero-calorie sweetener. It's extracted from a gourd that is commonly found in Southeast Asia. 
You can use them interchangeably. Both will make your keto desserts taste sweet without adding any calories.
Low-Carb Coconut Cheesecake Fat Bombs
These easy keto coconut fat bombs make the perfect keto dessert to satisfy your sweet tooth. They're no-bake, low-carb, gluten-free, and incredibly satisfying.
Want to mix it up a bit? Add some almond butter, or unsweetened dark chocolate and voila — you have your own version of keto fat bombs.
Print
Coconut Cheesecake Fat Bombs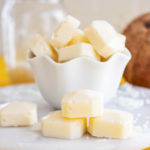 When your sweet cravings strike, these 3-ingredient fat bombs won't disappoint. Rich in healthy fats, this keto fat bomb recipe is sure to satisfy and delight.
Author:
Total Time:

5 minutes plus freezing time

Yield:

16

pieces

1

x
Instructions
Add softened cream cheese, softened coconut butter, and sweetener to a medium-sized bowl.  Mix well until smooth.

Divide and portion mixture into small silicone molds.  Scrape any excess off the top. Place in the freezer to set for 2-3 hours until firm.

Cover and store in the fridge or freezer.  Let thaw for 10-15 minutes before serving.
Nutrition
Serving Size:

1 piece

Calories:

128

Fat:

12g

Carbohydrates:

4g (1g net)

Fiber:

3g

Protein:

2g
Keywords: 3 ingredient fat bombs