When did fudge become a health food? When it became keto. These low-carb, gluten-free, dairy-free, and sugar-free keto fudge squares are the perfect treat for busy days when you want a quick snack to curb your sugar cravings.
With a deep nutty, chocolatey flavor, they're also packed with brain-friendly nutrients like medium-chain triglycerides and omega-3 fatty acids.
These blood-sugar balancing keto fudge squares are:
Creamy

Chocolatey

Nutty

Light with a decadent mouth feel

Fast and easy to make
What's in Keto Fudge? 
The main ingredients in this keto chocolate fudge recipe include:
Walnuts

Keto-friendly sweetener of your choice
Best Keto Sweetener for Fudge 
There are more than a few keto-friendly sweeteners you can choose from, so you might be wondering which one is the best to use in keto fudge.
Both stevia and erythritol are the ideal texture and offer the perfect balance of sweetness for fudge. It's important to pick something that will dissolve in the fudge without changing the texture or leaving a bitter aftertaste. 
Monk fruit and Swerve are also popular choices. 
All four of these are natural sweeteners that have a low glycemic index. 
Whatever you decide, remember to avoid artificial sweeteners. Why? They have the potential to disrupt hormones and ketosis. Stick with naturally derived, low-glycemic sweeteners that are better for your body. 
Low-Carb Chocolate Fudge Nutrition Facts
The best thing about this dessert is how low in carbs it is. You might not believe it, but there are less than 2 net carbs per serving. 
The walnuts and almond butter add just enough fiber to bring the already low-carb count down even lower. 
Remember that when counting carbs on keto, you don't have to count the total carbs, just the net carbs. 
Health Benefits of Keto Chocolate Fudge
Just to give you even more reasons to fall in love with this recipe, it's actually good for you. There are three main health benefits of this fudge that will help your body function better while in ketosis. 
#1. Excellent Brain Food
Your brain needs healthy fats to function at its peak, and it loves using ketones as fuel. Luckily, this low-carb fudge is packed with healthy fats from coconut oil and Perfect Keto Nut Butter, so you can satisfy your sweet tooth without the brain fog and fatigue.
Both coconut oil and Perfect Keto Nut Butter contain MCTs — or medium-chain triglycerides — that convert into energy and brain food quickly and efficiently.
MCTs bypass the normal digestive process and convert into ATP energy much faster than other fatty acids.
The quicker your body converts MCTs into ketones, the faster your brain has fuel, which is why MCTs are associated with sharper brain function.
Walnuts (although an optional ingredient) can also boost brain health. Walnuts are rich in omega-3 fatty acids, which protect your brain cells and your cardiovascular system, while reducing inflammation overall[*][*].
Cacao is associated with an increase in focus and may even stimulate feelings of bliss and euphoria[*][*].
#2. Improves Digestion and Gut Function
Not many desserts are good for your gut. Sugar, in fact, slows bowel transit time and can increase the number of non-beneficial microbes in your gut[*].
But these keto chocolate fudge squares won't do that.
Healthy fats from coconut and MCT oil provide antimicrobial and antifungal properties that may help balance gut bacteria and support your immune system[*].
Fat also aids in the absorption of essential nutrients such as vitamins A, E, D, and K in your small intestine.
And the dietary fiber in walnuts can promote the growth of beneficial bacteria that help keep your digestive system healthy and functioning properly[*].
#3. Perfect Weight Management Snack
No need to feel guilty when indulging in these keto treats. This keto chocolate fudge includes ingredients associated with satiety and weight loss.
MCTs in the Perfect Keto Nut Butter and coconut oil help keep your appetite in check and can help you lose unwanted fat over time[*][*].
Walnuts, too, can keep you feeling satisfied and decrease cravings for less nutritious foods[*].
If you're on a keto diet and looking for a sweet treat that will keep you feeling full, plus feed your brain and your good gut bacteria, add this to your list of go-to keto recipes.
Best of all, it's done in just a few minutes. 
More Ways to Make Keto Fudge
This recipe makes a fantastic base recipe. It's simple and offers plenty of room for experimenting and customizing. 
There are lots of ways you can make some changes and create new recipes without much effort. Here are some ideas to get you started. 
#1. Add Chocolate Chips
Sprinkle some sugar-free chocolate chips or cacao nibs into the fudge. This will elevate it to double-chocolate status. You can put the chips directly in the fudge, or sprinkle them on top for decoration and added texture. 
If you really want to enhance the taste, choose dark chocolate chips. They have a deeper flavor and you don't need very many.
#2. Add Chopped Pecans
Pecans have a relatively low carbohydrate count, so they are a good choice to add on top of your fudge. Chop them up into very fine pieces and sprinkle them as a crunchy topping for added taste and texture. 
#3. Cream Cheese Frosting
Create a keto-friendly cream cheese frosting by whipping cream cheese with stevia. Then, just add a little bit to the top of the fudge. It will set if you chill it in the refrigerator. 
#4. Sea Salt Sprinkles
Like a little savory with your sweets? Salted caramel and salted chocolate are both so delectable. The large salt crystals bring out the depth of the chocolate flavors, plus they'll give you a boost of sodium. Be generous and try this on your fudge. 
#5. Peppermint Fudge
Add a few drops of peppermint oil to the fudge. Mix it all together. This will create a lip-smacking peppermint fudge recipe. Peppermint is more of a holiday flavor, but you can enjoy it any time of the year. 
Peanut Butter Fudge on Keto
There are a lot of reasons to be careful with peanut butter when it comes to keto.
While you might enjoy the taste of peanut butter and chocolate fudge, it's important to keep in mind that most commercial varieties of peanut butter contain hydrogenated oils. 
Hydrogenated oils are bad for your health. They can lead to issues like higher LDL ("bad") cholesterol levels, lower HDL ("good") cholesterol, and inflammation[*].
If possible, choose another nut butter instead of using peanut butter.
Difference Between Keto Fudge and Fat Bombs
There aren't any nutritional or even textural differences between keto fudge and fat bombs. The only difference is in the presentation. 
Fudge is typically cut into squares. 
Fat bombs are round and normally created using some kind of silicone mold. Feel free to make this fudge recipe and presenting it in whatever form you like. Whatever you decide, you can't go wrong.
How to Make A Nut-Free Keto Fudge Recipe
The main ingredient in this recipe is Perfect Keto Nut Butter. It's a combination of raw macadamias, cashews, and coconut. 
If you have a nut allergy, you can make it nut-free by using sunflower seed butter instead. Make sure you are using one that is sugar-free. Then, omit the walnuts.

Print
Easy Keto Chocolate Fudge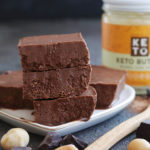 Try this keto fudge any time you're craving something sweet but don't want to load up on carbs.
Author:
Prep Time:

15 minutes

Total Time:

1-2 hours firming in the fridge

Yield:

16

small squares

1

x
Instructions
Add coconut oil, nut butter, and cacao powder to a bowl or stand mixer. Whip on high until very smooth and no lumps remain.

Add vanilla, sweetener, and salt to the bowl. Stir in chopped walnuts or other ingredients if desired.

Pour mixture into a baking dish lined with parchment paper. Place in the fridge to set. Remove and cut into portions.

You can also turn the mixture into low carb, keto fat bombs by pouring the mixture into a silicon candy sheet and placing in the fridge to set.
Nutrition
Serving Size:

1 small square (makes 16)

Calories:

137 kcal

Fat:

13g

Carbohydrates:

2g

Protein:

3g