Satisfy that sweet tooth with these protein-packed Coconut Chocolate Collagen Bars.
When you're on a keto diet, it's tough to find desserts that'll satisfy your sweet cravings without pushing you over your carb limit for the day.
That's why we're bringing you as many keto-friendly dessert recipes as possible — like our keto ice cream and keto chocolate mousse recipes — and now, these protein and fat-packed Coconut Chocolate Collagen Bars.
What's In Coconut Chocolate Collagen Bars?
With almond butter, unsweetened cacao, coconut oil, shredded coconut and Perfect Keto Grass-Fed Chocolate Keto Collagen, it's no wonder why this is one of our favorite recipes!
These bars are loaded with nutrients so you can be sure to satisfy that sweet tooth while staying on course with your health goals.
This Coconut Chocolate Collagen recipe has only 6 ingredients while yielding a whopping 18 bars! Store them in the refrigerator or freezer for a quick and easy go-to dessert for the next time that craving hits.
What are Collagen Peptides?
Why use collagen as our main source of protein? Collagen is the most abundant protein in our bodies, providing us with a significant amount of health benefits.
Made with Chocolate Keto Collagen Protein powder, these bars are the perfect pre or post-workout snack. Our collagen peptides are sourced from 100% grass-fed cattle to not only benefit your health but also the health and sustainability of our environment as well.
The Benefits of Collagen
Some of the many benefits of incorporating collagen into your diet include:
Developing and maintaining a healthy gut
Improving skin, hair, teeth and nail health
Improving liver and cardiovascular health
Reducing joint pain and degeneration
Increasing muscle mass, metabolism and energy output
Collagen is different than other proteins due to its abundance of amino acids. These amino acids help with tissue growth of hair, nail and skin while increasing joint, ligament and tendon strength [*][*]. Additionally, collagen is easier on your stomach than other protein supplements such as whey or casein that have been known to cause gut distress and bloating in many people.
MCT Oil Benefits
There is also five grams of MCT Oil powder in each serving of this recipe. Unlike other brands, our MCT Oil has zero fillers and is 100% pure MCT Oil made from coconuts. Some benefits of MCT Oil include:
Easy and fast digestion for immediate and clean energy
Burned by the body as fuel — not stored as fat
Improve gut and immune health
Contain a multitude of antioxidant properties
Want all of these benefits on the go, no cooking required? Try our Perfect Keto Bars. A decadent, guilt-free keto treat.
Print
Coconut Chocolate Collagen Bars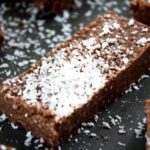 Enjoy this protein-packed dessert without any guilt! These coconut chocolate collagen bars will be your first choice when a sweet craving hits!
Author:
Prep Time:

15 minutes

Cook Time:

4 hours

Total Time:

4 hours 15 minutes

Yield:

18

1

x
Instructions
Line 8×8 baking pan with parchment paper and set aside.

In a double boiler, melt almond butter, chocolate and coconut oil and stir until well combined.

In a separate bowl, whisk together Chocolate Keto Collagen, 1 cup shredded coconut and Monk fruit sweetener.

Remove chocolate mixture from heat and allow to cool for 2-3 minutes.

Add dry ingredients to wet ingredients and whisk until well combined.

Pour mixture into prepared baking pan. Top with remaining shredded coconut.

Refrigerate for at least 4 hours, preferably overnight.

Remove parchment paper from baking pan and cut into bars.

Store in refrigerator.
Nutrition
Calories:

202

Fat:

18.8g

Carbohydrates:

5.5g (Net: 2.7g)

Protein:

5.1g
Keywords: coconut chocolate collagen bars