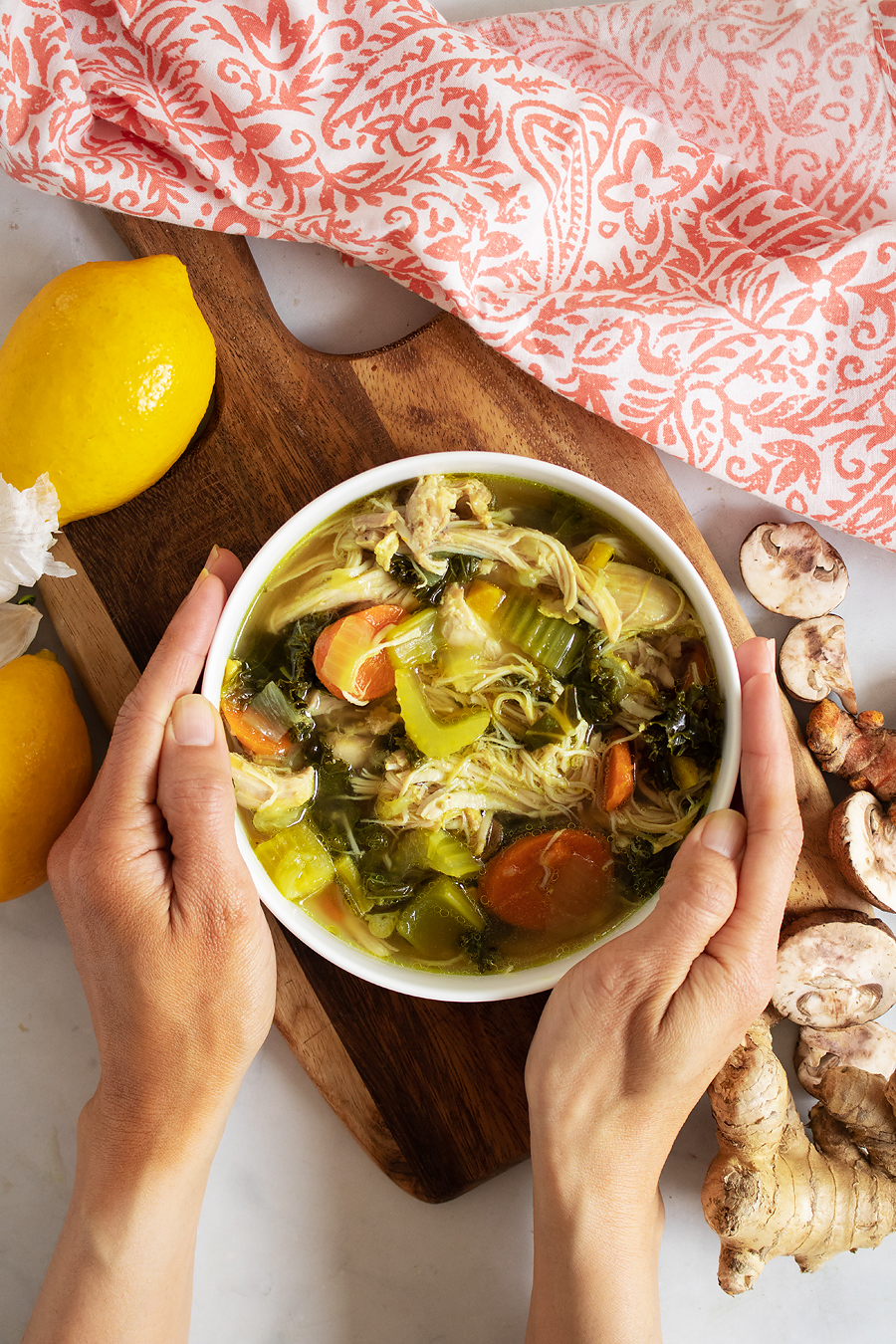 Whether you're trying to support your immune system or give your liver some love, detox chicken soup is always a good idea.
This delicious recipe is low-carb, paleo-friendly, gluten-free,  dairy-free, and most importantly — detoxifying.
With a blend of fresh, nutrient-dense, and antioxidant-rich veggies, plus a hit of high-quality protein and some soothing bone broth, your body will be thanking you after this meal.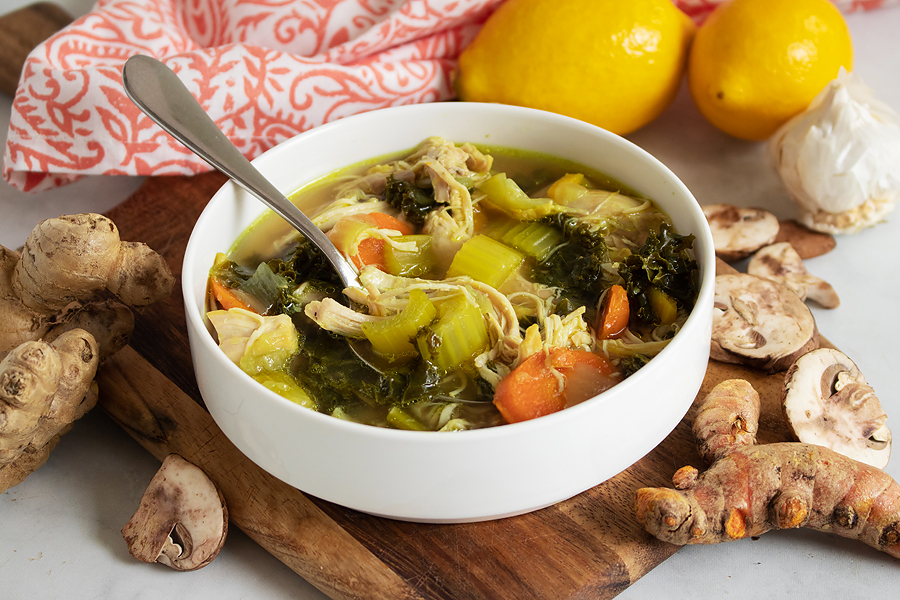 This detox soup is:
Savory
Comforting
Satisfying
Detoxing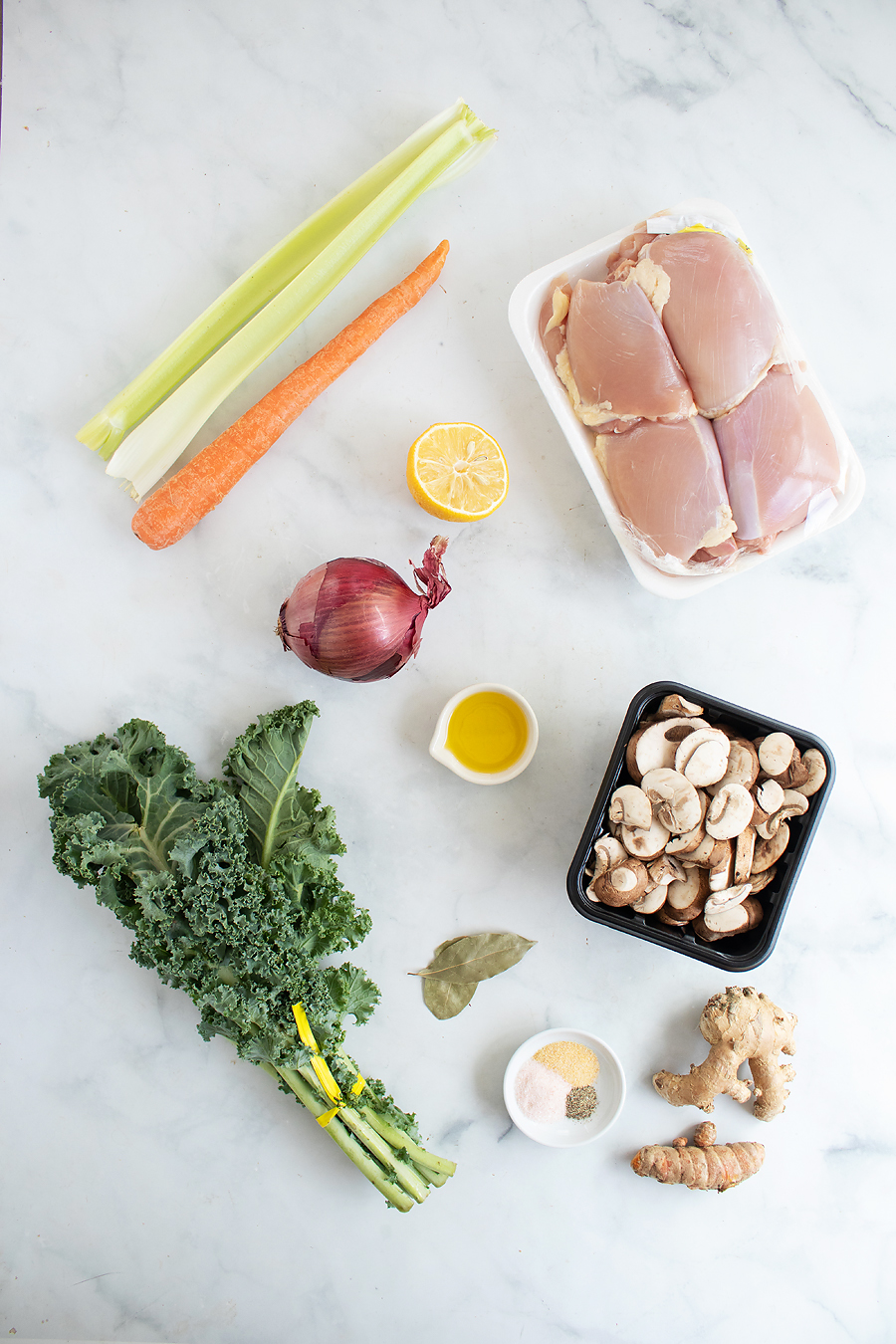 The main ingredients are: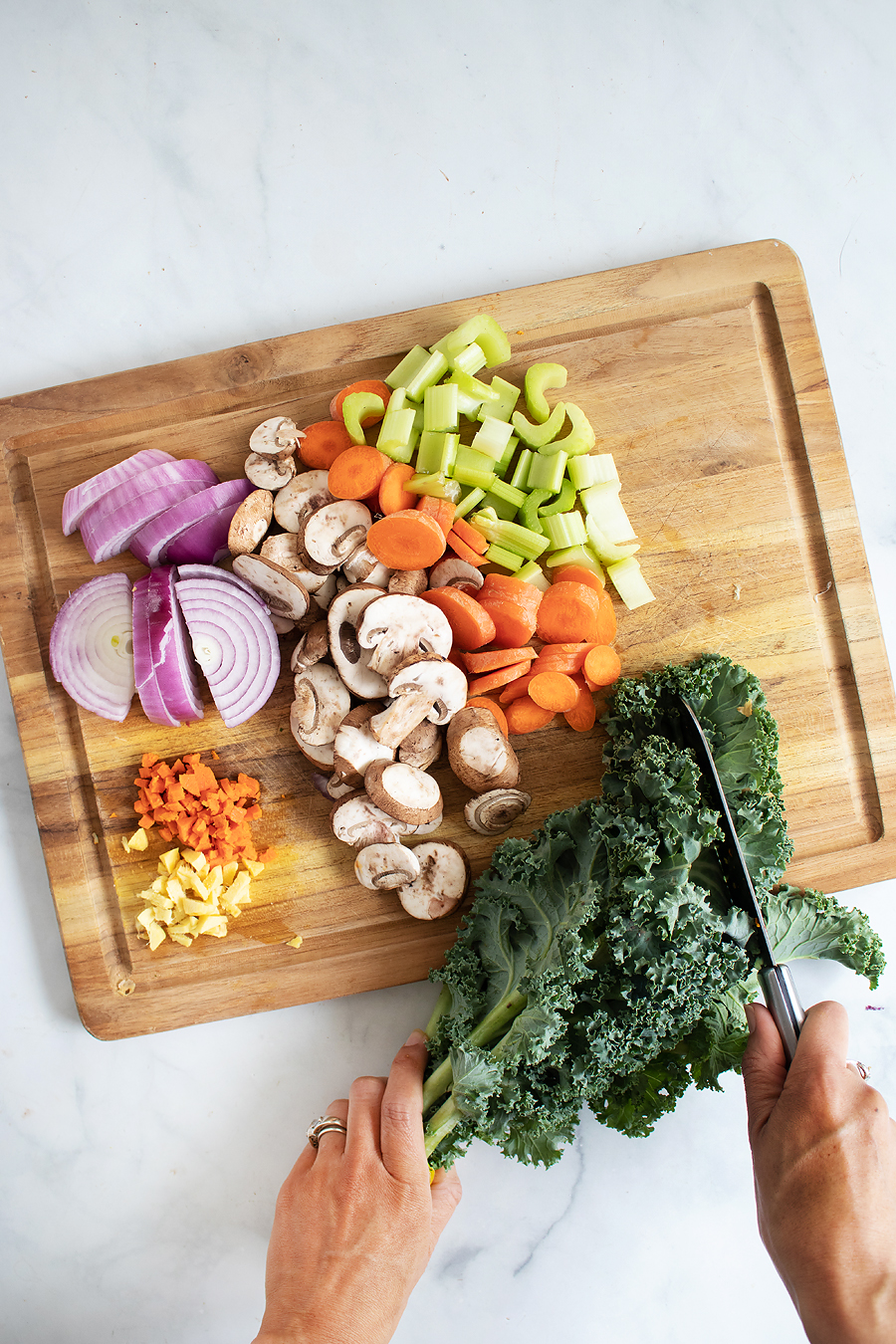 Optional additional ingredients:
Health Benefits of Chicken Detox Soup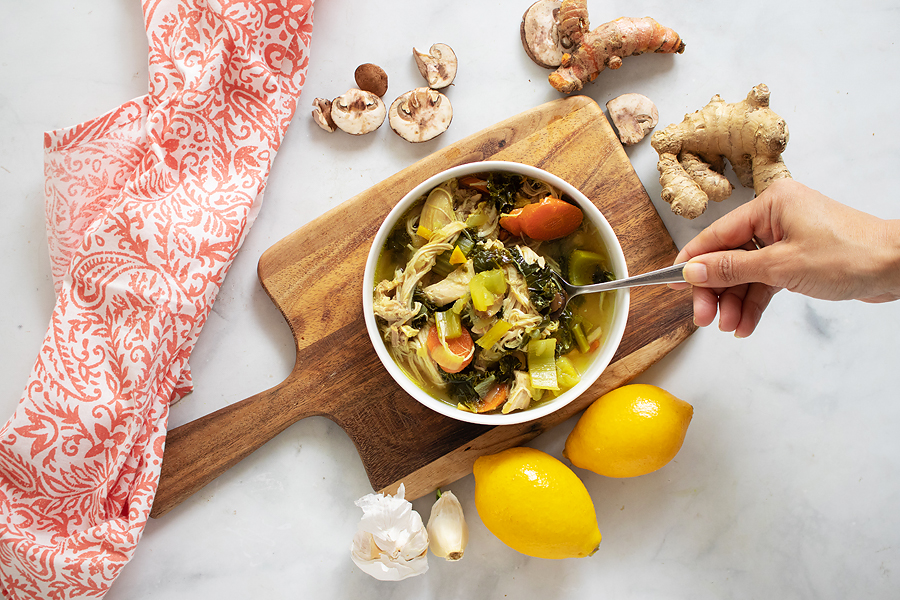 The liver fortifying ingredients in this soup make it the perfect choice if you're aiming to boost your body's ability to detox. Some highlight ingredients include:
#1: Garlic
Garlic is a superfood ingredient that can be used for almost every health ailment out there. It's been used for hundreds of years to treat a variety of conditions in cultures across the world.
Among its health benefits are its potent antioxidant activity, as well as antitumor, antimicrobial, antifungal, antiviral, and blood sugar-regulating activities.
Garlic specifically protects your liver through its antioxidant activity. In fact, research shows that garlic is hepatoprotective, fending off oxidative stress that could damage your liver[*].
#2: Turmeric
Turmeric is a spice that's been used for thousands of years in Ayurvedic medicine and traditional Indian culture. This bright orange powder (coming from a root), is well-known for its anti-inflammatory activity and has also been studied for its role in combating oxidative stress.
Specifically, research shows that an active compound in turmeric called curcumin may reduce oxidative damage in your liver, and could be hepatoprotective in liver disease[*].
#3: Onions
Onions are an incredibly rich source of the phytonutrient quercetin. Quercetin is a powerful antioxidant, but this compound can also upregulate the activity of immune cells in your liver. Most people overlook the importance of liver immunity when focusing on liver detox, but these two processes actually go hand in hand[*].
What's more, some research even shows that quercetin may be protective against ethanol (alcohol) induced liver injury. Not to say, you should go out and drink your weight in booze, but if you accidentally overindulge, it may be a great time for some of this savory detox soup[*].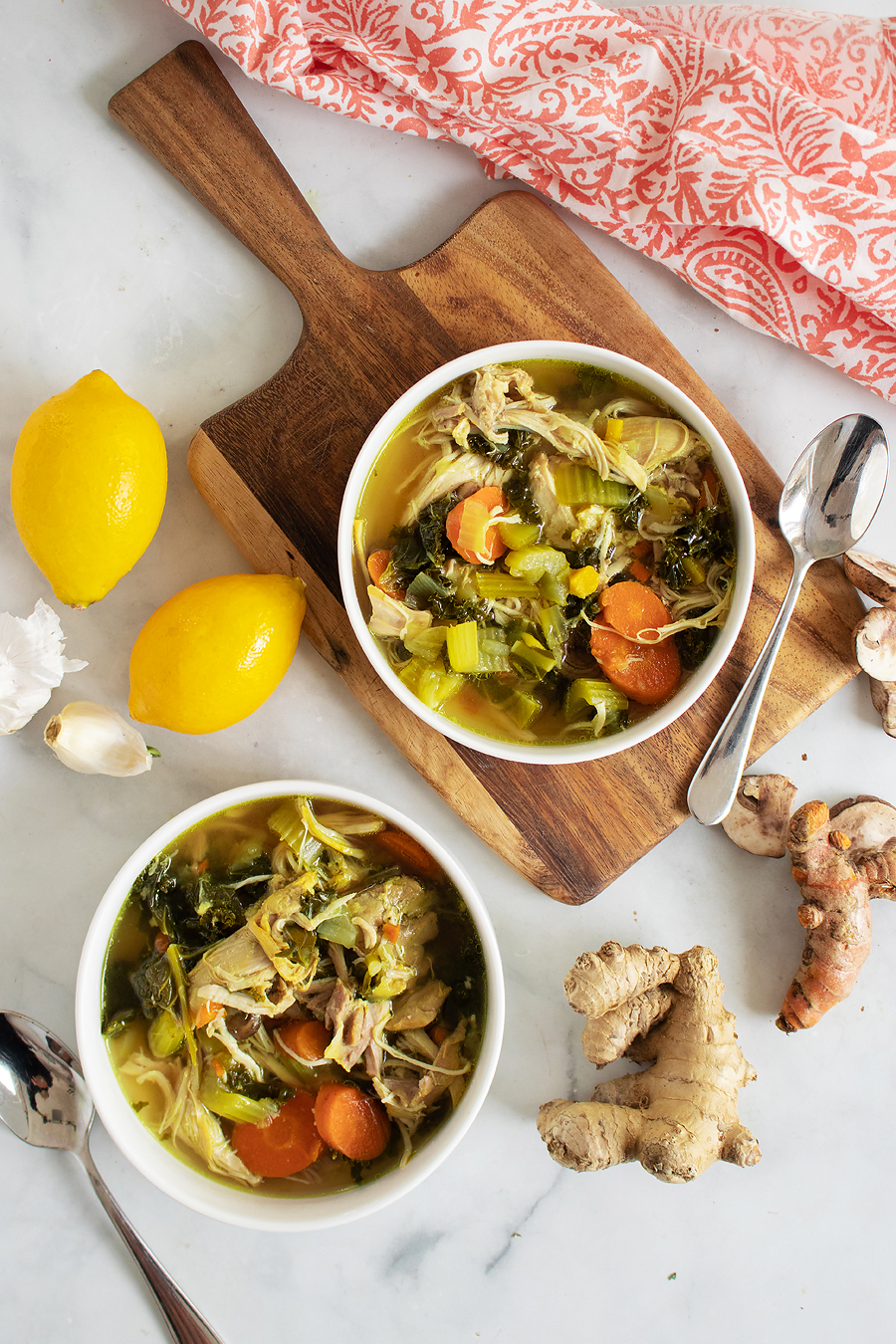 How to Make Detox Chicken Soup
This soup recipe calls for an Instant Pot, but a slow cooker or even a large pot over the stovetop will do the trick as well.
To begin, gather your ingredients and chop your veggies to prep.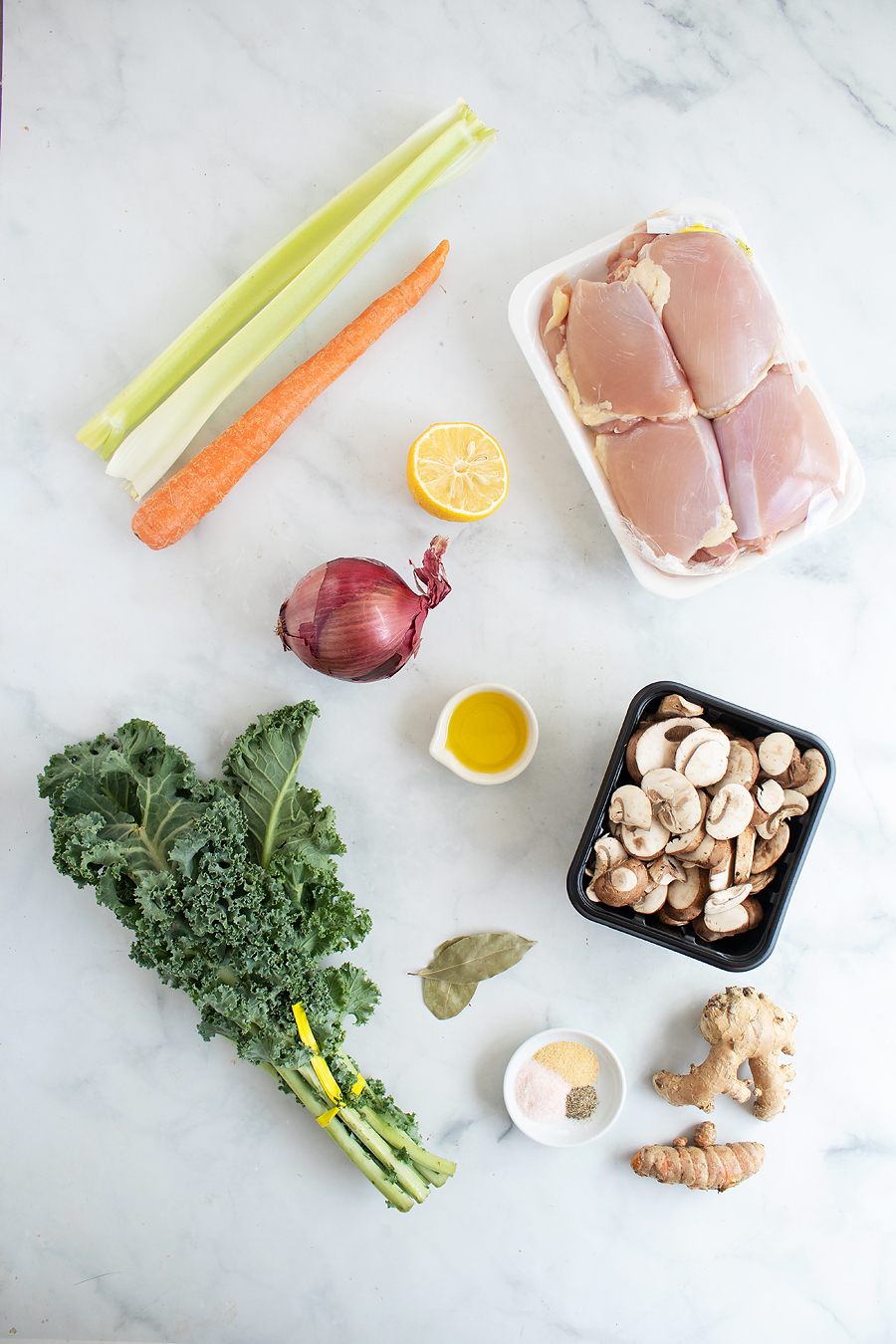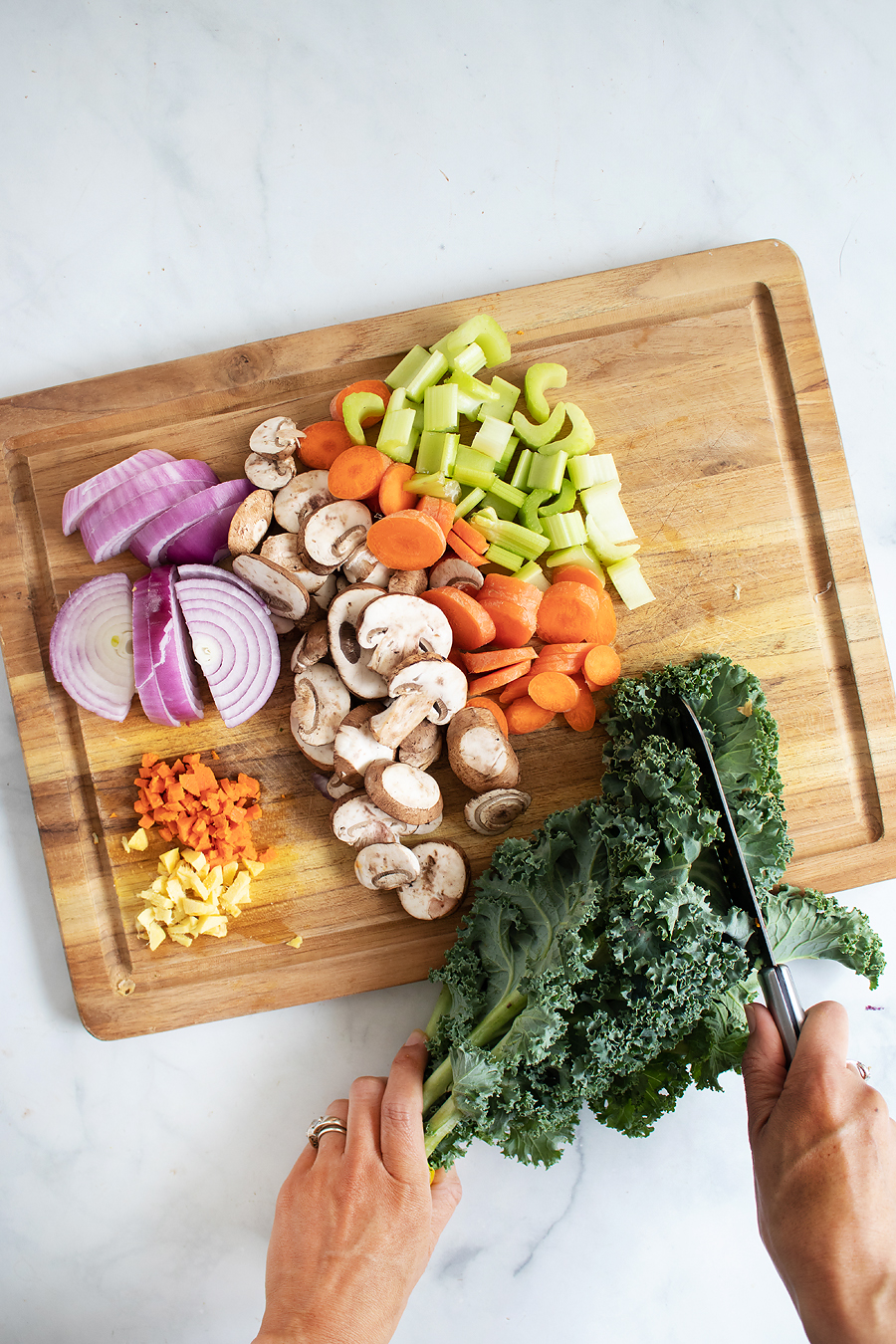 Stress the "Saute + 10 minutes" on your Instant Pot, and add avocado oil to the bottom of the pot. Carefully place your chicken thighs in the pot and brown them on both sides for 2-3 minutes.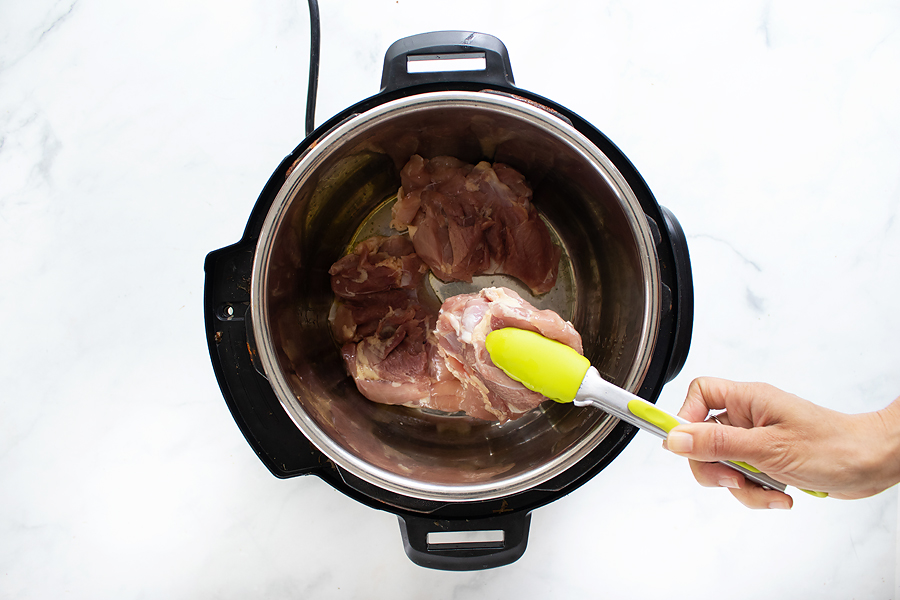 Next, add in your chopped vegetables, bone broth, herbs, and spices, and close the valve. Turn your Instant Pot off and then back on by pressing "Manual +15 minutes."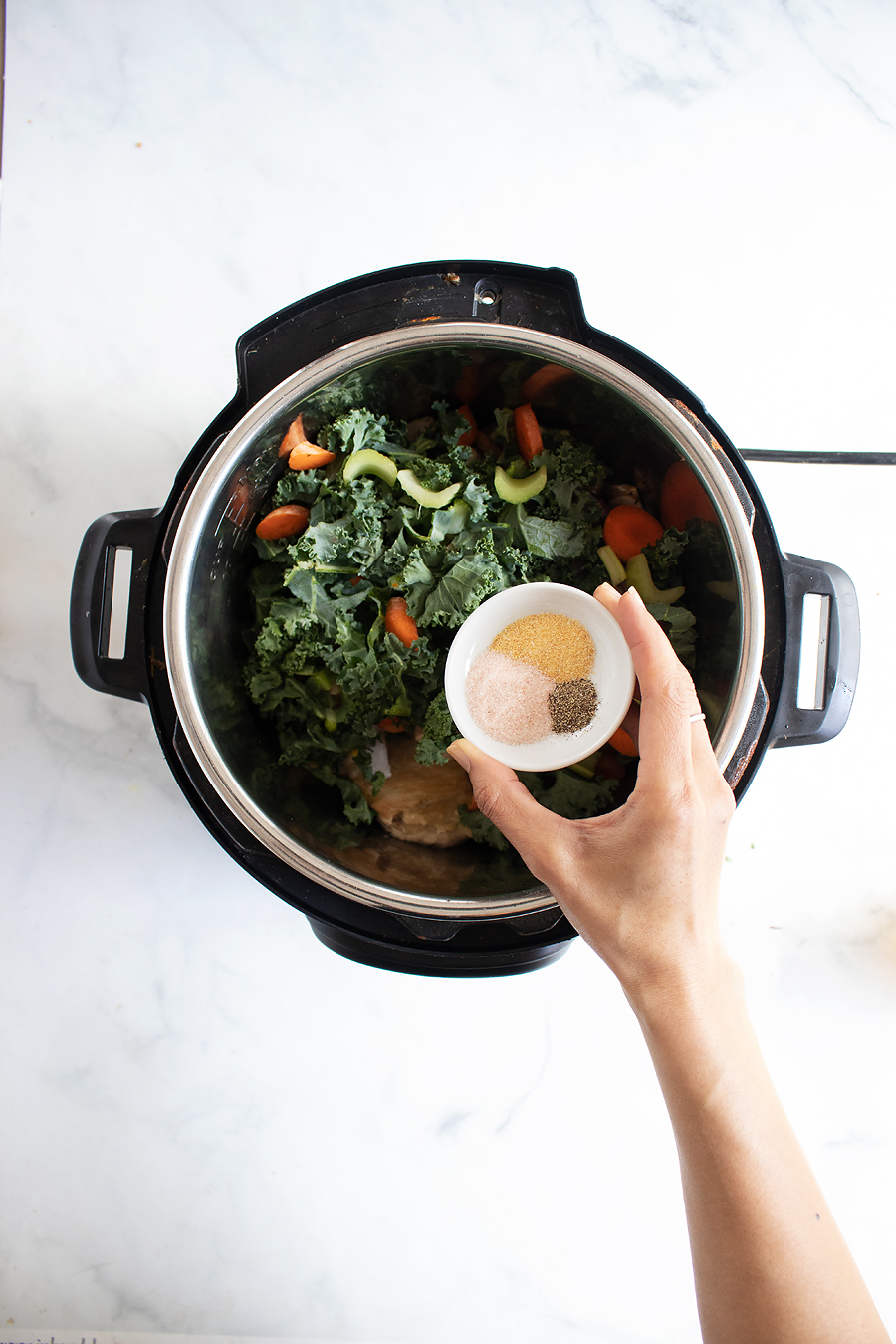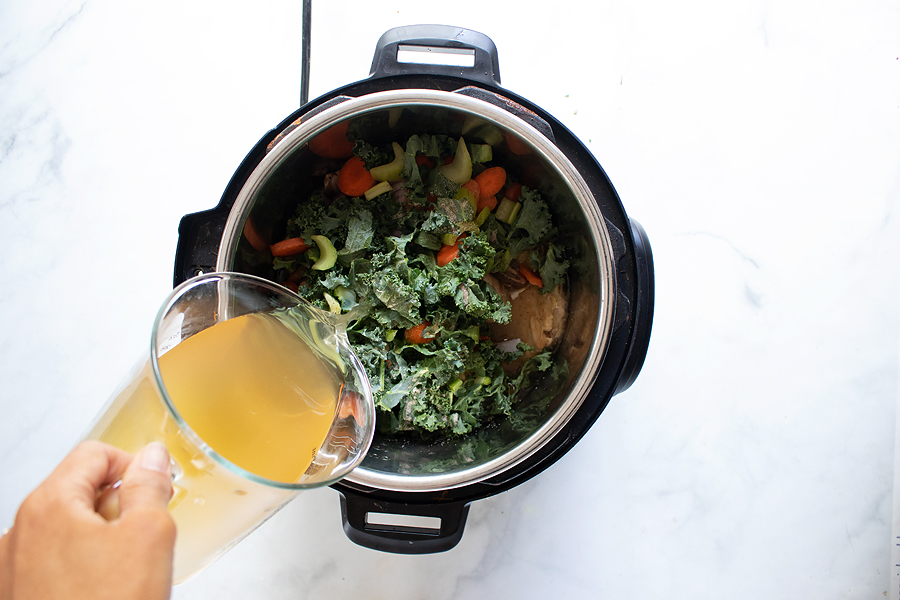 When the timer goes off, manually release the pressure and remove the lid. Gently shred the chicken thighs with two forks, and then stir in the lemon juice. Adjust the seasoning to your desired taste, and finish the soup with fresh herbs like cilantro, parsley, or basil.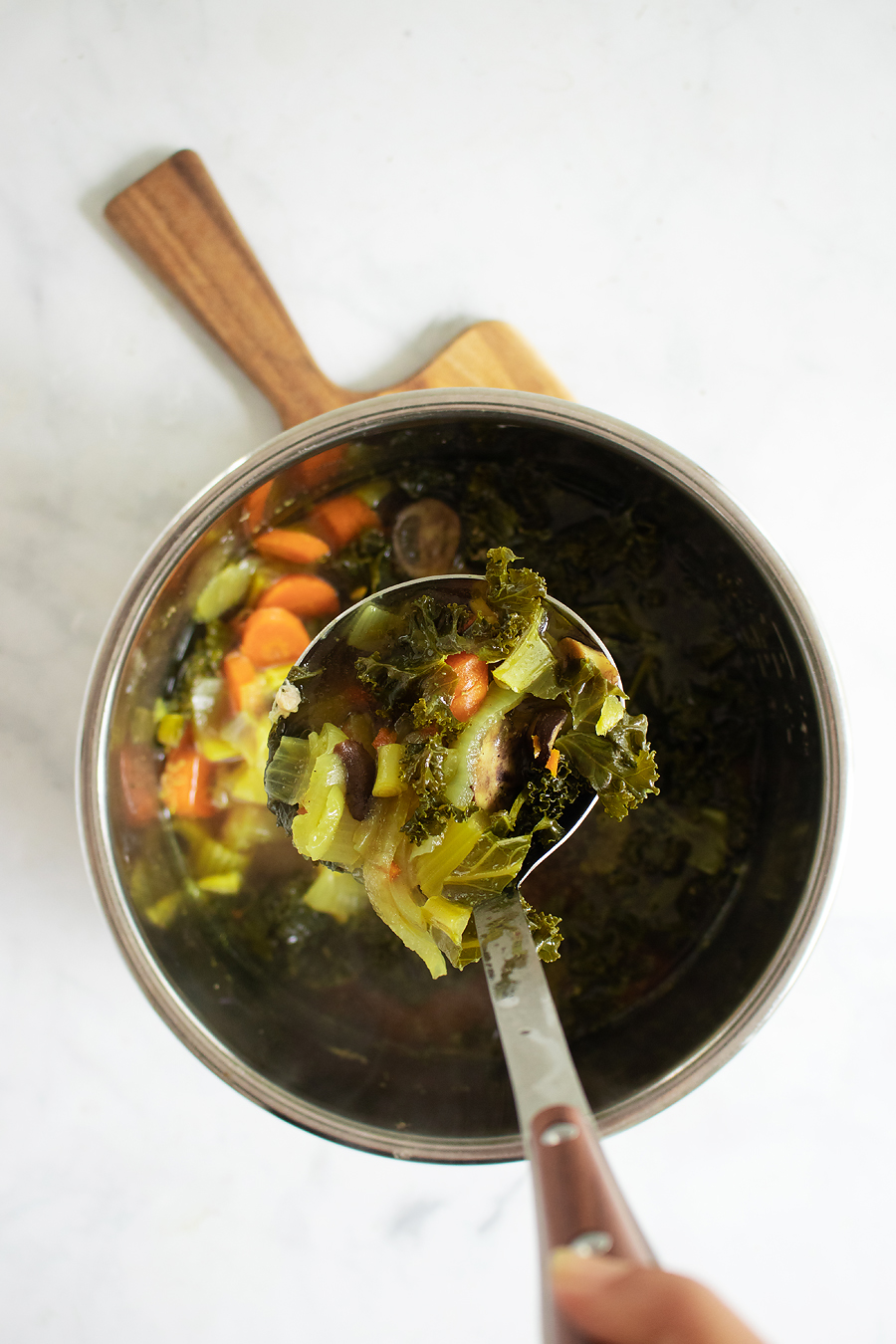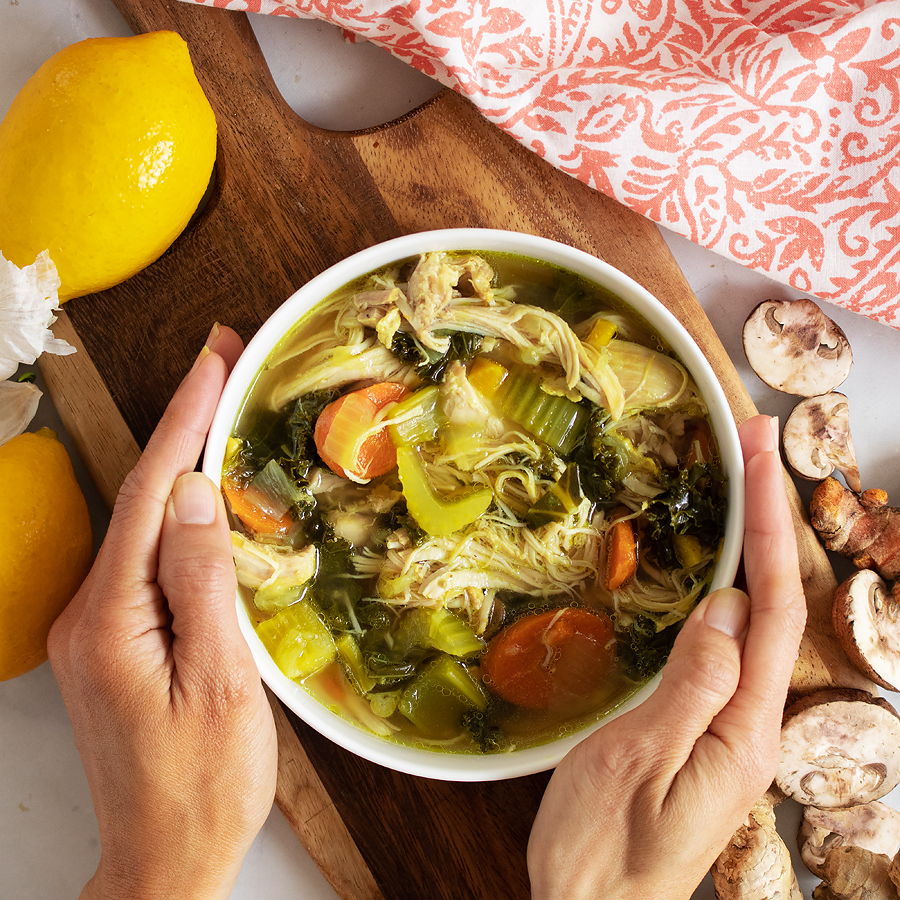 Cooking Tips For Keto Detox Soup
While this particular blend of veggies is an excellent combo in terms of flavor and nutrition, but if you want to mix it up, feel free to add your favorites like leeks, bell pepper, zucchini, and cauliflower.
If you're using a Crockpot follow the same instructions just allow more time for the soup to fully cook.
Feel free to add any herbs or spices that you like; some people enjoy a little fresh ginger for a kick.
If you want to make the shredding process easier, go for boneless chicken thighs. You can also use chicken breast, but that will alter the ratio of fat in the recipe.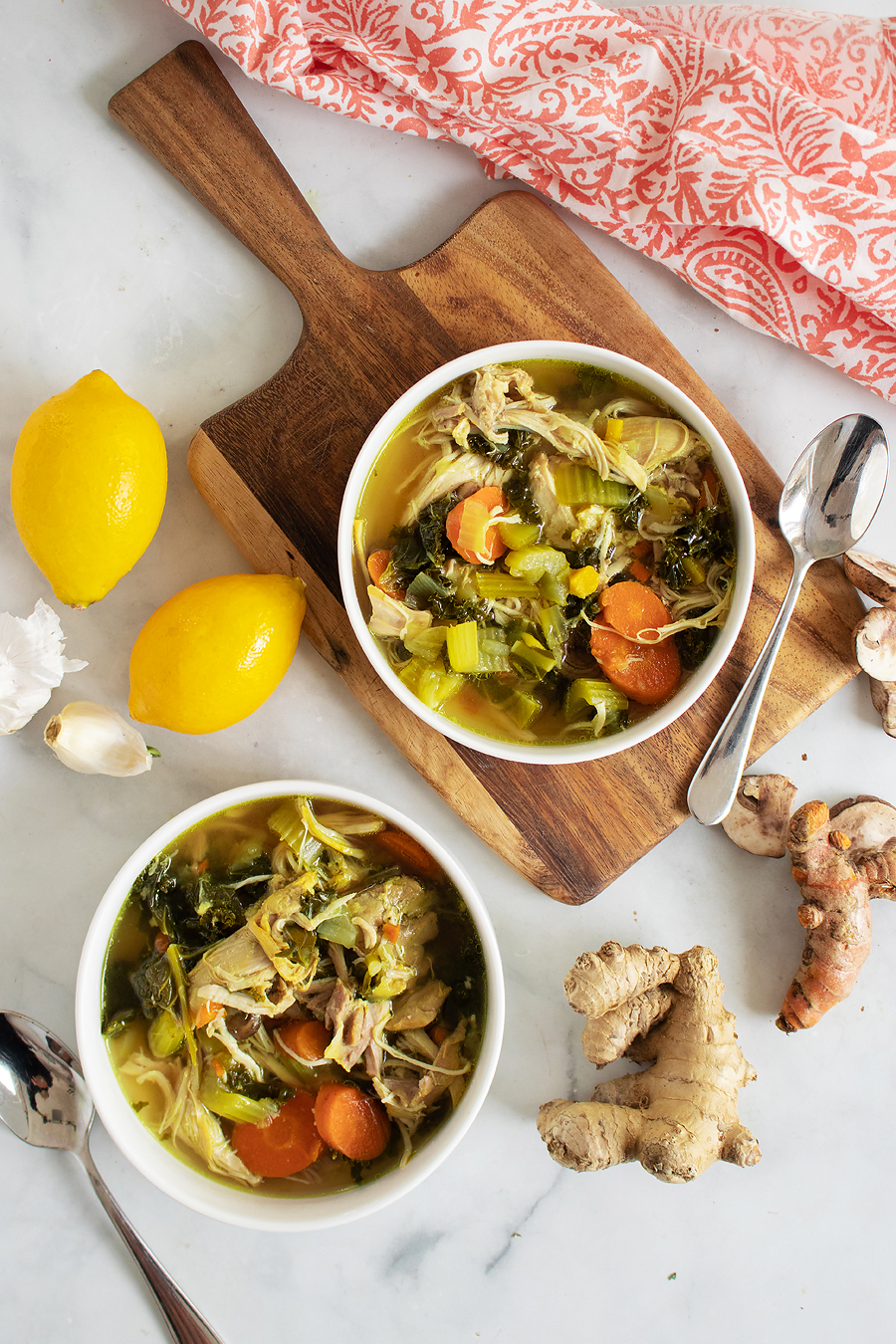 Print
Instant Pot Detox Chicken Soup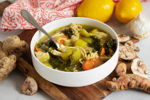 Boost your immunity and detox your body with some nutrient-dense detox chicken soup. This is the perfect meal to kick start some inner "Spring cleaning."
Author:
Prep Time:

20 minutes

Total Time:

60 minutes

Yield:

4 cups

1

x
Scale
Ingredients
2 tablespoons

avocado oil

1

lb chicken thighs

1

onion (finely chopped)

3

large celery stalks (sliced)

1

large carrot (peeled and sliced)

1 cup

mushrooms (sliced)

10

cloves garlic (finely minced)

2 cups

kale (roughly chopped)

4 cups

chicken bone broth

2

bay leaves

1 teaspoon

sea salt

½ teaspoon

black pepper

1 teaspoon

fresh turmeric (finely minced)

¼ cup

lemon juice

Herbs to finish soup
Instructions
Press SAUTE +10 minutes on the Instant Pot. Add olive oil to the bottom of the Instant Pot. Carefully place chicken thighs in pot and brown on both sides for 2-3 minutes.

Add remaining ingredients (except lemon juice) to the Instant Pot. 

Return lid and close valve. Turn Instant Pot OFF then back on by pressing MANUAL +15 minutes. 

When the timer goes off, manually release pressure and remove the lid. Stir in lemon juice and adjust seasoning if needed. 

Serve with fresh herbs like parsley, cilantro, or basil.
Nutrition
Serving Size:

1 cup

Calories:

220

Fat:

14g

Carbohydrates:

4g (Net: 3g)

Fiber:

1g