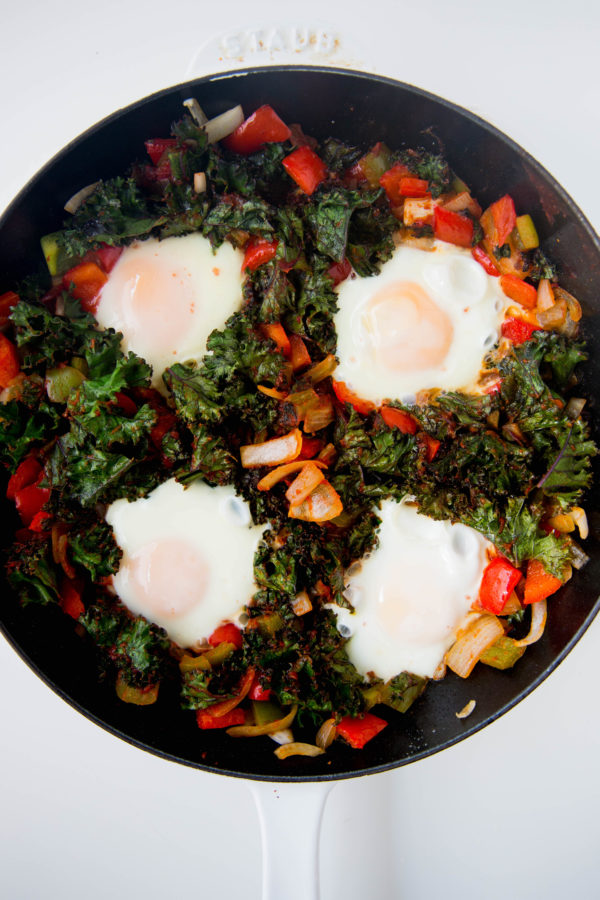 Originating from Middle Eastern and North African cultures — this shakshuka egg dish is a fantastic way to mix it up when it comes to breakfast or brunch.
Poached eggs swimming in a tomato sauce with warming spices like cumin, garlic, and harissa seasoning — is your mouth watering yet?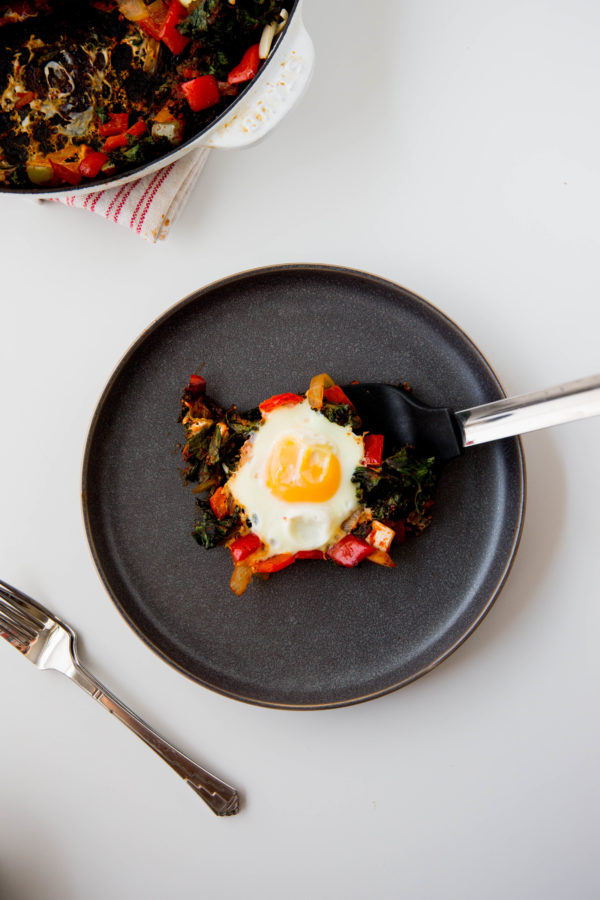 If you prefer runny eggs, you can cut the cooking time down by a minute or two, for harder eggs increase by a minute.
Add whatever toppings you prefer to this delicious recipe — fresh parsley, feta, or cilantro work beautifully.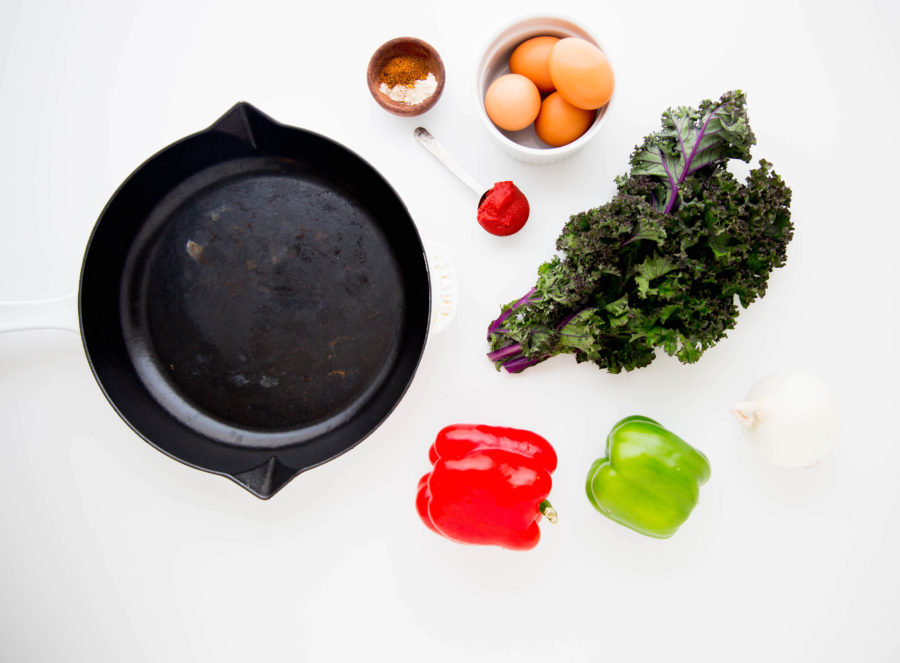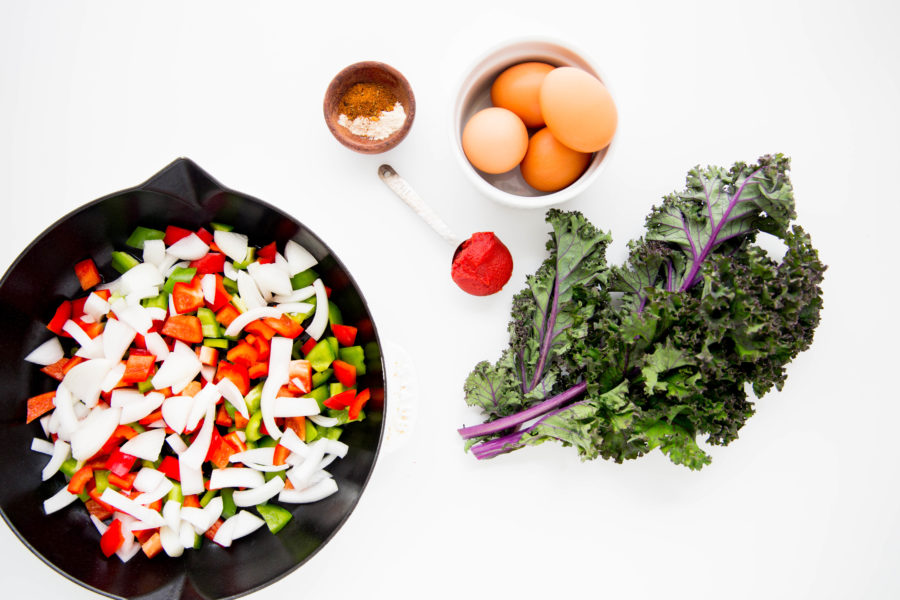 This shakshuka recipe is:
Warm
Comforting
Savory
Delicious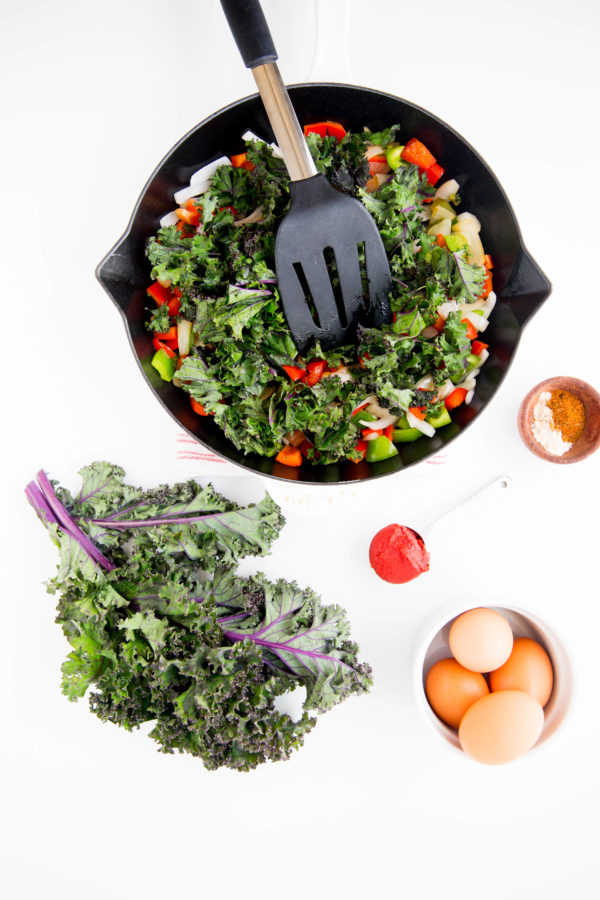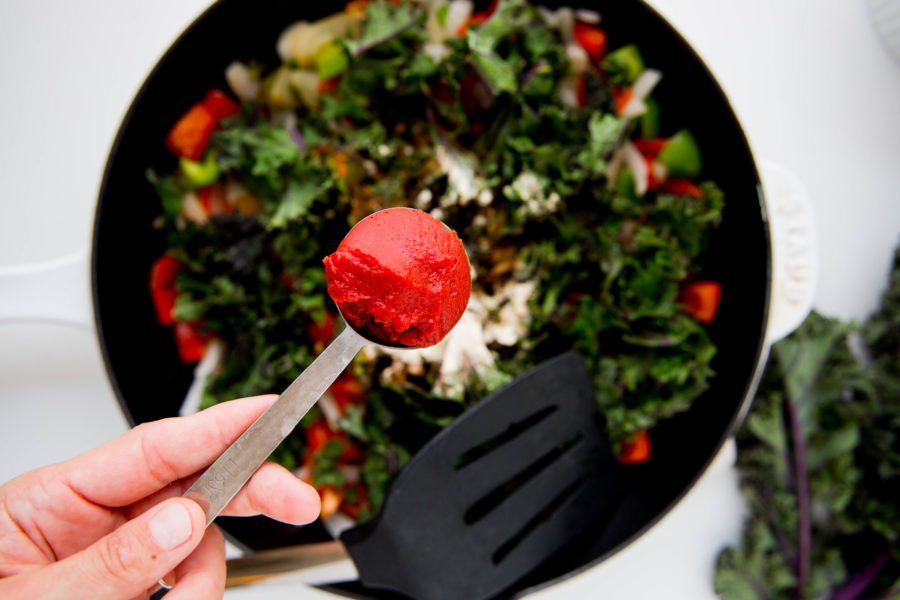 The main ingredients are: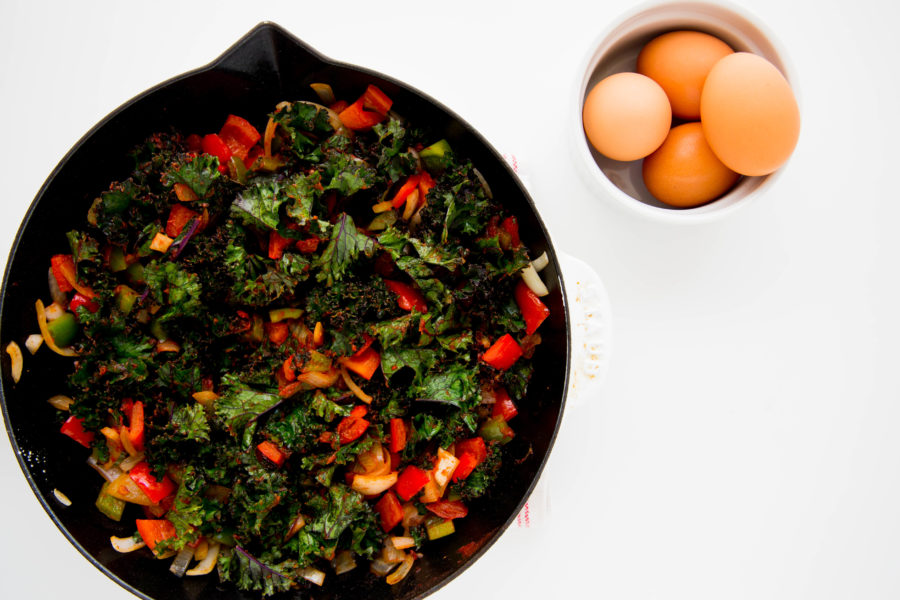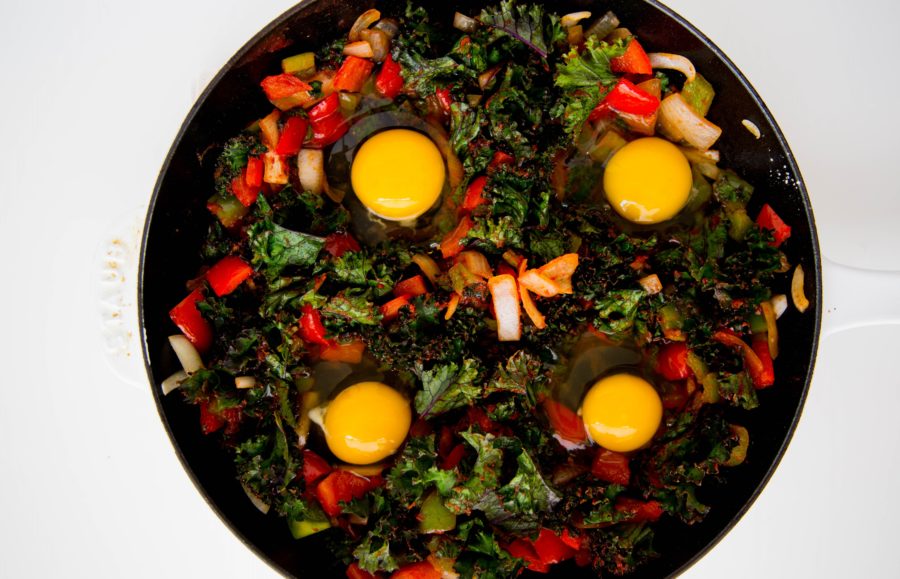 Optional additional ingredients:
3 Health Benefits of Shakshuka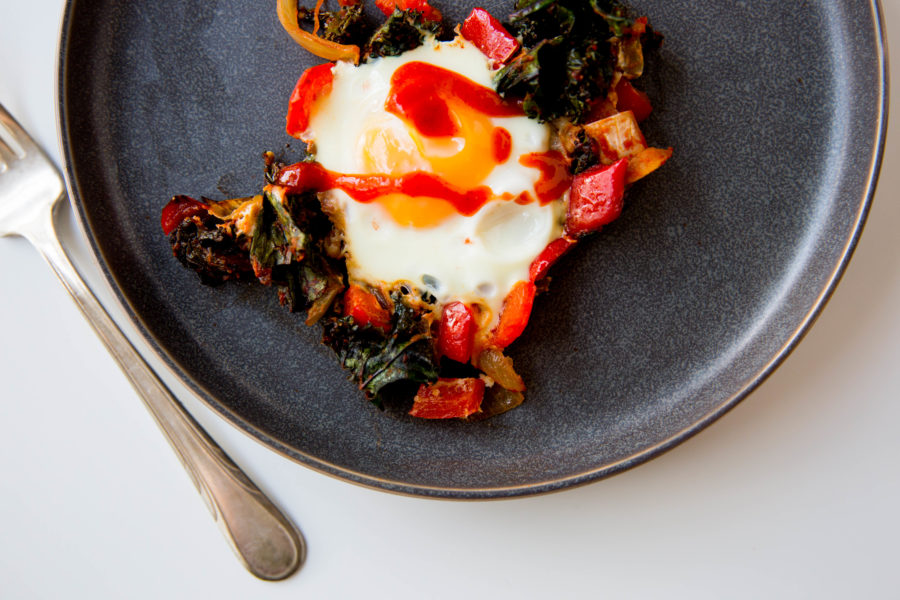 #1: Cancer Fighting
One of the best things you can do for prevention is to clean up your diet. Whether you're trying to prevent metabolic disease, heart disease, or cancer — the roots of health can often be found on your dinner plate.
Eating a range of fresh vegetables is an excellent way to ensure that your body is getting the nutrients it needs. And all of the vegetables and herbs packed into this recipe make it an immune health gem.
Kale, in particular, happens to be loaded with cancer-fighting compounds. Cruciferous vegetables, in general, have been studied for their anticancer potential — include lung and colorectal cancer[*]
Kale is a rich source of sulforaphane, a compound that's been widely studied for its anticancer activity. It appears to modulate the death of cancer cells, inhibit cancer cells from spreading, and also protects your body from carcinogens. In addition, it possesses antioxidant activity — helping your body fight off oxidative stress[*].
#2: Supports Brain Health
Aside from being an excellent source of protein, eggs also contain the nutrient choline — an essential nutrient for brain health. To be specific, it's the yolk of the egg that contains choline (as if you needed another reason never to eat an egg white omelette again).
Choline plays a role in the structure of your cell membranes and in the synthesis of neurotransmitters. It's also crucial for developing brains in babies and young children[*].
It's a building block for the neurotransmitter acetylcholine which is involved in memory, mood, as well as other critical nervous system functions[*].
Recent research is even looking into choline as a nutrient to help fight or prevent Alzheimer's disease[*].
#3: Boosts Heart Health
The doctrine of signatures is an ancient theory stating that the foods and herbs look like the part of the body which they heal. For instance, walnuts look a lot like a brain; therefore, they should have brain healing qualities.
Tomatoes are another food that is often referred to when talking about the doctrine of signatures due to their similar appearance to your heart. Not only for their red color but if you cut a tomato in half you'll see four distinct chambers — much like the chambers of your heart.
That's all well and good, but what makes this theory really interesting is the fact that tomatoes happen to an excellent food choice for cardiovascular health.
Tomatoes contain a phytonutrient called lycopene. Lycopene acts as an antioxidant and may protect against heart attack. Research shows that there is an inverse relationship between levels of lycopene in the blood and risk for heart attack — with low levels increasing the risk[*].
In addition, research shows that the consumption of tomatoes is associated with a decreased risk for plaque formation in humans. And in animal studies, lycopene ingestion resulted in lower levels of LDL cholesterol[*].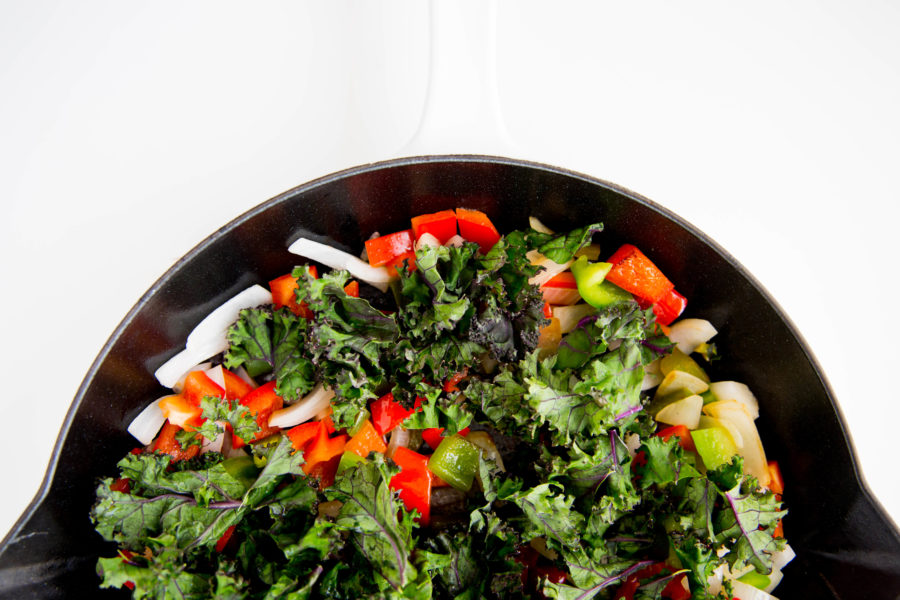 Print
Easy Shakshuka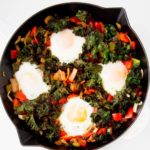 This shakshuka can be made in either a frying pan or cast-iron skillet if you have one. 
If you want to add even more flavor, you can sprinkle some fresh cilantro or feta cheese on top when you're ready to serve. 
Author:
Prep Time:

5 minutes

Cook Time:

20 minutes

Total Time:

25 minutes

Yield:

4

1

x
Instructions
In a large frying pan over medium heat, add the avocado oil.

Once heated, add in the bell peppers, white onion, and saute for 5 minutes, or until fragrant.

Add in the kale and spices, followed by the tomato paste and water, stirring until combined. Cook for another 5 minutes, then reduce to a simmer.

Using a spoon, make four indentations and add each egg to the dip, sprinkle with more salt, and cook covered for 5 minutes, or until eggs are desired doneness. 

Divide into four servings, top with keto-friendly hot sauce, and serve.
Nutrition
Calories:

140.8

Fat:

8.5

Carbohydrates:

6.25 Net Carbs: 3.76g

Fiber:

2.5

Protein:

57.5g