The longer you're on a ketogenic diet, the fewer high-carb foods you'll miss. But one side dish that always sounds good is a heaping serving of garlic mashed potatoes.
Don't worry — mashed potatoes aren't totally off-limits. Well, they are, but your tastebuds will never know the difference.
This creamy garlic mashed cauliflower will make you forget mashed potatoes altogether. Next time you're craving potatoes, simply replace those high-starch potatoes with some cooked cauliflower.
You'll soon have a cauliflower mash that beats the classic American mashed potatoes recipe you grew up on. All without the high carbohydrate content.
These delicious cauliflower mashed potatoes are a great low-carb alternative rich in dietary fiber, gluten-free, and perfect for your keto diet.
Top with fresh black pepper, and an extra drizzle of olive oil or melted grass-fed butter, and you'll have a side dish everyone will enjoy.
These cauliflower mashed potatoes are:
Creamy
Delicious
Filling
Smooth
The main ingredients in this cauliflower mashed potato recipe are:
Optional ingredients:
The Health Benefits of This Recipe
#1: May Support Your Immune System
Cruciferous vegetables like cauliflower may help boost your immune system and help prevent diseases like cancer.
Through their anti-inflammatory, antioxidant, and detoxification capabilities, cruciferous vegetables not only help prevent disease but also help halt tumor growth[*][*][*][*].
Grass-fed butter has a more impressive nutrient profile than grain-fed. That's because it comes from cattle raised on a natural, organic, grass-fed diet.
Grass-fed butter is particularly rich in conjugated linoleic acid (CLA), an immune-enhancing nutrient. CLA is not only anti-inflammatory, but it also helps fight against certain harmful diseases like cancer and cardiovascular disease[*][*].
#2: Helps Reduce Inflammation
If you're prone to inflammation, you might want to avoid nightshade vegetables like potatoes. Cauliflower, on the other hand, is low-carb and may help fight chronic inflammation.
Cauliflower is packed with a variety of antioxidants including glucosinolates, isothiocyanates, carotenoids, flavonoids, and vitamin C. One of the primary activities of antioxidants in your body is to help control inflammation[*].
By lowering inflammation throughout your body, you can significantly improve your long-term health, as inflammation is at the root of many chronic diseases. One animal study, in particular, showed a direct connection between increased consumption of cauliflower and a reduction in inflammation[*].
Black pepper is another anti-inflammatory ingredient in these garlic cauliflower mashed potatoes. Although you don't need to use much, this spice can add a boost to your inflammatory defenses and has even been studied for its potential in combating arthritis[*].
#3: Supports Digestion
Grass-fed butter is also high in butyric acid, a short chain fatty acid that you need for optimal gut health.
Butyric acid is a major energy source for the cells lining your digestive tract. It has anti-inflammatory and analgesic (pain relieving) activity and may help if you're struggling with constipation[*].
Butyric acid may also be able to help if you're suffering from IBS (irritable bowel syndrome). In addition to its anti-inflammatory activity, butyric acid also enhances immunity. It does so by assisting in the turnover of cells lining your digestive tract while keeping your gut bacteria in check[*].
Cauliflower Mashed Potatoes
There are only three simple steps and a few main ingredients between you and this cauliflower mashed potatoes recipe.
You'll need one small head of cauliflower, sour cream, parmesan cheese, grass-fed butter, fresh or roasted garlic cloves, sea salt, black pepper, and chives.
Once you've gathered all your ingredients, get a small pot and steamer basket from your pantry.
Steam the cauliflower florets for about 5-7 minutes, or until the cauliflower is fork tender. Drain the cauliflower and set aside.
Note: A head of cauliflower cut into florets or pre-cut florets are a better option than cauliflower rice.
Grab your food processor and add in the steamed cauliflower florets, along with the remaining ingredients and blend until everything is smooth and evenly combined.
Serve this cauliflower recipe topped with chives as a side dish to these Keto Pork Chops or your favorite keto vegetarian dish and finish off your meal with a serving of our Keto Lava Cake.
Print
Cauliflower Mashed Potatoes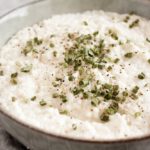 Mashed cauliflower doesn't sound as good as mashed potatoes at first. But just wait until you try this low-carb garlic mashed cauliflower side dish.
Author:
Prep Time:

10 minutes

Cook Time:

5-7 minutes

Total Time:

~15 minutes

Yield:

4

servings

1

x
Instructions
Using a steamer basket, steam cauliflower until soft, about 5-7 minutes.

To a food processor, add all ingredients and blend until smooth.

Serve hot and top with chives.
Notes
If you don't own a food processor, you can use a potato masher or an immersion blender instead.
Nutrition
Serving Size:

1 serving

Calories:

144

Fat:

12.1g

Carbohydrates:

4.7g (3.2g net)

Protein:

3g
Keywords: garlic cauliflower mashed potatoes