You know the feeling when those post-dinner dessert cravings hit. You're longing for a rich, captivating treat to tie the perfect finishing bow on your meal — enter this keto lava cake.
You can make this cake in individual-sized portions, so you get the perfect amount without overindulging. It will become a fast favorite thanks to how easy it is to make, plus it's healthy and utterly delicious.
While most cakes are packed with gluten, carbs, and excess processed sugars, this keto chocolate cake is gluten-free and soy-free and incorporates sugar-free chocolate chips, grass-fed butter, coconut oil, and other ingredients to support your keto lifestyle.
This recipe is super easy to prep and should only take five minutes to assemble. You then simply pop it into the oven for 25 minutes and wait for your delicious concoction to take shape.
Keto Lava Cake Ingredients
The main ingredients in this low-carb chocolate lava cake are:
Dark, sugar-free, chocolate
Eggs
Health Benefits of Low-Carb Chocolate Lava Cake
Along with its decadent, ultra-moist taste and texture, there are many health benefits of the ingredients in this cake. You can indulge in this dessert and know that it's good for you.
#1. Great for Heart Health
This keto lava cake has ingredients that can help your heart stay healthy. The almond flour, MCTs, and eggs all have heart health benefits.
Almond flour is a rich source of monounsaturated fat, which has been linked to lowering cholesterol. Some studies have shown that consuming almonds drastically increased antioxidant levels, as well as blood flow, all while reducing blood pressure and insulin levels found within the blood [*].
All of these are key to maintaining proper cardiovascular health.
MCTs are easy to digest and instantly used by the body for fuel. Studies show that MCTs can help prevent cardiovascular disease by decreasing blood triglycerides and LDL cholesterol[*].
Eggs are a high-quality source of protein and have a complete amino acid profile. They also contain zeaxanthin and lutein, which have been proven to manage cardiovascular health[*].
Some studies have concluded that consuming more lutein-rich foods are associated with better cardiometabolic health and levels of physical activity [*].
#2. Dark Chocolate Has Antioxidants
When many people think of dessert, they think of chocolate. But for those following a ketogenic diet, the last thing you want to consume foods high in sugar. Thankfully, this recipe is rich and sweet without kicking you out of ketosis. And the dark chocolate is actually good for you, too.
Dark chocolate is luxurious, tantalizing, and a healthy choice to satisfy your sweet tooth. Even better, it offers numerous health benefits.
For one, dark chocolate is packed with antioxidants. Studies show cacao seeds have more antioxidant activity against free radicals than blueberries[*].
These antioxidants are called flavonoids, which are associated with a lower risk of chronic diseases including cancer, cardiovascular disease, and neurodegenerative disorders[*].
Dark chocolate also aids with heart and brain health. Studies show that it has beneficial effects on cognitive function and it can improve blood flow and lower blood pressure[*][*].
#3. Dark Chocolate Helps With Blood Sugar
The higher the cocoa content, the lower the sugar content, which seems counterintuitive but is actually true. This is especially beneficial for those suffering from type 2 diabetes.
One study conducted on those with type 2 diabetes examined the effects of high-cacao, polyphenol-rich chocolate on lipid profiles, weight, blood pressure, glycemic control, and inflammation. It found that consuming dark chocolate may help lower fasting glucose levels and reduce insulin resistance[*].
The results from another study showed a significant improvement in blood triglycerides and lowered blood pressure for those who consumed chocolate that was higher in cacao[*].
#4. Keto Sweeteners Benefit Blood Sugar
Baking a dessert without using sugar can be intimidating to many people. But the evidence shows that excessive sugar consumption can be especially damaging to your cardiovascular health and oral hygiene[*][*]. That's where low-carb sugar substitutes come into play and offer a better alternative to sugar.
This keto lava cake uses stevia instead of sugar. Stevia doesn't negatively affect blood sugar and it doesn't rack up carbs and calories. It has also been shown to benefit blood sugar and insulin levels after a meal. What's more, stevia contains compounds like apigenin and quercetin, which have been shown to reduce oxidative stress[*].
If you don't like stevia, you can also use erythritol, swerve, or monk fruit. All of them will sweeten the cake without adding carbs.
How to Make This a Nut-Free Keto Lava Cake
If you have a nut allergy, the almond flour in this recipe will be a no-go for you. But what can you use instead that is still low-carb, gluten-free, and has the right texture to make a gooey molten lava cake? The answer is coconut flour.
To substitute coconut flour for almond flour, start with a 1:4 ratio (75% less coconut flour compared to almond flour). It might alter the flavor a bit, but with a little tinkering, you can get the texture and chocolaty taste to remain the same.
Be sure to check out this guide on coconut flour vs. almond flour for more helpful tips on cooking with coconut flour.
Lava Cake Base Can Make Chocolaty Brownies
This lava cake recipe is an easy base for scrumptious brownies — you'll just need a few more ingredients. This recipe for keto brownies walks you through every step. The addition of coffee really brings out the chocolate flavor.
Keto Mug Cake Idea
If you just want a really quick recipe without all the prep, then make a keto mug cake. This is one of the most popular keto desserts because it's so easy.
In fact, most of the ingredients in keto mug cake are the same as this lava cake. But since you make it in the microwave, it uses cocoa powder and vanilla extract instead of dark chocolate.
Top Your Cake With Keto-Friendly Ice Cream
Want to take your keto lava cake over the top? Add a scoop of low-carb vanilla ice cream. It's easy enough to make your own no-churn ice cream at home. This is mainly a combination of heavy whipping cream, Perfect Keto Vanilla Collagen, monk fruit sweetener, and vanilla extract.
Make Chocolate Cake Keto-Friendly
It's hard to imagine a more classic dessert than chocolate lava cake. The rich decadent chocolate mixed with the delicately tender cake combines for a truly delicious ending to any meal.
Such a tantalizing dessert would typically be a challenge to fit into a healthy, low-carb, keto meal plan. But this one is pretty near perfect. For even more recipes to satsify your sweet cravings, check out this keto-friendly dessert list.
Print
Easiest Keto Lava Cake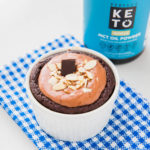 Get ready for a delicious, chocolaty, decadent, perfectly portioned dessert for your keto diet. You'll never go back to high-carb sweets again.
Author:
Prep Time:

5 minutes

Cook Time:

25 minutes

Total Time:

30 minutes

Yield: Serves

4

1

x
Category:

Dessert
Instructions
Preheat oven to 350°F.
In a medium-sized bowl, mix the dry ingredients.
In another bowl, mix together the wet ingredients.
Add wet ingredients to dry ingredients and stir until well-combined. Stir in chocolate.
Add mixture to 2 8-oz or 4 4-oz. well-greased ramekins and bake for 15-25 minutes (longer for larger ramekins)
Allow to rest for 5 minutes before serving.
Nutrition
Serving Size:

1

Calories:

300

Fat:

30

Carbohydrates:

9g (Net Carbs: 4g)

Fiber:

5g

Protein:

6g