A healthy chicken salad… isn't that redundant? Aren't all chicken salads healthy? Should Perfect Keto be reported to the Department of Redundancy Department? Not to worry, this recipe wouldn't steer us wrong.
A huge trap for people trying to eat healthy is thinking that all salads are healthy. Look closer.
How Salads Can be Unhealthy
Dressings with hidden sugars (there are 56 names for sugar currently being used on nutrition labels) and inflammatory vegetable oils and preservatives
Dried fruit that is literally like candy to your cells perspective. Just because it's fruit doesn't mean, "Oh green light, this is healthy!"
Incredibly processed cheeses. The fluorescent cheese that lasts for years is not doing you any favors. See Dr. Gustin's guide to sourcing dairy.
Nuts that are high in carbs or inflammatory omega-6' fats. See our full guide to the best keto nuts.
Thankfully, you won't find any of this garbage in the Perfect Keto Chicken Salad. Just awesome fats and protein for lasting energy.
Disclaimer: Do not just skip out on the "homemade" part of the mayo in the recipe and reach for the good 'ol Hellman's. Yes, the macros might be amenable but leading brand mayos are loaded with soybean oil and sugars and modified corn starches (processed carbs).
Homemade mayo is simple: think egg yolks and olive oil and some spices. All things that were available to your great great grandma 100 years ago.
Learning the art of making healthy salads is huge because we have to learn how to be leftover ninjas on the ketogenic diet.
So no, don't just let the chicken slowly decay in the fridge. We are bringing you a way to give your leftovers a second shot at dinner while getting your vegetables in for the day, too. Did you know over half of all Americans don't even get 5 serving of produce a day? Don't be one of them!
Vegetables are an essential part of a healthy, low-carb diet, but it can be quite a balancing act trying to find the veggies high in nutrients but low in carbohydrates. Time to check out the recipe and feel free to sub in whatever you've got in the fridge or pantry… except the damn Hellman's! 🙂
Print
Healthy Chicken Salad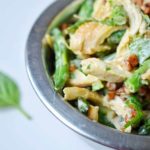 Author:
Prep Time:

10 minutes

Cook Time:

0 minutes

Total Time:

10 minutes

Yield:

4

1

x
Scale
Ingredients
2 cups

leftover shredded chicken breast

2 cups

cut, steamed green beans

1/2 cup

homemade mayo (

one

minute mayo!)

1/2 cup

chopped pecans

1/4 cup

chopped cilantro

1/4 cup

basil leaves

1/4 cup

mint leaves

1/2 tsp

salt

1/2 tsp

white pepper
Instructions
Cut and chop your herbs and pecans.

Shred chicken and cut green beans.

In a large bowl combine all the ingredients.

Toss gently to mix it up.

Enjoy, store for quick, healthy meals!
Nutrition
Calories:

458

Fat:

33.5

Carbohydrates:

6.1

Protein:

33.4