Eggs are a staple on any ketogenic diet. With 5 grams of fat, 6 grams of protein, and less than 1 gram of carbs per egg, these nutritional powerhouses deserve a place in your keto diet meal plan[*].
But if you're tired of eating eggs every day — or if you have an allergy or sensitivity — this roundup of recipes has you covered with 18 quick and easy egg-free recipes you'll love.
Many of these recipes are just as filling, delicious, and easy to prepare as eggs and scrambles, so anyone can squeeze them into a busy schedule.

5 Easy and Filling Keto Smoothie Recipes
Smoothies are great for cramming a meal's worth of nutrition into a portable drink you can take on your morning commute.
They're also versatile, so you can mix up a new flavor each day of the week without repeating recipes or getting bored.
With these first two keto smoothies, you can also sneak in micronutrients from fruits and low-sugar veggies without altering the taste or texture.
#1: Citrus Keto Green Smoothie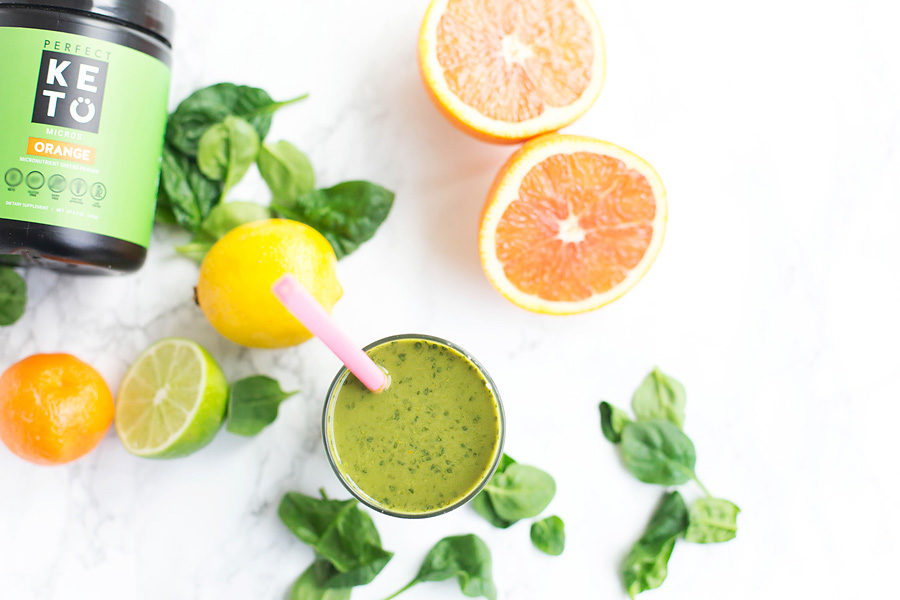 If you're struggling to eat enough vegetables during the day, or you miss starting off your mornings with a fresh glass of orange juice, try this citrus keto green smoothie.
It's packed with spinach and a scoop of Perfect Keto Greens Powder, which offers nutrients from 26 different fruits and vegetables per scoop.
Bursting with citrus flavors like orange, lemon, and lime, this energizing smoothie isn't just flavorful, it's also filling and won't spike your blood sugar like orange juice does.
Healthy fats from MCT oil will also help your body better absorb the fat-soluble vitamins and minerals in those fruits and veggies.
#2: Micro Greens Matcha Smoothie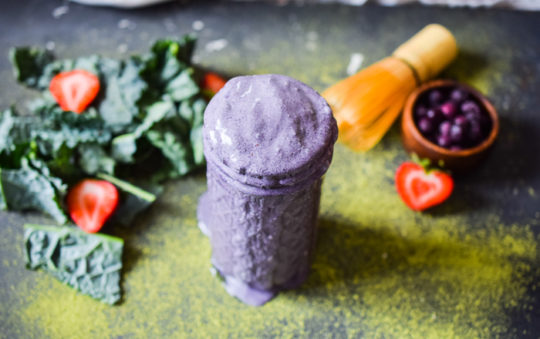 This brightly-hued micro greens matcha smoothie contains the same Greens Powder with MCT oil powder as the last recipe, but the flavor and nutritional profile are different thanks to a few swaps in the ingredient list.
Instead of using spinach, this smoothie calls for kale, which is rich in antioxidants like vitamin C and beta carotene. It's also anti-inflammatory and helps with your natural detoxification pathways[*].
Blueberries replace the citrus flavors from the first smoothie recipe, so you have more than one option when it comes to low-glycemic fruit.
Alternate between these two smoothies to keep breakfast interesting and give yourself a plan for well-rounded micronutrient intake.
#3: Low-Carb Acai Almond Butter Smoothie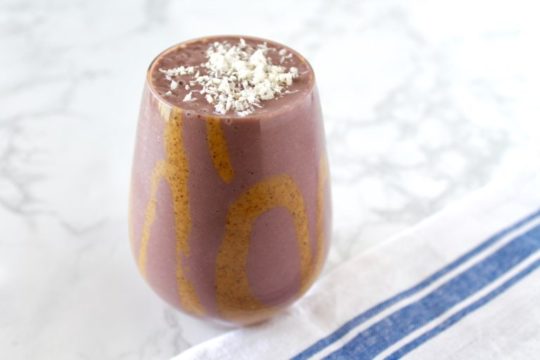 Most acai bowls are anything but "safe" on a keto diet.
Not only is the acai usually sweetened with sugar or honey in commercial smoothie bowls, but it's also topped with mounds of non-keto fruit and sweeteners like maple syrup.
This makes them more of a sugar bomb than a healthy breakfast.
Luckily, there's a way to enjoy the same flavors of an acai bowl without sabotaging your keto diet efforts: this keto acai almond butter smoothie.
In it, you'll find unsweetened acai, collagen protein powder, avocado, MCT oil powder, and almond butter.
Unlike a normal acai bowl, this one is only 6 grams of net carbs instead of 60 grams. You won't find 43 grams of sugar in it either[*].
This combo of ingredients creates a filling smoothie that won't cause a huge spike in your blood glucose levels or leave you with cravings an hour later.
If you're on the go, you can sip this smoothie from a cup.
But you can also pour it out like a traditional acai bowl and top with a few keto additions like:
Shredded, unsweetened coconut (roast it for some crunch)
Slivered keto nuts
Chia seeds
Hemp hearts
#4: Cinnamon Dolce Latte Breakfast Smoothie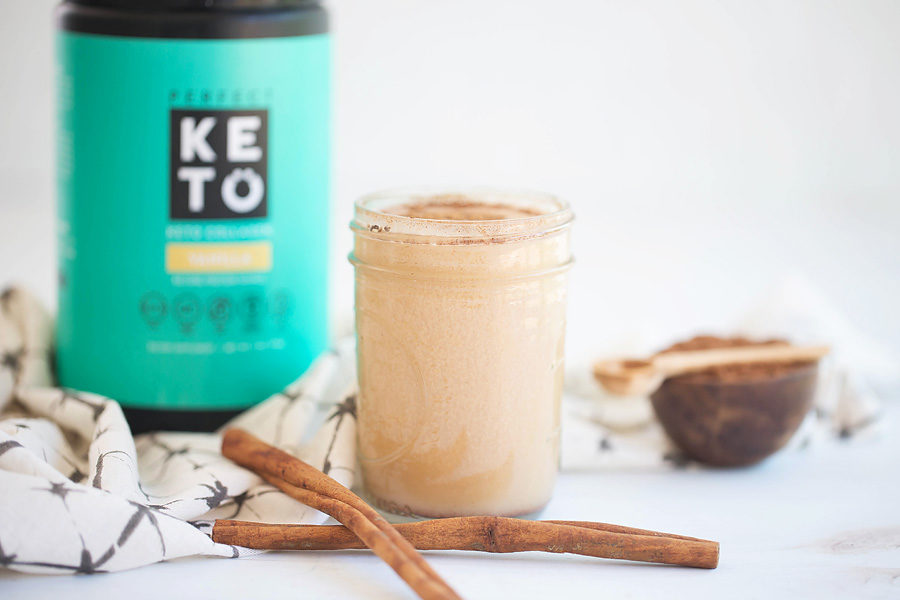 Cinnamon takes center stage in this cinnamon dolce latte breakfast smoothie.
Besides its warm flavor, cinnamon is loaded with antioxidants like polyphenols, phenolic acid, and flavonoids, all of which help your body decrease free radical damage and protect your brain.
Cinnamon can also improve insulin sensitivity and helps reduce blood glucose levels, total cholesterol, the "bad" LDL cholesterol, and triglycerides[*].
This smoothie also has collagen protein powder and chia seeds, which will keep you feeling full and strong for hours.
Take a look at the macros for this smoothie to see for yourself:
235 calories
22g of fat
1g of net carbs
13g of protein
#6: Creamy Vanilla Chai Protein Shake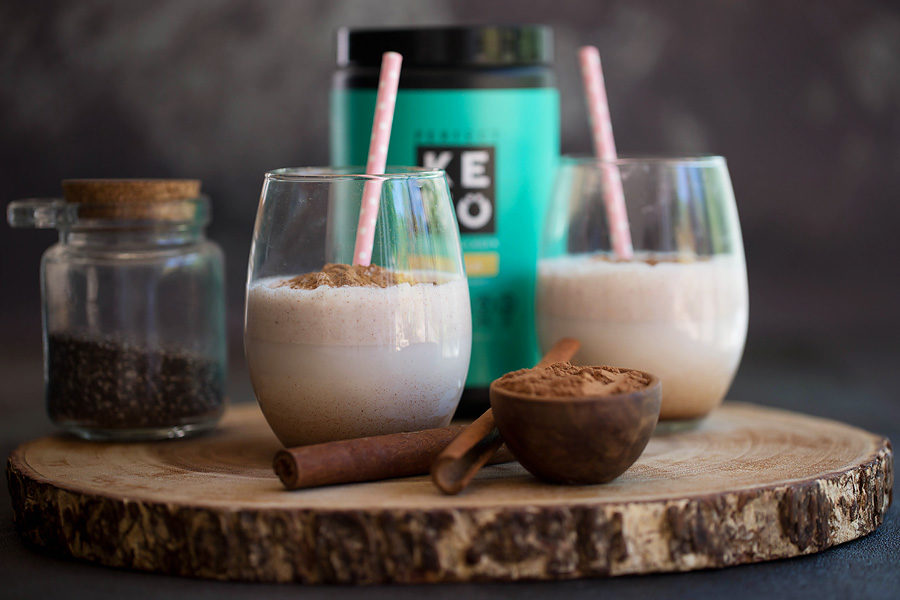 The spices in chai tea, like cinnamon, contain powerful polyphenols — antioxidants that protect your cells from damage and help with anti-aging.
Ginger root also encourages healthy digestion and boosts immunity[*]. Not bad for a breakfast smoothie.
If you're looking to swap out your keto coffee, or you're craving a chai latte without all the sugar and carbs, you owe it to yourself to try this vanilla chai protein shake.
At 190 calories, 1 gram of net carbs, 15 grams of fat, and 11 grams of protein per cup, it's much more satiating than any chai latte you'll find at a coffee shop.

7 Keto Breakfast Swaps to Replace High-Carb Classics
Searching for "keto breakfast no eggs" can lead to cravings for high-carb favorites like yogurt, oatmeal, and sweet cereal with milk.
But these low-carb recipes make it easy to stick to your routine without ruining your chances of reaching (or staying in) ketosis.
#1: Keto Cereal and Cinnamon Toast Crunch Knock-Off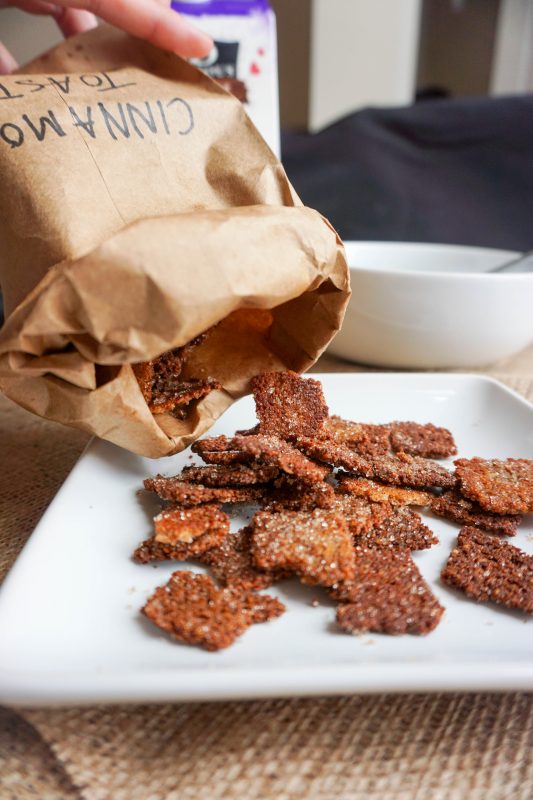 Most Americans are raised with cereal and ice-cold milk for breakfast.
And when you went keto, you probably thought you'd have to give that up forever.
Until now.
This keto Cinnamon Toast Crunch knock-off has everything: cinnamon, sweetness, and crunch.
It looks similar to the cereal you can't have, but it cleverly uses pork rinds and liquid stevia to create the same crunch and sweetness (minus the carbs and sugar).
Keep in mind that when it comes to the milk you use for your keto cereal, reach for unsweetened coconut, almond, or hemp milk instead of regular milk to avoid the carbs that come with the latter.
#2: Chia Berry Yogurt Parfaits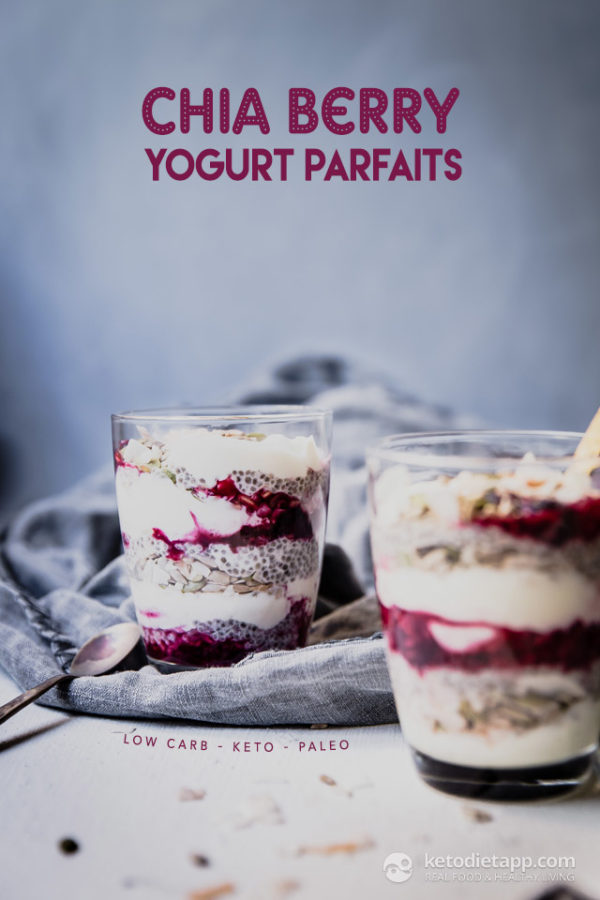 As enticing as store-bought yogurt parfaits look, most of them contain far too much sugar for anyone to consume in a day, let alone in a single serving.
Avoid kicking yourself out of ketosis by whipping up a batch of these low-carb chia berry yogurt parfaits.
Even healthier and tastier than classic parfaits, these are an awesome option for a keto breakfast no eggs because of their high fiber content. You'll stay full and satiated for hours.
#3: Low-Carb Oatmeal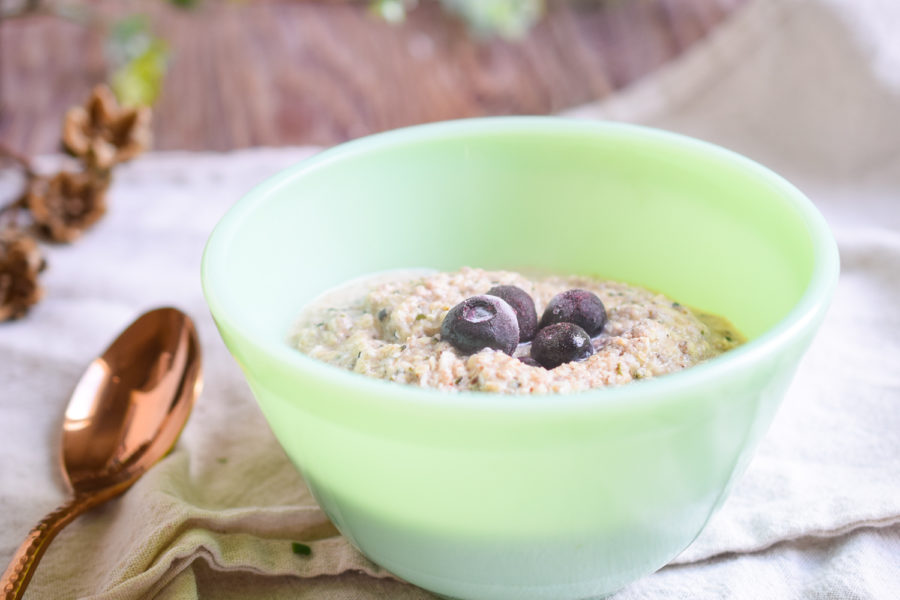 Oatmeal is one of those breakfast staples many people hate to leave behind because they don't know how to find a keto-friendly replacement.
Fortunately, there are a few low-carb versions to help satisfy your oatmeal-for-breakfast craving while remaining in ketosis:
#4: Healthy Keto Breakfast Grits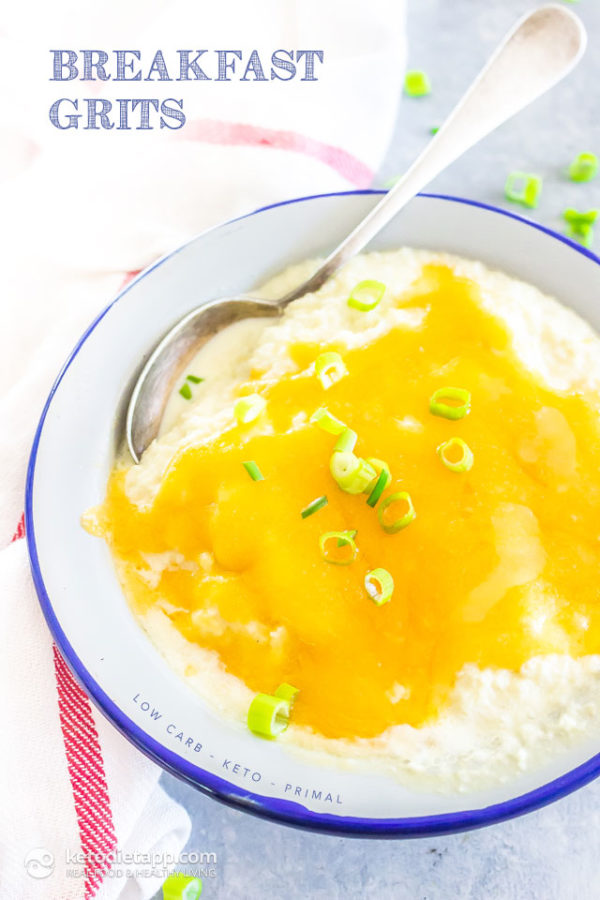 Thanks to this keto breakfast grits recipe, you can replace your high-carb grits without sacrificing flavor or texture.
Go for the classic shrimp and grits or top your keto grits with:
High-fat shredded cheese
Crumbled bacon, ham, or cooked breakfast sausage
Veggies like mushrooms, green onions, or asparagus
#5: Homemade Coconut Yogurt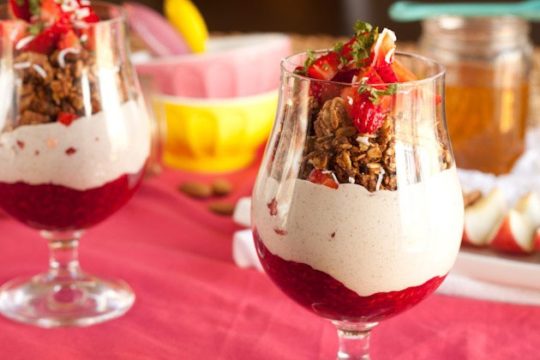 Despite being marketed as healthy, most store-bought yogurts contain just as many carbs and sugars as a donut — if not more.
Keto-approved yogurt does exist — you just have to look for full-fat yogurts without added sugar or flavorings at the grocery store.
Another option that's easier than you may think is making your own homemade coconut yogurt.
This homemade yogurt recipe is keto, vegan, vegetarian, and paleo. It's also perfect for anyone with dietary sensitivities because it's free of:
Dairy
Eggs
Gluten
Grains
Nuts
Soy
Follow the recipe and then top your homemade yogurt with fresh berries or crunchy "Cinnamon Toast" keto granola for a cool treat filling enough for breakfast.
#6: Chocolate Keto Chia Pudding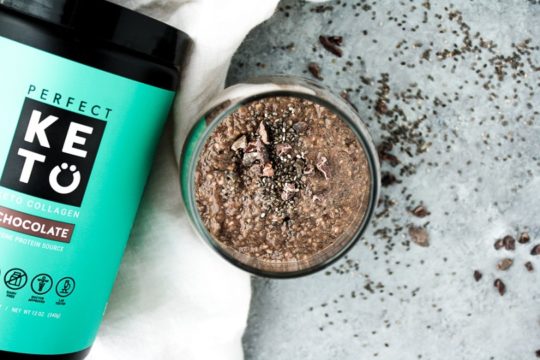 If you're new to keto and still craving sweet breakfast options, it's best to get as much protein as possible to help curb your cravings — especially in the morning.
This chocolate keto chia pudding recipe, which packs both chia seeds and chocolate collagen protein, contains a whopping 18 grams of protein — more than enough to get you through your morning.
This three-ingredient keto mocha chia pudding is another tasty option if you prefer a hint of coffee in your breakfast pudding.
#7: Smoked Salmon Keto Avocado Toast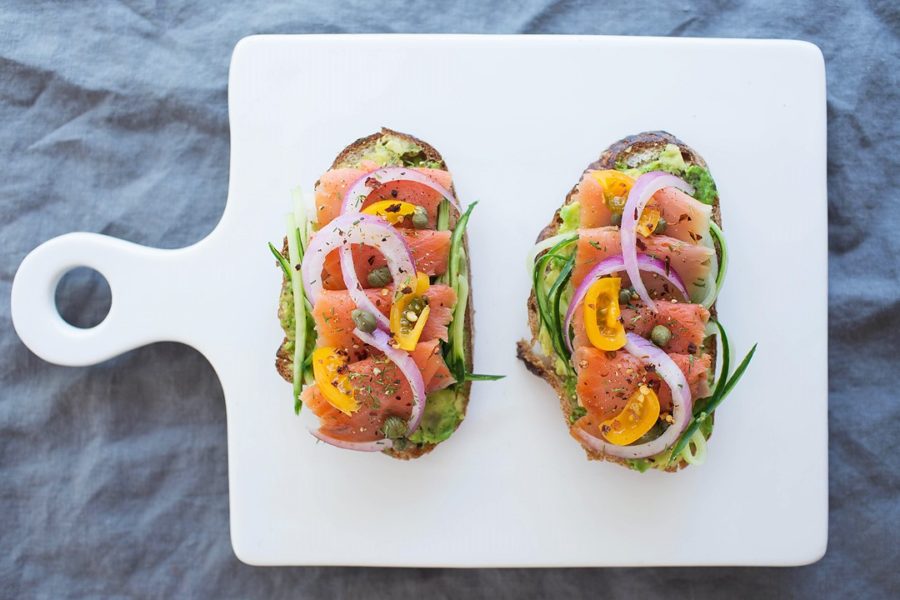 You don't have to miss out on delicious breakfast trends just because you're in ketosis.
This avocado toast is packed with healthy monounsaturated fats from avocado and omega-3 fatty acids from wild-caught smoked salmon.
And because it calls for low-carb keto bread as your toast base, you can have this refreshing smoked salmon avocado toast all the time.
Stacked with avocado, cucumber, smoked salmon, red onion, and spices like red pepper flakes, salt, pepper, and fresh dill, this impressive recipe takes less than 10 minutes to put together and banishes hunger with loads of healthy fats.

3 Breakfast Ideas That Work Well for Meal Prepping
Do your busy mornings make it seem impossible to squeeze in a healthy breakfast?
Try meal prepping breakfast ahead of time and you'll have servings to grab throughout your hectic workweek.
These low-carb breakfast recipes make keto meal prep a better choice than the dirty keto options along your commute.
#1: Keto Coconut Chia Bars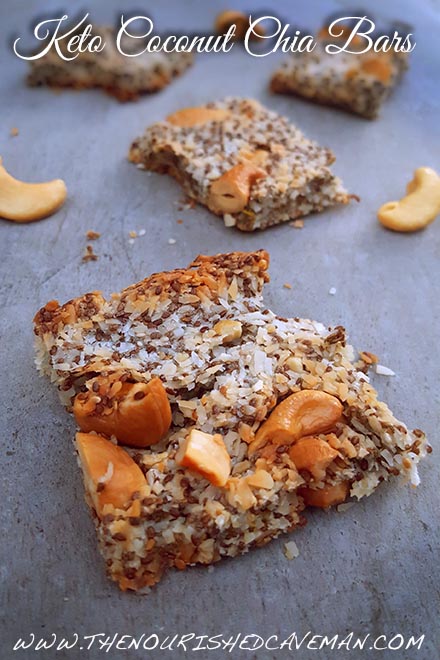 Though convenient, most granola bars are just sugar and carbs to disguised as a healthy breakfast.
Instead of store-bought bars, bake a batch of these keto coconut chia bars and you'll have a portable choice for breakfast the whole family will love.
These keto breakfast bars boast healthy fats from chia seeds, coconut oil, shredded coconut, and cashews — all of which help power your day.
You can also customize this keto breakfast recipe based on what you and your family like, such as using macadamia nuts or stevia-sweetened chocolate chips.
No time to bake? Be careful of store-bought bars — even the "low-carb" ones can be detrimental to your health goals.
Instead, try this keto-friendly almond butter brownie bar, which is stevia-sweetened and won't spike your blood sugar.
#2: Low-Carb No-Egg Breakfast Sausage Bake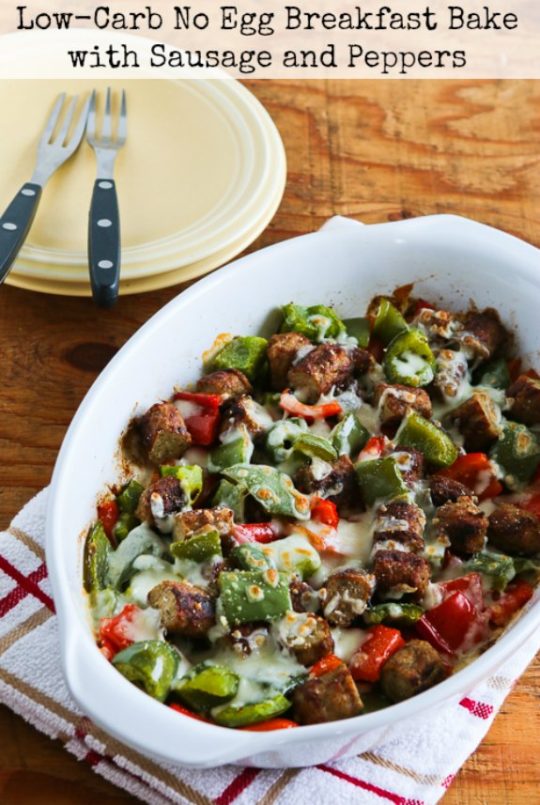 As your sugar cravings start to diminish on a keto diet, you might find yourself craving more savory meals in the morning.
That's where this egg-free sausage and pepper combo comes in.
Start your day with a hearty meal and cook it ahead of time — casserole style — so you can enjoy it throughout the week.
Not only will this recipe save you time in the morning, but you can also tweak it to include more seasonal veggies, different flavors of sausage, and whatever cheese you have on hand.
Always ask your butcher what's in the sausage you're buying (or check the ingredients label and nutrition facts) to make sure it's free from hidden carbs and questionable fillers that may kick you out of keto.
#3: Low-Carb Blackberry and "Apple" Crumble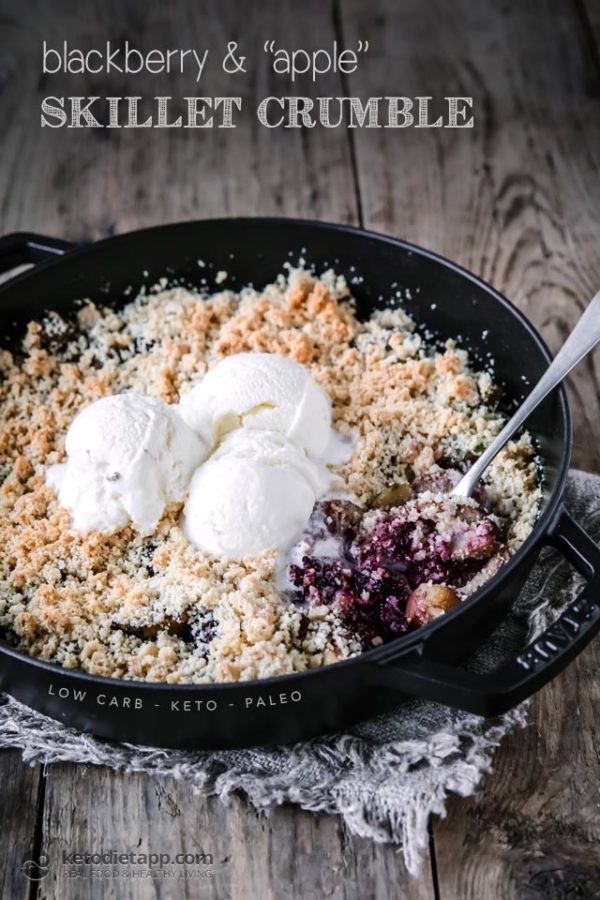 This blackberry and "apple" skillet crumble is a deceiving recipe that only looks like you're having a cheat meal for breakfast.
Here's the secret: shredded zucchini.
Thanks to its neutral flavor, zucchini offers micronutrients and fiber that hide perfectly within this sweet treat.
With frozen blackberries, cinnamon, and nutmeg helping to disguise the hidden veggie, you'll fool all the picky eaters at your breakfast table.

3 Options for People Who Don't Like Breakfast
Many keto dieters find they aren't hungry in the morning when they're finally in ketosis.
Others who practice intermittent fasting also typically opt out of breakfast and start their eating window later in the afternoon.
But if you're hungry in the morning on your journey to ketosis, or you need to wake up your brain for a big presentation, always lean on healthy fats.
Fats will squash your hunger pangs and feed your mental performance. Plus, they're easy to include during breakfast with these quick recipes.
#1: Keto Boosted Coffee Recipe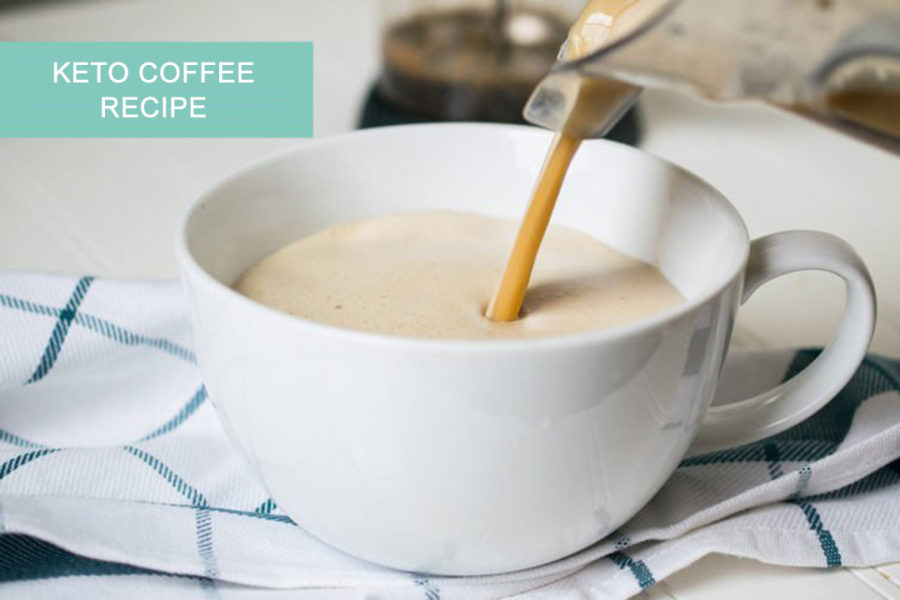 For a lighter breakfast option that gives you just as much fuel as a full meal, try this boosted coffee recipe jam-packed with MCT oil.
MCT oil is a fast-acting energy source that your body and brain use almost immediately to support[*][*]:
Stable energy levels
Cognitive and mental clarity
Proper metabolic and cellular function
While this looks like your average cup of coffee, it's anything but.
#2: Fat Bombs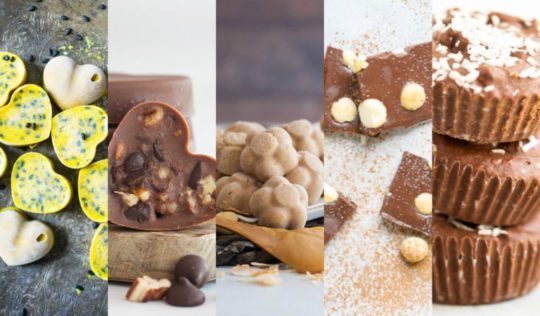 Fat bombs are a convenient way to get a burst of energy and mental clarity in the morning or in between meals.
One or two fat bombs in the morning will set you right for hours thanks to high-fat ingredients like coconut oil, cream cheese, grass-fed butter, and almond butter.
Highly customizable and fairly easy to tackle, check out this list of the best fat bombs for a low-carb lifestyle.
#3: Perfect Keto Bars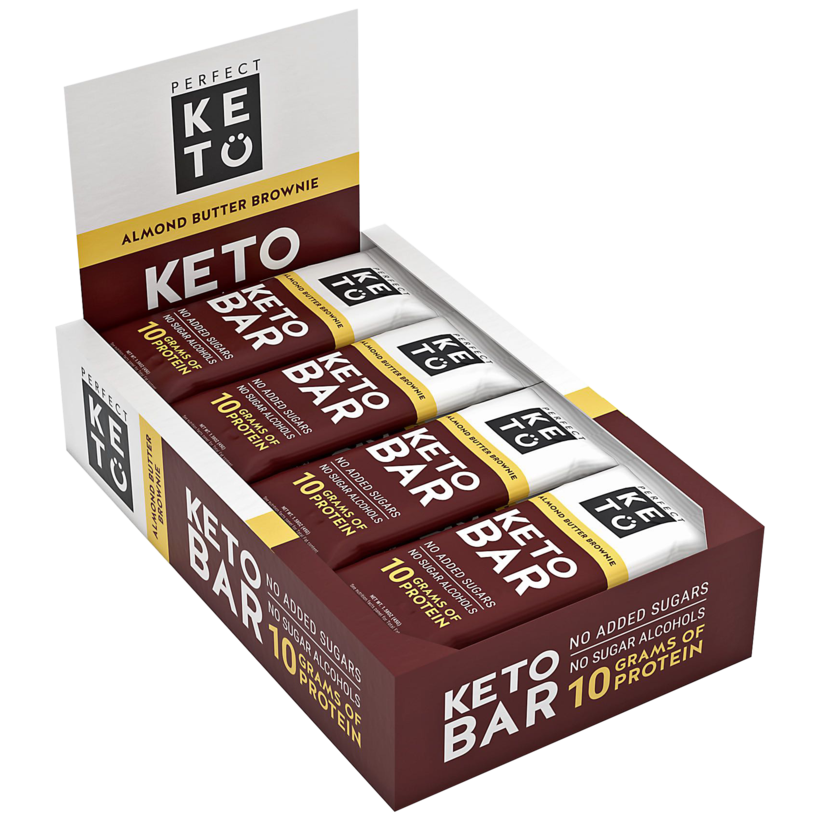 If you're looking for a grab-and-go keto-friendly breakfast option, these delicious keto bars give you 19 grams of fat and 10 grams of protein per bar.
Those keto macros come from real ingredients, including organic almond butter, grass-fed collagen, organic almonds, cocoa, and coconut oil instead of cheap fillers and chemical additives.
Unwrap one for breakfast or any other time you need a filling snack to tide you over.
Keto Breakfast No Eggs Required
You don't have to eat eggs every day on the keto diet. Feel free to take a break from eggs for breakfast without loading up on carbs or getting out of ketosis. By sticking to these keto-friendly recipes, you'll add variety and nutrition to your keto meal plan.
Don't forget to bookmark this page so you can always refer to these recipes when you need a keto breakfast without eggs.