One of the best things about the ketogenic diet is its high fat intake, which rarely leaves you feeling hungry. However, you might find yourself in situations where you still need a snack during the day. If that happens, it's helpful to have several keto snacks on-hand to keep you going and maintain ketosis. That's why we've compiled two monster lists to keep in your toolkit: "The Ready-to-Eat Keto Snack List" and the "The Homemade Keto Snack List." To be sure, healthy keto snack ideas are endless, so get creative and share your personal favorite in the comment section.
Disclaimer: There are some precautions to keep in mind for staying on track. You can't just snack on whatever the hell you want and expect to be maximizing your ketogenic diet. Download our FREE keto snacks list so you're properly armed for your next grocery run!
Not all Keto Snacks are Created Healthy
"Low-carb" doesn't always mean keto-approved. In fact, a lot of low-carb snacks, such as Atkins products, can be too processed and therefore unhealthy.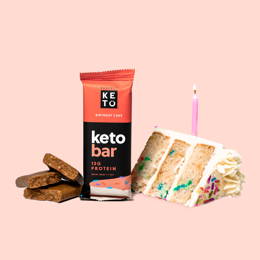 Birthday Cake Keto Bars are here!
The answer to your sweet tooth. 17g of fat, 3g of net carbs, incredibly delicious.
Shop Now
As a rule of thumb, try to stick to whole food-based snacks as much as possible, preferably homemade (we've provided a lot of quick ideas too, for when that's not possible). Remember, food is supposed to go bad. Preservatives and fake ingredients have not been in the human diet until just recently, and we are not well equipped to handle them. The body's response is usually to create inflammation in response to food-like ingredients that it deems as "foreign."
PK Tips: (via Michael Pollan)
Stick to foods that don't make health claims (healthy food doesn't need to say that it's healthy).

Stick to foods that have less than 5 ingredients.

Stick to the outside circle of the grocery store.
Make Sure Your Keto Snacks are High Fat
Another difference between the ketogenic diet and your run-of-the-mill low-carb diet is the macronutrient ratios. Since you have to be careful about keeping your carb count low, you'll want to focus on getting plenty of fat and protein. A great way to do this is from your snacks. Now that we have those guidelines in place, let's dive into some ready-to-eat keto snacks.
Ready-to-Eat Healthy Keto Snack List
Meal prep is one of the best ways to set yourself up for success, but we all know life gets busy. No need to use that as a reason to cheat or eat something that will hurt your ketone levels. Here are some of the best snacks options to grab and go:
Beef jerky: Make sure the brand you choose is no- or very low-carb with very few added ingredients. Be wary of anything with added sugars, as that will kick up the carb content. Recommended Keto Carne jerky here. 
String cheese: Make sure it's the full-fat version without added carbs or other fillers.
Nuts or nut butters and seeds: Remember some nuts are fairly high in carbs (like peanuts, cashews, and pistachios). Stay away from any nut butters that have added polyunsaturated oils or "vegetable oils." Choose higher fats choices, such as almonds or macadamia nuts, and seeds high in omega 3s like flaxseed and chia. Nuttzo is a great choice for a blend of good nuts. We, of course, make a delicious keto nut butter with MCTs and macadamia nuts. If you're interested how nuts can affect you on a ketogenic diet, check out our Full Guide to Nuts on the Ketogenic Diet.
Stevia sweetened dark chocolate: If not sweetened with stevia, make sure it's at least 80% cocoa content or higher, as the carbs can add up quickly otherwise. Here is a low carb friendly chocolate. 
Seaweed snacks: Make sure there aren't any added ingredients that contribute extra carbs. Also make sure there aren't weird flavors or massive amounts of oils in these. They can be added as an extra crunch that you can sometimes miss on keto! Here is a recommended brand.
Laughing Cow cheese wheels: Choose the full-fat versions. Try to get real cheese if you can, but these in a pinch if you need convenience.
Cacao nibs: These are a nice low-carb alternative to chocolate chips! They have the same type of crunch, are way more nutrient dense, and very low carb. Watch out though, you can definitely overdo these. Here are Terrasoul cacao nibs we like. 
Avocados:

GREAT choice because they're a whole food and very easy to eat "as is." Just add a little salt and pepper and you're golden. Maybe even a little olive oil in that perfect hole in the middle.

Sardines: Not only do these provide a healthy dose of fat and other nutrients, they're also zero carb. This is highly recommended by keto-gurus, Dom D'Agostino and Tim Ferris. Here is Wild Planet, the brand they recommend. 
Pork rinds: Use as a crunchy no-carb alternative to crackers or chips. Many of these are low quality and fried with nasty oils. Not these Pork Clouds! 
Pepperoni slices:

These are highly processed, so limit them and try to find organic and hormone-free if possible. Great paired with a high-fat cheese.

Iced coffee: Drink it black (no added sugars) or only with full-fat milk or cream or MCT oil powder. Unflavored, chocolate and vanilla MCT oil powder here. 
Kale chips: If buying these, look for no added sugars—or make them yourself at home using coconut oil, lard, or ghee. Rhythm is a great brand of kale chips. 
Quest Bars: Keep these to a minimum and as a last resort, such as if you're traveling and left without anything else. While they're low-carb due to erythritol as a sweetener, they're also processed with a few weird ingredients so keep them for emergencies. Find Quest Bars here. 
Sugar-free Jello or popsicles:

Limit these for special occasions, as they're highly processed and provide no added health benefit.

Macadamia Nuts: One of the most keto friendly nuts. Packed with wonderful high fats. Careful! Can be super easy to overeat. Find raw macadamia nuts here in easy to travel with mini packs.
Olives: 

Great right out off the olive bar if you can find one! Just try to make sure they don't have any other oils but olive oil in them.

MCT Oil Powder:

This is why we made it! 🙂

Keto Bars:

And this too! Perfect Keto spent over a year developing these Keto Bars so you can have a keto, guilt-free, on-the-go snack bar.
(Want this in a printable PDF? Download our FREE keto snacks list here.)
Phew! What else can you think of? These next ones take a teeny bit of effort but will take your quality keto game to the next level.
Homemade Healthy Keto Snack List
As we said, homemade keto snacks are the best choice, so opt for these over anything packaged as much as possible. These ideas can also work for if you have a little extra time to prep or are looking for keto snacks to make for an event or party:
Veggie sticks:

Simply slice up your favorite keto-friendly veggies and store in the fridge so they're easy to grab and go. You could dip these in homemade guacamole or eat with full-fat cheeses.

Bacon:

Cook some ahead of time to have on hold for snacks on the go.

Cheese dips or fondues:

Enjoy with keto-friendly veggies.

Pizza or taco rolls:

Use baked full-fat cheese as the "wrap" and fill with pizza or tacos meats and spices.

Keto chips:

Make them from cheddar cheese baked in a dished until crispy, then cut up into chip triangles.

Low-carb finger food sandwiches:

Use something grain-free as the "bread," such as cheese, lettuce, spinach, or hormone-free deli meat.

Cold cuts meats and cheese:

Just simply roll a healthy lunch meat around a full-fat cheese. This works well for a quick snack or party appetizer.

Devilled or hard-boiled eggs
Steak tips
Cauliflower crust pizza bites or calzones:

If you haven't tried a cauliflower crust yet, you're basically still living in the dark ages. Find a keto-friendly recipe online.

Bacon-wrapped anything:

Ideas could be mozzarella sticks, jalapeno poppers, asparagus, or beef. This is a popular one for parties.

Salad: You really can't go wrong with low-carb vegetables, especially with mixed greens as the base. Add some bacon bits, hard-boiled egg, and/or parmesan cheese. Use a homemade full-fat keto dressing or something simple like extra virgin olive oil. Primal Kitchen is a great brand of salad dressings.
Berry ice cream:

Berries should be eaten in very limited quantities, but this could be a good option for a treat or entertaining. Just blend up your favorite frozen berries with some coconut cream or heavy cream to form a healthy keto-friendly ice cream.

Chocolate mousse:

Mix heavy cream with some cocoa powder and a little vanilla for an easy mousse. Add some stevia, if needed.
Here's a little homemade guacamole snack and "recipe" from our founder Dr. Anthony Gustin (@dranthonygustin):
Healthy Keto Snacking Summary
Don't:
Get caught off guard! Use this snack list so you don't find yourself unprepared and accidentally smash a bagel.

Think that eating prepackaged chicharrones or bars with fake ingredients is high-quality keto and doing you any favors.
Do:
Take the time to prep high-quality snacks for yourself and reap the rewards.

Stick to your macros.

Test. Not sure if a snack is keto-approved? Test your ketone levels and answer this for yourself.