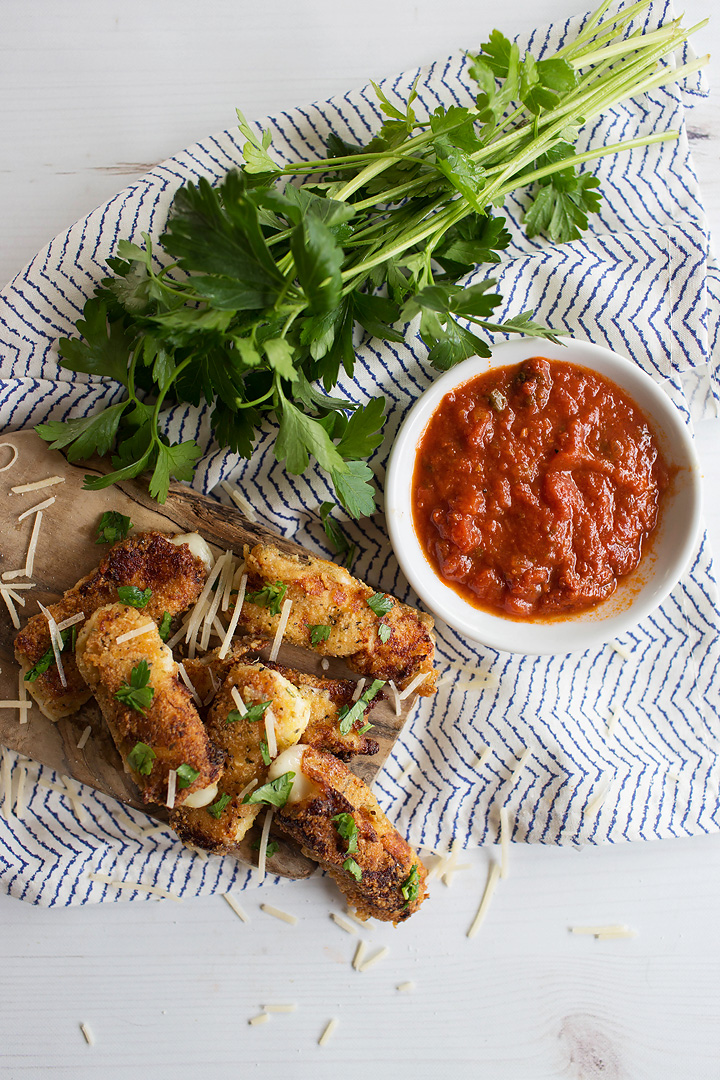 Nothing says crowd-pleaser quite like warm and oozing cheese sticks dipped in marinara sauce. Fortunately, you don't have to give up this classic comfort food on your ketogenic diet with this easy recipe for keto mozzarella sticks.
The best part is you can also prep them ahead of time and store them in the freezer.  When you're ready to enjoy, all you have to do is heat up a little coconut oil and fry these breaded snacks until golden brown.
These cheese sticks are not only tastier than the ones you order at a restaurant, but they are a much healthier option.
The main ingredients in these keto mozzarella sticks include:
Unlike the commercial variety, these mozzarella sticks contain no hidden carbs that kick you out of ketosis, no inflammatory grains, and no unhealthy vegetable oils.
And since it's so easy to increase the serving size, why not throw these into your weekly meal prep? Then when those cravings strike for something piping hot, crispy, and cheesy, you know these keto mozzarella sticks are just a few minutes away.
Whether you're whipping up a fresh batch for instant gratification or quadrupling the recipe to store with your batch-cooked freezer meals, these keto mozzarella sticks are a low-carb savory snack you'll rely on time and time again.
Low-Carb Keto Mozzarella Sticks That Are Actually Good For You
Not only is this one of the most delicious keto recipes you can find, but it also offers lots of nutritional benefits. These cheese sticks are a yummy snack that's truly good for your body.
Cheese on the Keto Diet
Lots of people ask, "Can I have dairy on the keto diet?" The answer is yes, you can. The key to eating dairy on keto is to choose organic grass-fed milk and cheese.
There are a couple things to be mindful of when eating dairy. For one, it's a processed food, so it's easy to eat too much. Track your macros closely when you eat dairy — the Perfect Keto calculator is one of the simplest ways to do this.
Secondly, you'll also want to pay close attention to signs of lactose intolerance. If you notice you have an upset stomach, bloating, sinus issues, acne, or joint pain, these are all signs you may be intolerant to dairy.
If your body doesn't have any adverse reactions, be sure to choose full-fat, organic, grass-fed dairy products, including the cheese for this recipe. Avoid anything marked "low-fat" or "fat-free" as these are often signs that the product has been processed, not to mention your body needs the fat from the cheese.
Here's the nutrition breakdown of an ounce of mozzarella string cheese[*]:
0.6 grams of net carbs
6.3 grams of protein
6.3 grams of fat
85 calories
Almond Flour Is Good for Your Heart
These cheese sticks are coated with almond flour. Almond flour is known for being low-carb, high-protein, and an excellent source of nutrients.
Here are the nutrition facts for one cup of almond flour[*]:
180 calories
7 grams of protein
15 grams of fat
2 grams of carbs
2 grams of fiber
0 grams of net carbs
Almond flour is a gluten-free, grain-free alternative to wheat flour. Even better, it's minimally processed and tastes great. However, if you're allergic to nuts, you'll need to avoid almond flour. Instead, coconut flour is a nut-free, keto-friendly alternative.
Coconut Oil vs. Olive Oil: Which Is Best?
Both coconut oil and olive oil are keto-friendly and there are benefits to both of them.
Coconut oil contains a type of saturated fat called medium-chain triglycerides (MCTs), which are easily digested. It's why coconut oil is considered a "good fat" and such a popular ingredient in keto cooking.
Some keto recipes call for olive oil, which also boasts plenty of health benefits. Olive oil has monounsaturated and polyunsaturated fats. Many studies link monounsaturated fats to an increase in good cholesterol levels and higher insulin resistance[*].
Studies also show that consuming polyunsaturated fats is linked to lower risk of heart disease, stroke, and inflammatory disease[*].
Allergy-Friendly and Gluten-Free Breading for Keto Cheese Sticks
As you likely already know, breadcrumbs are a no-no on the keto low-carb diet. Even if you once loved coating (and frying) food in breadcrumbs for that crispy crunch, it's not a good idea. It'll kick you out of ketosis and flood your body with too many carbs.
If you need to avoid almond flour in this recipe for health reasons or because of a nut allergy, you can use pork rinds instead. Just make sure and crush them up into a fine powder. And be sure you use pork rinds without any added sugar or flavorings.
Another nut-free and allergy-free option is coconut flour. You can use the same amount as almond flour, it turns out just as crispy.
How to Make Your Own Italian Seasoning
This recipe calls for Italian seasoning. Mix the ingredients in a small bowl and then store it in a little jar in your spice cabinet. You can use it to make your own homemade keto marinara sauce. It's so convenient.
To create your own Italian seasoning, simply mix the following: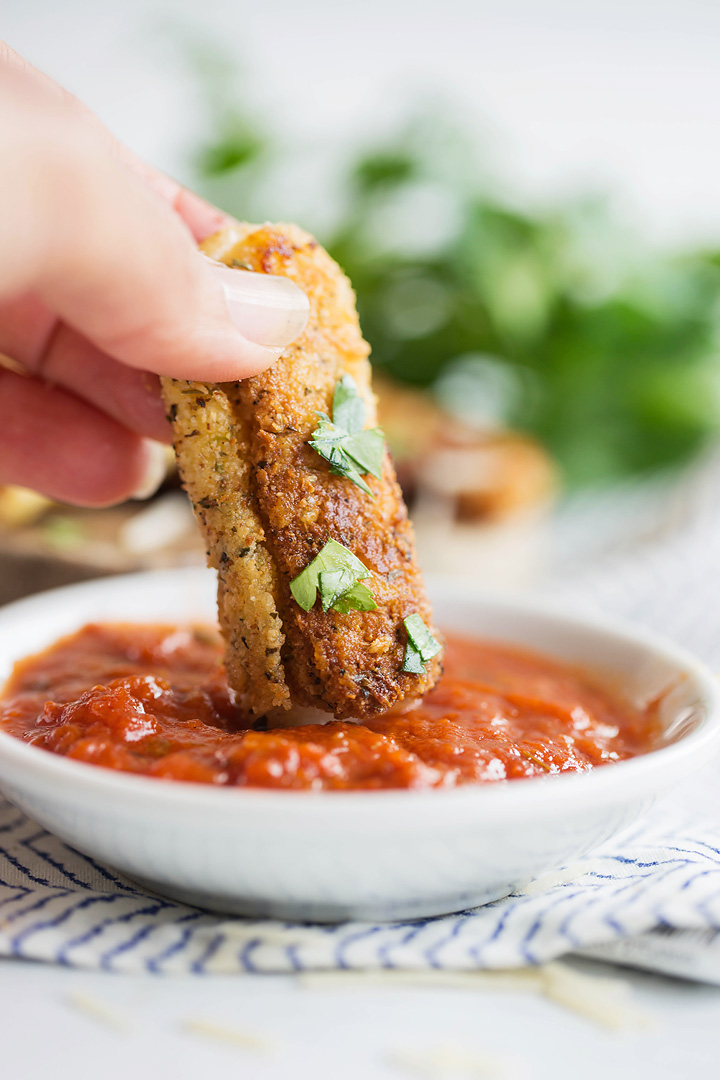 The Best Type of Cheese for Low-Carb Mozzarella Sticks
You can certainly substitute any type of cheese that you want for these keto mozzarella sticks. But mozzarella string cheese is the best option. Why? Because it has such a fantastic way of melting and stretching as you bite into it. Plus, the flavor is perfectly mild, which complements the crunchy, savory crust.
If you don't have any mozzarella string cheese, you can certainly use any type of cheese you have on hand. You can even cut cheddar cheese into strips. Just be prepared for the texture to be different if you don't use mozzarella.
Don't forget the parmesan cheese for the coating. When this is fried, it adds a crunchy coating that you'll love.
How to Make Keto Mozzarella Sticks in the Air Fryer
If you have an air fryer then you should give it a try for this recipe. These keto cheese sticks will turn out perfectly crispy without any deep-frying required.
To make them in the air fryer, just follow these steps:
Freeze the cheese sticks.
Coat the frozen cheese in the same toppings as this recipe.
Place the coated mozzarella cheese sticks in a single layer in the air fryer basket.
Air fry for about 5 minutes at 400°F.
If they aren't crispy enough, fry for another 5 minutes.
Are you ready to make your own? You'll love these as a late-night snack, appetizer, or as a lunch side dish. Better still, once they've frozen overnight, they're ready to eat in just minutes.
Print
Easy Homemade Keto Mozzarella Sticks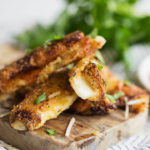 These easy keto mozzarella sticks that have incredible flavor and no unhealthy oils and processed ingredients.
Author:
Total Time:

10 minutes cooking time + overnight freezing

Yield:

2

servings

1

x
Instructions
Place cheese in the freezer overnight to harden.
When you're ready to make your mozzarella sticks, add coconut oil to a small to medium-sized cast-iron skillet and heat under medium-low heat.
Add egg to a small shallow bowl and beat well.
Add almond flour, parmesan cheese, and seasonings to a separate shallow dish.
Coat cheese in egg, then evenly coat in the dry mixture. Place on a wire rack or plate and repeat with remaining sticks of cheese.
Cook mozzarella sticks until golden brown on all sides, about 1-2 minutes.
Remove from oil and place on paper towels. Sprinkle with parsley if desired.
Serve with keto-friendly marinara sauce.
Nutrition
Serving Size:

3 sticks

Calories:

436

Fat:

39g

Carbohydrates:

Net Carbs: 5g

Protein:

20g
Keywords: keto mozzarella sticks