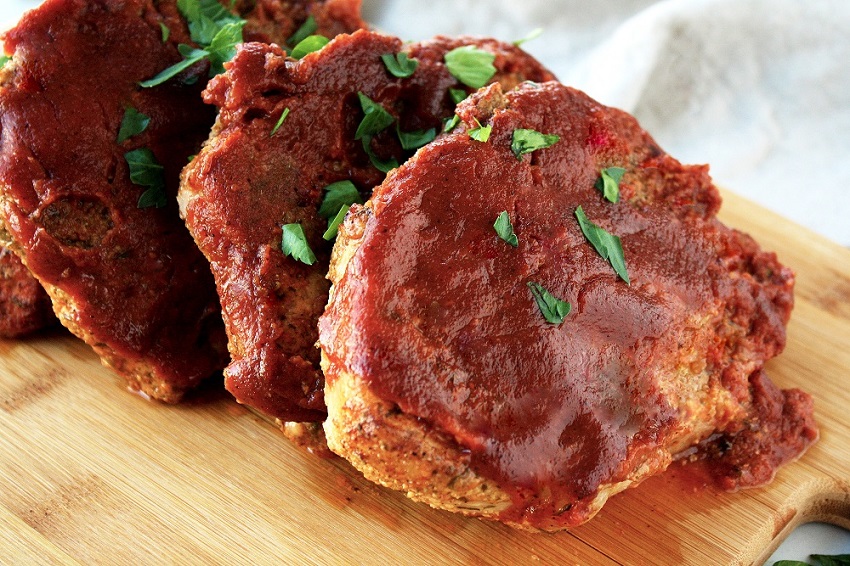 Beef and chicken are key protein sources that are good for your health. However, they aren't your only protein options as these keto pork chops prove.
While pork chops tend to get overlooked, the keto diet is ideal for bringing pork back as a go-to protein source for your favorite dinner recipes. And it's more than just taste.
Before you fire up the oven, take a look at why adding pork to your keto lifestyle is a good idea. (And if you're looking for other keto dinner options, check out this list for inspiration.)
Nutritional Benefits of Pork
Pork is abundant in key vitamins and minerals, including vitamin A, vitamin B6, vitamin B12, thiamin, niacin, riboflavin, pantothenic acid as well as phosphorus, selenium, sodium, zinc, potassium, copper, and magnesium[*].
Vitamins such as vitamin B6 are important for the process of metabolizing different macronutrients and other nervous system functions. Riboflavin (aka vitamin B2) is more responsible for repairing damaged tissue and improving the health of your skin[*].
Zinc is also a key compound found in pork. If you don't monitor your zinc intake, it could lead to zinc deficiency, which could cause many imbalances, such as changes in appetite, weight fluctuations, hair loss, digestive issues, chronic fatigue, or even fertility issues[*].
If this is your first time trying a pork chop recipe, don't be intimidated. You'll prepare the pork chops in a similar fashion to steak, first by browning both sides on a skillet and then popping it in the oven for the remainder of the cooking time.
See? Not so scary.
Health Benefits of Spices
In this keto pork chop recipe, the primary flavors come from parsley, paprika, oregano, and thyme. Often, the lengthiest part of a recipe is the seasonings.
The herbs and spices you use to season your food add more than mere flavoring. They contain bioactive compounds that can benefit your body in numerous ways[*]. An important aim in low-carb cooking is to make your meals as nutrient-dense as possible.
And while you've probably used plenty of herbs and spices over the years, you might be wondering what the difference is between an herb and a spice.
Simply put, herbs always come from the leaves of the plant while spices come from any non-leaf part of the plant such as roots, seeds, flowers, buds, fruits, berries, or bark.
Herbs and spices, particularly in their dried forms, contain relatively high amounts of phytochemicals known as polyphenols[*]. These polyphenols act as antioxidants, protecting your cells from free radical damage.
Their content is comparable to other foods known to contain polyphenols, such as broccoli, onions, grapes, berries, and dark chocolate[*]. What's more, there's a growing body of research on how polyphenols bestow their health benefits by acting on gut microbiota[*].
Here's a look at some of the benefits you'll be adding to your meal by way of seasonings:
Parsley contains apigenin, which has anti-inflammatory qualities[*].
Paprika is derived from bell peppers. Paprika carotenoids are reported to have a powerful antioxidant activity[*].
Oregano and thyme are both a part of the Lamiaceae family, which includes many other spices like marjoram, rosemary, basil, sage, and more. The polyphenols in oregano and thyme help prevent the oxidative degradation of lipids that lead to cell damage and are known for their antioxidant benefits[*][*].
While the amount of herbs and spices you use in a recipe is small, they do contribute to the overall nutrition of your food.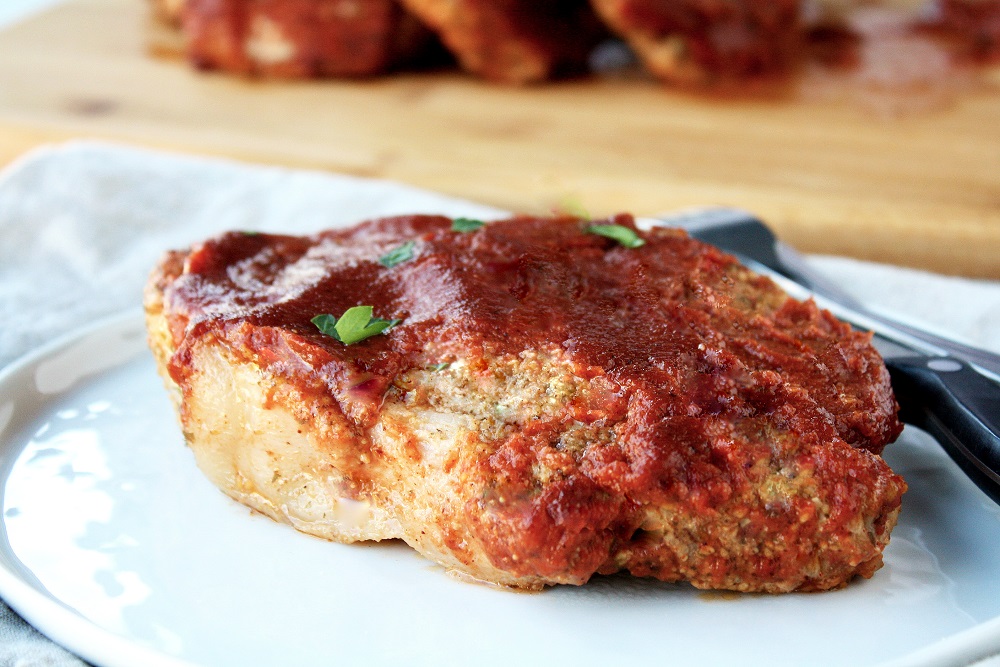 Great Side Dishes Make It a Meal
This gluten-free, low-carb recipe is so good it'll bring pork chops into your regular rotation. One of the best helpers in staying on the keto diet is having plenty of variety in your meal plan.
You can't go wrong with a crispy main course and delicious side dishes like keto Italian green beans, no potato salad, or crispy keto bacon-wrapped asparagus.
If you're in the mood for a side dish with a rich, creamy sauce, you could make this low-carb cauliflower mac and cheese recipe, rich with heavy cream and three kinds of cheese.
Air Fryer Variation
While this particular keto pork chops recipe isn't Instant Pot-friendly because of the parmesan, you can certainly bake it in an air fryer with little to no modification.
Simply skip the instruction to sear the pork chops on the stovetop first, then follow your air fryer manufacturer's instructions for frying a 1-inch piece of meat.
There might even be an icon on the front of your fryer that gives you the recommended time and temperature.
Depending on the manufacturer, the recommended temperature will likely fall between 360-400°F degrees. Your pork chops could be done as quickly as 12-14 minutes, depending on the thickness. They will brown nicely in the air fryer and have a lovely crispiness.
Get Saucy
Along with an abundant amount of seasonings to choose from, you can top these keto pork chops with keto-friendly barbecue sauce for a final touch.
This keto barbecue sauce recipe will help you stay in ketosis with its low-carb ingredients such as tomato sauce, apple cider vinegar, Worcestershire sauce, brown mustard, onion powder, and garlic powder.
When you're tired of the same chicken and beef as your main protein source, these keto pork chops will give you all the flavor you crave and fit your ketogenic macro needs.
Packing over 59 grams of protein, 3.2 grams of net carbs, and a total fat content of over 17g, these bad boys will give your macros a respectable boost.
Print
Nutritious, Baked Pork Chops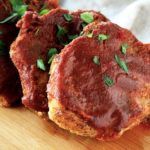 These baked boneless pork chops are the ultimate keto-friendly meal. Full of nutrient-dense protein, pork chops are satiating, low in carbs, and easy to whip up. If you use bone-in pork chops, you may have to adjust your cooking time but only because they tend to be thinner than their boneless brethren.
Author:
Prep Time:

10 minutes

Cook Time:

50 minutes

Total Time:

1 hour 10 minutes

Yield:

4

1

x
Category:

Dinner

Cuisine:

American
Instructions
Preheat oven to 350℉. Spray non-stick cooking spray in large baking dish.

Combine parmesan cheese and spices in a shallow dish. Whisk together until well-combined.

Heat avocado oil over medium heat in a large skillet.

Coat pork chops in seasoning and place on a hot skillet (a cast-iron skillet would be great for a crispy coating). Sear both sides of pork chops. Transfer browned pork chops to prepared baking dish.

Pour optional

barbecue sauce

over top of pork chops.

Bake pork chops in the oven until internal temperature reaches 150 degrees, about 50 minutes. Remove from oven and allow pork chops to rest until internal temperature reaches 160℉, about 10 minutes.
Nutrition
Serving Size:

1 pork chop

Calories:

423

Fat:

17.2g

Carbohydrates:

4g (Net Carbs: 3.2g)

Protein:

59.8g
Keywords: baked pork chops