Jump to recipe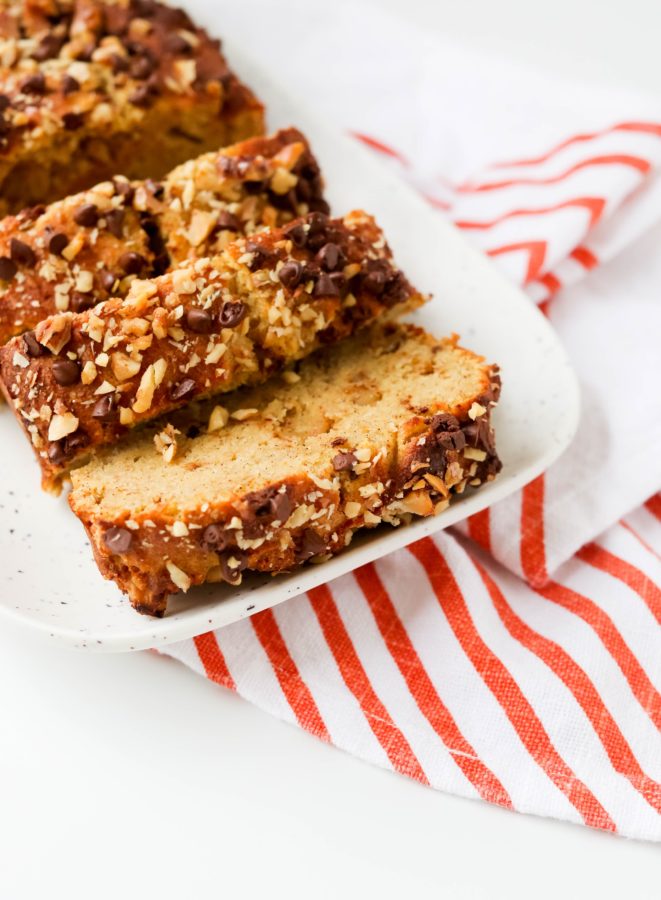 This yummy low-carb banana bread takes less than an hour to make and is packed with banana, toasted nuts, and warm spices.
A lot of keto-friendly baked goods end up dry, but this banana bread has a light crumb and rich flavor — and best of all, it's grain-free, paleo, and has a net carb count of just 3 grams per slice, which makes it perfect for a keto diet.
Here's how to make keto banana bread, as well as a few options and add-ins for customizing your banana bread to suit your tastes.
The Secret to Low-Carb Banana Bread
Banana bread is usually high in carbs, thanks to sugar, maple syrup, refined flour — and, of course, the bananas.
A single medium banana has about 24 grams of carbs and 14 grams of sugar, and most banana bread recipes call for several bananas. The fruit alone is enough to kick you out of ketosis.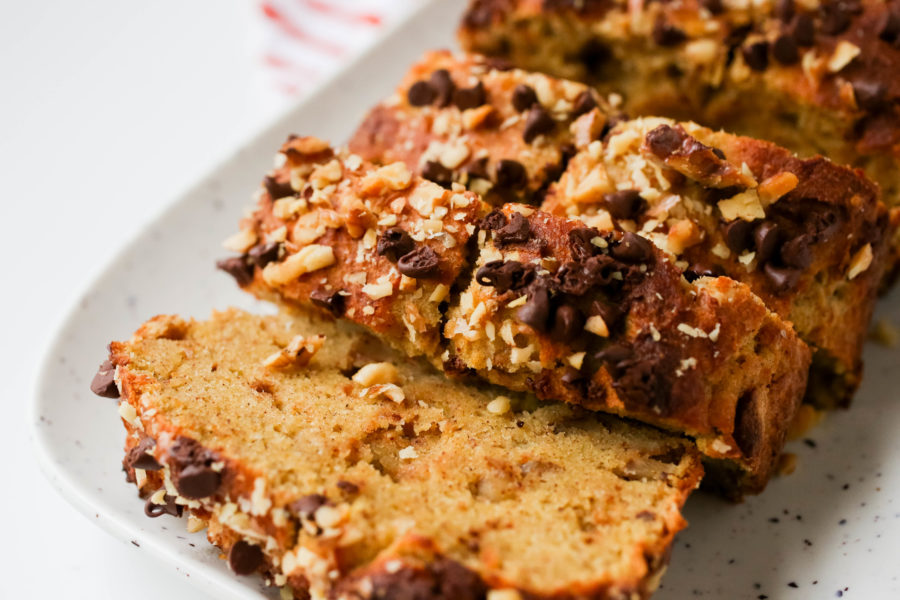 So how do you make sugar-free banana bread if you can't use bananas?
The answer is banana extract — an all-natural way to add banana flavor without any carbs or sugar.
Make sure you get banana extract that's made from real bananas, and not artificial banana flavoring, which is filled with junk and will give your low-carb bread a strange fake banana taste.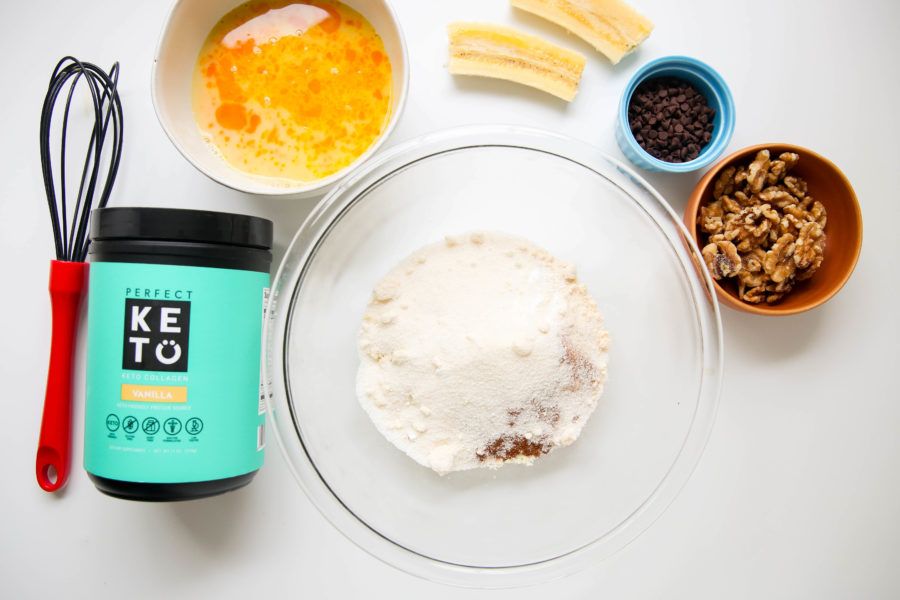 Use This Recipe to Make Banana Muffins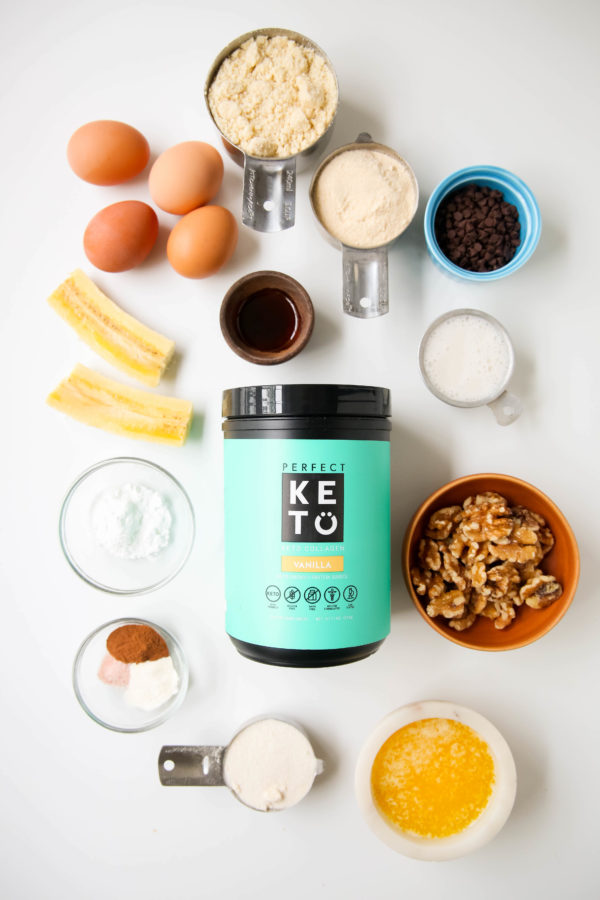 ​If you're not a fan of one big banana bread loaf, we have good news: you can make muffins without changing this recipe at all.
Break out your muffin pan, grease it well with butter or a neutral oil, and fill each cup about three-quarters full with the banana bread batter.
If you're making muffins, you may want to shorten the baking time by a few minutes. Start checking for doneness at about 35 minutes by inserting a toothpick into the center of the muffins.
If the toothpick comes out clean, your muffins are ready. If it has batter or crumbs on it, put the muffins back in the oven and check again a couple minutes later.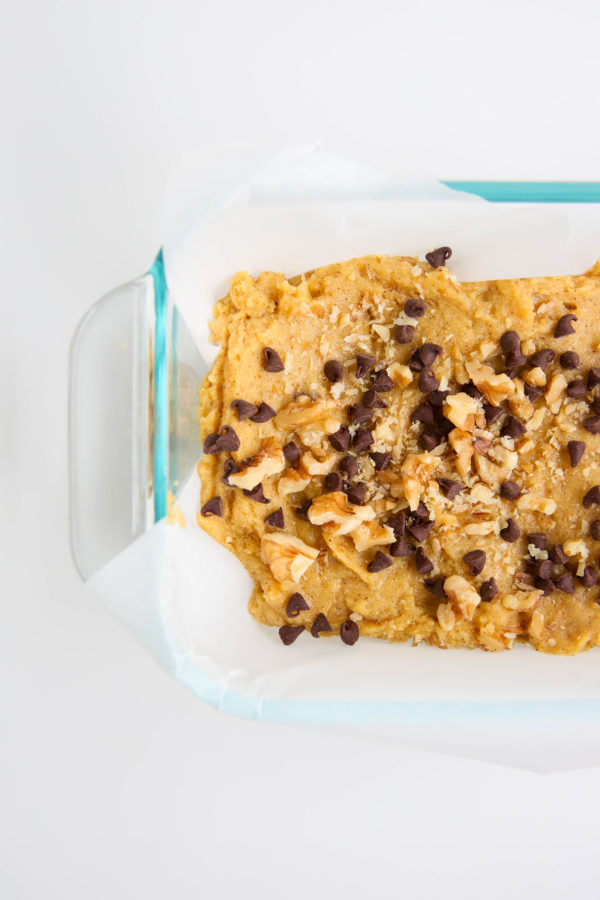 Keto Banana Bread Add-Ins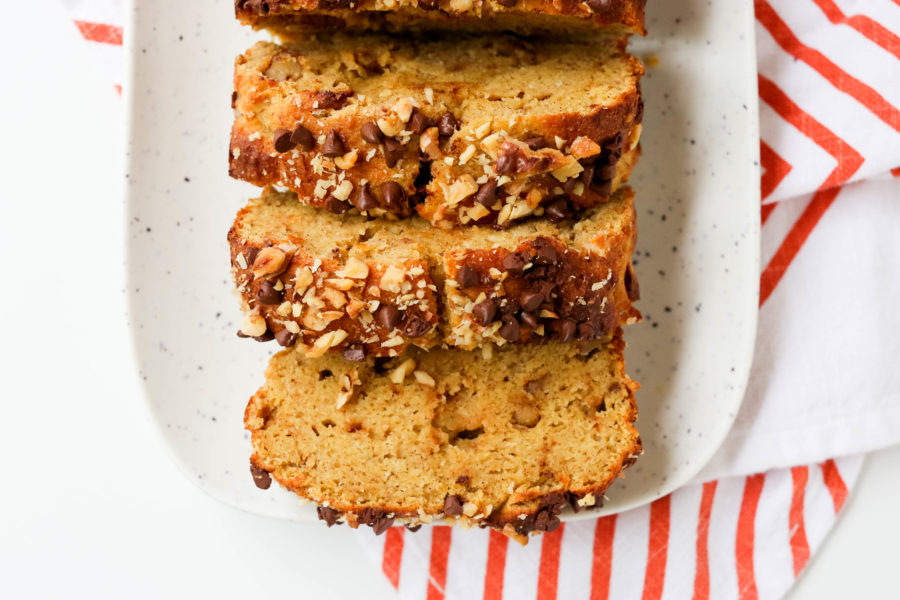 Real banana. The recipe below calls for banana extract, which imparts a wonderful banana flavor while keeping net carb count low. But if you don't mind a few extra grams of carbs per serving, you can replace the banana extract with as much fresh banana as you want.
Blueberries. Fresh or frozen blueberries make a great addition to this recipe. They add moisture and bright tartness that balances out the richness of the banana and spices.
Chocolate chips. For an especially decadent treat, sprinkle some sugar-free chocolate chips on top of your banana bread batter before baking. The chocolate chips will melt into the top as the loaf bakes.
Pecans or walnuts. Crush up some nuts and add them to the top of your banana bread just before it goes into the oven.
Peanut butter. For an extra layer of flavor a denser, more moist crumb, mix a couple of tablespoons of peanut butter into your batter.
Cream cheese frosting. Mix together cream cheese, room temperature butter, a keto sweetener of your choice, a splash of vanilla extract, and a pinch of salt until smooth. You'll end up with delicious keto cream cheese frosting that you can spread on top of your banana bread. Just make sure you wait until the loaf has cooled completely before you frost it, otherwise the frosting will melt and make a mess.
Brown sugar substitute. Several keto sweeteners offer a brown sugar option these days. If you want that molasses and caramel flavor in your banana bread, opt for golden monk fruit sweetener or another brown sugar substitute. It'll taste great without sabotaging your low-carb diet.
Extra spices. The base recipe calls for cinnamon, but you can also add nutmeg, clove, ginger, or allspice — they all pair nicely with the flavor of banana bread.
Flaxseed. Mix in a tablespoon of ground flaxseed to add extra healthy fats and give your banana bread a nutty, more complex flavor.
Print
How To Make Keto Banana Bread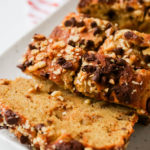 Author:
Total Time:

55 minutes

Yield:

12

pieces

1

x
Instructions
Preheat the oven to 350 F.

In a large bowl, mix together the first 8 ingredients, until well-combined.

In a medium bowl, mix together the eggs, banana extract, butter, vanilla flavoring, and almond milk.

Add the wet ingredients to the dry ingredients and mix to combine.

Fold in the walnuts, reserving some for topping.

Pour batter into a loaf pan lined with parchment paper, and top with remaining walnuts and optional chocolate chips, and bake for 40-50 minutes. To test for doneness, insert a toothpick in the center of the bread; if it comes out clean, your banana bread is ready. 
Nutrition
Serving Size:

1 piece

Calories:

165

Fat:

13 g

Carbohydrates:

6g (Net: 3g)

Fiber:

3g

Protein:

6g
Looking for more keto recipes?
Our recipe archives have hundreds of delicious low-carb recipes. You'll find recipes for breakfasts, lunches, dinners, desserts, and snacks, all of which fit a keto diet. Give them a try and find some new favorites.
And if you're new to the ketogenic diet, why not give it a try? Keto is a great way to lose weight and improve your health and energy levels. Check out our beginner's guide to keto for everything you need to get started today.