On a low-carb diet, keto soups can be an easy lunch or dinner option. No matter if you make them in a large pot on the stovetop or allow them to simmer in a slow cooker, soups are a toss-together-quickly, full-meal-in-a-bowl you can work into your weekly meal plan.
Plus, depending on the ingredients, can be incredibly nutritious. By combining fresh veggies, proteins, and bone broth into a single pot, you have a meal that's warm and satiating and can crush inflammation.   
How Did Soup Become Such a Popular Food?
In the 1800s–1900s, American ladies prided themselves on wasting zero food in the kitchen. They used every scrap if they were able, only throwing away those things they had zero use for.
Bones, veggie butts, and peels add beneficial collagen, micronutrients, fiber, and flavor to broths and soups. Collagen in particular is a powerful ingredient that makes soup so powerful. 
If you associate sipping a bowl of soup with being under the weather, it's because collagen is known to help boost the immune system, reduce inflammation, and heal leaky gut syndrome.
When soup is made from real bone broth (not the broth you see on store shelves today), it comes with a wealth of health benefits. 
Not only can bone broth help heal you from the common cold, but it can improve your brain health, lower your risk of heart disease, treat IBS (irritable bowel syndrome), ease joint pain, and improve the health of your hair, skin, and nails[*][*][*][*][*][*].
How to Work Soups Into Your Weekly Meal Prep
Fun fact: Soups get better with time. The longer they simmer, the more powerful and delightful the flavors.
Why does this matter? Because a batch of soup works great as leftovers, tasting just as scrumptious three days later as that very first night on the stovetop. Soups are easily reheated, making them the perfect addition to your weekly meal prep. 
Simply double the recipe, then freeze any leftovers you cannot consume that week. If you're ever at a loss for that night's dinner (or spontaneously surprised by a group of guests) you can pop the soup of the freezer to thaw.
Keto Soup Recipes
Now that you understand the (hidden) healing powers of soup, try incorporating these low carb soup recipes into your weekly meal prep.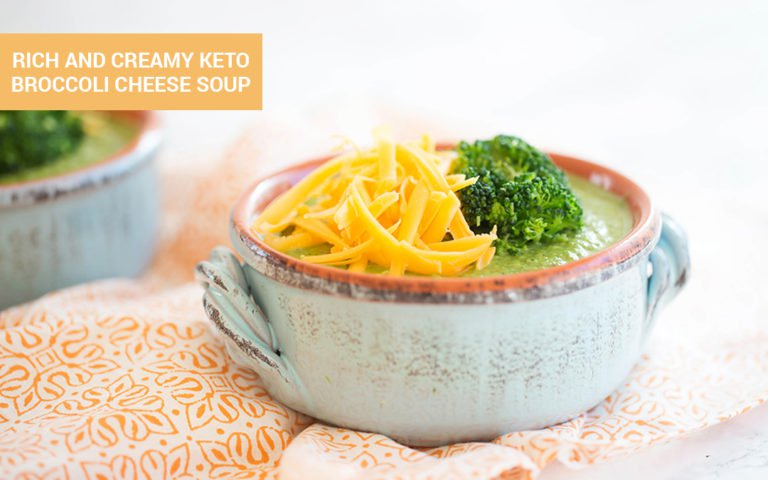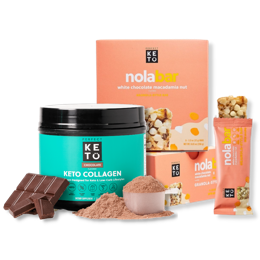 Browse our curated collection of fan-favorites and discover your new favorite snack or supplement.
Shop Best Sellers
There is nothing more comforting than a hearty bowl of soup on a winter day. This ketogenic broccoli cheese soup contains a lot more veggies than traditional broccoli cheddar soup. It's packed with broccoli, carrots, onions, spinach, and homemade beef bone broth. Plus, it takes just five minutes of prep time and 25 minutes on the stovetop. With a total time of 30 minutes to make, this soup is a perfect weeknight keto staple. 
Every spoonful of this simple, nutritious turkey chili is packed with fiber, vitamin C, folate, iron, magnesium, potassium, copper, manganese, and selenium. Plus, you can do a dairy-free take on the original recipe, substituting coconut milk for heavy cream. 
While it might not seem like much of a soup all on its own (although some do enjoy sipping it straight from the mug!) bone broth just couldn't be left off this list. Made with apple cider vinegar, peppercorns, and turmeric, this recipe increases energy production, builds healthy bones, muscles, and joints, improves digestion, and helps you detox.
This comfort food is made in the slow cooker, making it the perfect addition to your weekly meal prep. You can use beef or venison, depending upon your preference. Simply combine all the ingredients in the Crock-Pot, then "set it and forget it" for six hours.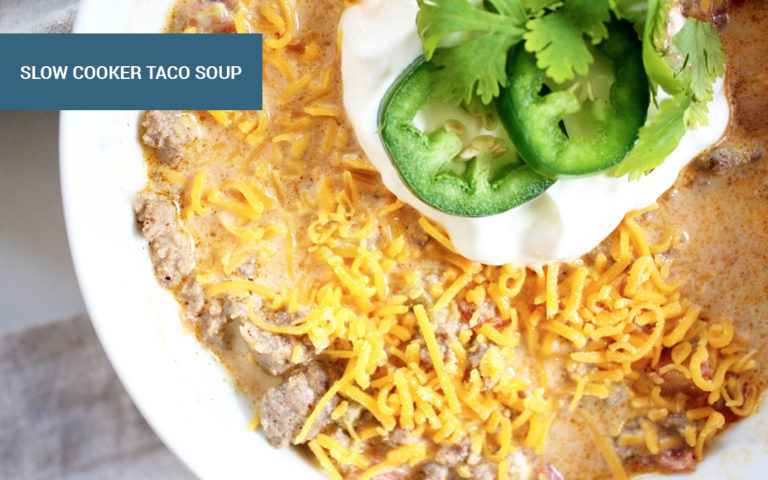 Once served, this is one recipe that will be requested by family members again and again. This low-carb Mexican taco soup is made with cooked tomatoes, ground beef, and high-quality, full-fat cream cheese. It's rich, creamy, and works well as an appetizer or the main course. Serve it with avocado slices on top for a little extra panache (and a few bonus antioxidants).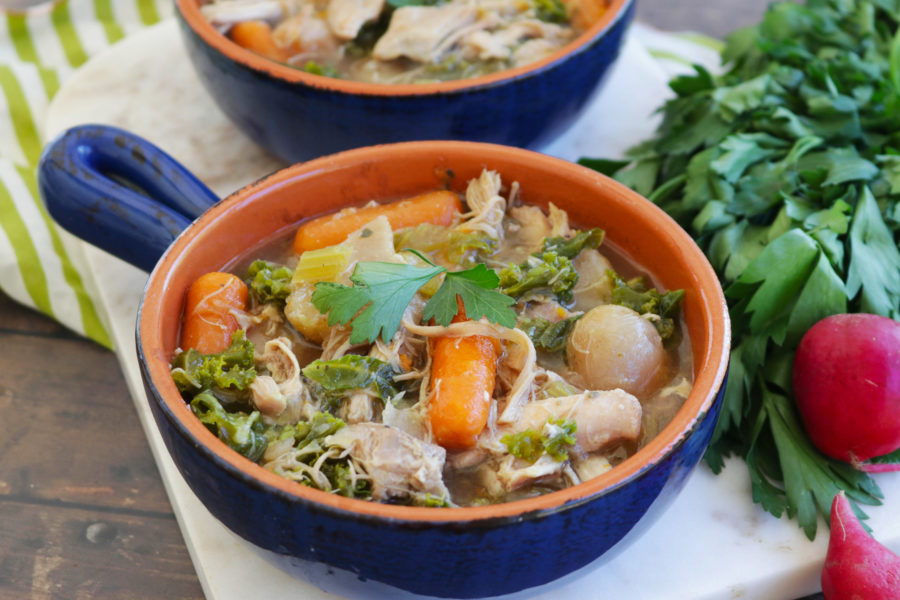 Do your childhood memories include your mom or grandma making you batch of chicken noodle soup when you were sick? This protein-packed, low carb soup is the gluten-free take on that classic chicken soup recipe. While you'll lose the noodles, you'll keep the flavor, giving you the same immune boost when you feel under the weather.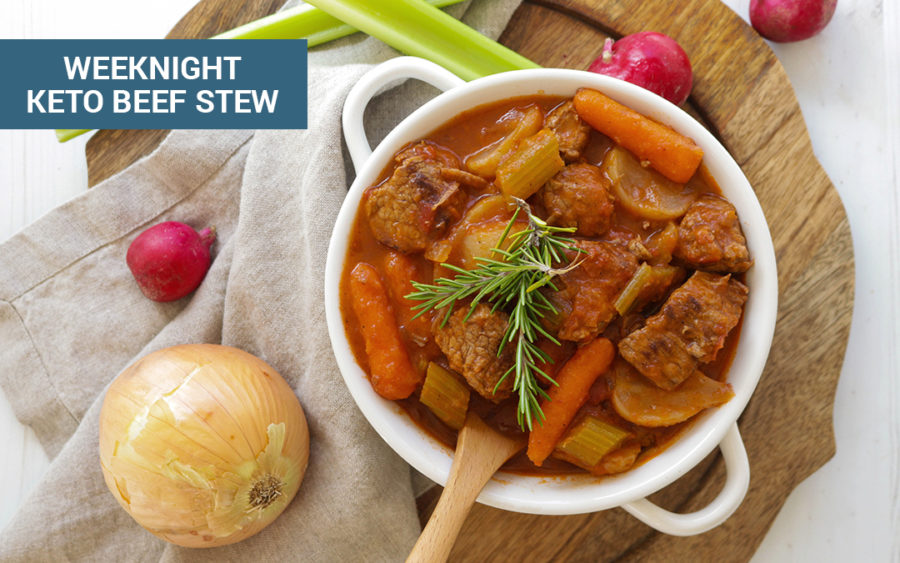 This hearty stew recipe is packed full of meat and vegetables, making it a complete low carb meal. The thick consistency will keep you warm and satiated all winter long. Simply dice some onions, toss in some cloves of garlic for flavor, and serve it with a side of cauliflower mash.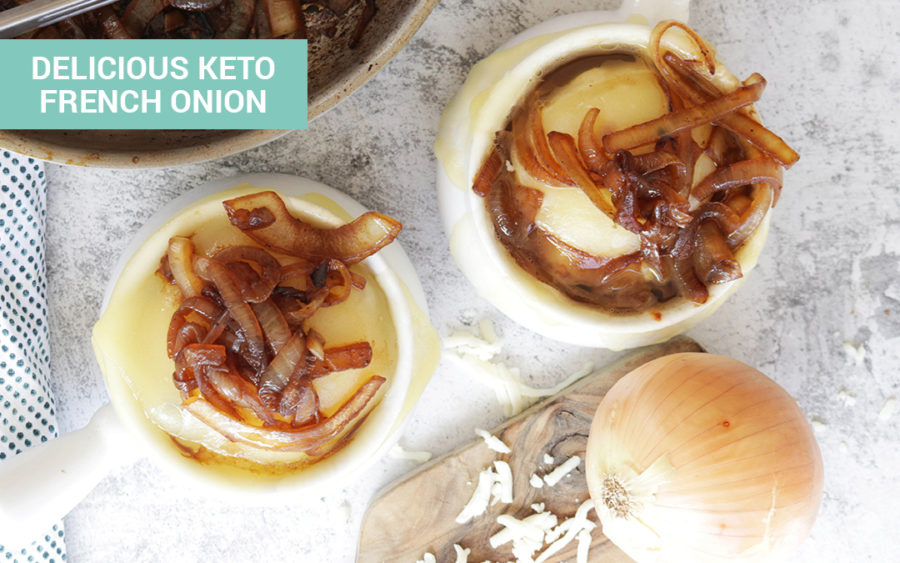 Made with beef or chicken broth, gruyere cheese, grass-fed butter, and onions, this cheesy, comforting soup is one you'll be eating all winter long. This high-fat version of french onion soup contains only 7 grams of net carbs per serving, making it the perfect appetizer on a keto diet.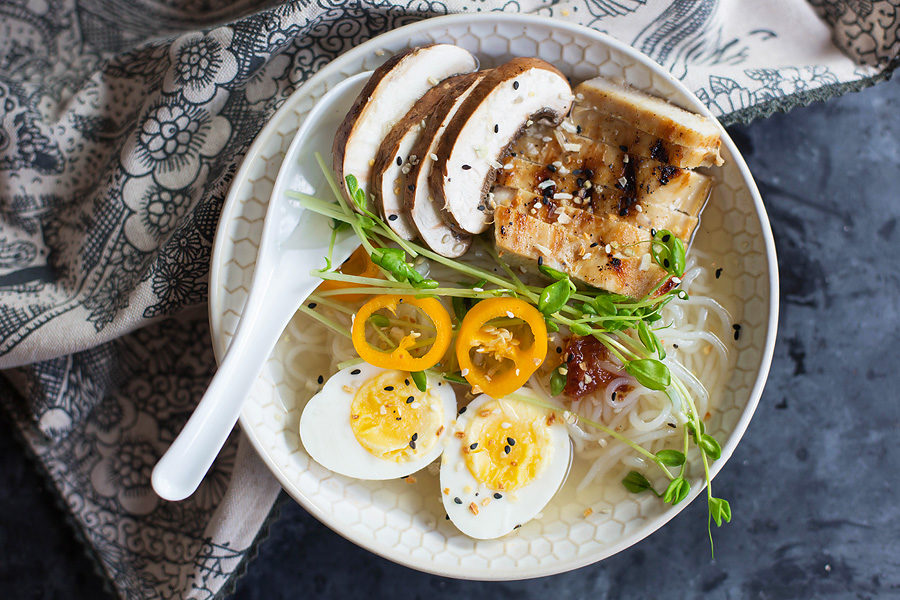 Traditional ramen is a no-go on a ketogenic diet, but this keto-friendly recipe can easily satisfy your cravings. It replaces wheat noodles with shirataki noodles (you can also use zucchini noodles) and it takes only five minutes of prep time — making it the easiest ramen you'll ever prepare.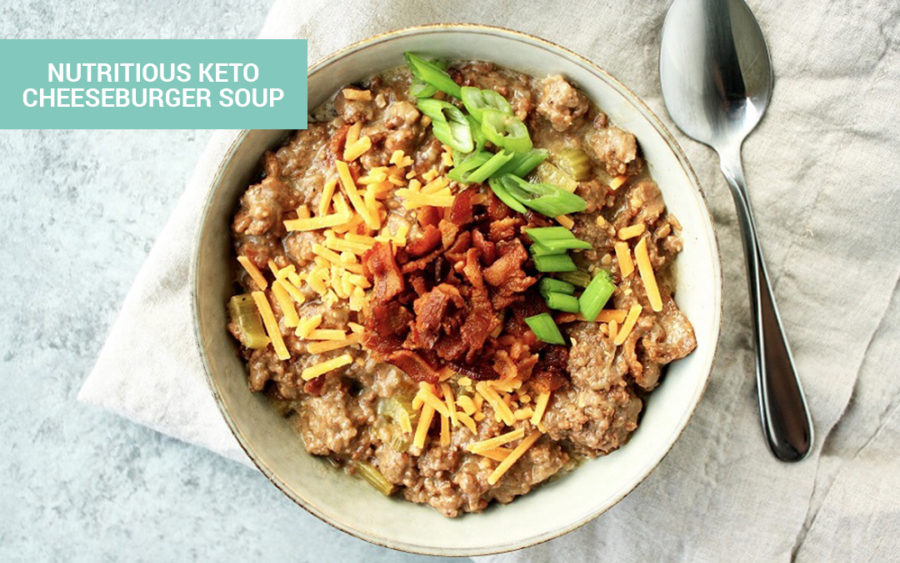 Everyone loves an excuse to add bacon to a meal. This bacon cheeseburger soup contains crunchy bacon, healing bone broth, and grass-fed beef, making it a protein-packed keto recipe. If you're short on time, consider making this recipe in an Instant Pot or pressure cooker to cut down on the cook time.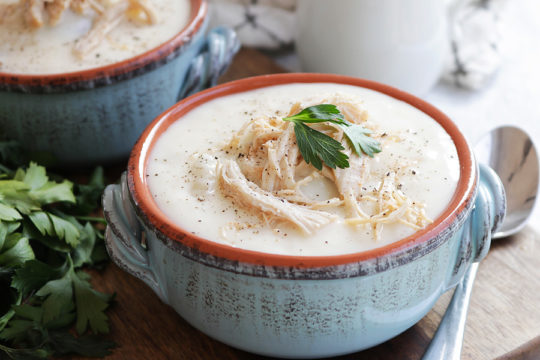 This creamy soup gets a little extra richness from heavy cream and a touch of butter, and the shredded chicken breast is a great source of protein. This soup is the definition of yummy, savory comfort food  — perfect for a cozy day. The base recipe is delicious, and you can make it your own by adding cauliflower, zucchini, kale, or any other low-carb veggie. You can also add extra chicken stock if you want the soup to be a little less rich.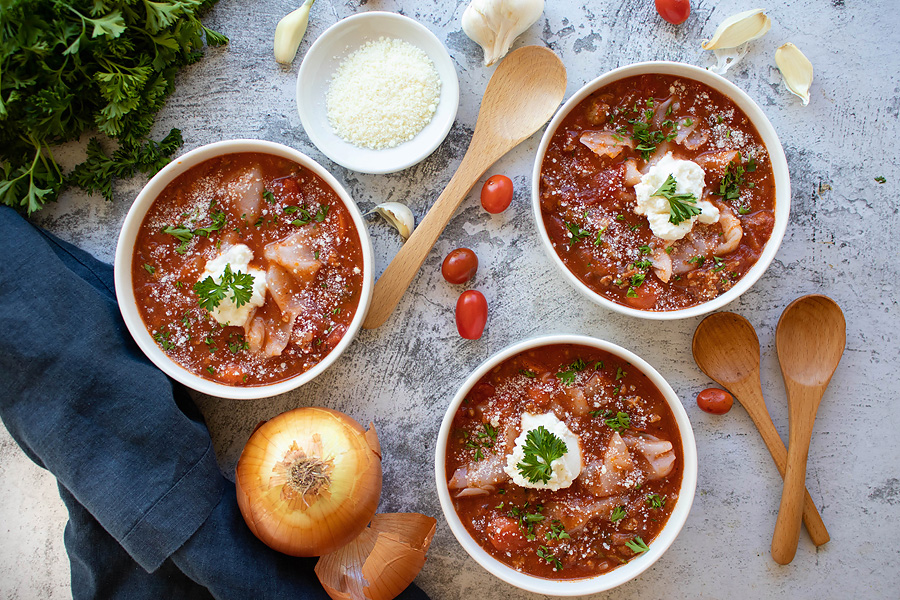 If you want comfort in a bowl, look no further than this easy keto lasagna soup. It has all the flavors of classic Italian lasagna: parmesan cheese, red pepper, bright Italian herbs, and a rich tomato base. Plus, it's ready in only 35 minutes. Add in a few keto meatballs to make this soup extra satisfying.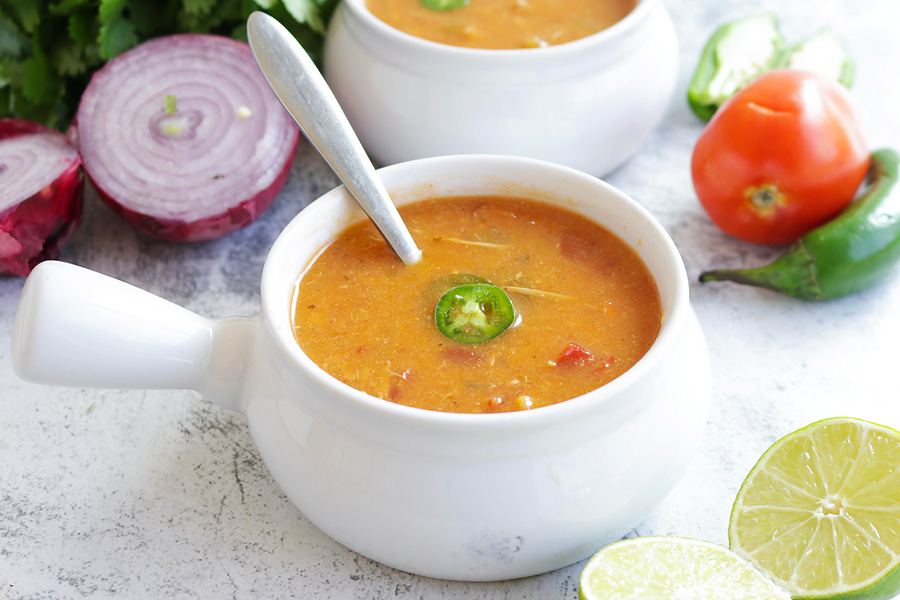 This soup couldn't be easier to make. Saute your base vegetables, add in a few spices and a whole chicken, and simmer for 90 minutes. You can dress this soup up with lime juice, jalapenos, sour cream, and extra cheese to make it pack even more of a punch.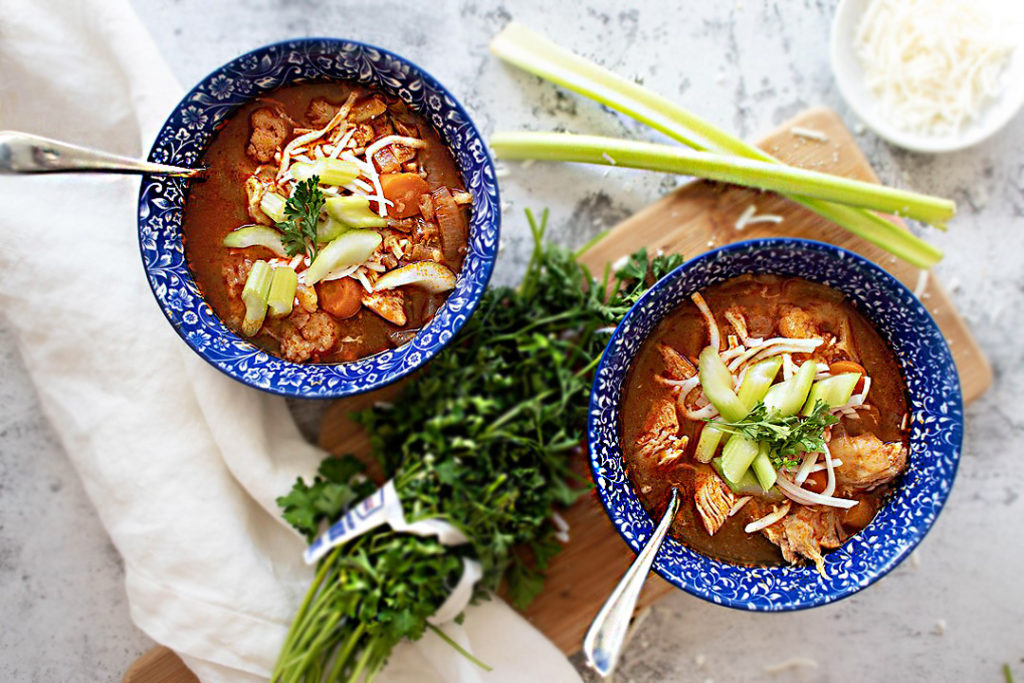 All the flavor of buffalo wings in soup form! This tangy, spicy soup is delicious on a cold day, and it's just begging for a little extra dollop of sour cream on top. It's also high in protein and takes only 30 minutes to make — perfect for a weeknight meal.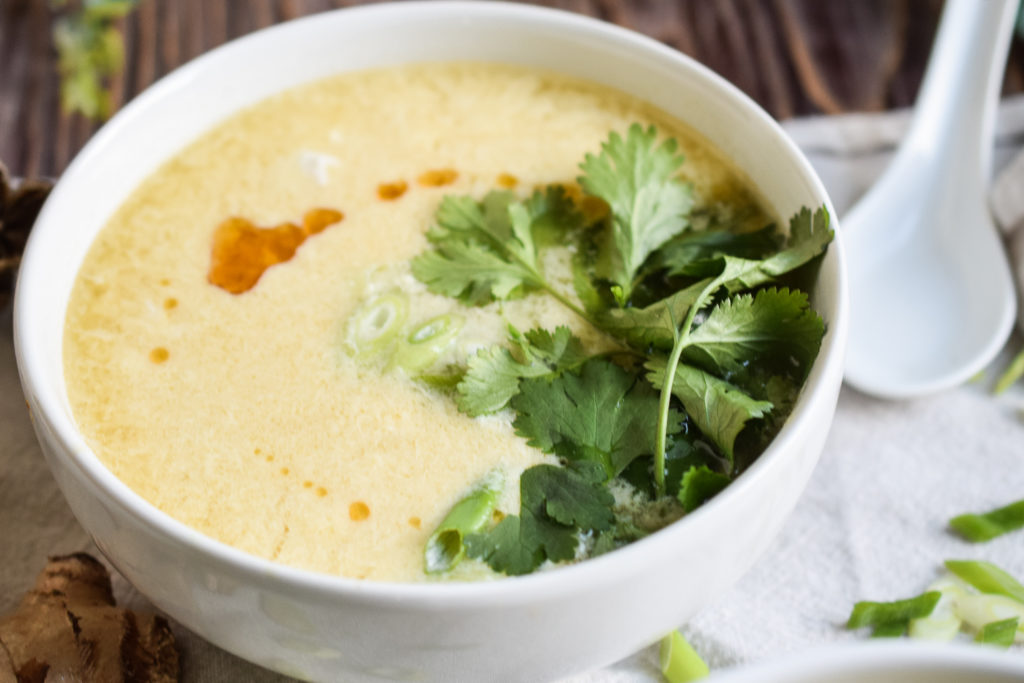 Comforting egg drop soup is the perfect fall or winter meal. This version has lemon, ginger, sesame oil, and a splash of fish sauce, all of which come together into a bright, complex flavor profile.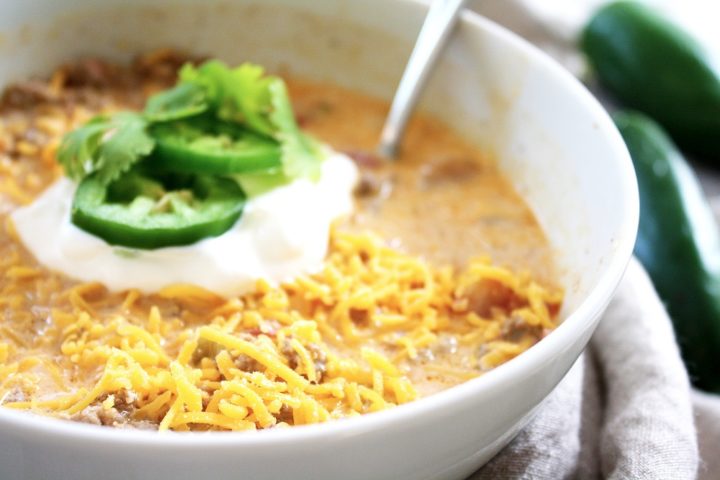 This delicious taco soup brings all the warmth and flavor of a classic taco, and making it couldn't be easier. Just toss all the ingredients in a slow cooker and leave it for four hours. Your home will smell amazing, and the soup will taste even better.  
Enjoy Keto Soups
The above recipes should certainly give you a few options to work into your weekly meal prep. But here's something to remember: You do not have to follow soup recipes to the letter.
There ingredients you can use in soup are virtually limitless. Grilled meats and veggies, leftover rotisserie chicken, or even taco meat can be recombined into a flavorful batch. In fact, if you open your fridge right now there are surely three or four ingredients you could use.
Plus, since soup is such a versatile food, it's difficult to mess up. In the various recipes included within this post, don't hesitate to swap out a few ingredients, using those foods you already have on hand.
Now the only question is, which recipe will you try first?