on October 22, 2018
When you think of waffles, you probably daydream of Belgian waffles covered in chocolate chips, strawberries, and blueberries, topped with a dollop of whipping cream, and drenched in maple syrup.
Unfortunately, none of these ingredients are permitted on the keto diet, sans a few berries now and then.
But if you've been craving an indulgent breakfast, this recipe should satisfy it.
With a few tweaks in ingredients (and a few mindful choices when it comes to toppings), you can create the brunch you've been dreaming about while keeping your carb count low.
Keto waffles are possible.
How to Make Low Carb Waffles
These keto waffles are easy to make. They're gluten, grain, and sugar free, full of classic maple flavor, and even great for batch cooking and meal prep.  You'll savor all the comforts of fluffy waffles, without the extra carbs that could kick you out of ketosis.
This waffle recipe takes just five minutes of prep time and and five minutes of cook time. If you look at the nutrition facts below, you'll see they contain just 2 grams net carbs per serving. The main ingredients in this waffle recipe include:
You will also need a hand mixer and a waffle maker. Before using your waffle iron, grease it with coconut oil or cooking spray.
Pro tip: If you don't own a waffle iron, consider using the batter recipe to make low carb pancakes instead.
Selecting a Gluten-Free, Low Carb Flour
In this waffle recipe, you'll use a blend of coconut flour and almond flour. Each are considerably low in carbohydrates compared to regular wheat flour, and contain various health benefits.
The Benefits of Baking With Almond Flour
Almond flour (which is simply finely ground almonds) makes a wonderful keto-friendly flour substitute.
It can be used in a wide variety of recipes including cookies, cakes, and muffins. If the price point on a bag of almond flour seems a bit high, a cost-effective solution is to buy almonds in bulk and grind them in a food processor. Almonds are fairly inexpensive when compared to other types of nuts, and can readily be found at nearly all regular super markets and large chain grocers.
One cup of almond flour contains 24 grams of protein, 12 grams of dietary fiber, and 56 grams of fat[*]. It's also a loaded with minerals, including calcium, copper, magnesium, and iron.
It's also rich in vitamin E, known to improve skin health by strengthening capillary walls and boosting moisture and elasticity[*].
Almonds have multiple health benefits, including:
They are a rich source of monounsaturated fatty acids and antioxidants, which helps improve cardiovascular health and reduce the risk of diabetes.

Almonds can also help decrease inflammation and oxidative stress[*].

Almonds may help balance your blood sugar levels. Monounsaturated fatty acids slow the rate of glucose (sugar) that is released into your body when you consume food.
The balance of protein, carbs, fat, and fiber contained in almonds are a wonderful option for those who are insulin resistant, or those who struggle with blood sugar regulation[*].
Benefits of Baking With Coconut Flour
Like almond flour, coconut makes a great low carb substitute for keto baking. It's an incredibly dense flour, so don't be surprised if you see an abnormally large amount of eggs (sometimes four to six in a single recipe) used in combination with it. It's commonly used in cakes, muffins, and other desserts because it has an incredibly smooth, fluffy texture.
A quarter cup serving of coconut flour contains 16 grams of carbohydrates, 10 grams of fiber, 4 grams of fat, and 4 grams of protein, for a total of 120 calories. It's a nutritional powerhouse, providing monounsaturated fatty acids, fiber, and other nutrients such as iron, manganese, and copper.
Made from the pulp of the coconut, coconut flour is made as a byproduct during the processing phase of coconut milk. You can make homemade coconut flour by scraping hydrated coconut pulp, then blending it in a food processor.
Selecting a Zero Calorie Sweetener
Swerve is an all-natural, no-calorie sweetener that ranks zero on the glycemic index. It's used quite frequently in keto baking because it has the ability to caramelize, just like brown sugar. In recipes, you can replace sugar with Swerve cup-for-cup.
Swerve is made of erythritol (a sugar alcohol), citrus flavor, and oligosaccharides. Oligosaccharides are created by adding enzymes to a starchy root vegetable. Your body cannot digest oligosaccharides, so they don't impact your blood sugar.
Enjoy a Low Carb, Keto Breakfast
These are some of the best waffles you'll ever try — low carb or not. They're not too eggy, but crisp on the outside and soft and chewy on the inside. For toppings, try smothering your waffles in peanut butter or almond butter. You could also add in a layer of cream cheese and strawberries, or use coconut cream to make homemade, dairy-free whipped cream. You could also search Amazon for a sugar-free syrup (just be careful of the ingredients).
With these yummy waffles, your weekend mornings will never be the same. For more breakfast ideas to complete your brunch spread, check out the keto recipe section on this site.
Print
Fluffy Keto Waffles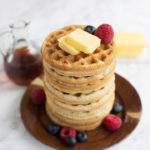 Never miss a traditional Sunday breakfast beat with these light and fluffy keto waffles that are rich in flavor, but low in carbs.
Author:
Prep Time:

5 minutes

Cook Time:

5 minutes

Total Time:

10 minutes

Yield:

eight 4" waffles

Category:

Breakfast

Cuisine:

American
Ingredients
1 1/2 cup almond flour
2 tablespoons coconut flour
1/2 teaspoon baking powder
1 teaspoon baking soda
2 large whole eggs
1 tablespoon maple extract
2 tablespoons stevia or zero calorie sweetener of choice
2 tablespoons melted butter
1 1/4 cup milk of choice
Instructions
Add all ingredients to a large bowl or stand mixer. Mix well until smooth. Let sit for 5 minutes.

Preheat waffle iron and coat with non stick

spray, butter, or coconut oil.

Pour batter into waffle iron and cook for 3-4 minutes until golden brown on each side. Place in the oven to crisp while you repeat cooking remaining waffles.
Nutrition
Serving Size:

1 waffle

Calories:

150

Fat:

13g

Carbohydrates:

Net Carbs: 2g

Protein:

6g