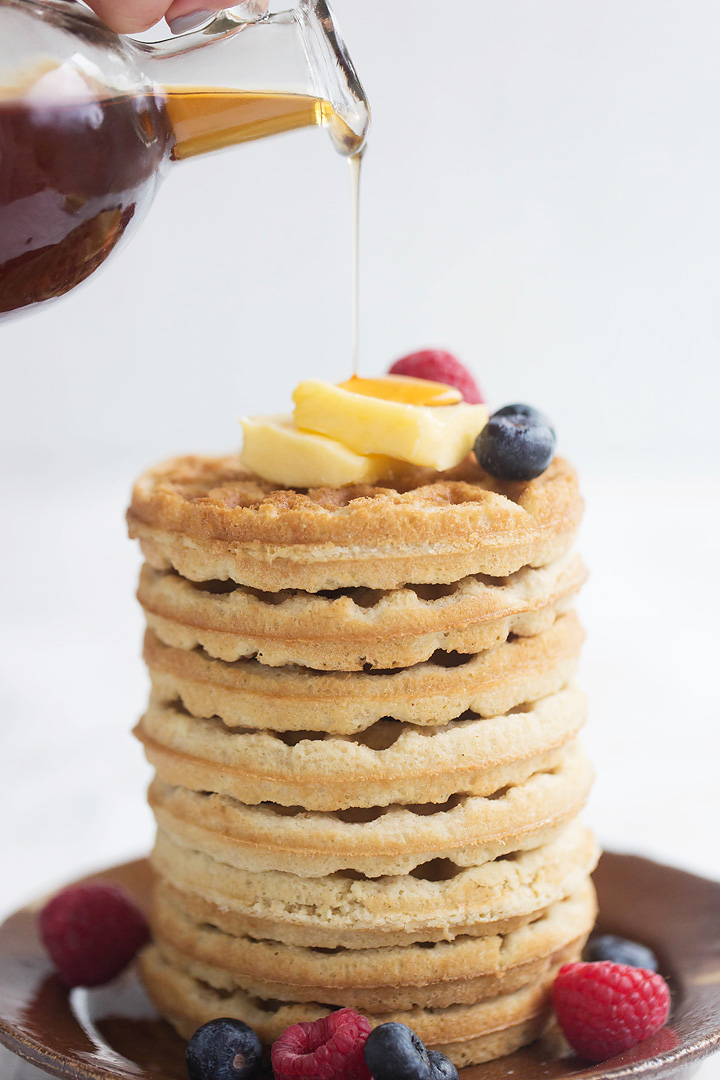 When you think of waffles, you probably dream about Belgian waffles covered in chocolate chips, strawberries, and blueberries, topped with a dollop of heavy cream and drenched in maple syrup.
The base ingredients in regular waffles are not fit for the keto diet, except for a few berries now and then. If you've been craving an indulgent breakfast, this recipe will hit the spot.
With a few tweaks in ingredients — and a few mindful choices when it comes to toppings — you can create the brunch you've been dreaming about while keeping your carb count low.
Keto waffles are possible.
How to Make Keto Waffles
These low-carb waffles are easy to make. They're sugar-, grain-, and gluten-free, full of classic maple flavor, and even great for batch cooking and meal prep. You'll savor all the comforts of fluffy waffles, without the extra carbs that could kick you out of ketosis.
This waffle recipe takes just five minutes of prep time and five minutes of cook time. If you look at the nutrition facts below, you'll see they contain only 2 grams of net carbs per waffle.
The main ingredients in this waffle recipe include:
You'll also need a hand mixer and a waffle maker. Before using your waffle iron, grease it with coconut oil or cooking spray.
Pro tip: If you don't own a waffle iron or a Belgian waffle maker, consider using the batter recipe to make low-carb pancakes instead. Also check out our Keto panckes + waffles mix.
In this keto waffle recipe, you'll use a blend of coconut flour and almond flour. Each is considerably low in carbohydrates compared to regular wheat flour and offers a number of health benefits.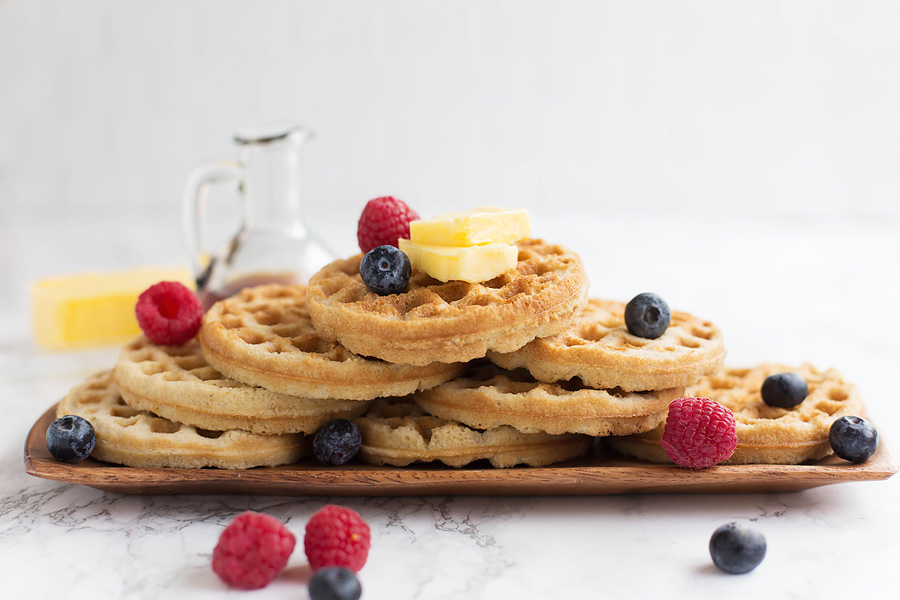 Benefits Of Almond Flour
Almond flour (which is simply finely ground almonds) makes a wonderful keto-friendly flour substitute.
You can use it in a wide variety of recipes including cookies, cakes, and muffins. If the price of a bag of almond flour seems a bit high, a cost-effective solution is to buy almonds in bulk and grind them yourself in a food processor.
Almonds are fairly inexpensive when compared to other types of nuts, and you can find them at nearly all regular supermarkets and large chain grocers.
One ounce of almond flour contains 6.3 grams of protein, 0.4 grams of dietary fiber, and 30.2 grams of fat[*].
Almonds are also rich in vitamin E, which helps to improve skin health by strengthening capillary walls and boosting moisture and elasticity[*].
Almonds have multiple health benefits, including:
For more keto recipes with almond flour, consider checking out these 15 tasty keto almond flour recipes.
Benefits Of Coconut Flour
Like almond flour, coconut makes a great low-carb substitute for keto baking. It's an incredibly dense flour, so if this is your first time using it, don't be surprised if you see an abnormally large number of eggs in a single recipe (sometimes 4 to 6).
Coconut flour is commonly used in cakes, muffins, and other desserts because it has an incredibly smooth, fluffy texture. It's also one of the most used flours in paleo and low-carb recipes as an alternative grain-free flour and for its nutritional value.
Two tablespoons of coconut flour contains 9 grams of carbohydrates, 1.5 grams of fiber, 3 grams of fat, and 3.2 grams of protein.
Made from coconut pulp, coconut flour is a byproduct of coconut milk's processing phase. You can make homemade coconut flour by scraping coconut pulp, then blending it in a food processor.
Coconut is a nutritional powerhouse, providing many health benefits:
Want more reasons to include coconut flour in your keto meal plan? Read more about this incredible energy source in Perfect Keto's guide to coconut flour.
Choosing Your Sweetener
Keto diet sweeteners must be sugar-free and low-carb. The good news is that there are still plenty of available options out there to satisfy your sweet tooth and deliver health benefits.
Stevia is certainly one of the most popular choices in the keto world. It's easy to find and commonly used as a sweetener not only in keto snacks, but also in other types of health-conscious treats.
When choosing this plant-based option, try to opt for the raw, non-processed kind. Two grams of stevia have a 1 in 250 glycemic index, making it one of the best keto sweeteners out there[*].
Another good keto-friendly sweetener is monk fruit. This fruit grows in South Asian countries like Thailand and China, and has been used for years in traditional Chinese medicine and other herbal preparations.
One study found that mogroside, the substance that gives monk fruit its sweetness, may help combat obesity and potentially plays a role in preventing pancreatic cancer[*][*].
To learn more about the best keto-friendly sweeteners, check out this comprehensive guide to sugar alternatives.
Other Low-Carb Breakfast Options
Regardless of which sweetener you use, your weekend mornings will never be the same with these keto waffles. They're not too eggy, plus they're crispy on the outside, and soft and chewy on the inside.
For more keto breakfast ideas to complete your brunch spread, check out these recipes:
Print
Fluffy Keto Waffles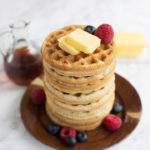 Never miss a traditional Sunday breakfast beat with these light and fluffy keto waffles, rich in flavor and low in carbs.
Author:
Prep Time:

5 minutes

Cook Time:

5 minutes

Total Time:

10 minutes

Yield: eight

4

" waffles

1

x
Category:

Breakfast

Cuisine:

American
Instructions
Add all ingredients to a large bowl. Mix well using a spatula or mixer until smooth. Let it sit for 5 minutes.

Preheat the waffle iron and coat with non-stick spray, butter, or coconut oil.

Pour batter into the waffle iron and cook for 3-4 minutes until golden brown on each side. Place in the oven to make them crispy while you cook the remaining waffles.
Notes
For toppings, try smothering your waffles in homemade almond butter or Perfect Keto Nut Butter. You could also add in a layer of cream cheese and strawberries, or use coconut cream to make homemade, dairy-free whipped cream. 
You could also search online for sugar-free maple syrup and other keto syrups — just make sure you read the ingredient list. If you do batch cooking and freeze these waffles, just pop them in the toaster to defrost and reheat when you're ready to indulge.
Nutrition
Serving Size:

1 waffle

Calories:

150

Fat:

13g

Carbohydrates:

Net Carbs: 2g

Protein:

6g