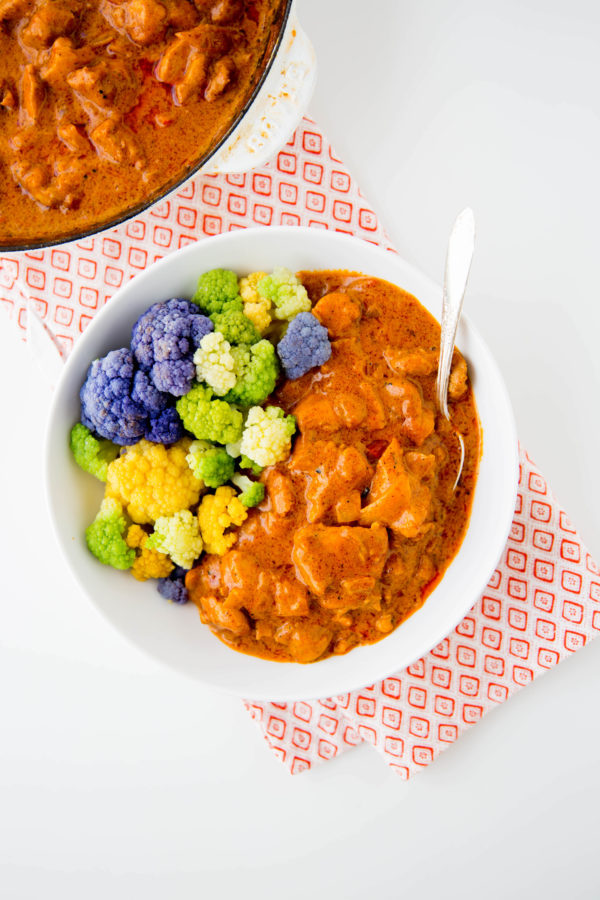 Chicken tikka masala is one of the most popular Indian dishes in the West. The traditional recipe is served with rice and naan to help soak up the delicious marinade.
However, this keto version not only cuts the carbs out of the sauce, but it skips the carb-heavy naan and rice as well. In doing so, this tikka masala is also 100% gluten-free.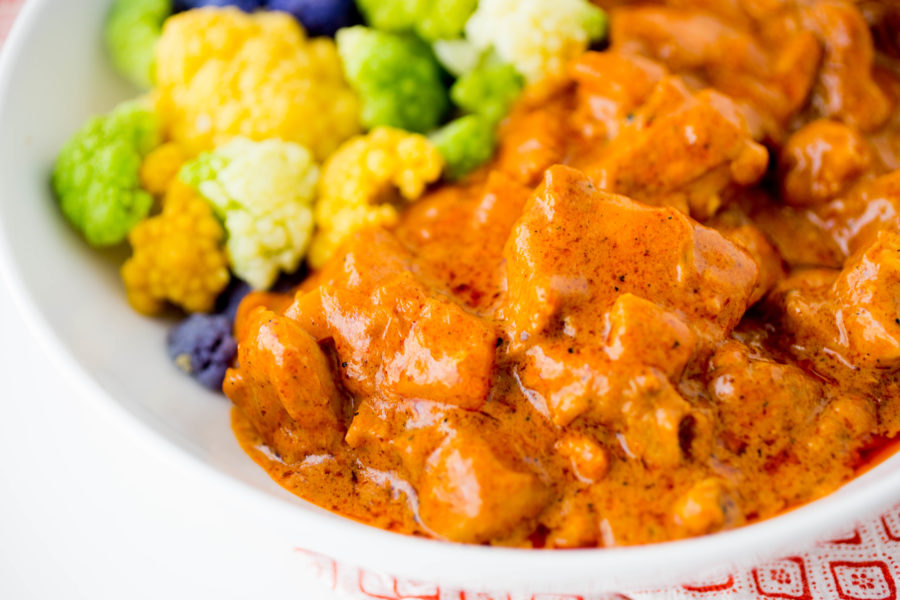 If you want to make it dairy-free no problem — just replace the heavy cream with more coconut cream or coconut milk.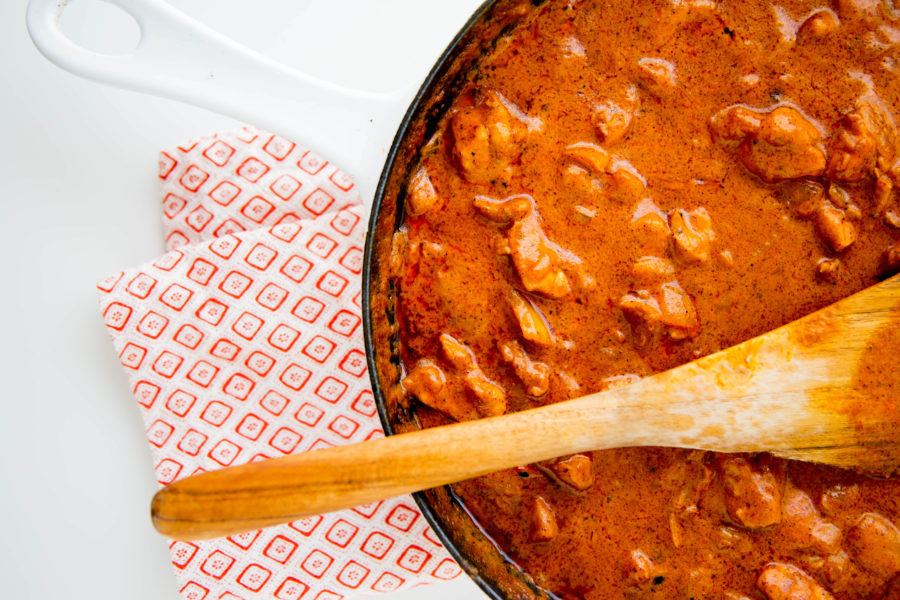 This chicken tikka masala recipe is:
Savory
Comforting
Flavorful
Spicy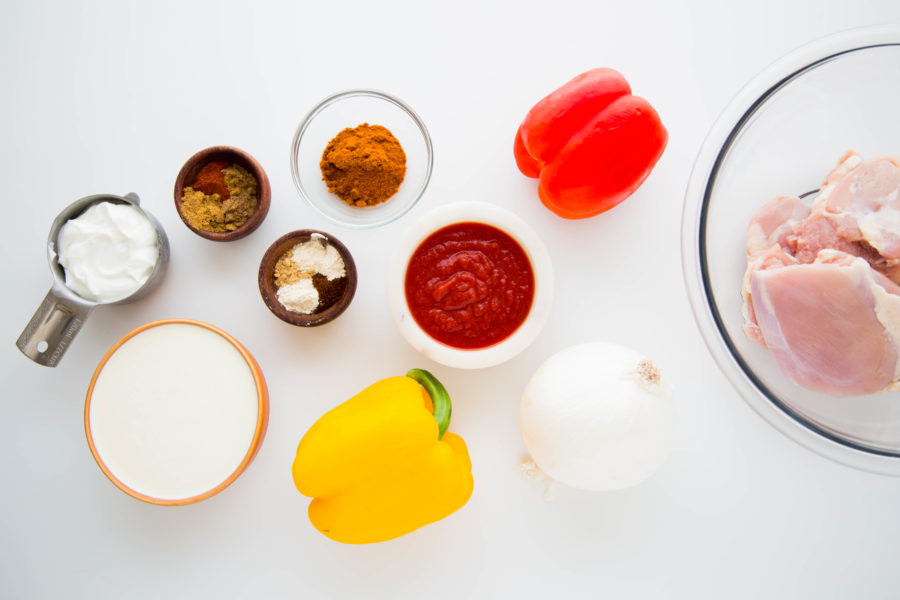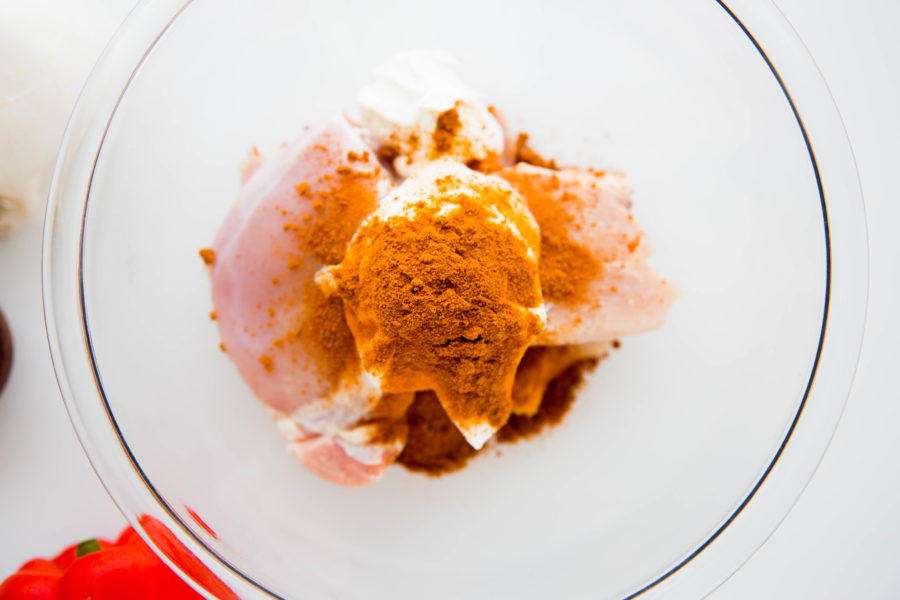 The main ingredients are:
Chicken thighs
Garam masala
Coconut cream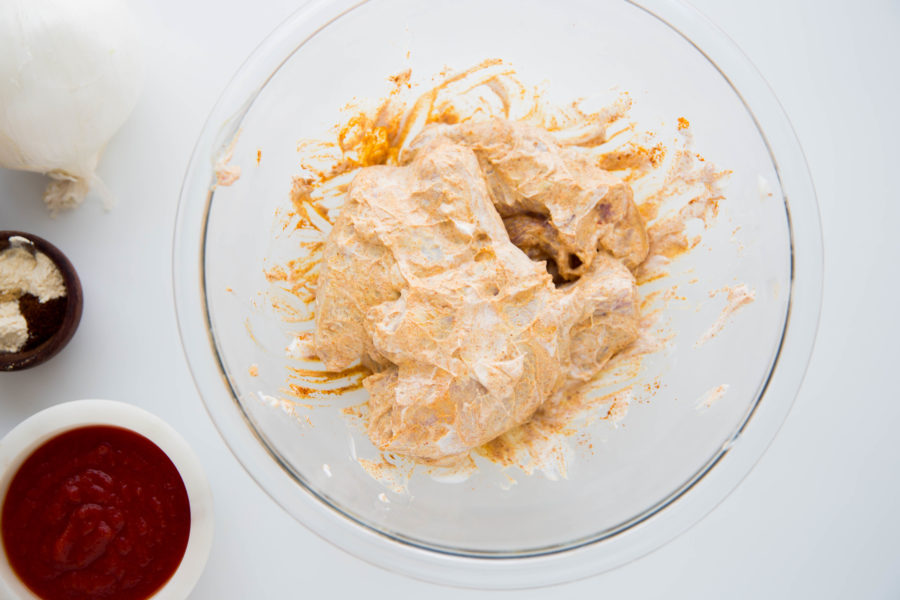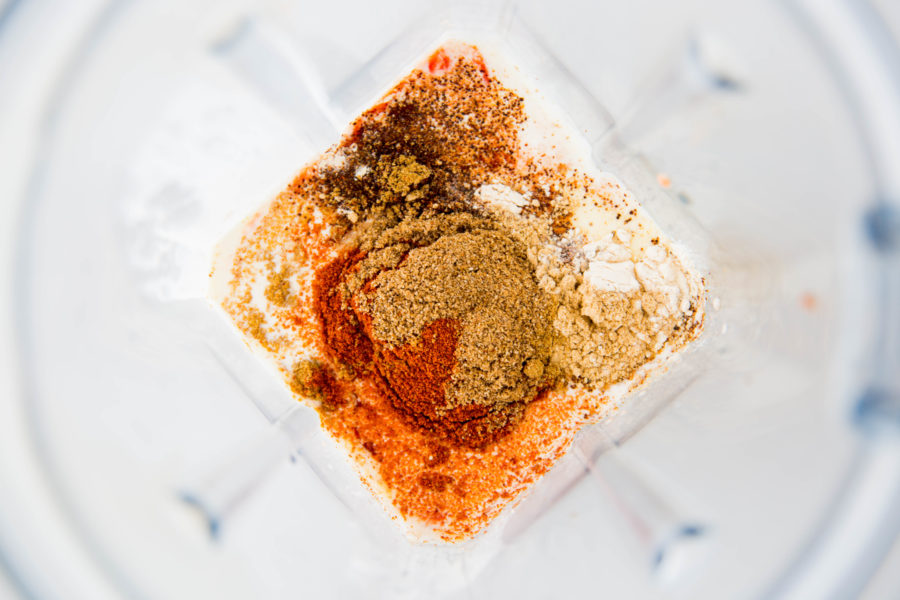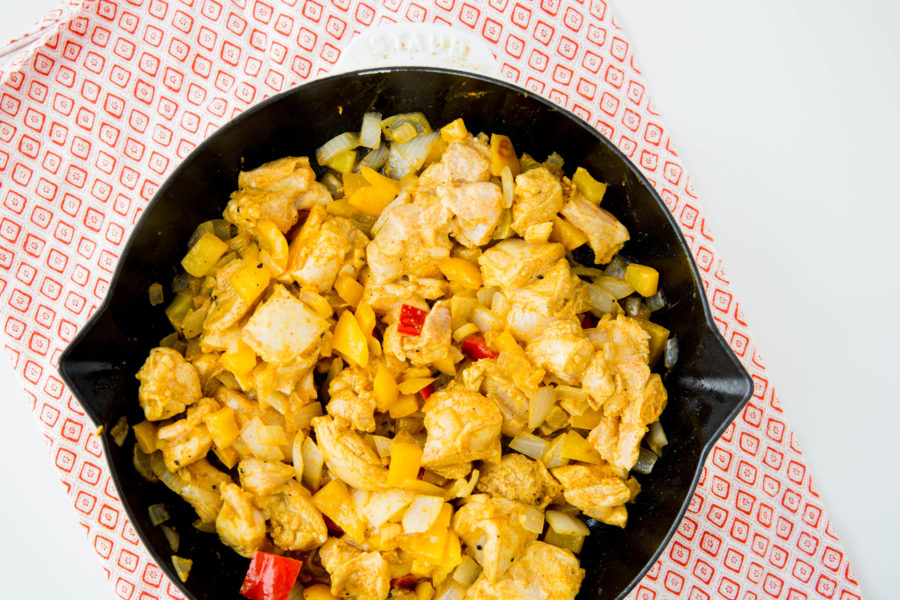 Optional additional ingredients:
Turmeric
Cardamom
Fresh cilantro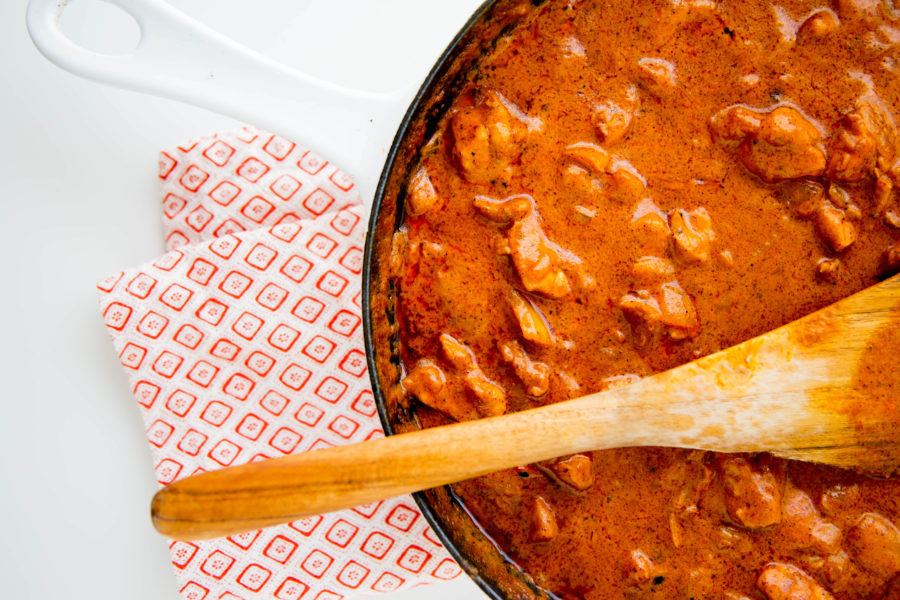 3 Health Benefits of This Chicken Tikka Masala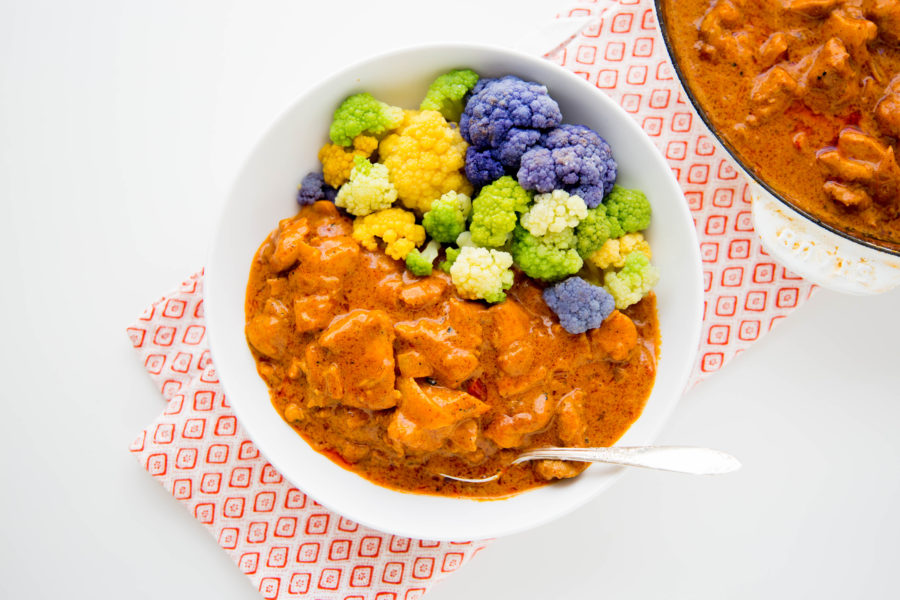 #1: Supports Weight Loss
Chicken is an excellent source of protein, which plays a crucial role in weight management and maintenance. If you want to shed pounds and build muscle, getting adequate protein is a must. Protein also offers an enhanced satiety effect — helping you feel full and satisfied longer[*].
This keto chicken tikka masala also offers another secret ingredient for weight loss: coconut cream.
Research shows that consuming fat in coconut can lead to reductions in waist circumference.  In one study, researchers gave a group of volunteers coconut oil for four weeks and took measurements of their waists before and after.
After four weeks, the volunteers showed significantly reduced waist circumference — this was especially apparent in the male volunteers[*].
The MCTs (medium-chain triglycerides) in coconut oil may have contributed to this weight-reduction effect. Research shows that MCTs can help curb appetite and may enhance fat burning[*][*].
#2: Enhances Digestion
This tikka masala chicken recipe is packed with digestion enhancing spices. Ginger, cumin, and coriander are just a few of the digestion-friendly ingredients that make this dish fantastic for those with weak digestion.
Ginger is well-known for its ability to calm indigestion. In fact, pregnant women will often drink ginger tea to overcome nausea due to morning sickness[*].
In addition, ginger can also help with general indigestion by enhancing the transit time of food. One study even showed ginger supplementation to improve the rate of gastric emptying by 50%[*].
Along with ginger, cumin and coriander have been used for thousands of years in traditional Indian culture to enhance digestion. Research shows that these warming spices may impact digestive health by improving enzyme function and increasing the release of bile from your liver[*][*].
#3: Promotes Healthy Blood Sugar
Following a keto diet is one of the most impactful ways to regulate blood sugar because you're naturally avoiding the foods that would cause it to spike.
However, blood sugar balance is an inside job just as much as it is an outside job. In other words, managing blood sugar by watching what you eat isn't the only way to keep your blood glucose response optimal.
Another equally important piece to the blood sugar puzzle is nourishing your organs and tissues responsible for processing carbohydrates.
Onions are a rich source of the plant compound quercetin. Among many other benefits, quercetin has been shown to have antidiabetic potential by enhancing the function of your small intestine, pancreas, adipose tissue, and liver[*].
Research also shows that onions can have a blood sugar lowering effect in both type 1 and type 2 diabetes[*].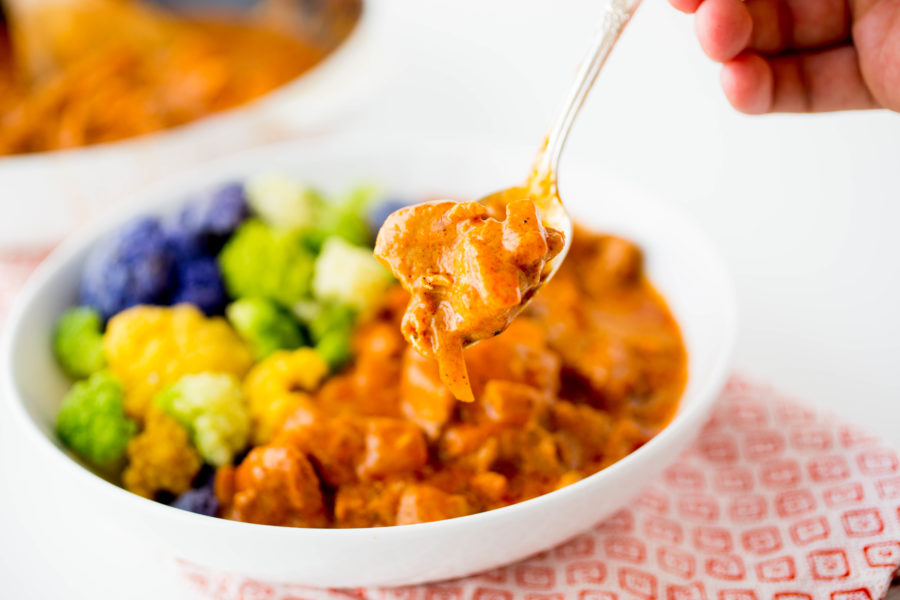 Print
30-Minute Keto Chicken Tikka Masala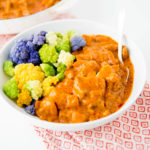 Craving Indian food?
This low-carb chicken tikka masala is a delicious and simple recipe to throw together for a weeknight Indian inspired dinner. The marinade, spices, and veggies are full of flavor and create a rich and warming meal. 
This recipe can also be made in an instant pot or slow cooker, but nothing compares to the skillet method.
Author:
Prep Time:

10 minutes

Total Time:

30 minutes

Yield:

5

1

x
Instructions
In a large bowl, add the chicken, coconut cream or yogurt, and garam masala and mix together until combined.

While the chicken is marinating, add the chopped onion and bell pepper to a large skillet over medium-high heat and cook for 3 minutes.

Add the chicken to the skillet and cook for 10 minutes, stirring every so often.

Add the remainder of the ingredients to a high-speed blender, blending on high until combined.

Pour the contents into the skillet and cook, covered, for 14-16 minutes, or until chicken reaches the internal temperature of 165 F. 

Serve with a side of cauliflower rice or steamed cauliflower.
Nutrition
Calories:

469

Fat:

43.3g

Carbohydrates:

7.3g (Net: 4.2g)

Fiber:

3.1g

Protein:

18.8g