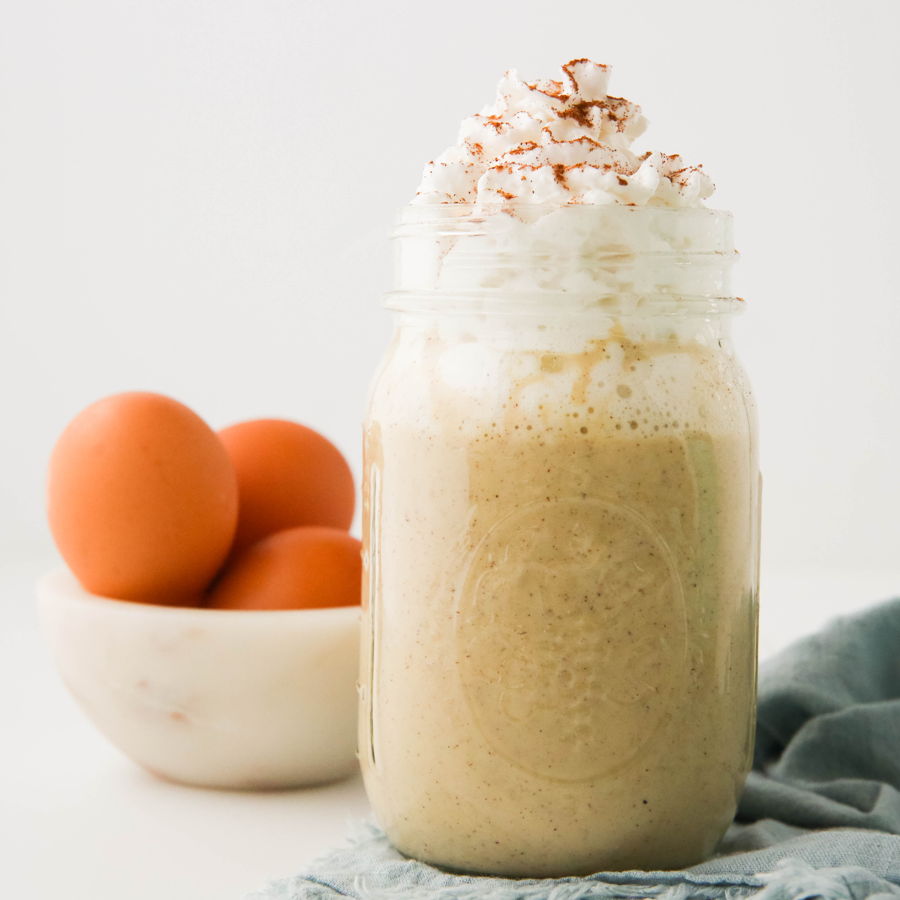 Following a keto diet around Christmastime can be a challenge if you don't have the right recipes to get you in the holiday spirit. Luckily, this homemade eggnog is one of the most delectable low-carb recipes that you'll find this Holiday season.
It's not only low-carb and sugar-free, but you can make it a dairy-free eggnog by substituting coconut cream for heavy whipping cream.
You can also use this recipe to make an eggnog latte, just add a little eggnog to your morning coffee, and you're good to go.
This low-carb eggnog is:
Warming
Comforting
Sweet
Spicy
The main ingredients are: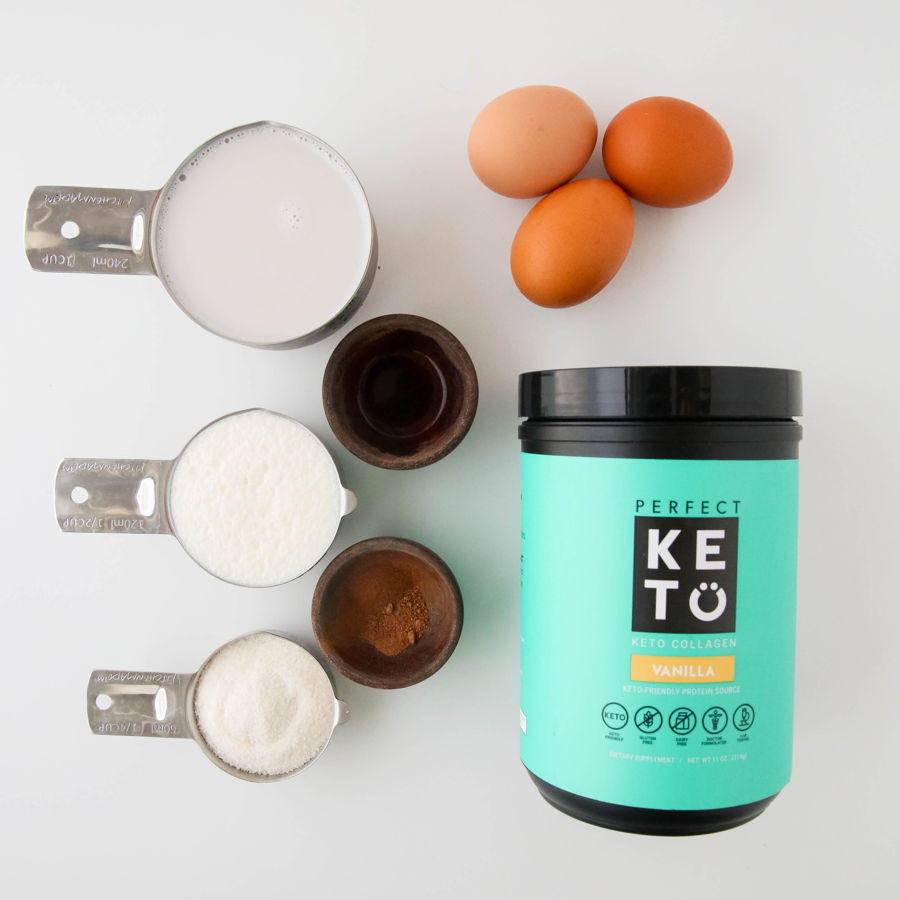 Optional additional ingredients:
Sugar-free whipped cream
Cinnamon stick garnish
Health Benefits of Keto Eggnog
Surprisingly High In Protein
Most festive drinks are packed with sugar and not much else. Traditional eggnog, hot chocolate, mint chocolate lattes — sugar, sugar, sugar. On the other hand, this keto eggnog recipe is packed with protein, 7.3 grams per serving to be exact.
Protein is incredibly satiating, which means that you can enjoy your sweet beverage without worrying about going overboard. You can even use this festive treat as a replacement for an afternoon snack — it's the holiday season, after all!
Joint Health Support
The vanilla collagen that's added to this eggnog recipe does more than just provide a delicious flavor — it also supports the health of your bones and joints.
Research shows that taking collagen not only helps to build the cartilage around your joints, but it can reduce pain in joint-related injury and disease[*][*].
What's more, taking collagen has been associated with a positive increase in bone mineral density, a crucial measure for bone health[*].
Keto Eggnog
This recipe is free of alcohol, but if you want to give it a little spike, you can add some dark rum (in moderation) or even just do rum extract for the flavor.
How To Make Keto Eggnog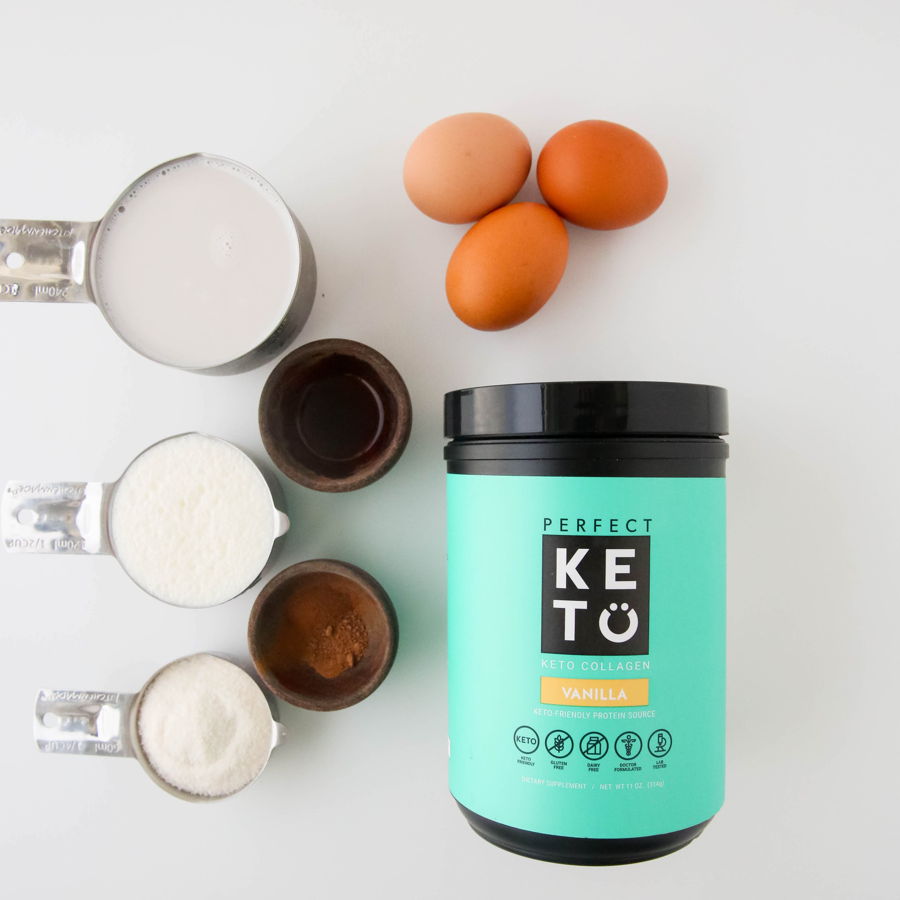 To begin, gather your ingredients and cooking tools.
In a medium-sized mixing bowl, whisk together the egg yolks and sweetener to combine. You can either use a whisk or, if you have one, a hand mixer.
In a small saucepan over medium-low heat, add the cream, milk, collagen, nutmeg, and salt, whisking to combine.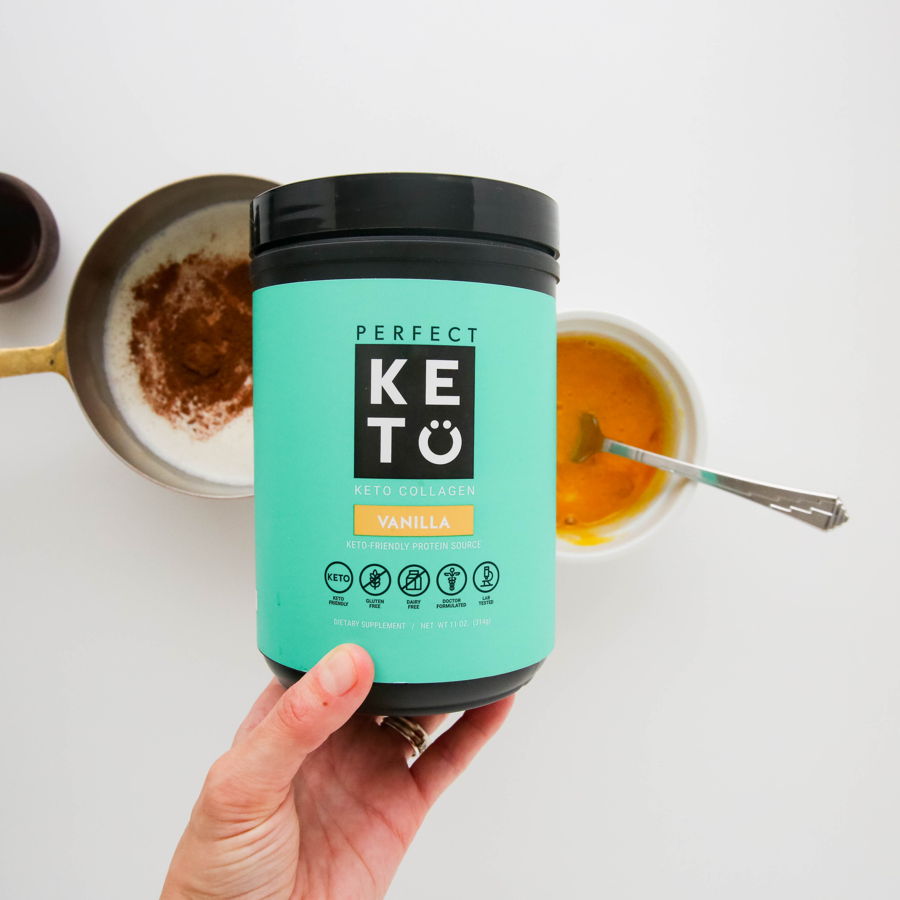 Bring to a simmer, then add in a spoonful of the liquid to the egg mixture, mixing well.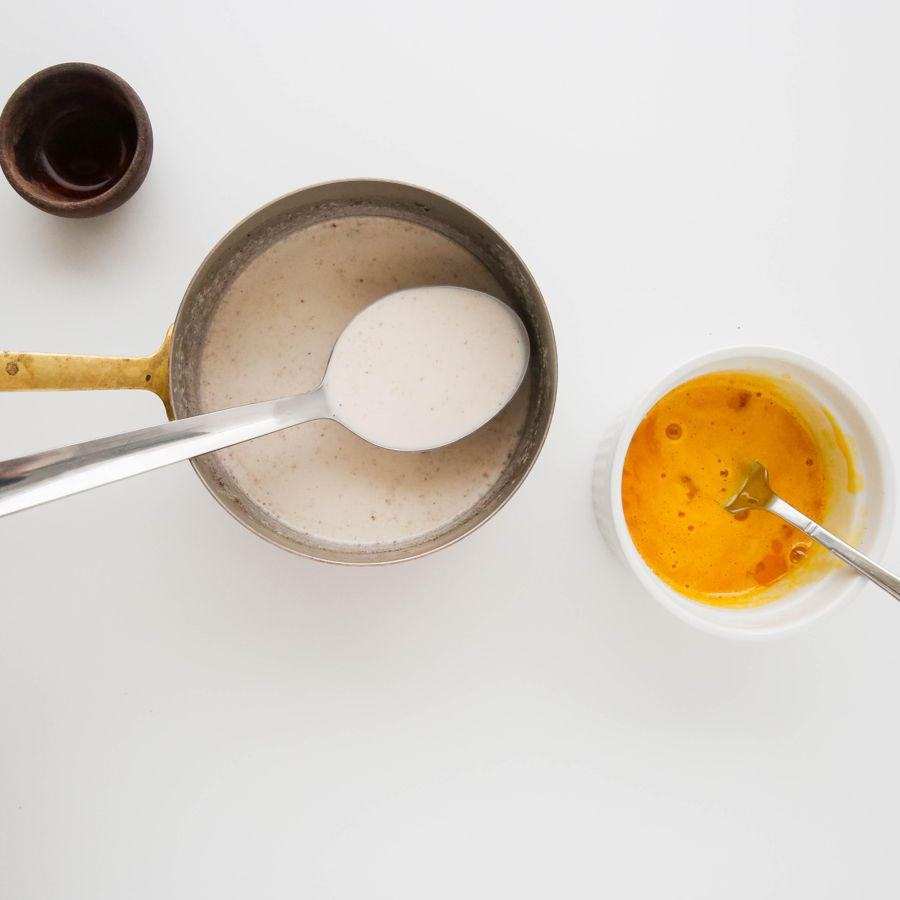 Continue to add the liquid to the egg mixture until most of the liquid has been added, then pour the mixture back into the saucepan and continue whisking as it thickens, and it reaches a temperature of 160 F. (should only take a few minutes).
Remove from heat and stir in the vanilla.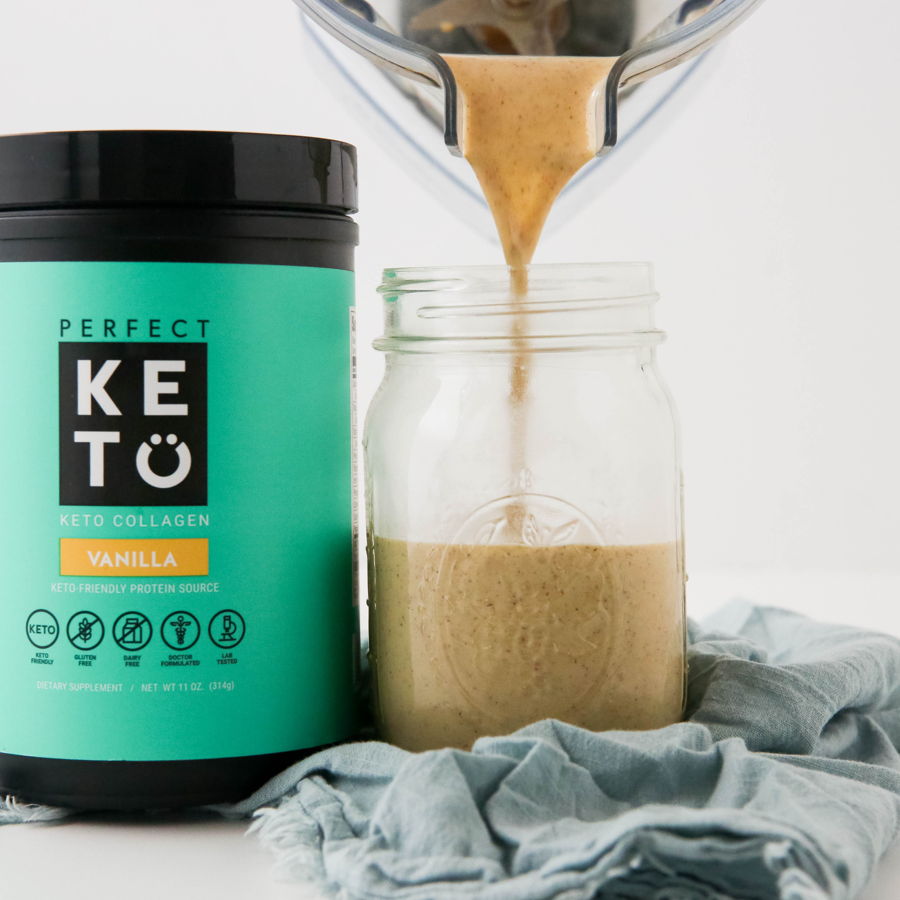 Refrigerate until cooled and top with whipped cream and cinnamon.
Sweetener Options
When it comes to adding sweetness to your eggnog, you have a few options. If you're already a keto chef, you likely have at least one of these sweeteners on hand:
Any of the sweeteners will do the trick; just make sure if you decide on another keto-friendly option that it is, in fact, free of carbs.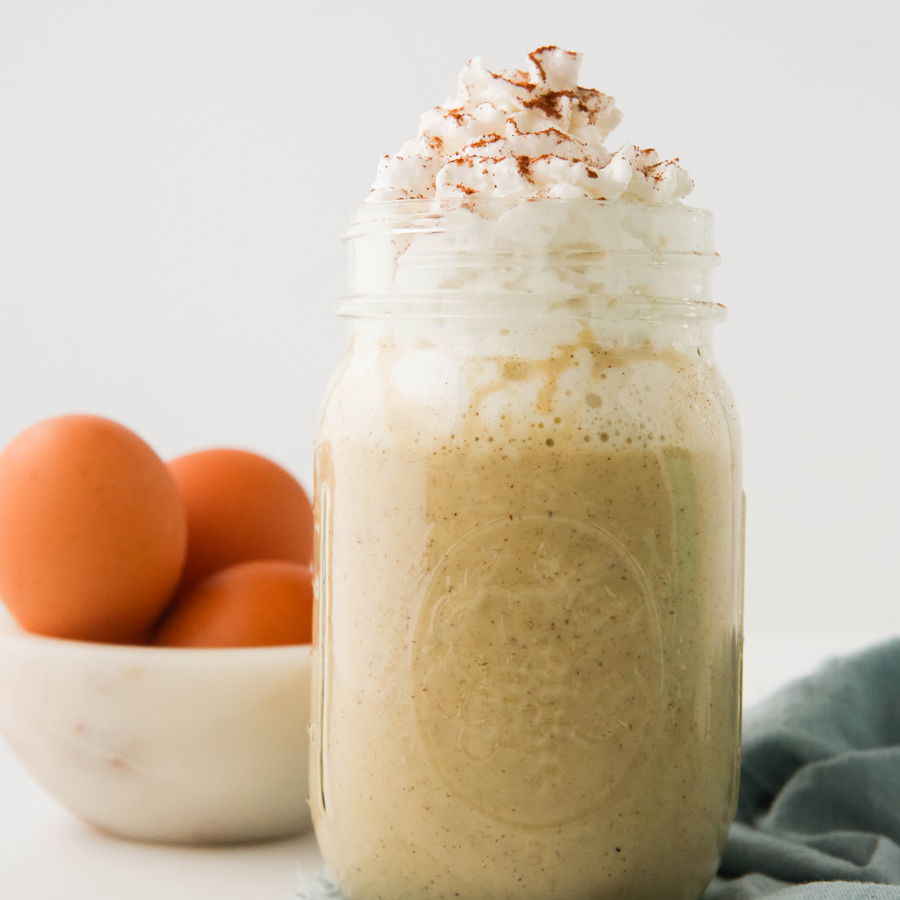 Choose Your Spices
Variety is the spice of life, and these spices offer variety to your eggnog. You really can't go wrong with the warming spices that you add to your festive drink, but here are some great options to choose from:
Print
Keto Eggnog
It's not the holiday season without some homemade keto eggnog, top this low-carb eggnog with some sugar-free whipped cream, nutmeg, and cinnamon.
Author:
Prep Time:

10 minutes

Total Time:

10 minutes (plus refrigeration time)

Yield:

2

1

x
Instructions
In a medium-sized mixing bowl, whisk together the egg yolks and sweetener to combine.

In a small saucepan over medium-low heat, add the cream, milk, collagen, nutmeg, and salt, whisking to combine.

Bring to a simmer, then add in a spoonful of the liquid to the egg mixture, mixing well. 

Continue to add the liquid to the egg mixture until most of the liquid has been added, then pour the mixture back into the saucepan and continue whisking as it thickens and it reaches a temp of 160 F. (should only take a few minutes). 

Remove from heat and stir in the vanilla.

Refrigerate until cooled and top with whipped cream and cinnamon
Nutrition
Calories:

205

Fat:

15.1g

Carbohydrates:

4.5g

Fiber:

.5g

Protein:

7.3g