Does searching for the best keto bread recipes sort of feel like cheating?
While some say you should ditch bread altogether, others say you can still squeeze the right bread recipes into your low-carb lifestyle. While regular bread contains gluten and up to 20 or 30 grams of carbs per slice, these keto bread recipes stay low in carbs and net carbs.
Plus, they're made with better quality ingredients, from pastured egg yolks to almond flour and coconut flour.
Yes, bread can be keto-friendly, but that doesn't mean you can eat the whole loaf of bread.
Before diving into the recipes, check out what you need to know about having bread on keto, including when it's the right time to introduce it if you want to stay in ketosis.
Can You Have Bread on Keto? And Should You?
You know most bread is not low-carb friendly.
As discussed in this guide, a typical slice of bread runs between 15-25 grams of carbs, which could be your entire day's worth or close to it on a ketogenic diet.
Since one slice eats up such a huge chunk of your carb budget for the day, it's best to avoid regular bread on keto, especially if you're new to this way of eating or you're trying to stay under 30 grams of carbs for the day.
People following a cyclical keto diet (CKD) — which is when you eat a slightly higher amount of carbs to support the days you're more active — may be able to squeeze in a slice of sprouted grain brain during heavier carb days.
In the Keto Kickstart program, however, we recommend that you steer clear of bread — even homemade keto bread like the recipes in this resource — until your body completes the transition to ketosis.
Then once you're there, you may be able to choose a few low-carb options in this recipe roundup to satisfy your bread cravings.
Unlike traditional high-carb breads, most keto bread recipes call for low-carb dry ingredients like:
Coconut flour
Almond flour (or almond meal)
Psyllium husk powder
Baking powder or baking soda
Cream of tartar
Xanthan gum
Flax meal
Collagen protein powder
And expect keto-friendly wet ingredients such as:
Olive oil
Coconut oil
Avocado oil
Grass-fed butter
Eggs
Mozzarella cheese (seriously)
Zucchini (for texture, moisture, fiber, and extra micronutrients!)
Keep in mind, using keto-approved ingredients doesn't mean you can have a free-for-all here.
Just because these breads are keto-friendly doesn't mean they're free of carbs.
You're not guaranteed to stay in ketosis; overeating any one of these recipes could quickly rack up your carb count, which will definitely knock you out.
So try out a few of these free bread recipes up next and be mindful about your portions when you do have them.
20 Insanely Delicious Keto Bread Recipes to Try Today
From cheesy breads for breakfast to sliced loaves for sandwiches, these low-carb bread recipes will satisfy cravings and help you stay on track even if you have a hungry family to feed.
The first keto bread recipe makes the perfect start to busy mornings:
#1: Keto "Bacon and Cheese" Zucchini Bread Recipe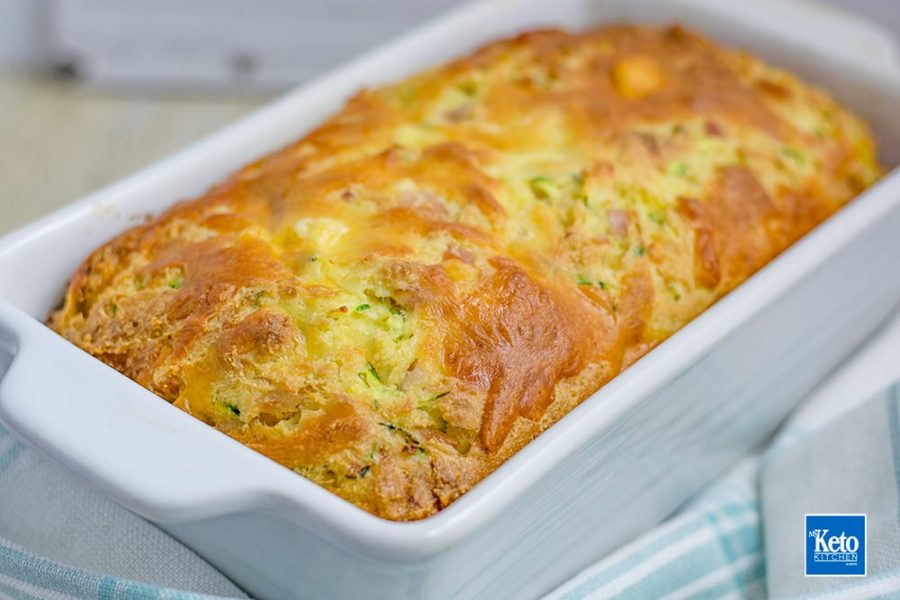 Be honest. Do you miss having toast with your eggs?
If so, try this keto "bacon and cheese" zucchini bread recipe for breakfast on-the-go.
Using a loaf pan, simply bake everything together and slice it just like you would a traditional loaf of bread once it's done. Toast it up, add a pat of melted grass-fed butter, and you'll have a delicious and portable meal.
It's also tasty enough to serve guests for brunch or brinner.
The next keto bread is also great if you're short on time.
#2: 90-Second Low-Carb Bread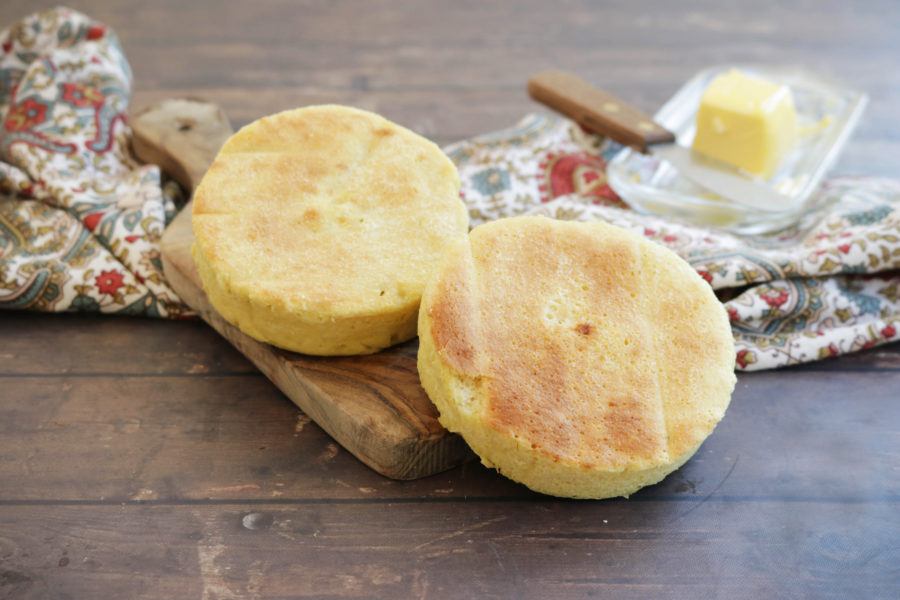 Yes, you read that correctly. It only takes a minute and a half — just 90 seconds — to make this quick keto bread.
Ideal for keto egg sandwiches, low-carb grilled cheeses, and even mini French toasts, you'll only need a few pantry staples for the ingredients, similar to many of the recipes on this list.
And that means you probably already have what you need on hand to try it out today.
While this bread makes an individual portion, you can turn it into a loaf to feed your entire family thanks to this next recipe.
#3: Keto Bread Made From Simple Ingredients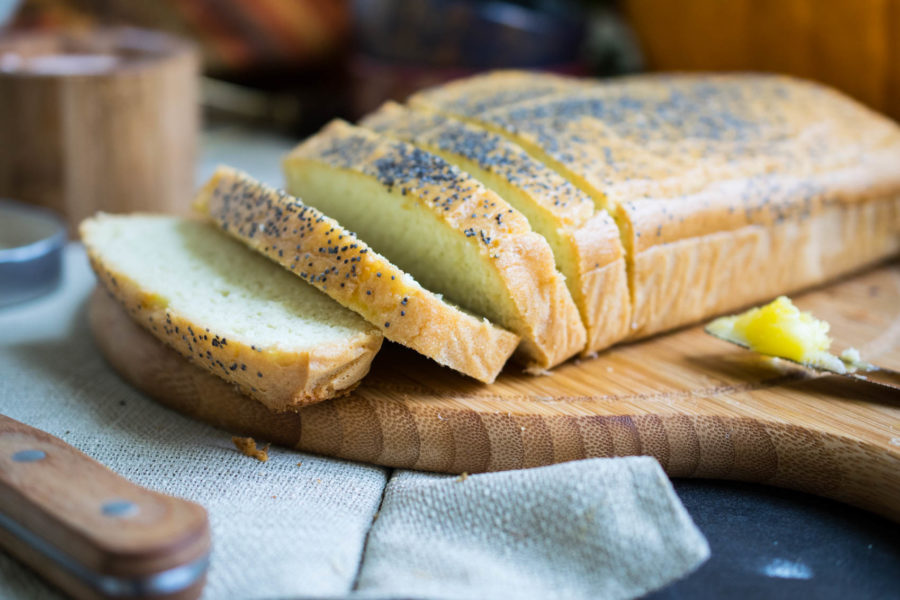 Rather than waste time trying to find a keto bread that doesn't contain hidden carbs and harmful additives, bake your very own low-carb version in less than 40 minutes with this recipe.
You can cut this loaf into roughly 14 slices, depending on how thick or thin you like your bread, so it's perfect if you have a family to feed.
The next keto bread is even easier to make since it only requires four ingredients.
#4: 4-Ingredient Keto Almond Bread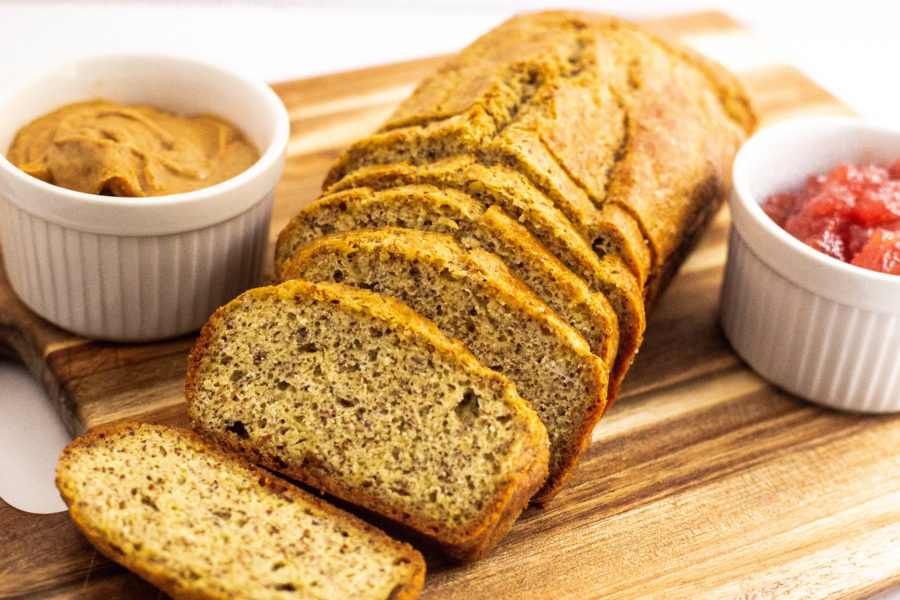 For a simple, no-fuss recipe that tastes more like regular bread (i.e., doesn't taste as "eggy" as others), this 4-ingredient keto almond bread recipe is for you.
You'll have a hearty loaf in under an hour from start to finish.
And you can also try this keto loaf bread which gives you a bit of collagen protein in every slice.
The next recipe transforms a high-carb classic into a better-for-you low-carb version.
#5: Keto "Rye" Bread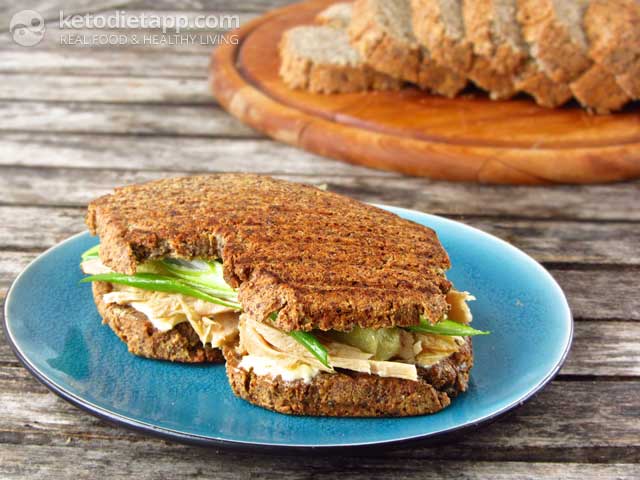 While you won't find any actual "rye" in this knockoff bread recipe, you will crunch on the same hearty texture that's almost identical to the real thing — minus the energy crash later.
Enjoy this "rye" bread toasted or as a panini.
And if you prefer sourdough over rye for your bread of choice, check out this next recipe.
#6: Sourdough Keto Baguettes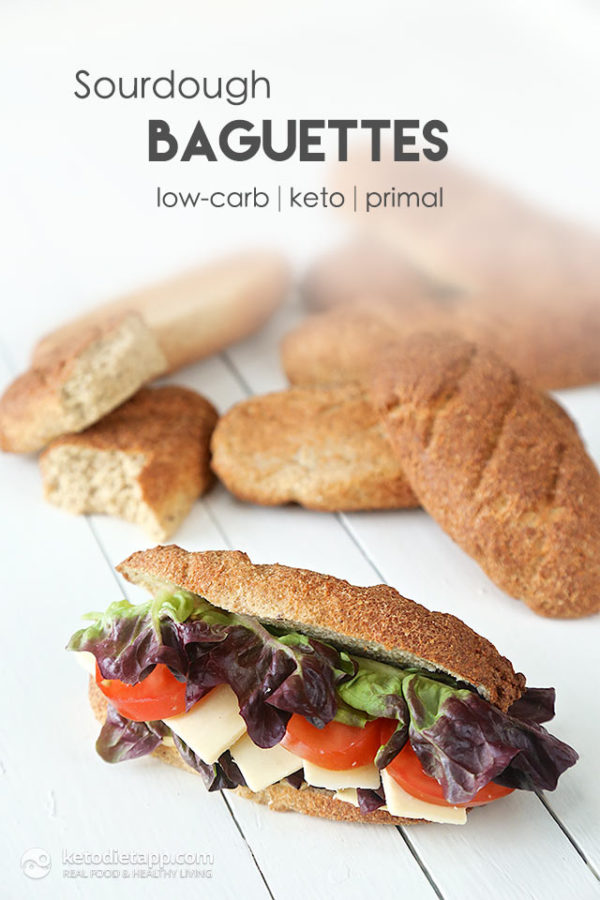 Just because you're craving a nice sub sandwich doesn't mean you have to jump out of ketosis to satisfy your tastebuds.
With this low-carb sourdough baguette recipe, you can whip up and eat a sandwich the way you actually want without ruining your hard work. This may help you pack keto-friendly lunches for work too.
Make the next keto bread recipe and you'll also sneak more micronutrients into your day.
#7: Low-Carb Cauliflower Bread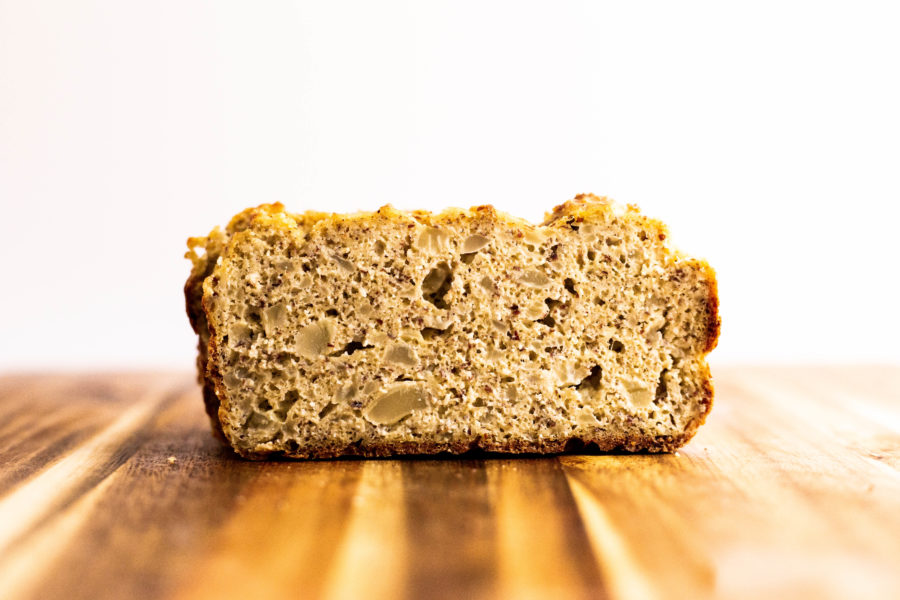 Cauliflower is one of those versatile, tasteless ingredients you can hide in certain dishes without people noticing.
And that's exactly what happens with this low-carb bread recipe.
Make it and you and your kids get the added fiber, vitamins, and other micronutrients without having to eat a side of cauliflower for every meal.
You'll need almond flour to create the base for this bread, but the next will use coconut flour so it's fantastic for anyone with nut allergies or sensitivities.
#8: Rosemary and Garlic Coconut Flour Bread

Whether you're looking for a nut-free recipe or you're hunting for bread loaves packed with flavor, this rosemary and garlic coconut flour bread will not disappoint.
Nosh on a slice at room temperature or toast one up with a pat of butter or coconut oil and you'll forget it's low-carb.
There's a good chance you'll feel the same about these next few recipes too.
#9: Best Keto Garlic Bread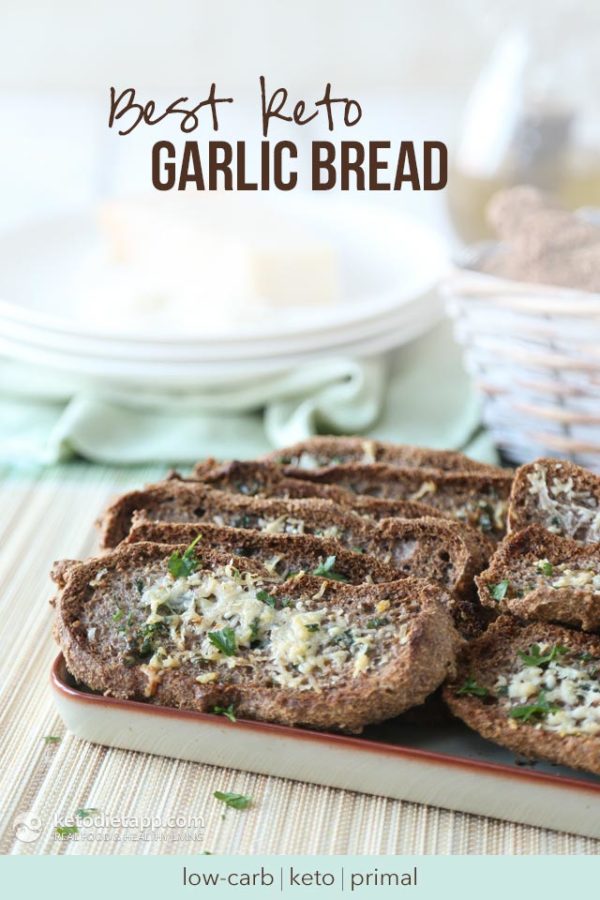 You'll want to make room in your carb budget to give this grain-free low-carb garlic bread recipe a go.
At just 2.6 net carbs for a mini baguette, you can pair this garlic bread with Ceasar salads, keto meatballs, low-carb lasagna, warm keto soups, and so much more.
And if you prefer breadsticks over loaves of bread, check out the next recipe.
#10: Cheesy Garlic Keto Breadsticks (Two Ways)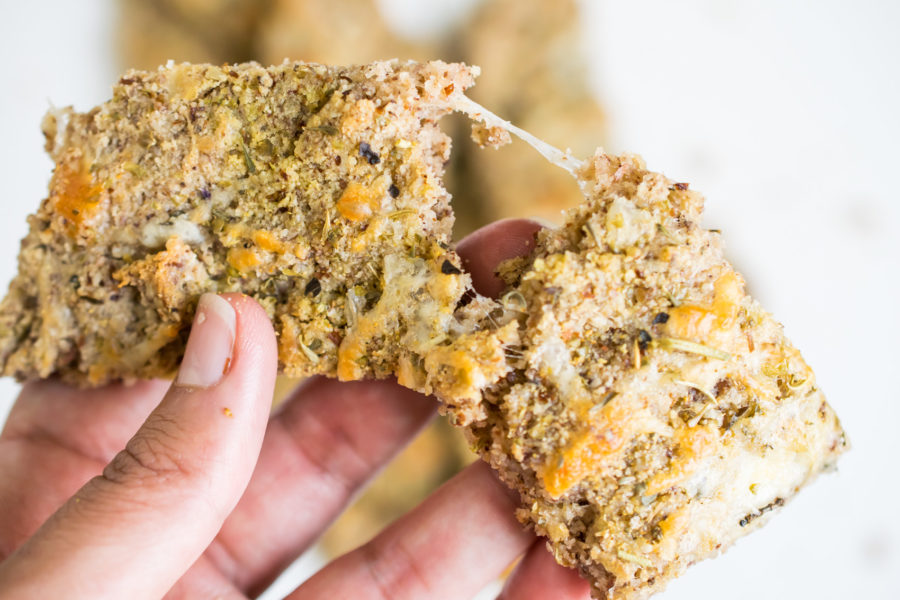 Use this recipe (pictured above) when you're craving soft garlic breadsticks or garlic knots like the ones you had to give up to go keto.
If you prefer your garlic breadsticks thin and crispy, this garlic cauliflower breadstick recipe delivers and manages to sneak in extra veggies.
The next recipe doesn't sound like it's keto-friendly but it definitely is.
#11: Keto Cheddar Jalapeno "Cornbread"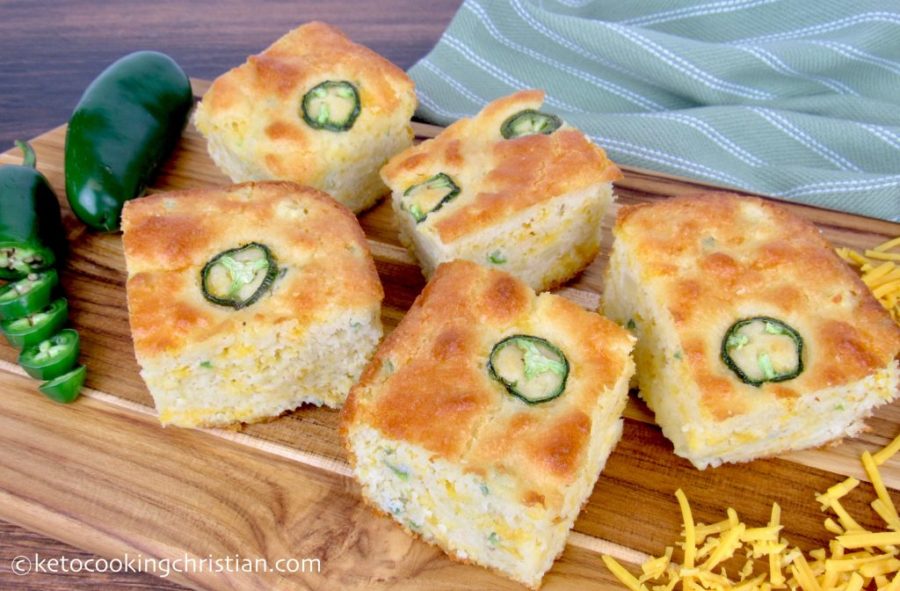 Keto is a pretty restrictive diet, but recipes like this cheddar jalapeno "cornbread" show you can re-work your old favorites so you never feel like you're missing out.
This bit of flexibility may help you stick to your diet and make it easier to stay in ketosis.
If you like the jalapenos in this recipe, this star ingredient shines in the next recipe too.
#12: Keto Jalapeno Cheese Bread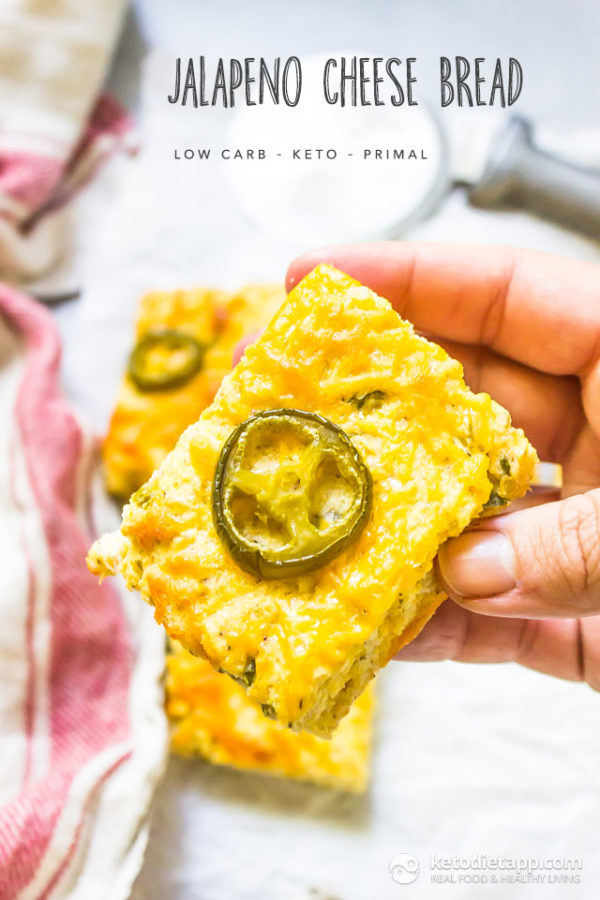 This keto jalapeno cheese bread is more like a super versatile pizza. Since you can change out the jalapenos for any low-carb toppings of your choice, as the recipe notes, it's a crowd pleaser and perfect for picky eaters.
Serve this recipe at a party, as a snack, or as a base for an open-faced sandwich — you won't regret it.
The next low-carb bread recipe is also great for when you're hosting a party or need something to bring as a guest to one.
#13: Low-Carb Spinach Dip Stuffed Bread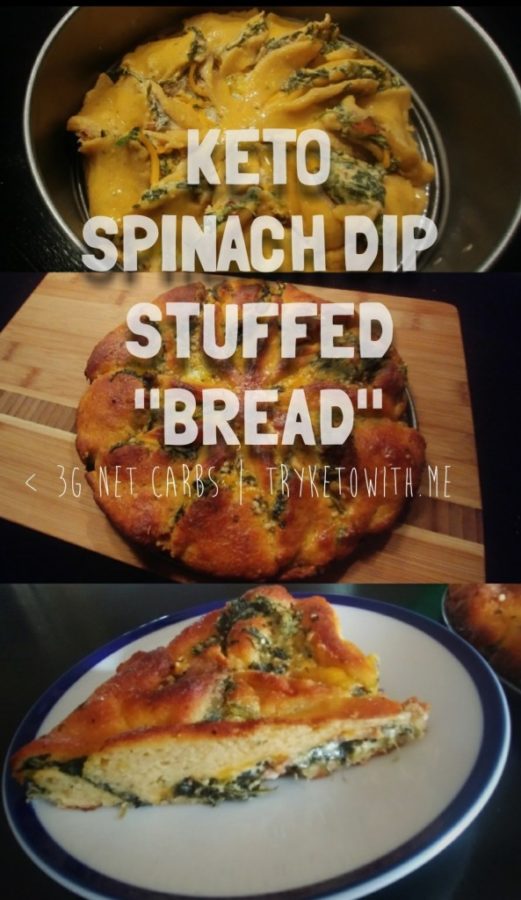 Skip the flimsy high-carb tortilla chips that break when you dunk them and try this stuffed spinach dip "bread" recipe that combines the best of both worlds.
In just 45 minutes, you'll have a dish guaranteed to be a hit no matter who gets to break off a chunk.
And that also happens with the next recipe.
#14: Pesto Pull-Apart Keto Bread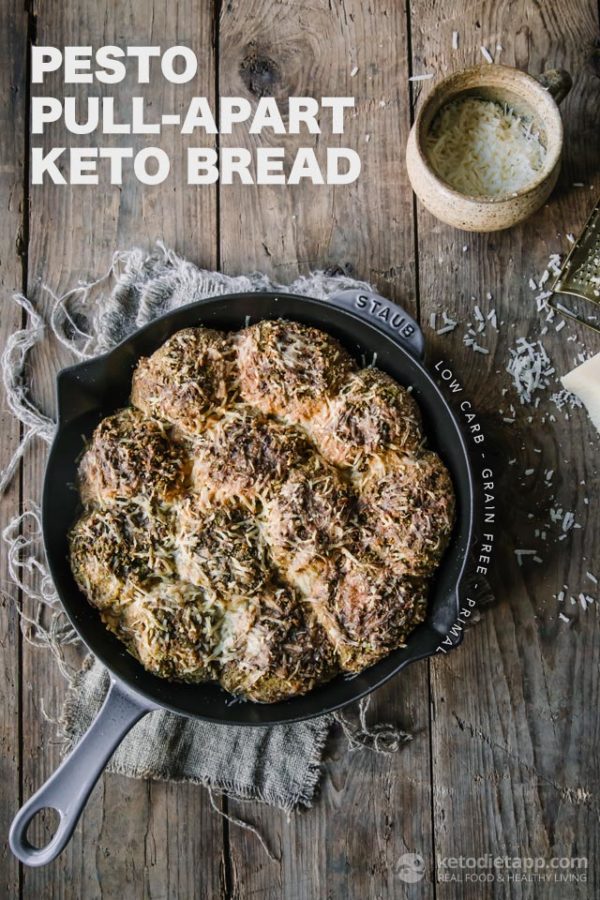 By the looks of this pesto pull apart low-carb bread, you wouldn't believe it's only 3.6g of net carbs per serving.
And it tastes just as good as it looks.
Serve this at a party or stash some in the freezer for the perfect side dish whenever you're craving bread, as the recipe notes.
The next recipe can be used for weeknight dinners, weekend cookouts, parties, and lots more.
#15: Nut-Free Everything Keto Rolls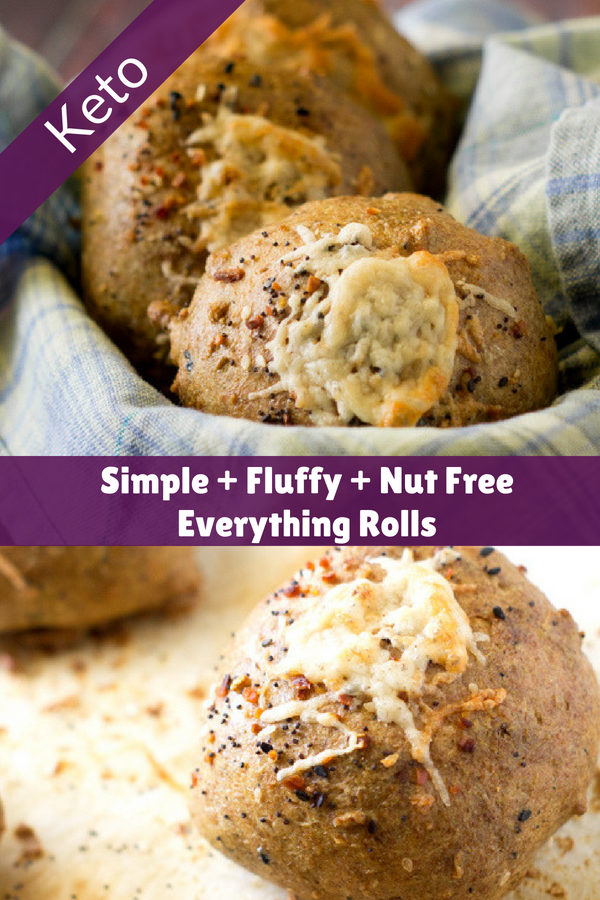 This simple everything keto roll recipe combines two cravings in one. Part dinner roll, part everything bagel, these warm rolls will help you satisfy cravings while staying the course.
Serve them up with your meals and no one will even suspect they're less than 3g of net carbs each.
Though these fluffy rolls are yummy, they're not as awesome for sandwiches as cloud bread.
#16: 4-Ingredient Low-Carb Cloud Bread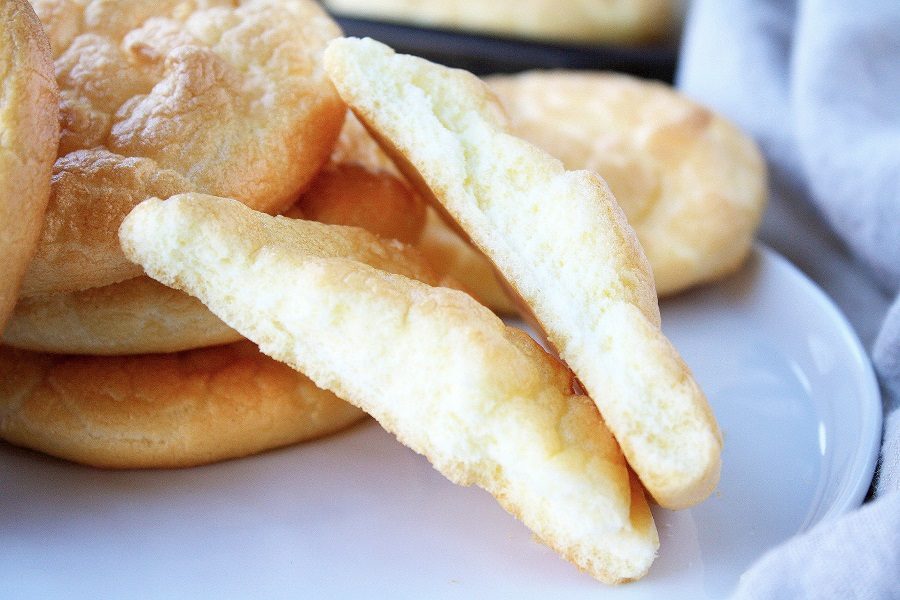 Cloud bread — which is also known as "oopsie bread" — is a deliciously light keto bread that melts in your mouth.
Since it doesn't contain egg yolks, the fluffy texture and structure of cloud bread come from whipping up egg whites (and three other ingredients) before you bake them.
Keep the taste plain and neutral for your sandwiches or add another layer of flavor using this everything spiced cloud bread recipe.
While cloud bread is ideal for low-carb sandwiches, it doesn't necessarily make the best hamburger buns.
Fortunately, the next recipe solves that problem.
#17: Cheesy Keto Hamburger Buns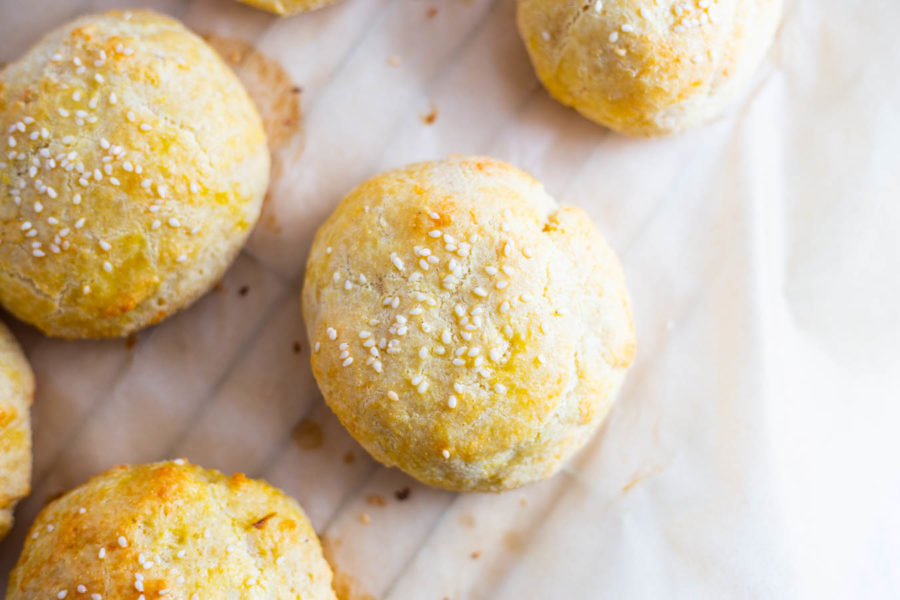 Cheeseburgers are a staple in keto meal plans, but they're usually bunless or stacked on a bed of greens.
If you're craving a handheld burger masterpiece, this cheesy keto hamburger buns recipe rivals any high-carb hamburger buns you'll find at the grocery store.
And since the total time to make a batch takes just 20 minutes — with half that being cook time — you can make them as your bacon and burgers cook to multitask.
Plus, you can use this versatile recipe to create hot dog buns and dinner rolls too. Perfect this one and it may become your new favorite go-to.
The next low-carb bread recipe gives you yet another tasty keto` bun option.
#18: Parmesan and Tomato Keto Buns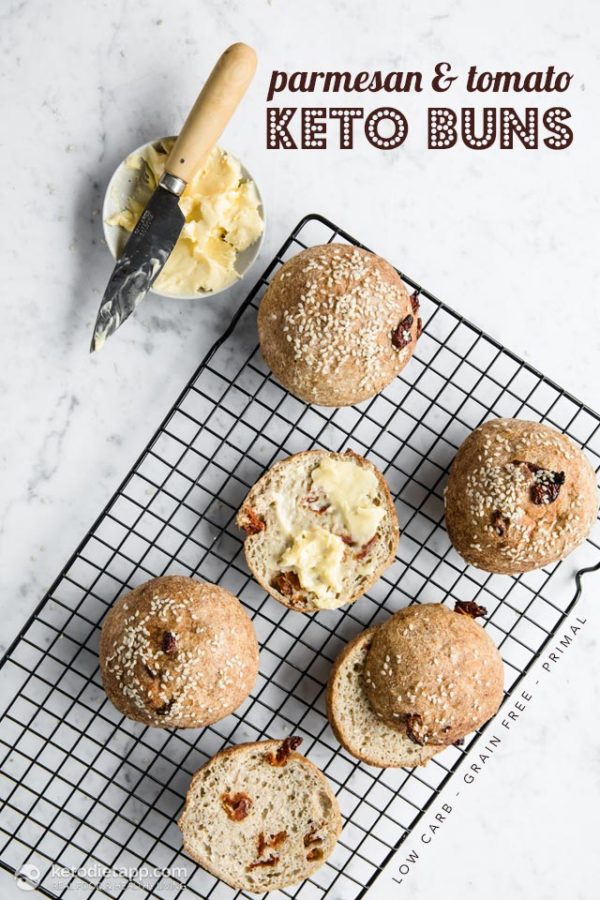 Never settle for plain ol' rolls when you can make this parmesan and tomato keto bun recipe.
With sun-dried tomatoes, parmesan cheese, and pink sea salt, these sesame seed-topped buns elevate keto sandwiches and steal the show served alongside dinner and a schmear of melted butter.
This recipe proves you can enjoy a wide variety of foods on a ketogenic diet — and that deviating from basic recipes pays off big time.
Up next you'll find another pre-keto favorite gone low-carb to bring home this point.
#19: Indian Fry Bread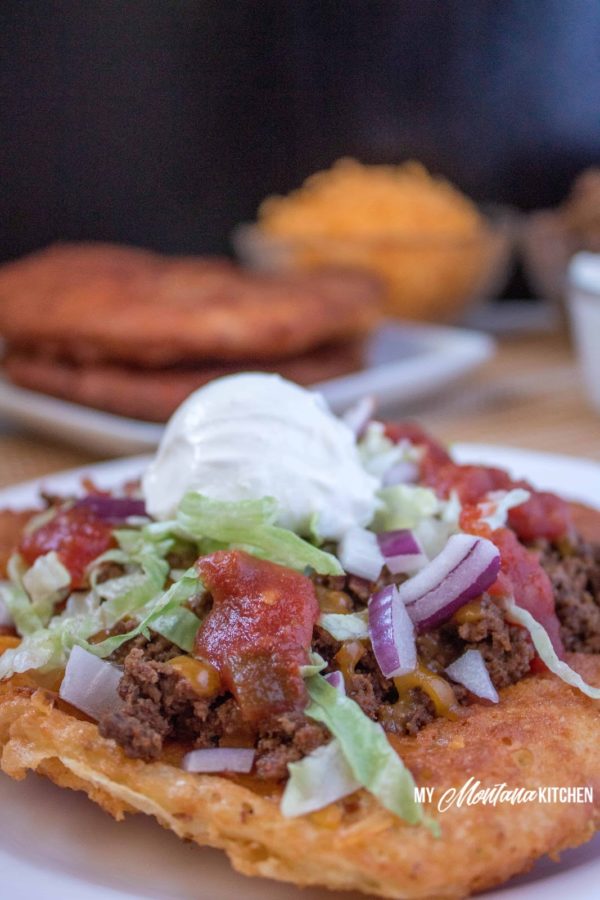 Whether you're missing Indian fry bread or never tried it before, you're in luck because this recipe manages to capture both the taste and texture despite being lower in carbs.
Besides making keto-friendly Indian fry bread, you can also have naan bread on a ketogenic diet — just not the version you're used to.
#20: Low-Carb Keto Naan Bread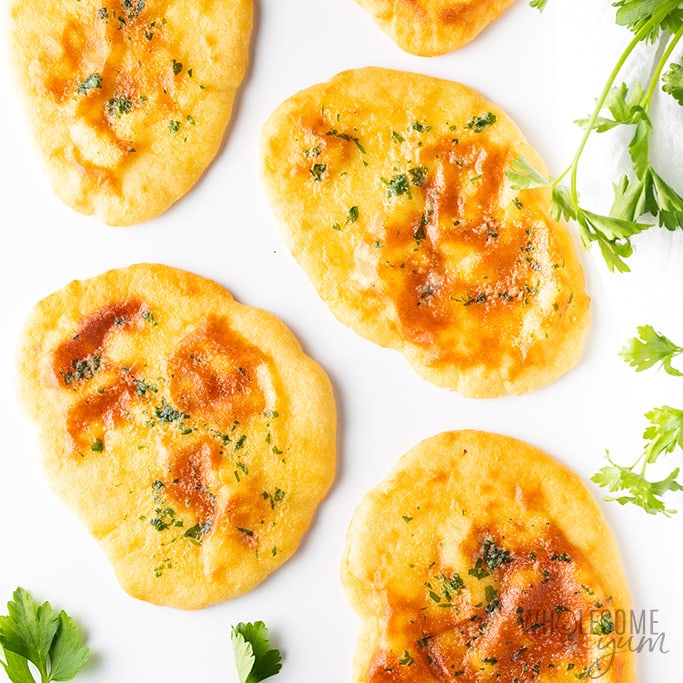 You may have abandoned naan bread and hummus since most aren't keto-friendly but get ready to reverse that decision.
Using almond flour, Greek yogurt, and mozzarella cheese for the dough (yes, it totally works), this recipe for keto naan paired with low-carb hummus will make you forget you're ditching carbs.
You could also have your keto naan on the side of coconut chicken curry, which the recipe creator also links to.
But if your bread cravings run on the sweet side, the next section of recipes will have you jumping for joy.
10 Keto Bread Recipes to Satisfy Sweet Cravings
While your cravings for sweet treats should subside after the 30-day mark of starting a ketogenic diet, it's normal for some to still linger.
You may even experience this, several months into your journey with a random craving for sweets striking out of the blue.
Rather than give into a cheat day, try one of these recipes to satisfy your sweet taste buds without sabotaging months of hard work:
#1: Sugar-Free Keto Banana Bread Recipe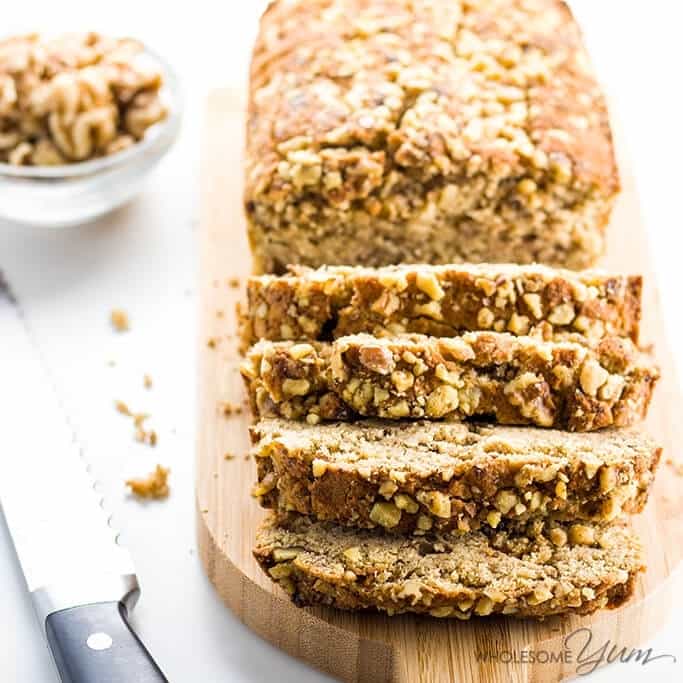 You don't have to give up warm banana bread just because you're on keto; you just need to change the recipe you're using.
If you doubt a low-carb banana bread recipe could taste as yummy as your classic loaf, this has a recipe rating of 4.91 (out of five) stars to ease your fears.
And according to the nutrition facts, each serving clocks in at just 2g of net carbs so how could you pass it up?
If banana bread isn't your jam, the next sweet loaf recipe calls for blueberries.
#2: Low-Carb Gluten-Free Blueberry Crumb Loaf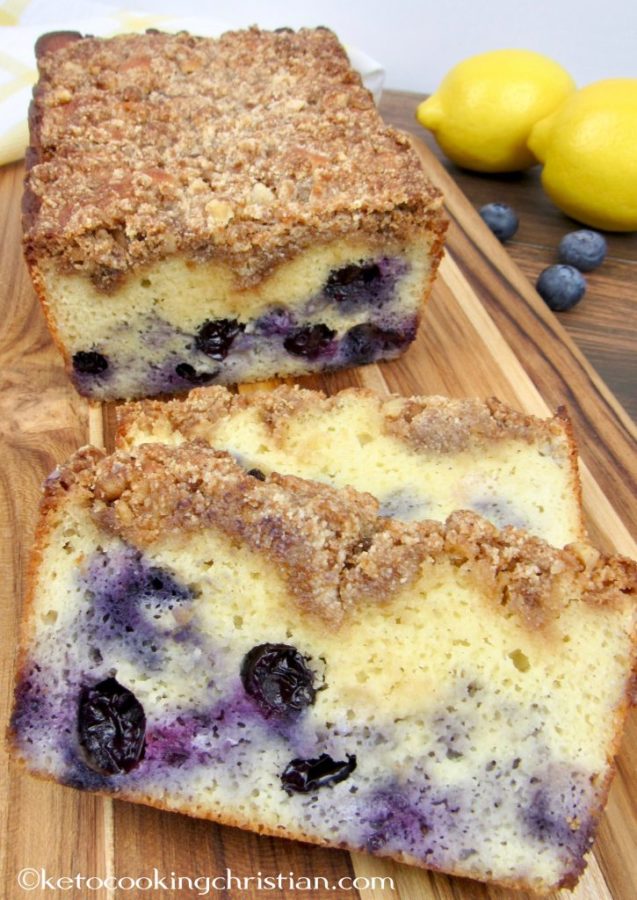 It's still not recommended to start your day with coffee and cake — even if it's a keto coffee and keto-friendly loaf with berries.
But that doesn't mean you have to give up crumb cakes or coffee cakes for the rest of your ketogenic life.
Use this blueberry crumb cake as a low-carb and gluten-free snack, dessert, or brunch item that pairs well with coffee, tea, sugar-free lemonade, and more.
If your weakness is lemon poppyseed muffins, the next loaf recipe will feel like a keto dream come true.
#3: Starbucks Style Keto Lemon "Poppy Seed" Bread Loaf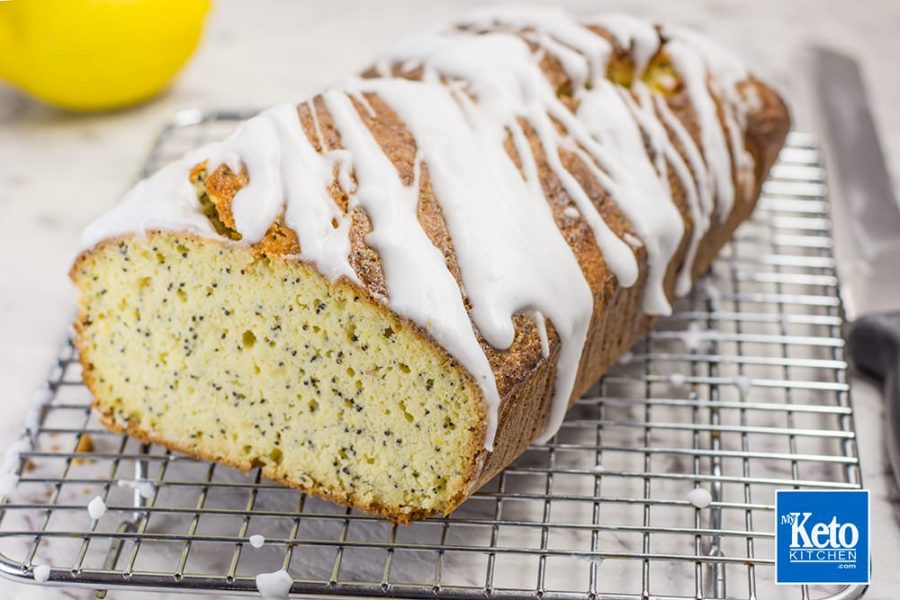 Don't let the sugar-packed, high-carb lemon loaf at Starbucks tempt you to cheat, especially since you can make your very own keto version at home.
Not only does it look similar and have the same texture, but it tastes way better and won't leave you fighting off a sugar crash afterward.
Don't like poppy seeds? Bake up a loaf with lemon and blueberries for a summer party in your mouth using the next recipe.
#4: Low-Carb Lemon Blueberry Bread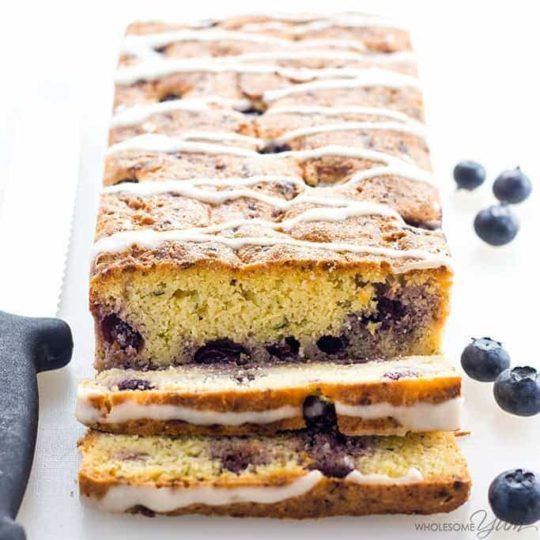 Pairing lemon with blueberry is common in the dessert world.
This recipe for a keto lemon and blueberry loaf (pictured above) will erase your fears of missing out when you go low-carb.
And if the combination of tart lemon and sweet blueberries isn't wonderful enough, this low-carb loaf recipe also cleverly sneaks in zucchini to up the healthy macros.
You'll even learn how to make a sugar-free lemon drizzle to ice your loaf so your kids will love it just as much as you do.
Since you won't even taste the addition of zucchini, you may want to give this next recipe a go as well.
#5: Keto Zucchini Coconut Bread with Pecan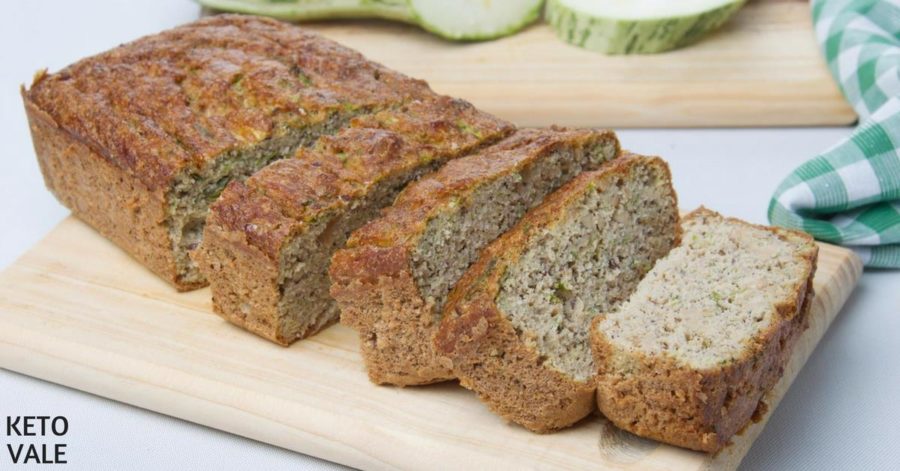 Skip the fruit in your loaf and go straight to healthy fats like coconut, grass-fed butter, and pecans with this keto zucchini coconut bread recipe.
In addition to the hearty dose of fat for energy, you'll also add protein powder and zucchini to the mix for a well-rounded set of macros per serving.
For a chocolate version of this loaf, check out the next recipe.
#6: Low-Carb Double Chocolate Zucchini Bread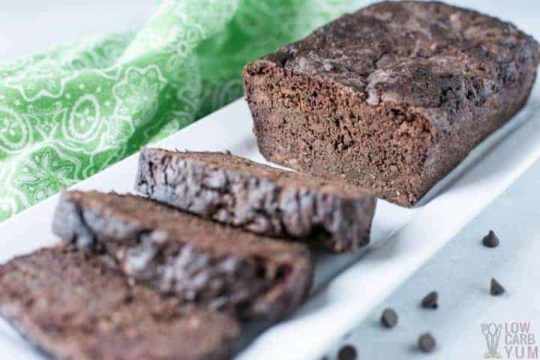 This low-carb double chocolate zucchini bread satisfies two cravings — chocolate and bread — making it a double-duty option if you're drooling for both.
Thanks to the rich chocolate flavor, you won't even notice the zucchinis inside, which is perfect for sneaking in more vegetables to your diet (and your kid's diet).
The next keto recipe is also packed with flavor.
#7: Keto Gingerbread Cake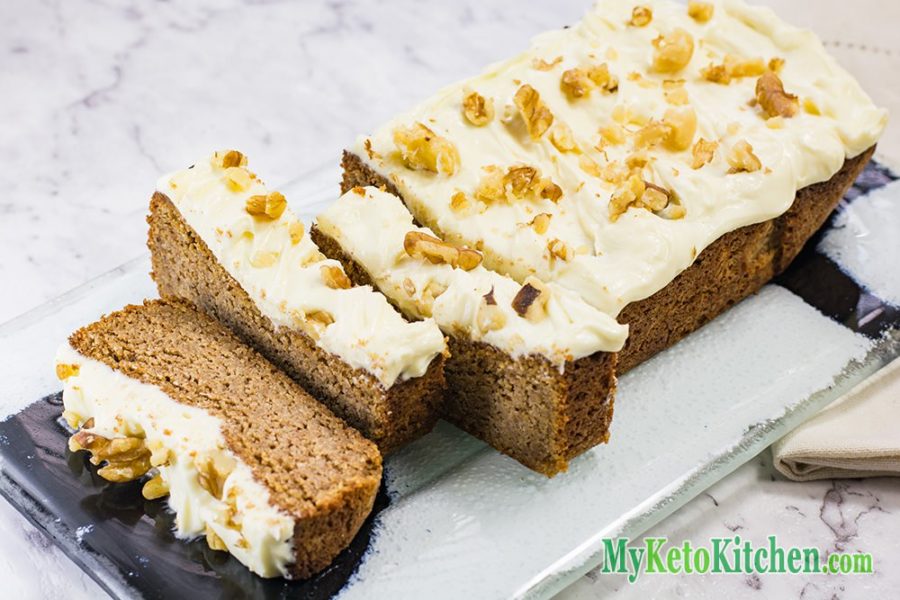 You don't have to wait for the fall and winter seasons to enjoy this keto gingerbread cake.
And since this Starbucks copycat recipe is 100% sugar-free, according to the recipe creators, you can enjoy it without the huge spike in insulin you would have with the store-bought version.
The next keto recipe can also be savored year-round, especially if you're a fan of pumpkin (and need more than one season of it).
#8: Pumpkin and Orange Cheese Bread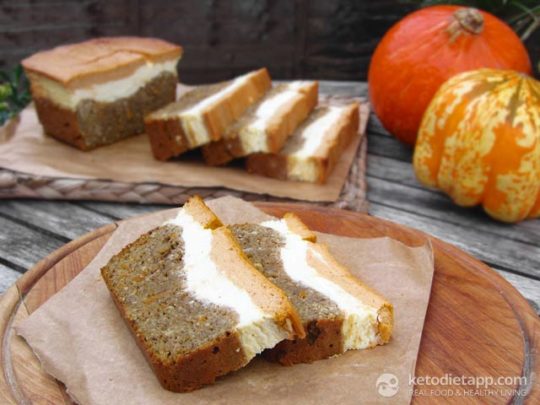 If you're ready to take your pumpkin obsession beyond pumpkin spice level, this bread recipe may be today's winner for you.
The recipe combines pumpkin, orange, and cream cheese to create an unexpected yet satisfying bread you'll want to share during fall and every other season.
If you're a pumpkin purist, you can omit the orange and let all that pumpkin flavor shine on with the next recipe.
#9: Low-Carb Pumpkin Bread

Can't decide between making an American-style cheesecake or a sweet bread loaf?
Have both without going overboard with the help of this low-carb pumpkin cheesecake bread recipe.
But if that's too much, this final keto bread recipe aims for a classic pumpkin loaf that's not overly sweet.
#10: Keto Pumpkin Bread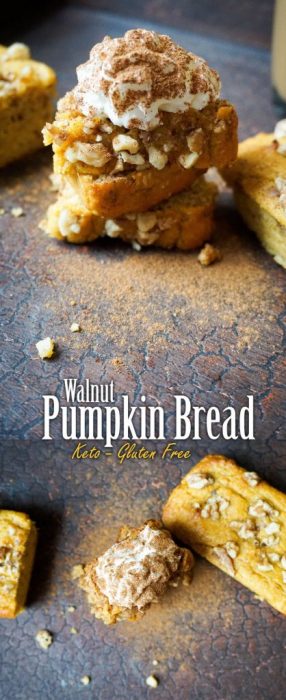 If you dislike overly sweet desserts, this walnut pumpkin bread has just enough warm pumpkin flavor without being overpowering or complicated. It's also gluten-free and keto-friendly.
Look at the nutritional information and you'll see one slice of this bread is only 2g of net carbs for 17.75g of fat and 6.75g of protein. Not too shabby for dessert.
30 Delicious Keto Bread Recipes: Which One Will You Bake?
Now that you have 30 of the best keto bread recipes to choose from, each one better than the last, how will you decide which to make first?
If this is your first time and you have no idea how to make keto bread, don't sweat it.
You don't need a fancy bread machine or the skills of a culinary expert.
These recipes are simple enough that all you'll need to do is mix everything together in a large bowl, pour the batter into a parchment paper-lined loaf pan, mug, or skillet (depending on the recipe), bake, and then enjoy.
It's that easy.
So choose a recipe, make sure you have the ingredients you need, and then preheat oven to the specific temperature to get started on your freshly-made keto bread.
Let us know which breads you try and which should be awarded the best keto recipe title in our private Facebook group. We'd love to hear how yours turned out!
Bookmark this page now and you'll have all these recipes saved for the next time you're craving both savory and sweet bread.