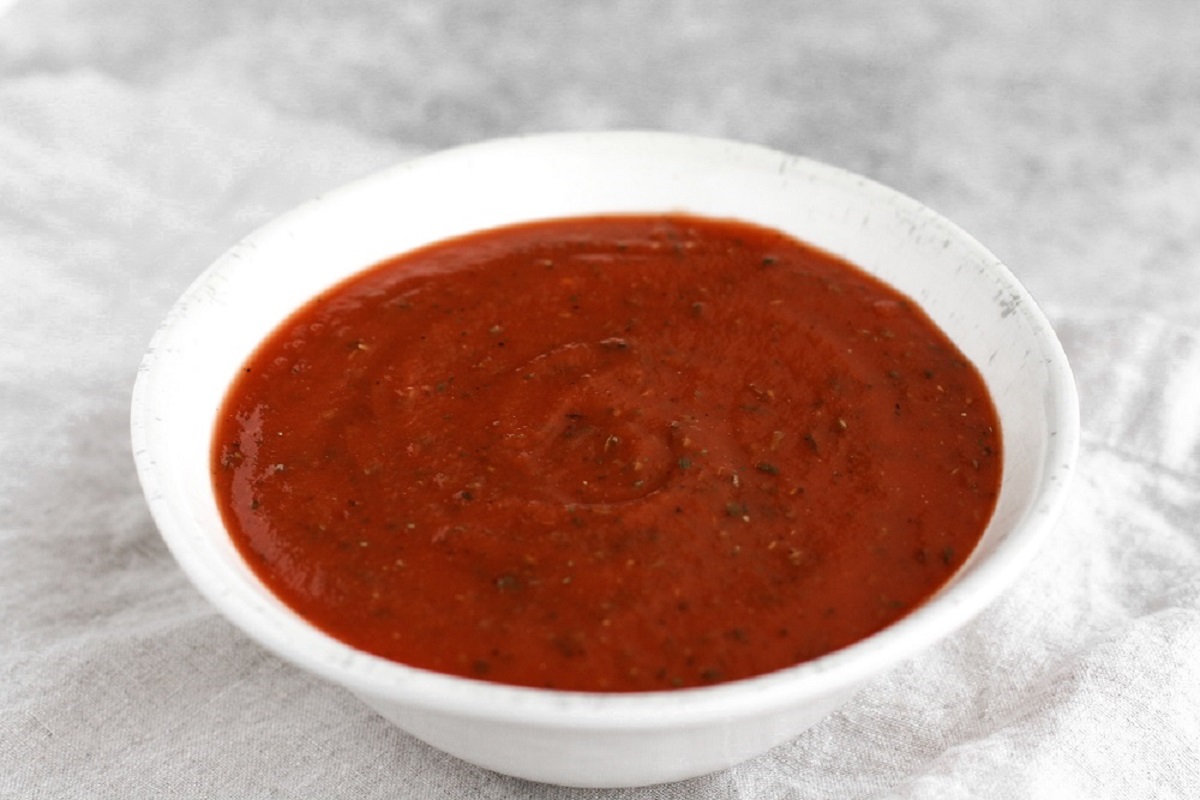 Looking for a keto pizza sauce to go with your cauliflower or fathead crust for the ultimate pizza party? Look no further than this easy 10-minute recipe.
If you're following a low-carb or keto diet, chances are you've seen a variety of pizza dough recipes all over the web. The most common keto-friendly pizza doughs are fathead dough and cauliflower crust. Both will fit your keto macronutrient requirements, so picking a favorite comes down to your flavor and texture preferences.
Most pizza sauce has sugar in it, which can ruin even the best-intentioned keto pizza. But this low-carb sauce is so good you won't miss the sugary store-bought versions.
What else makes this keto pizza sauce different? While most recipes include tomato paste or tomato sauce, this one calls for whole, peeled San Marzano tomatoes. You'll also be adding olive oil, apple cider vinegar, and a variety of herbs and seasonings such as dried basil, oregano, garlic powder, onion powder, parsley, salt, red pepper flakes, and black pepper. The result is a delicious, authentic pizza sauce that you'll want to make time and time again.
Health Benefits of Tomatoes
Tomatoes are one of the richest dietary sources of lycopene. Lycopene is a carotenoid (plant pigment) that is responsible for the deep red color of tomatoes and other fruits and vegetables.
But coloring isn't all this carotenoid is good for. Consuming lycopene has been associated with reduced risk of various cancers, most notably prostate, breast, and lung cancers[*][*].
Adding lycopene-rich foods to your diet may also have a protective effect on your heart, supporting healthy cholesterol levels and reducing the risk of heart attack[*][*].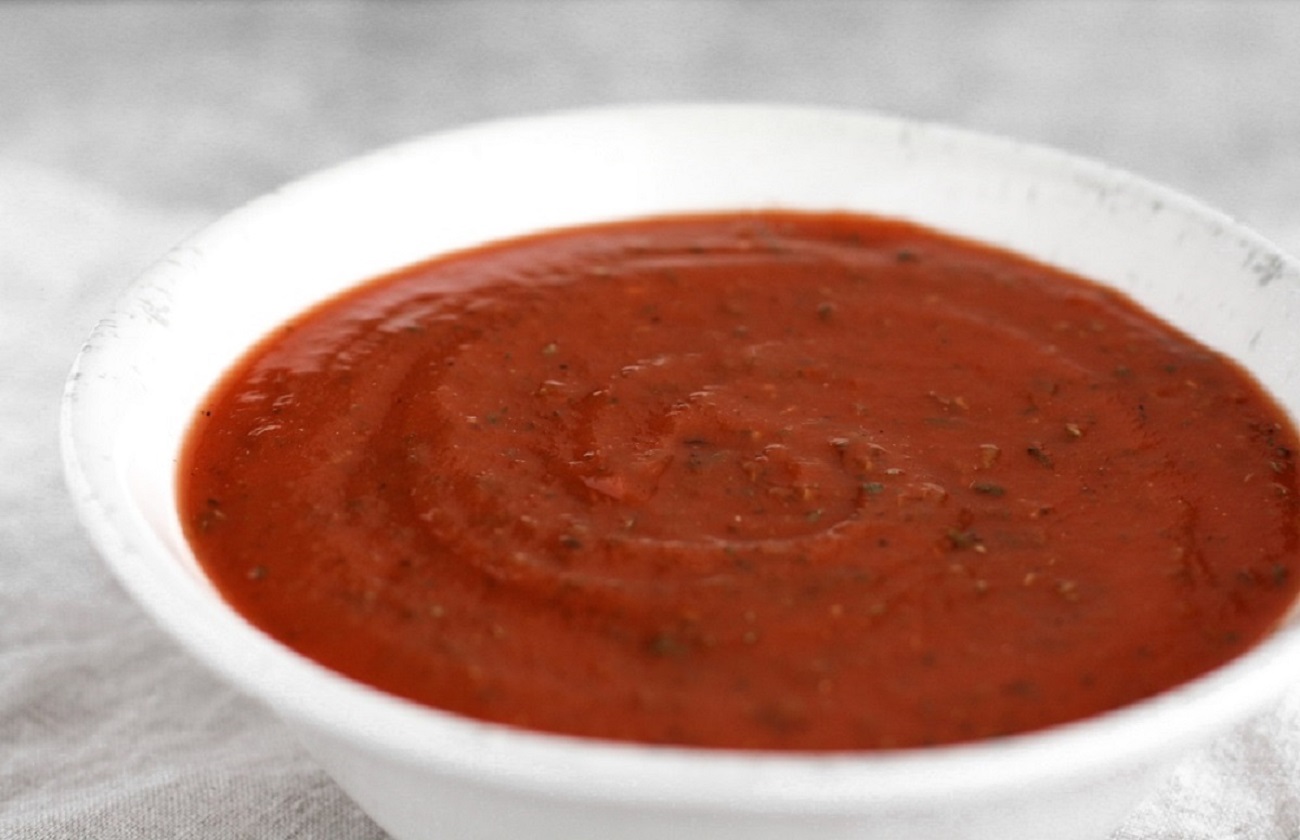 Apple Cider Vinegar Benefits
Given that your aim is to make your meals as nutritionally-dense as possible, it's nice to know what benefits your ingredients are bringing to the table.
For instance, apple cider vinegar has some attractive qualities if you're watching your waistline and want to keep your blood sugar in check. Some of the valuable benefits of apple cider vinegar include:
Can help maintain normal blood sugar levels: Vinegar contains acetic acid, which may support healthy insulin sensitivity for up to 60 minutes after eating[*].
May help maintain and enhance healthy weight loss: In a clinical trial, apple cider vinegar combined with a reduced-calorie diet helped subjects decrease their body weight and BMI, and had a favorable effect on appetite reduction[*].
Promotes heart health by lowering bad LDL cholesterol and increasing HDL cholesterol: An animal study showed improvements in the serum lipid profile of normal and diabetic rats and looks promising in the management of diabetic complications[*].
Who knew pizza sauce could be good for you? Along with helping you reach optimal health, the macronutrients are hard to beat. One half-cup serving is a total of 91 calories including 5 grams of fat, about 5 grams of net carbs, and 2 grams of protein.
Recipe Variations and Prep Suggestions
Know what the best part about making this pizza sauce is? You don't have to cook it. That's right, this recipe requires zero cook time. Aside from the ingredients, all you need is a bowl, a blender, and about 10 minutes.
San Marzano Alternatives
Don't have access to San Marzano tomatoes? No problem. You can use any whole, peeled tomato brand that has no added sugar. If you've never had San Marzano tomatoes, you won't know what you're missing. However, if you've enjoyed this variety of plum tomato before, you'll miss the strong, sweet, (and less acidic) flavor.
Chunky vs. Blended
You may enjoy small, bright bursts of tomato on your pizza. If so, you can make this sauce a little chunky by not blending it as much. You could easily puree half the sauce and then pulse the other half to break up the tomatoes, according to your preference, then combine them to make your happy medium.
Serving Size and Storage
This keto pizza sauce recipe makes four cups of sauce which amounts to eight servings total. Expect your pizza sauce to last up to four days in the refrigerator. You may be able to get another day or two by using a good air-tight container.
Another great way to get the most out of your sauce is to freeze what you can't use in the next few days. The frozen sauce will last up to six months in the freezer.
Meal prep tip: If you know what you'll use your sauce for, you can portion the sauce out before freezing. That way, you'll only have to thaw what you plan to use that day.
Other Uses for Keto Pizza Sauce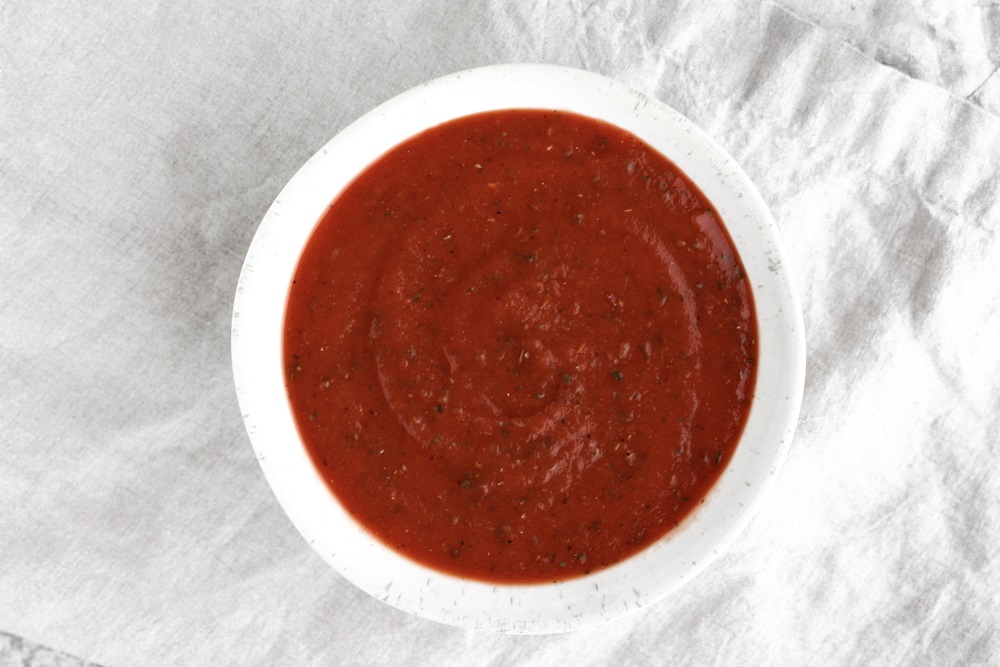 Whether you want to make your own personal pizzas for dinner or save the sauce for later in the week, it's a perfectly convenient condiment to have with Italian-style meals or snacks like keto meatballs or cheesy keto breadsticks.
With a little string cheese, egg, and almond flour, you could be dipping some gooey mozzarella sticks into your homemade pizza sauce.
You can also make impromptu "eggs in purgatory" with your leftover sauce. This would make a great breakfast-for-dinner meal.
Add your pizza sauce to a skillet over medium heat until bubbly, then make a divot in the sauce. Crack an egg into the divot, then cover and simmer until the egg is done to your preference. As a guide, soft-set eggs take about 2-3 minutes to cook.
Once your egg is set, you can sprinkle it with parmesan cheese and some basil. Serve with toasted garlic butter-brushed keto cloud bread. Watch cloud bread carefully when toasting because it only takes a few seconds and is easily burned. For example, you can put it in the toaster, if it fits, but you'd need to pop it out early — it won't last a full cycle without burning.

Keto Pizza Sauce for All
This pizza sauce is tasty enough to please even your non-keto family and friends, so don't be surprised if this recipe makes its way into your regular rotation. It's not only low-carb but it's also vegan, paleo-friendly, and gluten-free.
With so many delicious options, your pizza sauce may never make it to the freezer. You can easily double this recipe if you have big plans. Be sure to check the Perfect Keto recipe section for more ideas on how to enjoy your sauce.
Print
Keto Pizza Sauce Recipe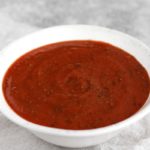 Looking for that perfect keto pizza sauce to fit your macros? Try this fast and flavorful low-carb recipe that can be used in so many ways. Pick up this handful of ingredients the next time you're at the store and get ready for a perfectly delicious keto pizza sauce.
Author:
Prep Time:

5 minutes

Total Time:

10 minutes

Yield:

8

servings

1

x
Category:

Sides

Cuisine:

Neapolitan
Instructions
In a blender, blend all ingredients together until mixture forms a sauce.

Serve on your favorite low-carb pizza crust or enjoy with other dishes that use pizza sauce.
Nutrition
Serving Size:

1/2 cup

Calories:

91

Fat:

5.3g

Carbohydrates:

9.3g (Net Carbs: 5.6g)

Protein:

1.9g
Keywords: keto pizza sauce