Looking for a delicious recipe for dinner tonight?
There are a million ways to prepare chicken, but this low-carb creamy garlic chicken drenched in a dairy-free cream sauce is going to be your new go-to chicken dinner.
Topped with golden brown, crispy bacon cooked in a cast-iron skillet, this is one of the best chicken dishes for bacon and garlic lovers alike.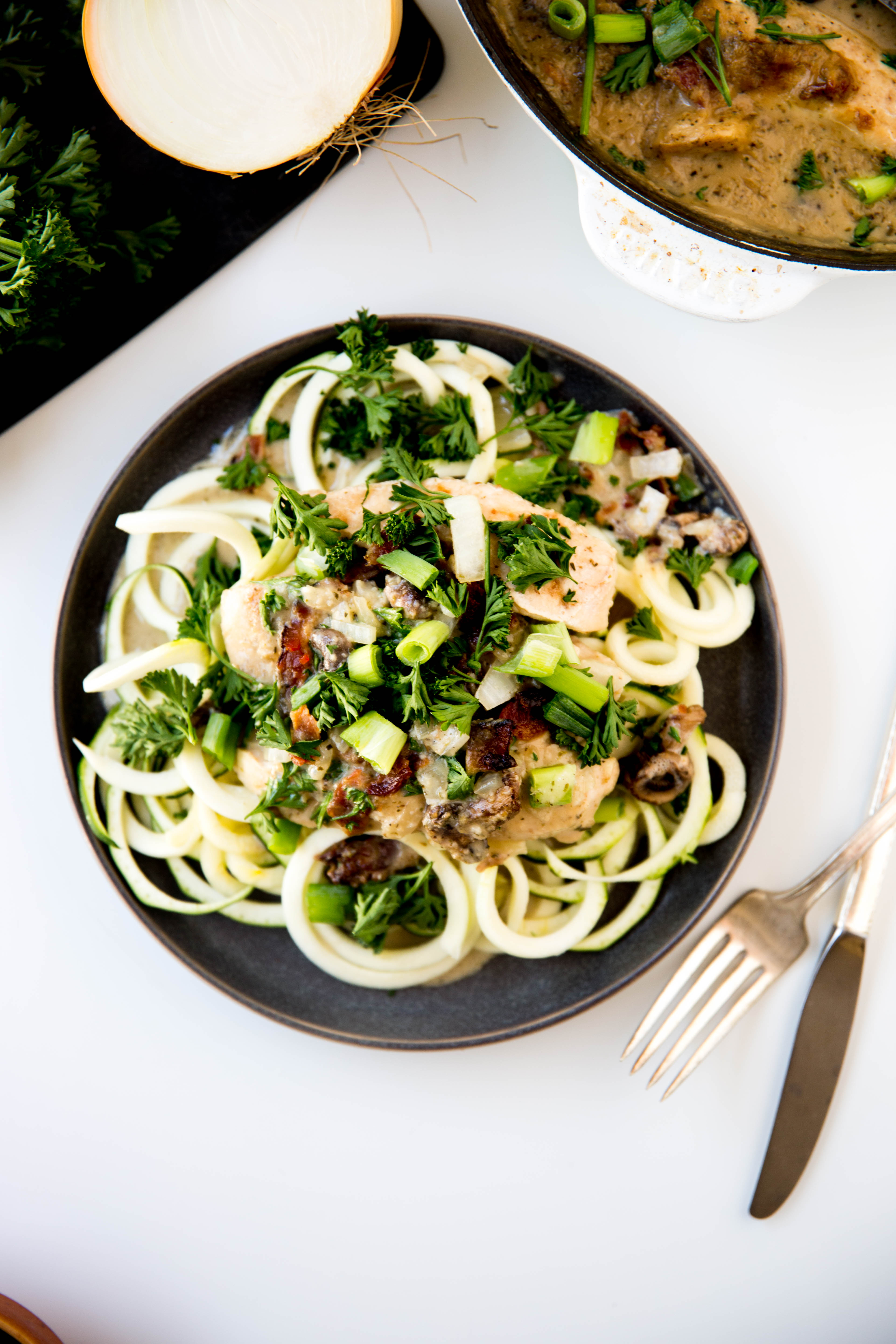 A standard recipe may suggest you use the extra creamy garlic sauce to drizzle on some mashed potatoes or penne. However, in this keto version, you can switch that out for some cauliflower mash or zucchini.
Either way, you'll want to make sure you make good use of this mouthwatering creamy sauce.
This creamy garlic chicken recipe is:
Warm
Savory
Comforting
Flavorful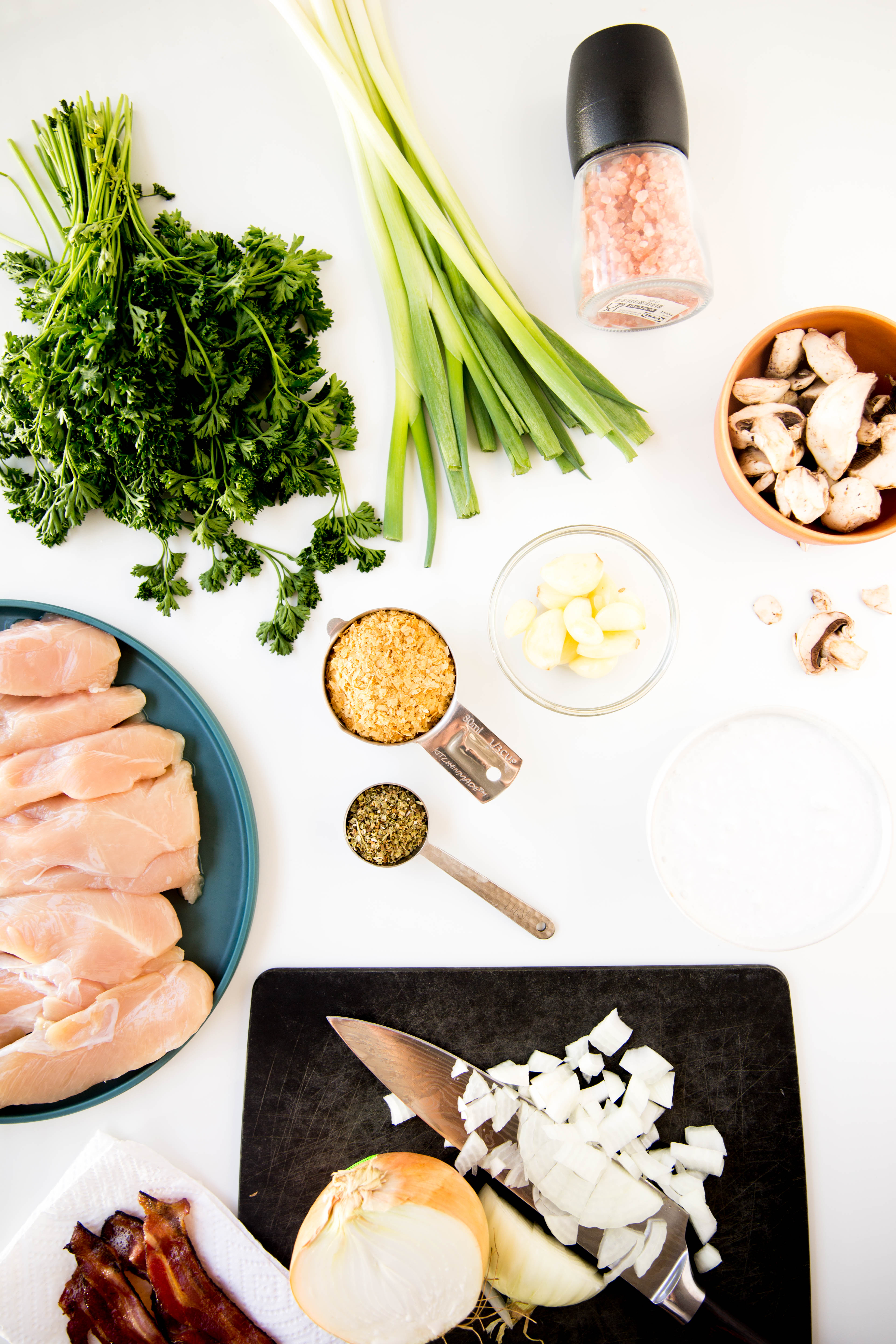 The main ingredients are:
Optional additional ingredients
Fresh parsley
Low-carb veggies

3 Health Benefits of This Creamy Garlicky Chicken
#1: Supports Immunity
There's nothing worse than being hit by a cold in the winter, but did you know that the food you eat has a significant impact on your immune health?
And of the immune-enhancing foods out there, garlic is one of the most potent. It contains an active compound called allicin, which has been well studied for its immune-boosting effects[*].
In one study, 146 volunteers were given either a placebo or a garlic supplement during a 12-week period from November to February — prime cold season.
The group receiving the garlic not only had few colds during the 12-week period but for those that did get sick their colds were significantly shorter in duration. The researchers concluded that consuming an allicin-containing supplement can prevent attack by the common cold virus[*].
#2: Rich In B Vitamins
Nutritional yeast not only provides a cheesy flavor to vegan or non-dairy dishes, but it's also a great source of B vitamins. One-fourth cup of nutritional yeast contains 5.9 mg of vitamin B6, 17.6 mcg of B12, 46 mg niacin, 9.7 mg riboflavin, and 11.8 mg thiamin[*].
The RDA for B12 is 2.4 mcg, which means one serving of this creamy chicken could provide over 100% of your daily needs. B12 is essential for blood cell formation, neurological function, and DNA synthesis — to name a few[*].
B6 is another crucial B vitamin. It acts as a coenzyme for a large number of reactions in your body (over 100) and plays a major role in protein metabolism. With an RDA of 1.5mg, this chicken recipe provides all the B6 you'll need in a day and then some[*].
Thiamin is another B vitamin you'll find in abundance in nutritional yeast. This B vitamin serves as a cofactor for numerous enzymes involved in metabolism. It's an essential part of glucose, amino acid, and lipid metabolism —helping to break down your food and create energy for your cells[*].
#3: Enhances Satiety
Eating a protein-rich meal is one of the best ways to enhance satiety. However, this garlic chicken has another satiety enhancing weapon — coconut milk.
Coconut milk contains medium-chain triglycerides (MCTs), which research shows can help you feel full longer and reduce calorie intake[*].
MCTs are metabolized differently in your body than other forms of fat. While most fatty acids have to travel through your lymphatic system, MCTs go directly to your liver. This allows your body to readily use MCTs, and spares the use of carbohydrates.
In one study, volunteers were given a carbohydrate-rich breakfast supplemented with either monounsaturated fat, saturated fat, low-fat option, or MCTs. While all groups receiving a fat source with breakfast remained satisfied longer, the MCT group also ate less food at lunchtime[*].
Creamy Garlicky Chicken
This delicious keto creamy garlic chicken recipe is dairy-free. However, if you don't have any issues digesting dairy you can switch out the coconut cream for heavy cream, and maybe even add some parmesan cheese.
This dinner recipe pairs beautifully with a glass of low-sugar white wine.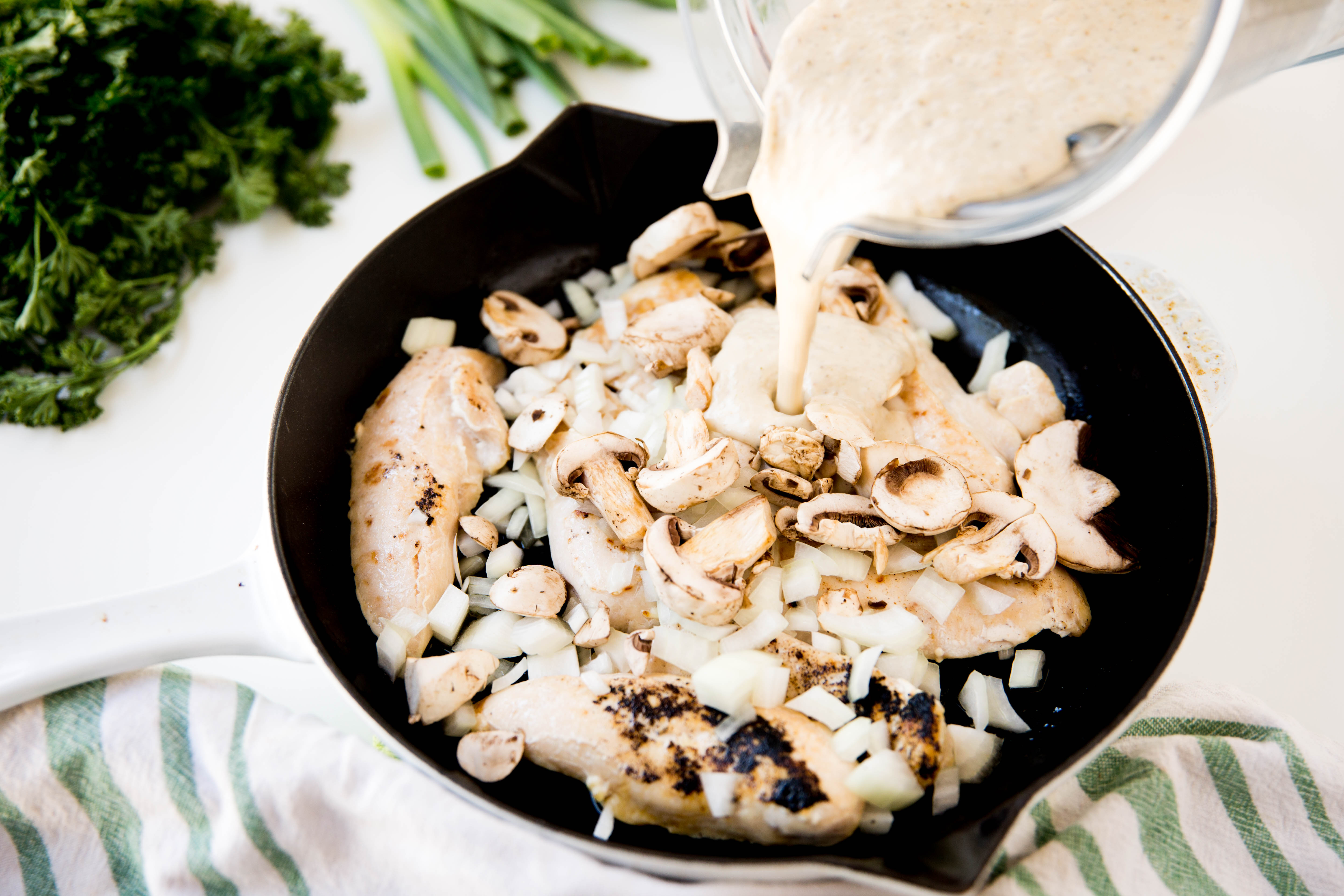 Print
Creamy Garlicky Chicken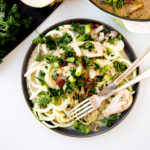 This keto creamy garlic chicken has a prep time of only 30 minutes, making it a perfect weeknight dinner. Use the cream sauce to drizzle on low-carb veggies.
Author:
Prep Time:

5 minutes

Total Time:

30 minutes

Yield:

4

servings

1

x
Instructions
Preheat the oven to 400 F.

In a medium-sized cast iron over medium heat cook the bacon until crisp, add to a plate and set aside.

In the same pan add the chicken and cook on each side for 5 minutes, then remove from heat.

In a high-speed blender add the coconut milk, nutritional yeast, seasoning, onion, garlic, salt, and pepper, blending to combine.

Add mushrooms and crumbled bacon to the cast iron with the chicken, and pour in coconut milk mixture.

Bake for 15 minutes.
Nutrition
Fat:

28.7g

Carbohydrates:

11.8 g (6.3g net)

Fiber:

5.5g

Protein:

64.4g
Keywords: keto garlic chicken