Sometimes you just need some good old-fashioned comfort food. These keto grits may only have 1 net carb, but they're as satisfying and comforting as the real thing.
In fact, the only thing this grits recipe is missing is the grits. And with cauliflower rice smothered in cheddar cheese, heavy cream, and butter you won't even notice the difference.
Add some spicy shrimp or grilled chicken to these creamy grits for a protein kick. Craving some breakfast grits? Throw a fried egg on there.
They're perfect as a main dish or a side dish. And as delicious as they are versatile — these cheesy grits are sure to be a fan favorite among your keto and low-carb friends.
They're so good, you might even turn some of your "carbivore" friends keto. Imagine that?
These keto grits are:
Rich
Creamy
Savory
Comforting
The main ingredients in this recipe are:
Optional additional ingredients:
3 Health Benefits of Keto Grits
#1: Good For Your Heart
Just like their name suggests, hemp hearts are great for your cardiovascular system.
The small but mighty hemp heart contains 25% protein and is a rich source of heart-healthy polyunsaturated fats like the omega-3 fatty acid ALA and the omega 6 fatty acid GLA[*].
Your heart's top priority is to pump the oxygen in your blood to every tissue in your body.
Your tissues need oxygen to stay alive, and without a steady flow they can become damaged or dysfunctional, a process called ischemia. And hempx seeds may help with oxygen and blood flow, according to one animal study[*].
Hemp seeds were also found to reduce blood clot formation and blood pressure in studies done on rabbits and rats. Researchers believe that the amino acid arginine and GLA are responsible for these positive effects[*],[*].
Garlic, another heart health superstar, has been used as a healing food as far back as ancient Egypt and Greece[*].
Among its many benefits, garlic has been shown to reduce blood pressure and counteract oxidative stress. Protecting your heart from oxidative stress is critical to preventing heart disease[*].
#2: Anti-Inflammatory
Inflammation is a mechanism that's meant to protect your body from injury, infection and disease.
Unfortunately for many people, poor nutrition, stress, and pollution are causing systemic inflammation — which may also be at the root of many modern diseases.
The good news is, changing your diet can help. And these keto grits are loaded with anti-inflammatory compounds coming from cauliflower, hemp, and garlic,
Cauliflower contains a compound called indole-3-carbinol (I3C). I3C is found in most cruciferous vegetables like broccoli, cabbage, brussels sprouts and, of course, cauliflower.
I3C plays an important role in your immune system by suppressing inflammatory chemicals that can wreak havoc in your body[*].
Garlic also contains some anti-inflammatory compounds. One of these compounds, called s-allyl cysteine (SAC), is an anti-inflammatory chemical that balances oxidative stress in your cells[*].
Alpha-linolenic-acid (ALA), well known as a precursor to the omega-3 fatty acids DHA and EPA, also boasts anti-inflammatory benefits.
Although the exact mechanism is still unknown, researchers have found that ALA works with your immune system and genes to control inflammation in your body.
You can find ALA in a variety of plant foods, but hemp seeds are one of the best sources[*][*].
#3: Protects Your Brain
From nootropics to neurodegenerative disease, you've probably been hearing a lot about the importance of brain health lately.
Whether you're trying to optimize for performance or prevent cognitive decline, these keto grits are a great choice for brain health.
The compound SAC (s-allyl cysteine) found in garlic may play an important role in the prevention of neurodegenerative disease and a reduction in cognitive decline[*].
Cauliflower is a rich source of vitamin C, which also plays an essential role by protecting your brain from oxidative stress via maintenance of your neurotransmitters[*].
Comforting Keto Grits
The perfect Southern keto dish has arrived. These low-carb grits are sure to satisfy and delight dinner (or breakfast) guests of all ages.
Throw in some spicy shrimp or a fried egg to make it a main dish. Or make it a side dish with plenty of black pepper and sea salt. The won't disappoint.
Print
Comforting Keto Grits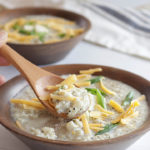 Cheesy grits are the perfect comfort food. And cauliflower rice smothered in heavy cream and cheddar cheese means you can enjoy these low-carb grits on a keto diet.
Author:
Total Time:

15 minutes

Yield:

2 cups

1

x
Instructions
Melt butter in a cast iron skillet set to low-medium heat.

Add riced cauliflower, hemp hearts, and saute for 2 minutes.

Add heavy cream, milk, garlic powder, salt, and pepper. Stir well and simmer until mixture has thickened and cauliflower is tender. Add more milk or water as needed to prevent mixture from burning.

Remove from heat and stir in cheddar cheese. Adjust seasoning if needed.
Nutrition
Serving Size:

½ cup

Calories:

212

Fat:

19g

Carbohydrates:

3g (1g net)

Fiber:

2g

Protein:

7g