on May 13, 2018
Looking for a way to spice up this week's meal prep?
We created a tasty keto meatloaf to give you some variation to your weekly menu. With only 2 grams of net carbs per slice, this meatloaf recipe is sure to help you stay in ketosis, keep you satiated and provide you with nutrient-dense ingredients. Plus, this low carb dish is perfect for feeding a family or providing enough leftovers to last you through the week.
How to Make Low Carb Meatloaf
Traditional meatloaf recipes use breadcrumbs to (supposedly) prevent the ground meat (typically ground beef, ground pork or a combination of the two) from falling apart. Gluten-free versions substitute flaxseed meal, coconut flour or almond flour for the same reason.
Fact: Breadcrumbs or a gluten-free alternative are completely unnecessary. It's actually eggs — not flour or breadcrumbs — that hold the mixture together. In this recipe, we use none of the above. Instead, we simply combine grass-fed ground beef and eggs with nutritional yeast and herbs for flavor.
In the recipe below, you'll use avocado oil, nutritional yeast, fresh herbs and black pepper for flavor. Many low carb meatloaf recipes use unhealthy condiments and sugar for flavor. Watch out for any recipes containing worcestershire sauce, which typically contains gluten, or ketchup, which is loaded with sugar. Recipes calling for tomato paste, tomato sauce or coconut aminos — a substitute for soy sauce, a key ingredient in worcestershire sauce — should be fine.
Selecting Quality Ingredients
When selecting ingredients for your keto meatloaf, remember that quality counts. Always choose the highest quality ingredients you can reasonably afford. This means grass-fed, organic beef and pasture-raised eggs.
"But is grass-fed beef really more nutritious than grain-fed beef?" you ask. Yes, it is. Grass-fed ground beef has been scientifically proven to contain more vitamins, minerals, antioxidants and a higher ratio of healthy fats than grain-fed beef.
Below, we dive into the specific benefits of grass-fed beef. Compared to its grain-fed counterpart, grass-fed beef is:
Abundant in CLAs
Rich in Omega-3 fatty acids
Full of vitamins and antioxidants
Abundant in CLAs
Grass-fed beef contains CLA, conjugated linoleic acids, which is a fatty acid present in meat and dairy products. There have been numerous studies surrounding CLA in recent years due to its many health benefits. CLA has been shown to fight cancer, prevent tumor growth and support healthy weight loss[*][*].
CLA blocks the growth of cancer in humans, according to the National Public Health Institute in Finland. In one study, a diet of CLA-rich foods was shown to prevent the risk of breast cancer in postmenopausal women[*].
A diet loaded with healthy fats like CLA has a direct impact on your blood sugar levels. The Journal of Endocrinology and Metabolism looked at the effects on healthy fats on insulin levels in obese children. This study found that 37 percent of the patients treated with healthy fats, CLA in particular, showed improved insulin sensitivity[*].
Rich in Omega-3 Fatty Acids
Grass-fed beef is rich in Omega-3 fatty acids, especially when compared to grain-fed beef. Omega-3 fatty acids provide a number of benefits for your heart health. They reduce inflammation, improve mood, boost immunity, lower blood pressure, improve skin health and reduce cardiovascular disease.
At one point, humans consumed a 1:1 ratio between Omega-3 and Omega-6 fatty acids. Today, many individuals contain 10 times more Omega-6 fatty acids than they do Omega-3 fatty acids. This is primarily caused by the widespread use of seed oils — such as canola and vegetable oil — in cooking[*].
Omega-3 fatty acids can be consumed through food or taken in supplement form. One Omega-3 polyunsaturated fatty acid, alpha-linolenic acid (ALA), must come from your diet because it cannot be made by your body.
According to many studies, the consumption of Omega-3 fatty acids reduces multiple cardiovascular risk factors. It has been shown to have a beneficial impact on blood pressure, exercise capacity, heart rate and coronary blood flow. Finally, there is strong evidence supporting the role of Omega-3 fatty acids in preventing cardiac death[*].
Full of Vitamins and Antioxidants
Grass-fed beef contains more vitamins and minerals than grain-fed beef. Several studies show that grass-fed beef contains more vitamin A and E. Vitamin A is essential for the health of your vision, reproduction and immune system. Vitamin E acts as an antioxidant in your body, preventing free radicals, boosting the immune system and preventing blood clots[*].
Grass-fed beef also contains more of the antioxidants glutathione and superoxide dismutase compared to grain-fed beef[*]. Glutathione helps build and repair muscle tissue, make proteins in the body and support the immune system[*]. Superoxide dismutase is an enzyme that breaks down potentially harmful molecules in cells, preventing damage to tissues[*].
Add this Keto Meatloaf Recipe to Your Weekly Meal Prep
This low carb keto meatloaf recipe is ready in a total time one hour, or until the top of your loaf turns golden brown. To prepare, you'll need a loaf pan, a large bowl and a food processor. Carve out 10 minutes for prep time and allow your oven to preheat to 400 F. The keto meatloaf takes roughly 50-60 minutes to cook.
Like many keto recipes, it's possible to enjoy your favorite family comfort foods, with a few healthy swaps in ingredients. If you love this recipe and want to add it your regular weekly menu, try experimenting with the flavors to make your own variation. Crumble a few bacon bits on top, bake some cheddar cheese into your recipe or sprinkle a little parmesan cheese on top.
However you enjoy it, remember to source quality ingredients, choose healthy fats and avoid unwanted condiments or breadcrumbs.
Print
Delicious Lemon Herb Low Carb Keto Meatloaf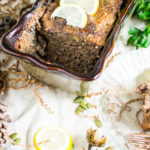 Meatloaf is the ultimate comfort food, but it's not always low carb. So we whipped up this delicious must-try keto meatloaf recipe in our test kitchen.
Author:
Prep Time:

10 minutes

Cook Time:

50 minutes

Total Time:

1 hour

Yield:

6

Category:

Dinner

Cuisine:

Turkish
Ingredients
2 pounds 85% lean grass fed ground beef
1/2 tablespoon fine Himalayan salt
1 teaspoon black pepper
1/4 cup Nutritional Yeast
2 large eggs
2 tablespoons avocado oil
1 tablespoon lemon zest
1/4 cup chopped parsley
1/4 cup chopped fresh oregano
4 cloves garlic
Instructions
Pre-heat oven to 400F.

In a large bowl mix the ground beef, salt, black pepper and nutritional yeast.

In a blender or food processor mix the eggs, oil, herbs and garlic. Blend until the eggs are froth 

and the herbs, lemon and garlic are minced and mixed.

Add the egg blend to the beef and mix to combine.

Add the beef to a small, 8×4 loaf pan. Smooth and flatten out.

Set in the oven, middle rack for 50-60 minutes.

Carefully remove from the oven and tilt the loaf pan over the sink to drain the fluid. Let it cool 

for 5-10 minutes before slicing into.

Garnish with fresh lemon and enjoy!
Nutrition
Calories:

344

Fat:

29g

Carbohydrates:

4g

Fiber:

2g

Protein:

33g