Sugar cookies are a classic — sweet, buttery, crispy on the outside, and chewy on the inside.
And if you thought that sugar cookies were off the table on a keto diet, we have some good news: these keto sugar cookies taste just like the original, but without the sugar crash.
Want a keto sugar cookie with all the crunch and the soft center of the cookies you grew up with? You're in luck. Made with all-natural monk fruit and gluten-free ingredients, these keto sugar cookies won't kick you out of ketosis and make the perfect treat.
In fact, this low-carb recipe is not just sugar-free, but paleo-friendly and completely gluten-free as well. So grab your cookie cutters and a cookie sheet, and let's get started.
The main ingredients in this low-carb sugar cookie recipe are:
Optional additional ingredients:
Almond extract
Keto frosting
Health Benefits of Keto Sugar Cookies
When you think of sugar cookies, health benefits are likely the last thing that comes to mind.
That's not the case with these keto cookies. They're not just delicious — they're also sugar-free, nutrient-dense, and packed with healthy fats.
Here are the health benefits of these sugar cookies:
Sugar-Free
This recipe trades sugar for monk fruit extract or stevia, which makes it still taste sweet while being sugar-free.
Only 1 Net Carb
In addition, these cookies only have one net carb each. They're also loaded with healthy sources of fat like almond flour, coconut flour, and grass-fed butter.
Grass-Fed Butter
Unlike butter from grain-fed cows, grass-fed butter contains higher levels of conjugated linoleic acid (CLA) — known for its benefits in heart health and weight loss[*]. It's also higher in anti-inflammatory omega-3 fatty acids and is a more abundant source of antioxidants when compared to grain-fed butter[*].
Collagen Protein
And if that isn't enough to make you feel good about enjoying these sweet treats, this recipe also contains collagen powder. Collagen, a crucial component of your connective tissue, can help keep your joints mobile and healthy. Some research even suggests that consuming collagen can help protect against osteoarthritis[*].
How to Make The Best Keto Sugar Cookies Recipe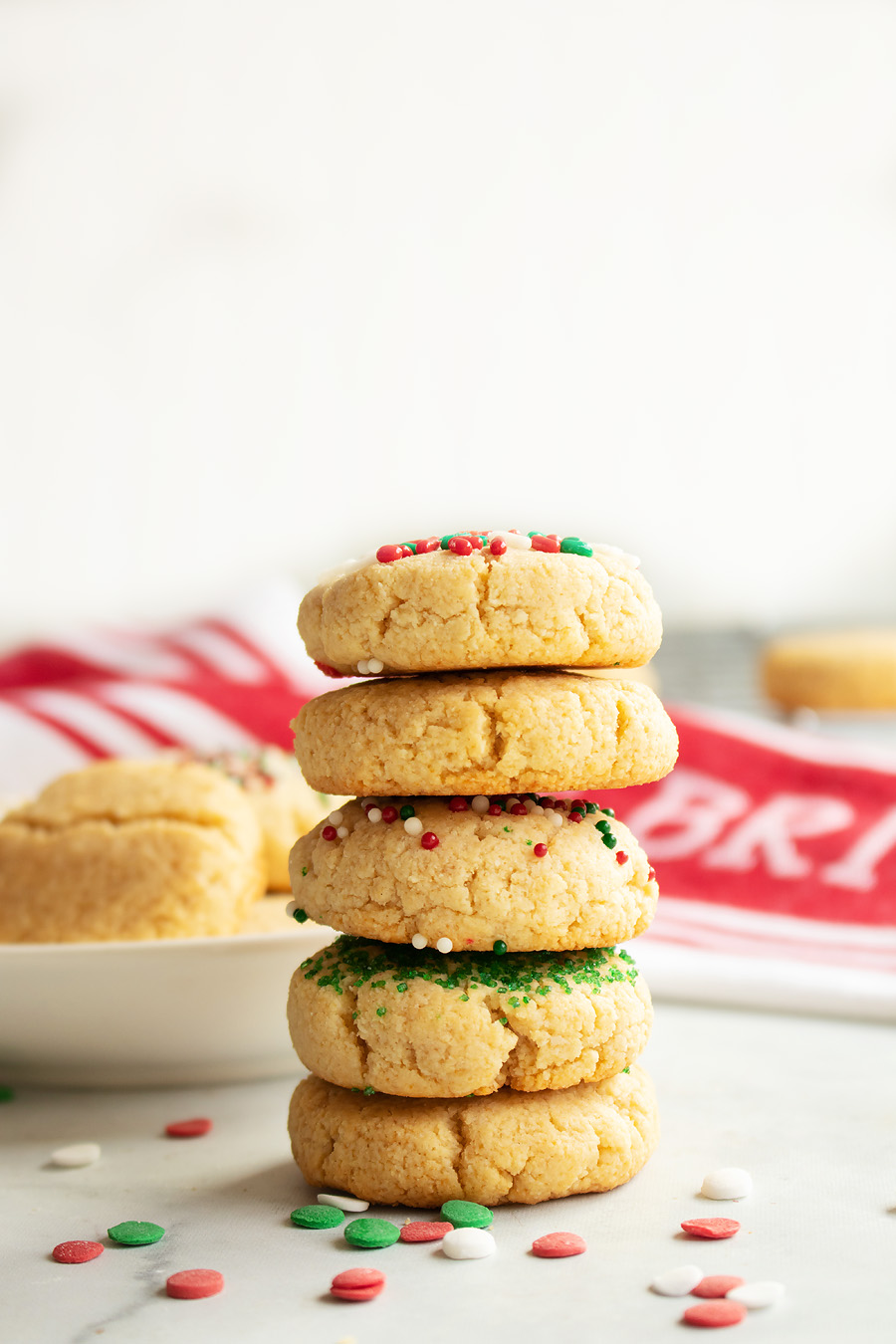 This recipe only takes 30 minutes making it a great choice if you want to whip up a keto-friendly dessert on short notice.
Step #1: Preheat and Prep
Before you start prepping the cookie dough, preheat your oven to 325 degrees. Next, line a cookie sheet with parchment paper and set it to the side.
Step #2: Start Mixing
Grab a medium-sized bowl and add in the first of your dry ingredients — collagen, almond flour, coconut flour, baking powder, ¼ cup natural sweetener (monk fruit and erythritol are good options), and salt.
Whisk the ingredients together until they're all well-combined in the bowl, then set the bowl aside. You want to make sure you really mix the dry ingredients well so that the dough has an even distribution of baking powder, sweetener, salt, and so on. If you undermix here, your cookies will be irregular.
In a large bowl or stand mixer, add your butter and 1/3 cup powdered sweetener and beat for one minute, or until the mix is light and fluffy. Once a fluffy texture is achieved, add in one egg and vanilla extract and mix until well combined.
#3: Time to Combine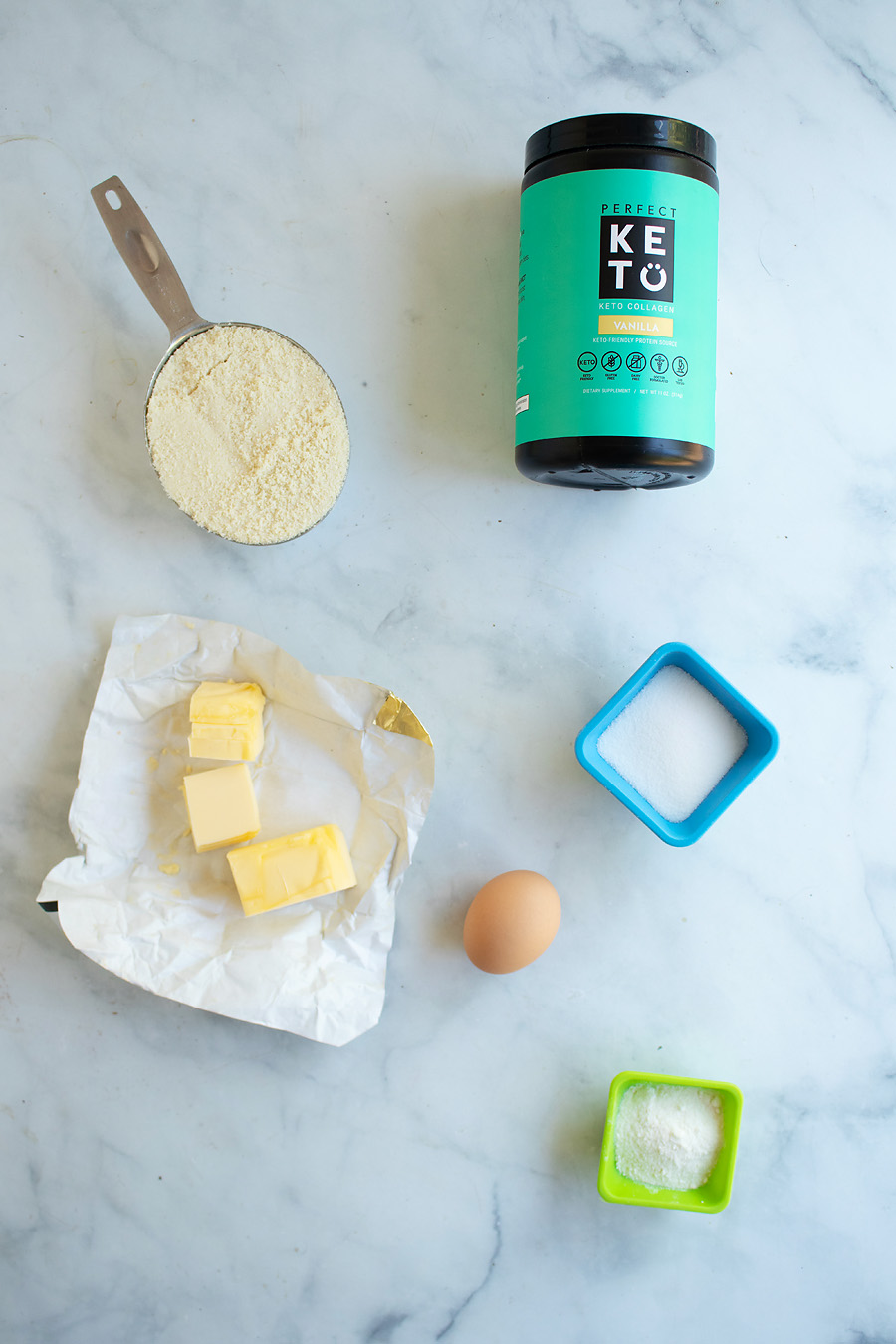 Next, you're going to add the dry mixture into the wet mixture. Make sure you do this in several batches (or at least two) and mix to combine thoroughly before adding the next bit of dry mixture. Again, you don't want any pockets of dry mixture or uneven distribution. Mixing in batches ensures that your dough is the same throughout.
#4: Make Your Cookies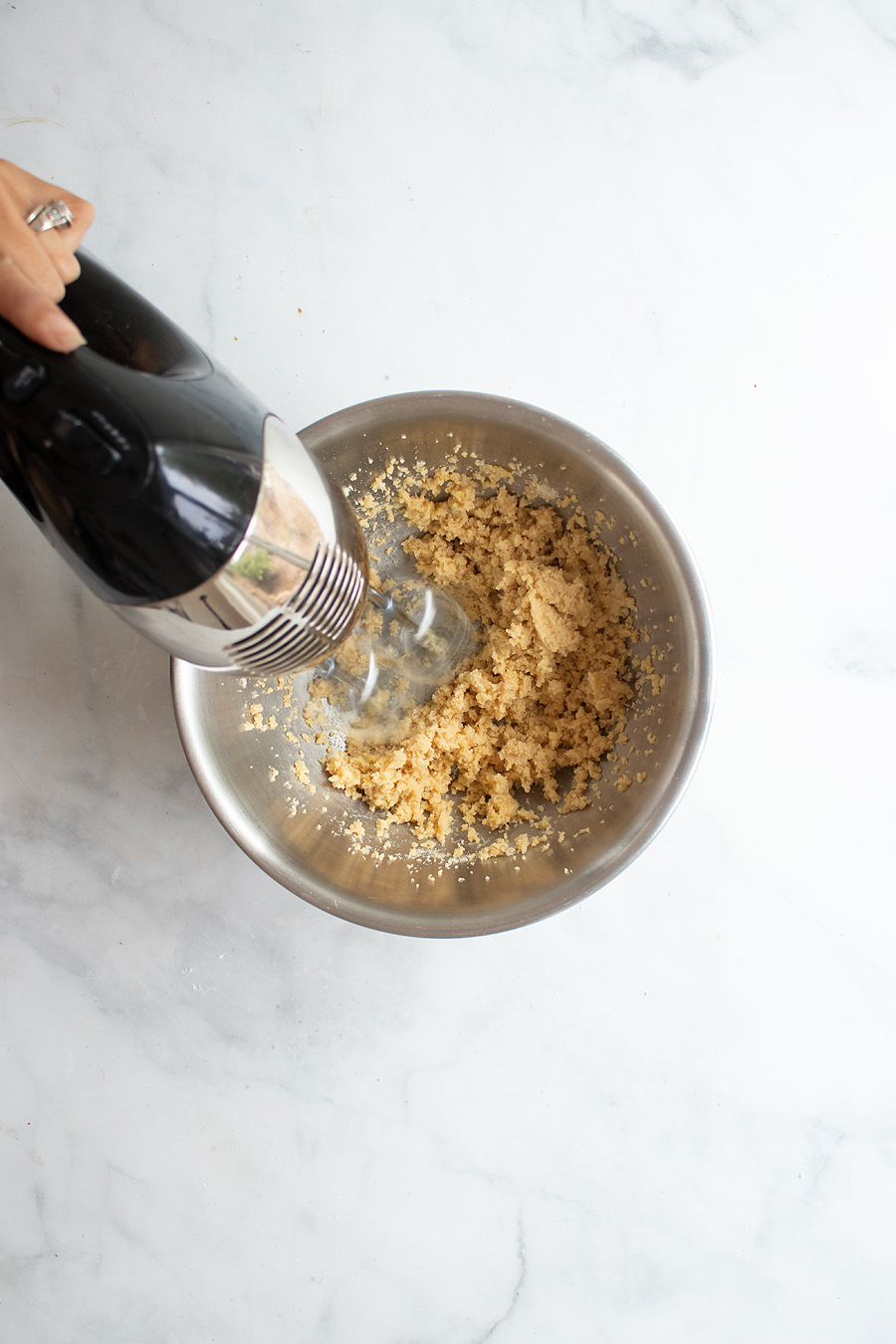 Once everything is well combined, grab your cookie sheet and portion and divide the cookie dough into 1 inch balls on the sheet. If you want near-perfect consistency of size, you can use an ice cream scoop to get the same amount of dough for every cookie.
And if you plan to decorate your keto sugar cookies, ow is the perfect time to sprinkle on some sweetener or festive toppings. Just hold off on the frosting until the end; it'll melt in the oven.
If you want to make shapes out of your cookies instead of just making circles, then roll out the dough with a rolling pin (or a keto wine bottle, if you don't have a pin handy) and use a cookie cutter to cut out cookies into whatever shapes you like.
#5: Bake to Perfection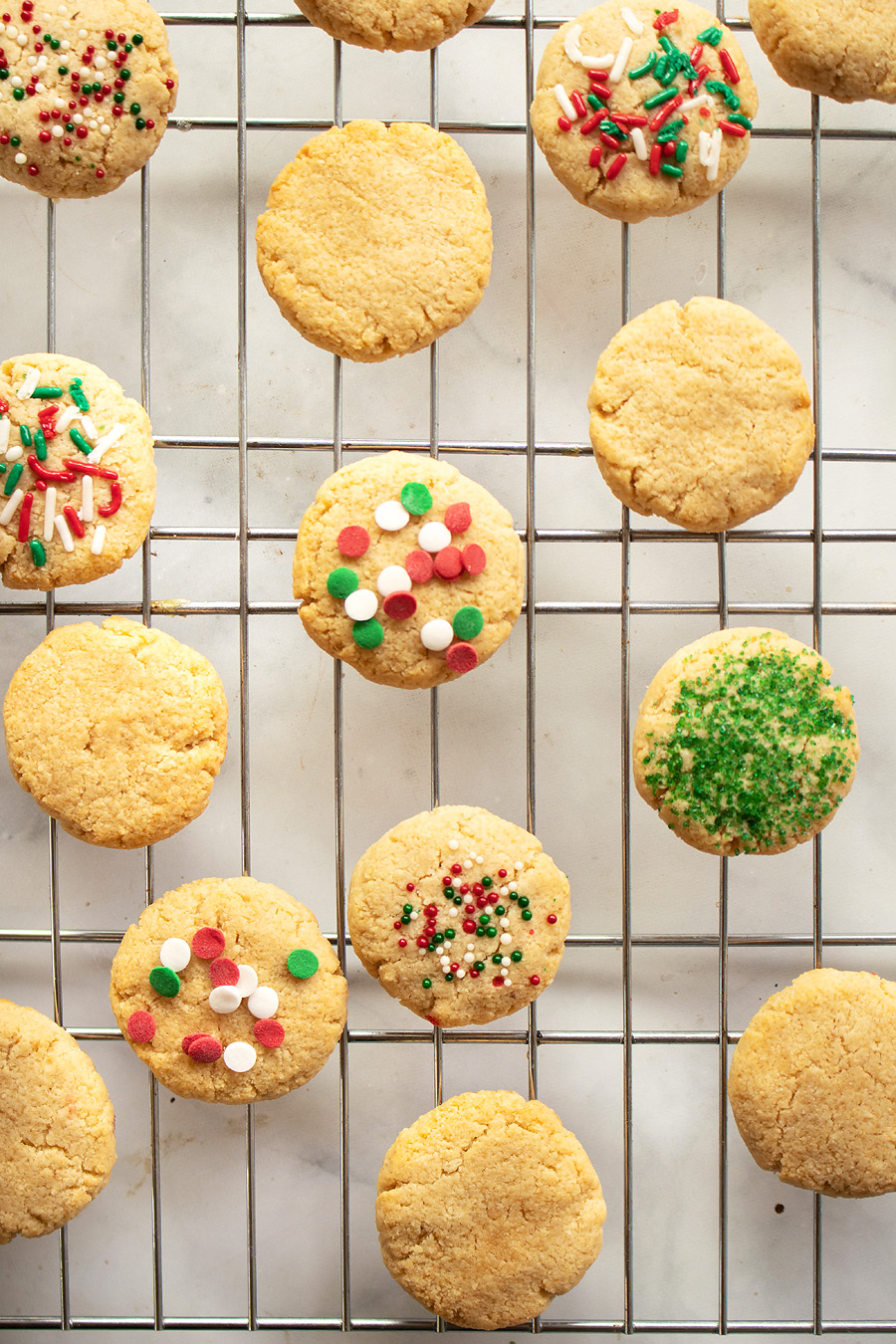 Next, put the baking sheet in the oven and bake for 10-12 minutes, until the cookies are very lightly golden brown (don't worry; they'll darken more as they sit).
Take the cookies out of the oven and let them cool for 10 minutes, then move them to a wire rack and let them cool completely.
If you don't have a wire rack, you can leave the cookies on the baking sheet — but ideally, you want air circulation beneath the cookies so they get good and crisp on the outside while staying chewy on the inside.
And if you're going to frost your cookies, make sure you wait until they're completely cool. If the cookies are even slightly above room temperature, you risk your frosting melting and ruining your decoration. The texture of the cookies will also improve the more the cookies cool down. As hard as it is to wait, patience is a virtue here.
Low-Carb Keto Sugar Cookies Add-Ons and Baking Tips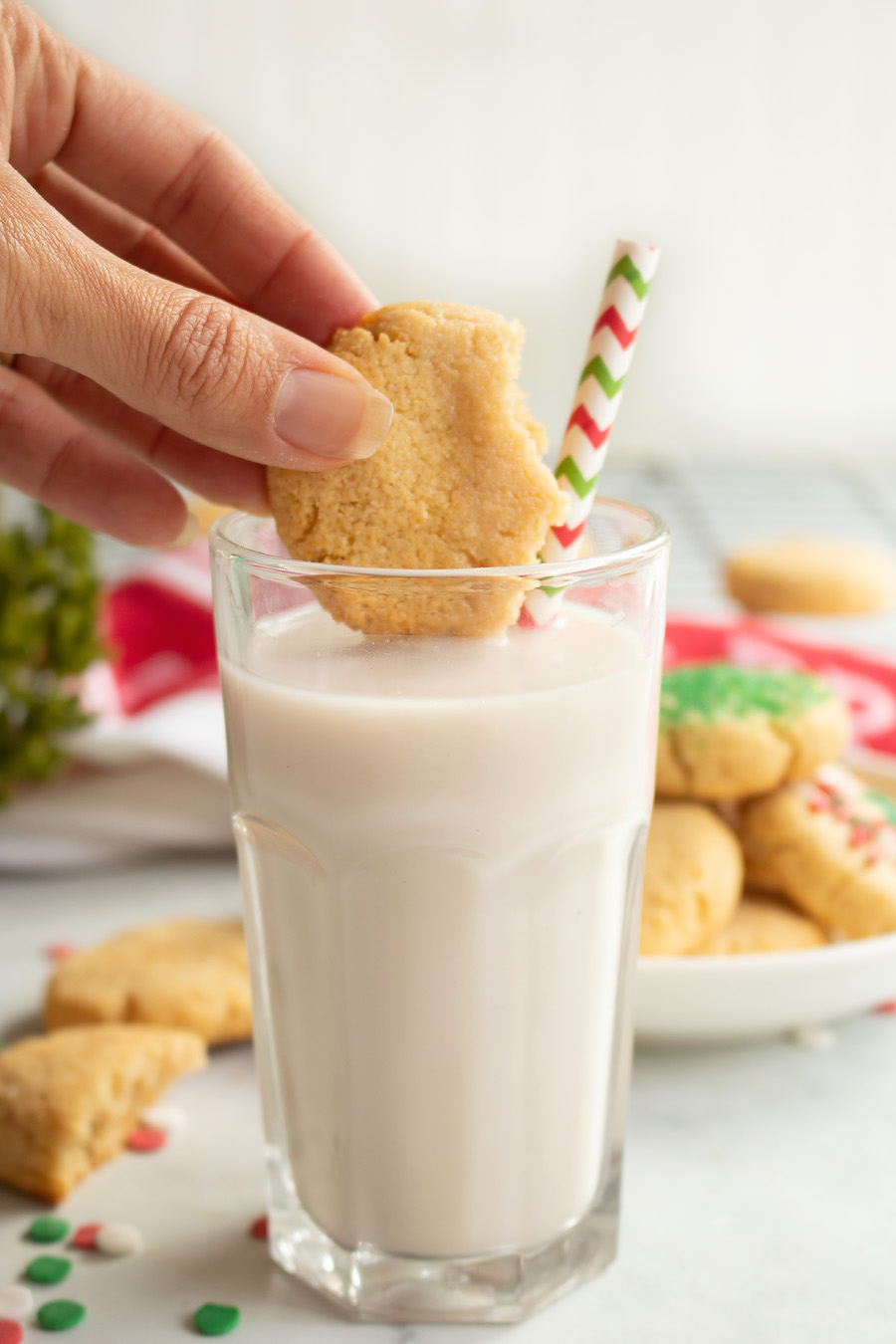 This sugar cookie recipe is incredibly versatile, and it serves as a good. If you love chocolate chip cookies, throw some chocolate chips into the mix. For Christmas cookies, you can add red and green keto cream cheese frosting and use holiday-themed cookie cutters.
You can also switch up the sweetener. If you're not a fan of monk fruit or stevia, you can use erythritol as a sweetener instead. Just note that this sugar alcohol may leave a cooling sensation in your mouth.
Also, if you're going the frosting route, try to find natural food coloring that's made from vegetable pigments instead of anything artificial.
How to Freeze or Store Your Keto Sugar Cookies
Storage: Place the cookies in an airtight container or zip-lock bag and keep them at room temperature for up to five days. 
Freezer: Place the cookies in an airtight container or zip-lock bag and keep them in the freezer for up to three months. To defrost, simply let the cookies sit at room temperature for an hour. We don't recommend microwaving these cookies; it will make them dry and ruin their texture.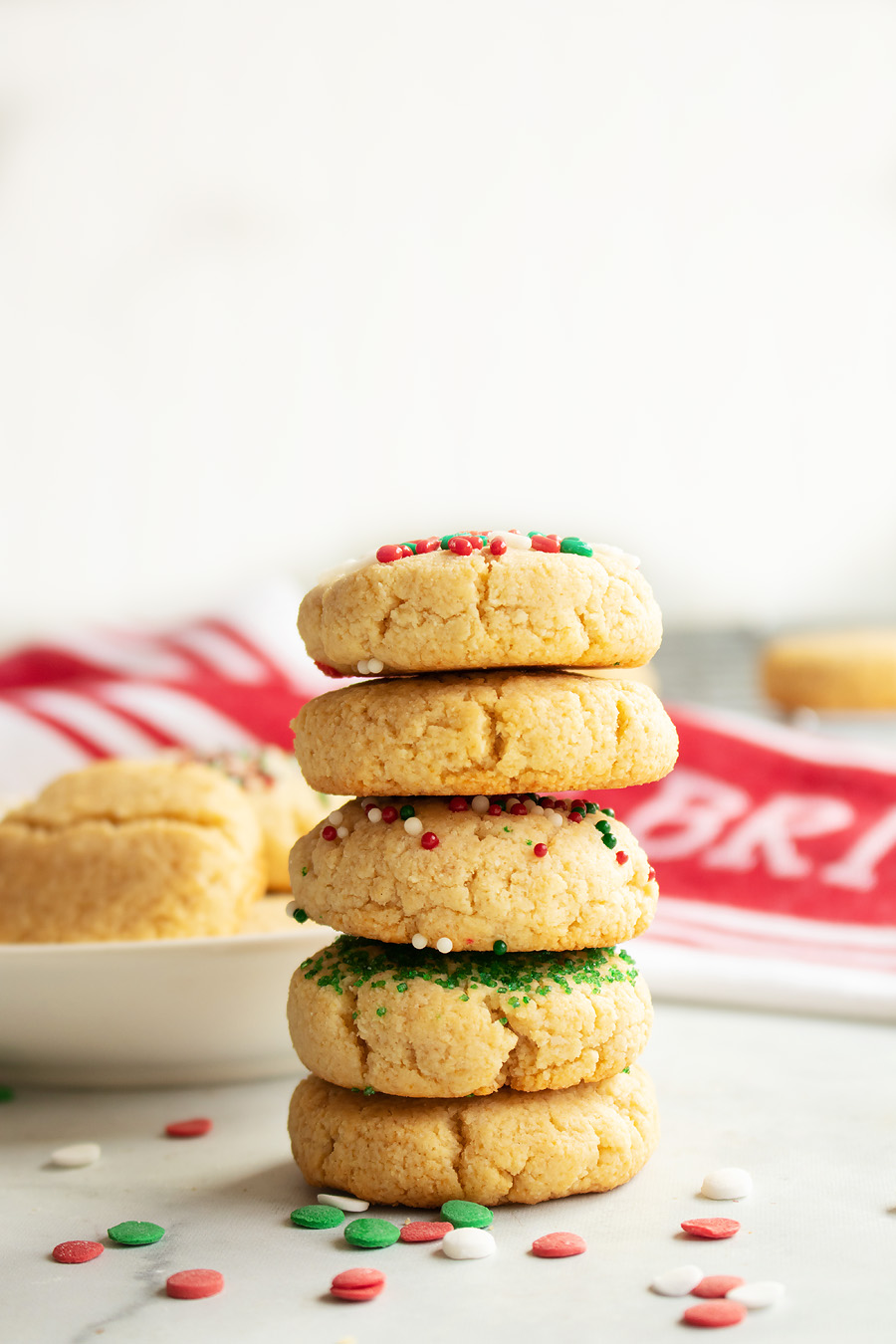 Print
Keto Sugar Cookies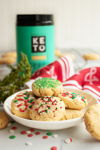 These keto sugar cookies are made with coconut flour, almond flour, and monk fruit. They're sugar-free, gluten-free, paleo-friendly, and low-carb.
Author:
Prep Time:

10 minutes

Total Time:

30 minutes

Yield:

24

cookies

1

x
Instructions
Preheat oven to 325F degrees and line a baking sheet with parchment paper.

Add collagen, almond flour, coconut flour, baking powder, ¼ cup sweetener, and salt to a medium-sized bowl.  Whisk well until combined.

Add butter and ⅓ cup sweetener to a large bowl or stand mixer.  Beat for 1 minute until light and fluffy. Add egg and vanilla extract.  Mix until well combined.

Add dry mixture to wet mixture in two batches, mixing between each addition.

Portion and divide dough into 1" balls on a baking sheet.  Sprinkle on extra sweetener or sprinkles if desired. Lightly press the dough down to desired shape (these will not rise or spread much).

Bake for 10-12 minutes until very lightly golden brown.  Remove from the oven and let cool completely on a wire rack.
Nutrition
Serving Size:

1 cookie

Calories:

83

Fat:

8g

Carbohydrates:

2g (Net: 1g)

Fiber:

1g

Protein:

2g