Many people think that the keto diet and Atkins are synonymous. After all, they're both high-fat, low-carb diets, right? But when it comes to keto vs. Atkins, there is a laundry list of differences. And the side-by-side comparison of these two diets might surprise you.
There's more to the keto diet than just increasing your fat consumption. Read on for the pros and cons of the ketogenic diet, the Atkins diet, how they compare and which one is scientifically proven to be better for your health.
Keto vs. Atkins: Benefits of the Ketogenic Diet
The ketogenic diet was founded back in 1924 by Dr. Russell Wilder at the famous Mayo Clinic. The diet was initially used as a therapeutic diet for treating epilepsy (especially in children).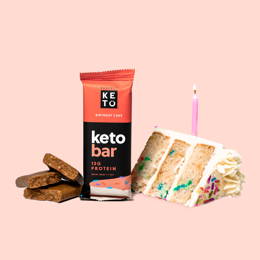 Birthday Cake Keto Bars are here!
The answer to your sweet tooth. 17g of fat, 3g of net carbs, incredibly delicious.
Shop Now
The ketogenic diet is a low-carb, high-fat diet focused on eating a specific percentage of macronutrients:
High fats: 70–80% of daily calories

Adequate protein intake: 20–25% of daily calories

Low carbohydrates: 5–10% of daily calories (roughly 20–25 grams of net carbs per day)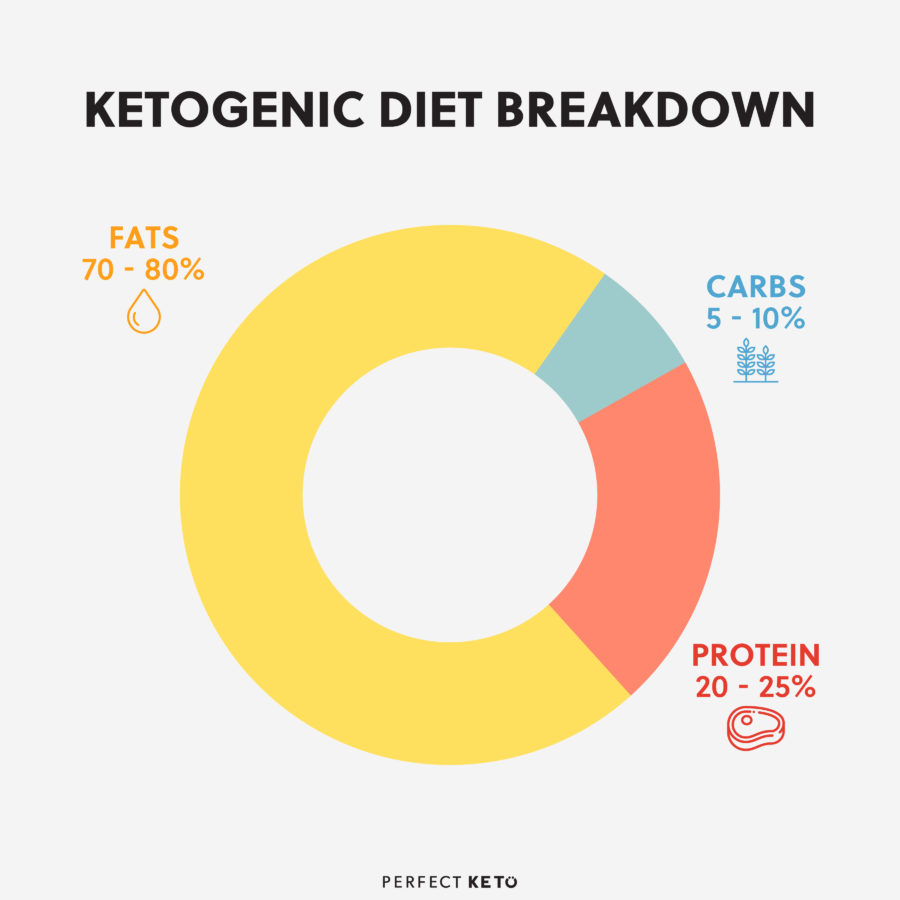 This focus on dietary fat forces your body to use ketones for energy — energy molecules made from fat that are amazing for your brain and energy levels.
Ketones are created in the absence of carbohydrates for an extended period of time. Without carbs, your liver converts stored fat into ketones, which then turn into ATP — the energy currency of your cells.
An elevated level of ketone bodies in the blood leads to a state known as nutritional ketosis, which is the goal of the keto diet. This radical change of fuels — from glucose to ketones — is what makes the keto diet so special. It's also what leads to all the many benefits of the keto diet.
Get all the details on the keto diet, plus how to get started.
9 Benefits of the Ketogenic Diet
The ketogenic diet radically transforms many aspects of your health. Here are nine science-backed reasons to be in a state of ketosis.

#1. Unlocks Metabolic Flexibility 
The ketogenic diet is different than regular weight loss diets because it changes something fundamental in your body: the fuel your cells run on.
On virtually any other diet, your cells use glucose for energy. On keto, ketones replace glucose as the main energy source.
This change triggers metabolic flexibility — the ability to switch between fuels (fat or carbs) when needed and allows you to use both efficiently. 
For example, a keto-adapted person could go on vacation and enjoy carb-based foods for a few days and then switch back to a state of ketosis in a day or less by cutting carbs and fasting.
This metabolic flexibility was common in your hunter-gatherer ancestors, who constantly switched between a state of fasting (where the body runs on ketones) and eating, according to food availability.
In essence, ketosis restores the metabolic flexibility your body evolved to have, which protects against obesity and diabetes[*].
#2: Stabilizes Blood Sugar
Relying on ketones instead of glucose keeps your blood sugar low and stable. That's why the ketogenic diet helps to[*]:
Being sensitive to insulin is paramount to health. It prevents insulin resistance, which is a precursor to type 2 diabetes, obesity, and non-alcoholic fatty liver disease.
#3: Triggers Burning of Stored Body Fat 
The keto diet is extremely effective for fat loss because it resets your body's enzymatic machinery to burn fat for fuel instead of glycogen. This means your cells run on stored fat, so you can lose weight faster and easier[*].
#4. Accelerates Weight Loss 
Research finds keto is one of the most effective weight loss strategies both in the short-term and long-term. A recent review found that people on a ketogenic diet achieve greater weight loss in the long-term compared to people following a conventional low-fat diet[*].
Evidence suggests that even when the total caloric intake is the same, the keto diet is superior for weight loss compared to low fat diets[*].
As you can see in the graph, a very low-carb, ketogenic diet produced the greatest fat loss and weight loss in both men and women: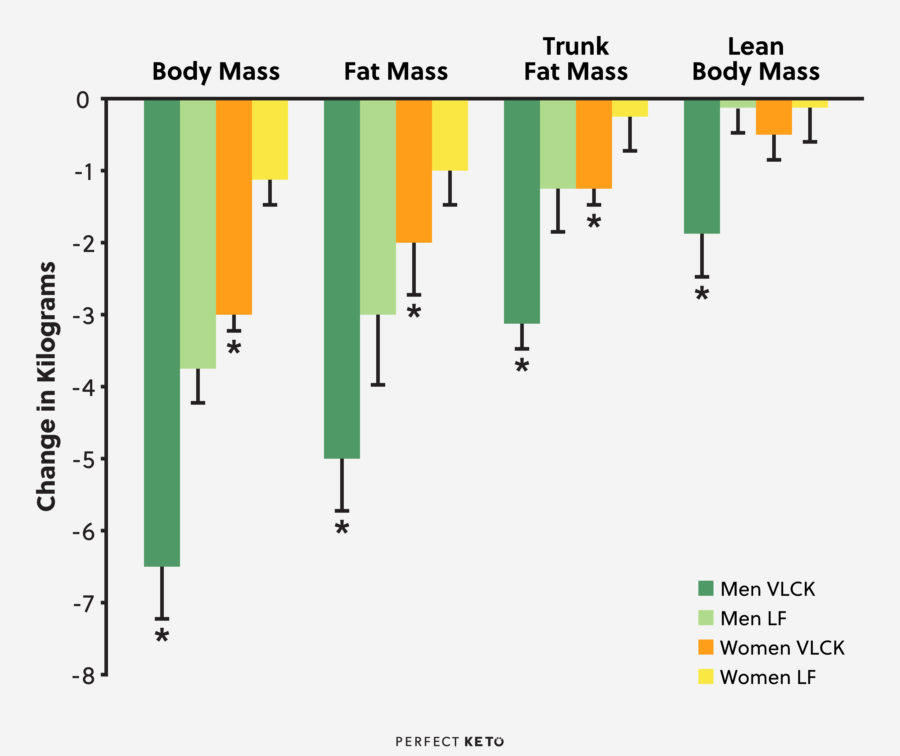 #5. Boosts Exercise Performance 
Bodybuilders preparing for competitions, athletes, and casual gym-goers alike opt for the keto diet to get better performance results in the gym.
Here are some of the advantages of working out while following a ketogenic diet:
Ketone-made ATP

releases more total energy

than glucose-made ATP, so you have more available energy to power through your workout[

*

].

Because your body is using fat and not glucose, glycogen reserves fill up faster, which boosts recovery[

*

].
Not only that — when you exercise on keto, you only lose fat, not muscle. A recent study showed that Crossfit athletes were able to lose an average of 7.5 pounds and 2.6% body fat in just 6 weeks while maintaining muscle mass and increasing their performance[*].
#6. Improves Brain Health 
Since ketone bodies easily cross the blood-brain barrier, your brain can use them efficiently for energy, leading to sustained mental performance and long-term neurological protection against diseases such as Alzheimer's, Parkinson's, epilepsy, and neurodegeneration[*].
Ketones can do wonders for your mental health and brain function, including[*][*]:
Preserving neurons and synapses, which improves memory, focus, attention, and learning

Lower neuroinflammation

Improved cognition in people with dementia
#7. May Increase Lifespan 
Ketosis triggers mechanisms that can help extend your lifespan. One of them is improved gene expression. Ketosis unlocks genes that fight oxidative stress and regulate metabolism, which boosts longevity[*].
The other one is mitochondria protection. In the process of making ketones like BHB, many antioxidants are created in your mitochondria and dangerous oxidants are suppressed, which protects your cells against disease. This means keto triggers a powerful antioxidant effect that simply doesn't happen when you're running on glucose[*].
#8. Optimizes Heart Function
Ketosis is good for your heart. Ketones have antioxidant effects on the lining of your blood vessels, can boost circulation, and improve the efficiency of your heart. Studies found the mechanical efficiency of the heart increased by 30% and blood flow increased by 75% when running on ketones[*][*][*].
#9. Prevents Multiple Diseases 
Ketones have major antioxidant and anti-inflammatory effects that can prevent the onset of degenerative and chronic diseases like[*][*][*][*][*][*]:
Alzheimer's Disease

Parkinson's Disease

Cancer 

Type 2 diabetes

Obesity

Heart disease
It's especially helpful at fighting and preventing tumors because cancer cells rely on glucose to thrive while ketones impair their growth. 
The tricky aspects of the ketogenic diet have to do with tracking, food choices, and the initial fat adaptation. 
Drawbacks of the Keto Diet 
To reach the right ketone levels, you have to hit specific keto macros. On keto, you will focus on getting the bulk of your calories from healthy fats, including coconut oil, avocado, olive oil, nuts, and seeds, and full-fat dairy. You will also eat plenty of leafy green veggies and moderate protein. 
And while this all sounds well and good, it does come with a few drawbacks, including:
Fat Adaption Period
Simply eating a lower carbohydrate diet isn't enough to enter ketosis, as your body needs a specific fat intake (70-80% of daily calories) and carb intake (5-10% daily calories). This can prove challenging for beginners, especially those coming off a Standard American Diet (SAD).
Keto Flu
A possible side effect soon after starting the ketogenic diet is the keto flu. As your body makes the switch from glucose to fats, you might experience flu-like symptoms including headaches, mental fog, body aches, and low motivation. It doesn't happen to all people, and when it does it lasts no more than a few weeks.
Luckily, there's a way to avoid the keto flu altogether. You can take exogenous ketones to get into ketosis quickly and bypass the fat-adaptation period. They will act just like body-made ketones and let you reap the benefits of ketosis from day one.
If you really want to up your keto game, studies find that mixing exogenous ketones with MCT oil boosts ketone levels even more.
The Atkins Diet
The Atkins Diet began a media storm in the early 1990s, prompting men and women alike to follow its low-carb regime for supposedly effortless fat loss and better health.
The diet was proposed by Dr. Robert Atkins, an American physician and cardiologist. In 1963, he discovered that reducing carbohydrate intake triggered weight loss without significant hunger, and he went on to publish his findings and diet advice in the now-famous book Dr. Atkins' Diet Revolution[*].
The current Atkins diet is now divided in two styles:
The standard Atkins diet called Atkins 20, which limits more carbs and is designed for people with more than 40 pounds to lose.

A new liberal version called Atkins 40, which allows more carbs and is designed for people with less than 40 pounds to lose.
Benefits of the Atkins Diet
The Atkins Diet is one of the most popular low-carb diets which claims you can lose fat quickly by eating as much protein and fat as you want while avoiding high-carb foods. The diet claims to have been proven in over 80 clinical studies.
Atkins delivers on its weight-loss claims because its low-carb, high-protein approach makes your body switch to fat-burning mode, so you experience accelerated fat loss.
However, these benefits are short-lived because the diet slowly introduces more carbs as it progresses. The diet is divided into four phases:
1: This extremely low-carb (20-25g carbs/daily) phase kickstarts weight loss because the body enters fat-burning mode. Note the daily carbs are the same as in a ketogenic diet.

2: Here, people eat moderate amounts of carbs (25-50g carbs/daily). People find out how many carbs they can tolerate while losing weight. 

3: People continue to reintroduce carbs into their diet (50-80g carbs/daily). This is meant to stop weight loss as you're reaching your goal weight. At this level of carbs, most people are burning glucose.

4: Individuals eat abundant carbs (80-100g carbs/daily). This is a maintenance stage.
As you can see, the steady increase in carbs means you're only in a fat-burning state for a short period of time.
Cons of the Atkins Diet
There are two problems with the Atkins diet: the phase approach and the food philosophy.
Problems With the Phase Approach
The Atkins Diet is a short-term weight loss effort, not a lifestyle, so your chances of making long-lasting changes are slim. The steady re-introduction of carbs after an accelerated weight-loss period increases the likelihood of gaining your weight back.
This approach also emphasizes weight loss over other measures of health.
Issues With the Food Philosophy
While the keto diet focuses on eating real, whole foods, the Atkins diet does not discourage processed foods. In fact, Atkins offers a complete line of packaged snack bars, meal replacement shakes, and frozen meals. Atkins does not discourage from eating processed foods, as long as they are low in carbohydrates.
Atkins vs. Keto: Which is Better?
Keto is a lifestyle that changes your metabolic fuel and has many health benefits including — but not limited to — weight loss, while Atkins is mainly a short-term weight loss plan. 
There is plenty of overlap between the two diets, as both are low-carbohydrate diets seeking to eliminate entire food groups, including starchy vegetables, whole grains, and other foods that would spike your blood sugar levels.
To recap what you learned above:
Ketogenic Diet Pros 
On keto, you switch to burning a more efficient metabolic fuel (ketones) for energy. This can have powerful antioxidant and anti-inflammatory effects that fight and prevent disease. Other benefits include: 
Leads to efficient fat loss while preserving muscle mass.

Improves exercise performance both in endurance and resistance training.

Increases mental performance and protect your brain against neurodegeneration.

Can increase your lifespan and quality of life.

Keeps blood sugar under control.

Scientific evidence supporting other benefits of ketosis for therapeutic purposes, athletic performance, and overall health continues to emerge.
Keto Diet Cons
While the keto diet comes with many health benefits, there are a few drawbacks, including: 
A low-carb, keto diet can feel somewhat restrictive at first

You have to monitor your food closely, count

macros

, and

measure ketones

in the beginning

Possibility of keto flu if you don't take

exogenous ketones
For more information, be sure to read What Is the Ketogenic Diet? and What Is Ketosis?
Atkins Diet Pros 
The Atkins diet is similar to the keto diet only during the induction phase, where the dieter follows similar nutrient ratios as in the ketogenic diet. 
This induction phase on Atkins sets carb intake at roughly 20–25 grams per day, which triggers fat burning in the body instead of using glycogen (glucose stores) for energy. This comes with several benefits, including: 
Easy to follow because you can eat plenty of carbs in the later phases

Quick fat loss in the early phases

Reduces hunger and cravings
Atkins Diet Cons 
Atkins allows dieters to introduce more carbohydrates (albeit still a very limited quantity) once the initial phase is over. In phases 2, 3, and 4 people go from eating 25 grams to 100 grams of carbs a day, which puts them into a glucose-burning mode. This comes with several drawbacks, including: 
Possibility of weight gain after the initial phase

No mental or physical performance benefits

Doesn't help create metabolic flexibility
Keto vs. Atkins: Which Is Better?
At face value, the keto diet and Atkins appear to be similar, since they both focus on eating a low-carb diet — and that's where people get confused. But as you now know, there are several key differences in approach and outcomes from each.
The main difference between the two is the fact that the ketogenic diet is a precise way of eating that changes your metabolic state. In the metabolic state known as ketosis, you begin to use ketones (rather than glucose) for energy. 
Although it requires you to track food and ketone levels, the keto diet is worth pushing through because the scientifically-backed benefits are so amazing. 
Plus, you can mitigate the side effects of temporary keto flu by getting more electrolytes, consuming enough fat to fill you up, and taking some delicious exogenous ketones for some extra energy.
While the Atkins diet is easy to follow, it falls short both on weight loss and health benefits. when compared to the more effective ketogenic diet.
So, if you're wondering whether to hop on keto or Atkins, it's pretty clear that ketosis offers long-term health benefits that include and go beyond fast and effective weight loss. Are you ready for your keto-friendly eating plan?
Check out this comprehensive guide for keto beginners.