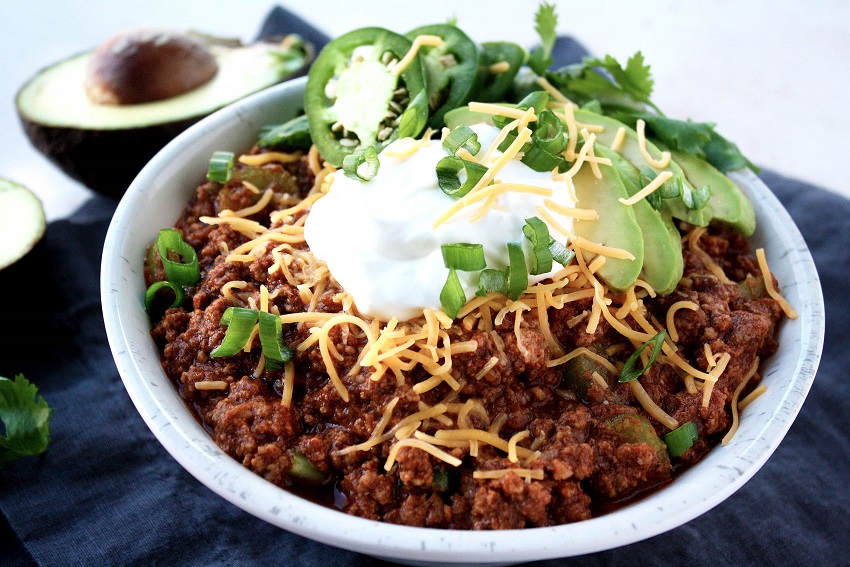 There's almost nothing more satisfying than a big bowl of chili on a cold winter day. And this low-carb chili recipe will be your favorite comfort food for any evening you want to warm up with a hot, delicious meal.
This isn't just any chili — it's keto-friendly, low-carb chili. This means it has all the same taste and satisfaction of traditional versions while still being low in net carbs and loaded with healthy fats.
By leaving out the beans and adding nutrient-dense ingredients like beef broth and grass-fed ground beef, you get all the flavor while keeping your carb count low.
This keto chili is deliciously satisfying and low-carb, and takes a total time of just 10 minutes to simmer on the stovetop. Plus, it's easy to make in batches and store, cutting down on your meal prep time throughout the week.
If this is your first time making chili, you'll love this incredibly versatile recipe. While this recipe calls for the chili prepared in a Dutch oven on the stovetop, you could easily use a slow cooker or Instant Pot — two great kitchen tools for a hectic lifestyle.
Using an Instant Pot results in shorter cook time, while whipping up a Crock-Pot chili allows for the flavors to deeply marinate. Cook the ground beef until browned, then transfer to a Crock-Pot for an easy "set it and forget it" meal.
How Do You Make Low-Carb Chili?
If you check out the nutrition facts, this bowl of low-carb, no-bean chili contains just 5 grams of net carbs, making it a filling meal. For extra flavor (and another dose of healthy fats), you can add a dollop of full-fat sour cream on top.
What do you need to make this gluten-free keto chili recipe? Some of the main ingredients include:
Two pounds of ground beef (preferably grass-fed)
Two cloves of garlic and other seasonings
While almost all chili recipes are gluten-free, they still rank high in carbs. A cup of homemade chili with beans can include upwards of 29 grams of total carbohydrates. Even with the added dietary fiber, you're still looking at 22 grams of net carbs[*].
As with most keto recipes, you can still enjoy the foods you love, with a few swaps in ingredients. In this easy low-carb chili recipe, you leave out the beans and swap in veggies and ground beef. This gives you the same thick, meaty bowl of chili you crave without the extra carbs.
Why Are Beans Not Allowed on Keto?
People who follow a plant-based diet typically view beans as a protein source. However, when you take a hard look at the nutrition data, the protein (and fat, for that matter) are relatively low.
On a keto diet, roughly 70-75% of your calories should come from fat, 20-25% from protein, and just 5-10% from carbohydrates. If you look at the nutrition info for legumes below, you'll see beans have a high-carb, moderate-protein, and very low-fat composition — the exact opposite of what you want on keto. This is why legumes (or beans) are typically not found in low-carb recipes.
If you follow a 2,000 calorie-per-day diet, 5% of your daily calories equals 25 grams of carbs. But kidney beans, a common ingredient in most chilis, contain a whopping 18.5 grams of carbohydrates — leaving you with just 6.5 grams of carbs for the rest of the day.

Making No-Bean Chili Without Sacrificing Flavor
Here's one thing to keep in mind when whipping up a batch of low-carb chili: Beans are the filler, not the flavor. A batch of chili without chili powder, cumin, and red pepper is simply a bowl of kidney beans soaked in tomato sauce.
While legumes are not keto-friendly, spices and seasoning fit perfectly within a low-carb diet. (As long as they don't have any added sugars or additives.) Plus, they contain quite a few nutritional benefits.
Chili peppers contain a compound called capsaicin, which might prevent cancer, fight viruses, and aid in metabolic function[*]. If you've ever heard it's good to eat spicy foods on a lower calorie diet, this is why. In one study the addition of cayenne pepper increased diet-induced thermogenesis in foods, or the energy expenditure required to digest certain foods[*][*].
Why It's Important to Use Grass-Fed Beef in Chili
When consuming meat, the source always matters. In this particular recipe, use grass-fed beef instead of grain-fed beef to get the most nutrients possible. While some people purchase grass-fed beef for environmental reasons, the health benefits are undeniable. Grass-fed beef (compared to grain-fed beef) is:
A significant source of CLA
Safer for consumers
Free of hormones
A lower-calorie alternative than grain-fed beef
For more information, check out this full list of the health benefits of grass-fed beef.
#1: Significant Source of CLA
Grass-fed beef is a significant source of CLAs (conjugated linoleic acids), which have been researched quite extensively because of their association with the prevention and treatment of cancer as well as obesity, diabetes, and cardiovascular disease[*].
CLA might also help regulate blood sugar levels, one goal of ketosis. In one study, 37% of the people who were given CLA demonstrated better insulin sensitivity over those who weren't given CLA[*].
#2: Safer for Consumers
Choosing beef from grass-fed cows instead of grain-fed cows can reduce your risk of food poisoning and other negative health effects associated with cows on a grain-fed diet. Conventionally raised cows have been shown to have a higher risk of bacteria overall, and especially bacteria resistant to antibiotics[*].
#3: Free of Hormones
Grass-fed beef is free of hormones and antibiotics. Cows on a conventional diet of grain are typically given hormones to increase their weight, therefore increasing the amount of meat they produce.
Grain-fed cows are also fed an alarming amount of antibiotics to keep them from catching the diseases that spread quickly in the confined spaces they live in.
#4: Lower-Calorie Than Grain-Fed Beef
Grass-fed beef typically has fewer calories per serving than grain-fed beef. Because the cows were not given growth hormones, it's typically a leaner cut of beef. You also get more nutrients out of those calories — grass-fed beef contains more E and A vitamins and has a more nutritious fat profile[*].
Grass-fed beef has a higher omega-3 to omega-6 ratio than grain-fed beef[*]. While both omega-6 and omega-3 fatty acids are keto-friendly fats, consuming too many omega-6 fatty acids can be inflammatory.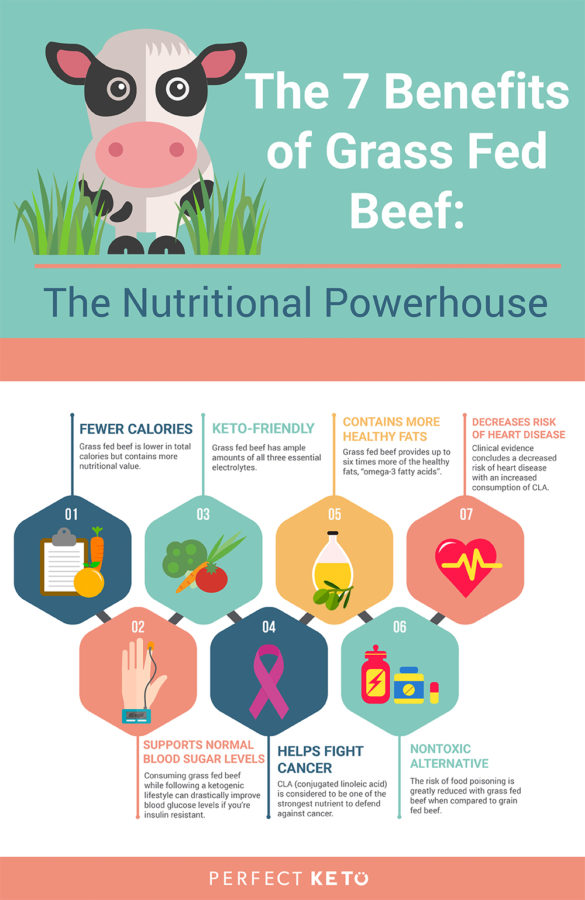 Customize This Versatile Low-Carb Chili to Suit Your Tastes
This low-carb beef chili fits perfectly within any keto meal plan. Feel free to customize with other keto-friendly ingredients to fit your tastes, or experiment using a slow cooker.
You can try swapping out ground turkey for beef or topping the chili with bacon bits. You can mix a can of fire-roasted diced tomatoes or tomato paste in with your sauce for an even thicker texture.
If you prefer a fiery chili, toss in some diced green peppers or red pepper flakes. Finally, consider adding other veggies and spices, such as zucchini, oregano, taco seasoning, bell peppers, or cauliflower rice. Or, add an extra dash of Worcestershire sauce or black pepper for more kick.
When you're shopping for your low-carb chili ingredients, make sure you're only getting the highest quality food to reap all the benefits from the food you enjoy.
Print
Low-Carb Keto Chili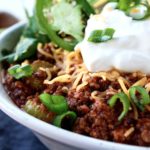 This keto chili recipe is the ultimate comfort food. Hearty, filling, and delicious, it has only 5 grams of net carbs.
Author:
Prep Time:

5 minutes

Cook Time:

30 minutes

Total Time:

35 minutes

Yield:

6

1

x
Category:

Dinner

Cuisine:

Asian
Instructions
In a large pot, heat avocado oil over medium heat. Add chopped celery and saute until softened, about 3-4 minutes. Transfer celery to a separate bowl and set aside.
In the same pot, add beef and spices and brown until cooked throughout.
Lower heat to medium-low, add tomato sauce and beef bone broth to cooked beef, and simmer covered for 10 minutes, stirring occasionally.
Add celery back to pot and stir until incorporated well.
Garnish, serve, and enjoy.
Notes
Optional garnishes: sour cream, cheddar cheese, sliced jalapeno, cilantro, or green onion.
Nutrition
Serving Size:

1 cup

Calories:

359

Fat:

22.8g

Carbohydrates:

6.7g (5.2g net)

Protein:

34.4g
Keywords: low carb keto chili