Low carb or gluten free cookies with great flavor can be hard to find at your local grocery store. But, you can still indulge in decadent desserts with a great low carb, keto-friendly chocolate chip cookie recipe.
This recipe for keto cookies has only 1.9 grams of net carbs per serving, so you can enjoy this chewy, low carb treat without the guilt.
If you're following a ketogenic diet, you can enjoy a few of these treats without kicking yourself out of ketosis. Here's what you'll need to prepare this delicious chocolate chip cookie recipe.
Why Cook With 100% Cacao?
Instead of baking with traditional chocolate chips, substitute a low carb chocolate cacao baking bar. It is a great healthy alternative that touts more benefits than regular chocolate — and is even healthier than dark chocolate.
The higher the percentage of cacao, the better, so read the nutrition label. The taste may be a bit bitter on its own, but the cacao combined with a natural sweetener such as stevia or monk fruit will provide a sugary kick in this recipe for keto cookies.
What Are the Health Benefits of Cacao?
Cacao is one of nature's greatest natural low carb, keto friendly foods. It has an excellent taste, a high nutritional value and offers many health benefits, including:
Serving as a great source of magnesium

Providing rich amounts of manganese

Supplying an excellent source of copper
Why Include Magnesium in My Cookie Recipe?
Magnesium is a mineral found naturally in many foods such as green leafy vegetables, whole grains and fiber-rich foods. Cacao is one of the top magnesium-rich sources available. Magnesium plays a large role in several essential functions in your body. Over 300 biochemical reactions rely on magnesium for proper function.
Magnesium is required for your body to produce energy. It improves nerve function and helps regulate your blood glucose levels. Magnesium aids in protein synthesis, bone and muscle development and maintaining healthy blood pressure[*].
Why Manganese Matters
Manganese is essential for building strong bones and is a part of many enzymes that help metabolize the food you eat on a daily basis. These enzymes help form healthy connective tissue.
Manganese plays a vital role in the health of your bones, liver, pancreas and kidneys. This mineral helps keep your bones strong, regulates blood-clotting factors and reduces the effects of premenstrual syndrome.
Why You Should Add Copper to Your Keto Cookies
As a trace mineral, your body requires small amounts of copper. But, copper serves as a critical component in several body functions and provides health benefits.
Copper helps produce hemoglobin in your body. Hemoglobin helps your body generate more red blood cells in your bone marrow and spleen, transporting fresh oxygen throughout your body. In addition, consuming enough copper can aid in the treatment of osteoporosis and anemia.
Copper also partners with vitamin C to produce elastin, helping build strong muscle fibers. Like manganese, copper also helps promote healthy connective tissue.
If you're worried following a ketogenic diet will leave you feeling deprived of your favorite desserts, think again. With these sweet, chewy chocolate chip cookies, you can enjoy your favorite treats, stay on track and hit your health and wellness goals.
Satisfy your sweet tooth, keep your net carbs low and stay in ketosis with these keto cookies. Ready to make a dozen or so? Roll up your sleeves and get started with this great recipe.
Print
Chocolate Chip Keto Cookie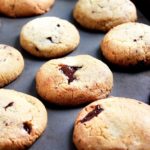 Look, sometimes you just cookies to satisfy your sweet tooth. This is the #1 recipe for soft, delectable, low carb keto cookies.
Author:
Prep Time:

10 minutes

Cook Time:

20 minutes

Total Time:

25 minutes-30 minutes

Yield:

20

1

x
Category:

Dessert

Cuisine:

American
Instructions
Line two baking sheets with parchment paper and preheat oven to 350 degrees.

In a medium-sized bowl, using a hand mixer, mix together coconut oil and butter. Once combined, add eggs and vanilla extract and continue to mix with hand mixer.
In the same bowl, add monk fruit sweetener, baking soda, cream of tartar, and salt. Mix using hand

mixer until well-combined.

One cup at a time, add almond flour and mix together with hand mixer.
In a bowl, microwave chocolate pieces in 15 second

increments until just barely soft. Transfer chocolate to

plastic

baggie and carefully break pieces apart using a rolling pin or the bottom of a hard object. Pour chocolate pieces into

bowl

of dough and fold in until combined.

Form dough into balls and lightly press down and place on prepared cookie sheets, allowing plenty of room in between cookies for dough

to spread during

baking

process.

Bake cookies for 18-20 minutes, until edges are golden brown.
Remove from oven and allow to cool completely before serving. Enjoy!
Nutrition
Calories:

191

Fat:

18g

Carbohydrates:

11.5g (1.9g net)

Protein:

4.3g
Want to reduce your total carb intake with great recipes that help you meet your goals? Visit Perfect Keto online to download our keto recipe book, browse our extensive recipe library and shop for products that will set you up for success.
Don't waste time searching for your next keto diet resource. Sign up for the Perfect Keto newsletter to get low carb keto recipes, helpful resources and these ketogenic diet guides delivered straight to your inbox.