Are you over chicken recipes and slow cooker dinners? These may be the easy way out when you're making your family a standard weeknight meal, but there's an easy way to step up your culinary game: a classic pork loin roast.
If your dinner routine is getting stale, mix it up with the other white meat — the beloved boneless pork loin.
Pork recipes are always a favorite at dinner parties: pork shoulder, pork chops, and of course — pork roast. But they don't get as much love outside of social occasions.
Not anymore.
This delicious three-pound roast recipe makes enough to feed an army, so if it's just for you and a small group feel free to divide the recipe in half.
Fresh rosemary makes a beautiful decoration, so if you're headed to the grocery store be sure to pick up a few sprigs to finish off the meal.
This pork loin recipe is
Juicy
Rich
Delicious
Savory
The main ingredients in this roasted pork loin are:
The Health Benefits of this Pork Loin Roast
#1. Boosts Cancer Defenses
As you probably already know, garlic is a miracle ingredient for heart health and inflammation. Research has uncovered many health benefits of garlic, but perhaps most impressive of all is its potential effect on cancer cells.
In one study, researchers examined the effect that garlic had on lung cancer cells and found that a compound in garlic was able to induce cell death in the cancerous cells[*].
This is just one of many studies calling out garlic as a potential anti-cancer agent[*][*][*].
#2. Supports Muscle and Skeletal Health
Eating enough protein is essential for your muscle and skeletal health, and this recipe naturally provides a boost in protein with pork being the main ingredient.
Protein is vital for physical strength and mobility. It helps build new muscle mass, can help repair damaged muscles after physical activity, and is essential for bone strength[*][*].
#3. Promotes Mental Health and Brain Function
Rosemary has been widely researched for its ability to improve brain health, as well as memory and recall[*][*].
Antioxidants and anti-inflammatory compounds in rosemary may even benefit people suffering from Alzheimer's disease. These compounds seem to inhibit the death of brain cells, which give them neuroprotective properties[*].
Keto Garlic and Herb Pork Loin Roast
With some fresh rosemary, garlic, kosher salt, and ground black pepper, you're on your way to a timeless pork loin recipe that everyone will love. Use your favorite roasting pan, so it soaks up all the delicious juices as it cooks.
Just preheat your oven 375 F. While your oven is preheating, add the pork loin to roasting pan.
In a small bowl, add the mustard, kosher salt, black pepper, rosemary, garlic powder, and garlic and mix until well combined. Use this mixture to pat and coat the pork loin.
Roast pork loin for 60-75 minutes or until it has reached an internal temperature of 150-160 degrees when using a meat thermometer.
This delicious meal can be paired with a side of cauliflower mac and cheese and finished with a decadent mocha truffle.
Print
Keto Garlic and Herb Pork Loin Roast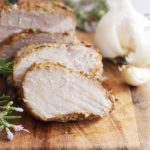 Pork loin roast makes the perfect weeknight meal or main course at a holiday dinner. Learn to cook pork tenderloin correctly with fresh rosemary and garlic and you might never go back to pork chops.
Author:
Cook Time:

60-75 minutes

Total Time:

1 hour 30 minutes

Yield:

16

slices

1

x
Instructions
Set your oven temperature to 375°F and allow it to preheat. Add pork loin to baking dish.

Mix mustard, salt, pepper, rosemary, garlic powder, and garlic in a small bowl. Coat pork with mixture.

Cook pork for 60-75 minutes or until it has reached a temperature of 150-160 degrees when using a meat thermometer. The pork should be golden brown.
Nutrition
Serving Size:

2 slices

Calories:

202

Fat:

6g

Carbohydrates:

1g

Fiber:

0g

Protein:

34g
Keywords: Pork Loin Roast