Sometimes — especially when you're just starting out on a keto diet — you need a quick hit of fat to fill you up. Rather than drinking heavy whipping cream or chomping on sticks of butter, the smart keto dieter makes fat bombs.
Fat bomb recipes are a cornerstone of any low-carb keto diet. When that sweet craving hits, you need to be prepared or you might find yourself knee-deep in a bag of peanut butter cups.
The ketogenic diet is all about cutting carbs, but that doesn't mean you shouldn't indulge in keto desserts now and then.
And what better way to indulge than with these rich, delicious, gluten-free, caramel cheesecake fat bombs? This no-bake recipe makes it super easy to whip up a fresh batch with a prep time of only 10 minutes.
And when you're craving something filling, but don't have time for a full meal, this low-carb recipe also makes for an easy keto snack.
These salted caramel fat bombs are:
Rich
Sweet
Decadent
Satisfying
The main ingredients in these keto fat bombs are:
Optional additional ingredients
3 Health Benefits of Salted Caramel Cheesecake Fat Bombs
#1: Supports Heart Health
Heart disease is the number one killer in the United States. And a ketogenic diet might help.
In the past, full-fat dairy was demonized for being bad for your heart. Scientists claimed that it was inflammatory and the saturated fat present in most dairy products would lead to high levels of cholesterol, and ultimately result in heart disease.
Luckily, these claims have been dismantled quite a bit, and a new view on saturated fat has taken hold in the health and wellness community.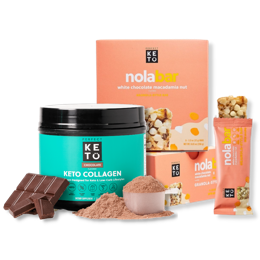 Browse our curated collection of fan-favorites and discover your new favorite snack or supplement.
Shop Best Sellers
In fact, full-fat dairy (like the cream cheese in this recipe) may even benefit markers of heart disease.
Dairy is packed with nutrients. And because many vitamins and minerals need fat as a cofactor, full-fat dairy is also an excellent delivery system[*].
And don't forget to add the vanilla extract to these salted caramel cheesecake fat bombs.
Along with many other health benefits, vanilla has been shown to support heart health by lowering a specific type of cholesterol — VLDL (very low-density lipoprotein).
VLDL is made up of more triglycerides than LDL (low-density lipoprotein), and these triglycerides may contribute to the plaques associated with heart disease[*].
One rodent study found that vanillin, a compound in vanilla, was able to lower the number of triglycerides and VLDL cholesterol in the serum of rats with high cholesterol[*].
#2: Boosts Mental Health
Another surprising benefit of vanilla is its potential to boost mental health.
When researchers tested vanillin against fluoxetine (a common antidepressant medication) in rats, the results showed that vanillin was just as effective at treating depression as the pharmaceutical drug[*].
Emerging evidence is linking symptoms of depression to inflammation in the body — a concept called the "inflammatory model of depression"[*].
Reactive oxygen species (ROS) that are created when your body undergoes oxidative stress are one of the major causes of inflammation in your brain and body.
Monk fruit has been shown to have potent antioxidant and anti-inflammatory properties, which may contribute to calming inflammation[*][*].
#3: Assists Weight Loss
MCT fatty acids may help support weight loss. Both humans and animals show an increase in energy expenditure after consuming MCTs. And because this form of fat is used preferentially,  your body doesn't store it as fat[*].
MCTs may also assist in balancing your gut bacteria, which is great for overall gut health.
And since there's a strong correlation between gut-health and weight management; MCTs may help fight obesity[*].
It should come as no surprise that keeping your sugar intake low will help you shed extra weight. This is just one of the reasons monk fruit replaces sugar in so many keto recipes.
However, monk fruit isn't just a sugar replacement — it has its own beneficial properties that may specifically enhance your weight loss efforts.
One study even found that a compound in monk fruit — mogrol — may inhibit the maturation of pre-fat cells into mature fat cells. In other words, monk fruit may inhibit your body from increasing its fat cell mass[*].
Salted Caramel Cheesecake Fat Bombs
You've never had a fat bomb quite like this before. Bookmark this page because you're going to want to keep this as one of your favorite keto recipes.
The Internet is crawling with chocolate fat bomb recipes and peanut butter fat bombs, but these caramel cream cheese fat bombs are unlike anything you've tried before.
High-fat, low net-carb, and bursting with flavor, this sugar-free recipe is a keto dream.
Print
Salted Caramel Cheesecake Fat Bombs
These salted caramel cheesecake fat bombs are high fat, low carb, sugar-free, gluten-free, and delicious. This fat bomb recipe just gave your ketogenic diet an upgrade.
Author:
Prep Time:

10 minutes

Total Time:

40 minutes

Yield:

12

fat bombs

1

x
Instructions
In a small-medium pot over medium-low heat melt the cream cheese and coconut butter together.

Add the mixture plus the remainder of the ingredients into a high-speed blender or hand mixer, blending until everything is well-combined.

Evenly fill a 12-cup lined muffin pan.

Place in the freezer for 30 minutes.
Nutrition
Calories:

238

Fat:

16g

Carbohydrates:

7g (3g net)

Fiber:

4g

Protein:

5g
Keywords: Salted caramel cheesecake fat bombs