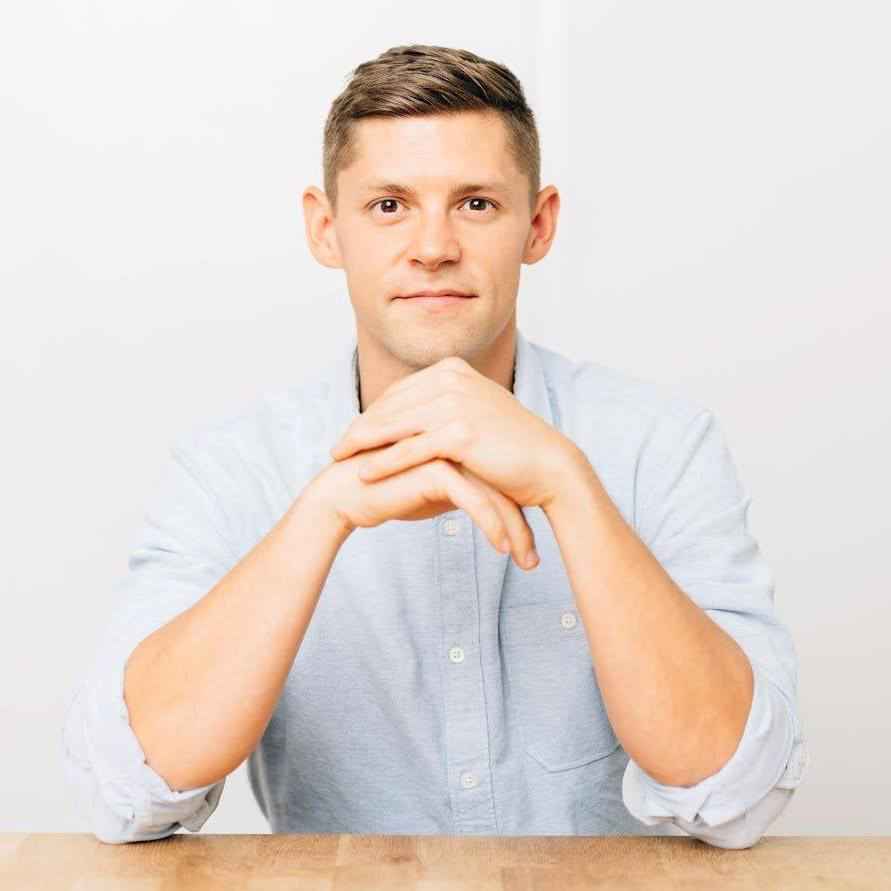 Dr. Anthony Gustin is a board-certified sports chiropractor, functional medicine practitioner, entrepreneur, podcast host, and founder of Perfect Keto.
on November 5, 2018
When diet is wrong, medicine is of no use. When diet is correct, medicine is of no need. -Ayurvedic proverb
We've all heard cliches like "you get what you pay for" or "there's no such thing as free lunch." At the same time, it completely makes sense to have a keen eye for value and discern what is important to you and how to spend your money. Beta-hydroxybutyrate ketones are new to the health and wellness space, and there is a huge buzz about them, for good reason. With nothing else to compare them too, it sometimes causes some "sticker shock" to those who aren't aware that ketones are an expensive substance. This article is to briefly explain why exogenous ketones are expensive and show a one-minute test to see if using exogenous ketones will actually save you money on top of the litany of benefits from being in ketosis.
In a broader view, the cost of being healthy in general can be pretty pricey. Supplements are expensive. Gym memberships cost an arm and a leg. Exercise classes can run 30$ a pop. Vegetables cost more than chips. As a case study, let's take a look at the four main reasons exogenous ketones are expensive but keep in mind that what we are really talking about is the question, why does it cost so much to make healthy choices?
Why Exogenous Ketones Are Expensive
Drilling down into the case study of exogenous ketones. It's worth mentioning that the price tag of ketones is one of the top problems Perfect Keto solves. It's our mission to make ketosis accessible to everyone who wants it, all the time. To do this, it was a priority to make exogenous ketones accessible and affordable. Ketones are notoriously beneficial, but also wildly expensive, or they taste horrible, or they are terrible quality. Perfect Keto navigated four main hurdles to deliver a ketone product that is affordable and palatable.
Beta-Hydroxybutyrate (BHB) is a new product – Everyone has heard of protein and pre-workout powders, etc. They are ubiquitous. The reason BHB is not widely known is because it's an extreamly new product, in its infancy and on the cutting edge of nutritional supplements.
BHB is hard to make and source – Beta-Hydroxybutyrate does not grow on trees. The process to source, purify and isolate BHB is highly labor intensive.
Perfect Keto BHB is made in the United States – Perfect Keto is all about quality. We don't want to put anything in our bodies that isn't helpful, and we don't want to provide a sub-optimal product. Our quality standards are outrageously high, and that means we are painstaking about every phase of sourcing and producing the best ketogenic nutritional supplements.
Research and Development – Think about pharmaceutical companies that charge outrageous prices for their new name brand drug. The reason is because they have sunk millions of dollars into research and development over the years behind the scenes. R&D costs for BHB drive up the price of every step of the supply chain.
Not all exogenous ketones are the same. See our guide to ketone supplements. Here is a quick summary of the specific problems Perfect Keto solves.
What to Expect from Perfect Keto Exogenous Ketone Base
Accessibility
Base is a completely clean product. It does not contain any soy, dairy, gluten, artificial sweeteners, binding agents, or anything that doesn't directly improve your health.
Base tastes good (some say delicious, some say palatable). Exogenous ketones taste notoriously awful but Perfect Keto comes in Chocolate, Peaches, Salted Caramel, and Vanilla flavors that go great in almost any beverage, coffee or smoothie you can dream up.
Low GI Distress
Perfect Keto uses only the highest quality salts, sourced in the United States, in just the right amounts so that the exogenous ketones are easy on your digestive system.
Affordability
Perfect Keto exogenous ketones are cheaper than the standard price on the market today. We want ketosis to be available to everyone.
Doctor-Developed and Recommended
Our founder is a functional medicine clinician who developed our unique formula for maximum efficacy.
Big Takeaway: Make no mistake, if you are buying "ketones" that are inexpensive they are either sourced from god-awful locations, or they are jam-packed with fillers, or they are not real ketone products and they are just being marketed as "ketogenic." See Raspberry Ketones.
But what can you expect to gain from exogenous ketones? That's the whole point of buying and drinking them right?
Why Exogenous Ketones Carry a Return on Investment
With any purchase we make, we are (usually unconsciously) making an assessment of the return we will receive and if it is worth it to us. Exogenous ketones are no different and they carry a very interesting return on investment. We call it the Return on Ketosis (R.O.K.). There are two types of return we can expect, intangible (non-quantifiable) and tangible (quantifiable).
Intangible Exogenous Ketone Return
The simplest way to say the benefit is that exogenous ketones get you into ketosis. Being in a metabolic state of ketosis carries the following intangible and perhaps difficult to quantify benefits:
Mental
Heightened focus
Improved ,ental clarity
Accessing clean burning, constant source of energy, instead of peaks and valleys of glucose
Physical
Triggers ketosis
Increased fat-burning
Boost energy for exercise
Increases satiety and feeling full
Psychological
Sense of well-being
Emotional balance
Disease Prevention
Ketosis induces improved autophagy and apoptosis, where your body purges dead or underperforming cells to allow for new growth. This has innumerable benefits relating to disease prevention and longevity.
Tangible Exogenous Ketone Return
These benefits all sound great! But again, they are hard to quantify and can be considered intangible returns on investing in a quality ketogenic lifestyle. Let's look at the brass tax: dollars and cents. Are ketones worth it to our wallets?
Disclaimer: Everyone's "Return on Ketosis" will be unique. The following ledger graphic describes a common use case many Ketonians describe: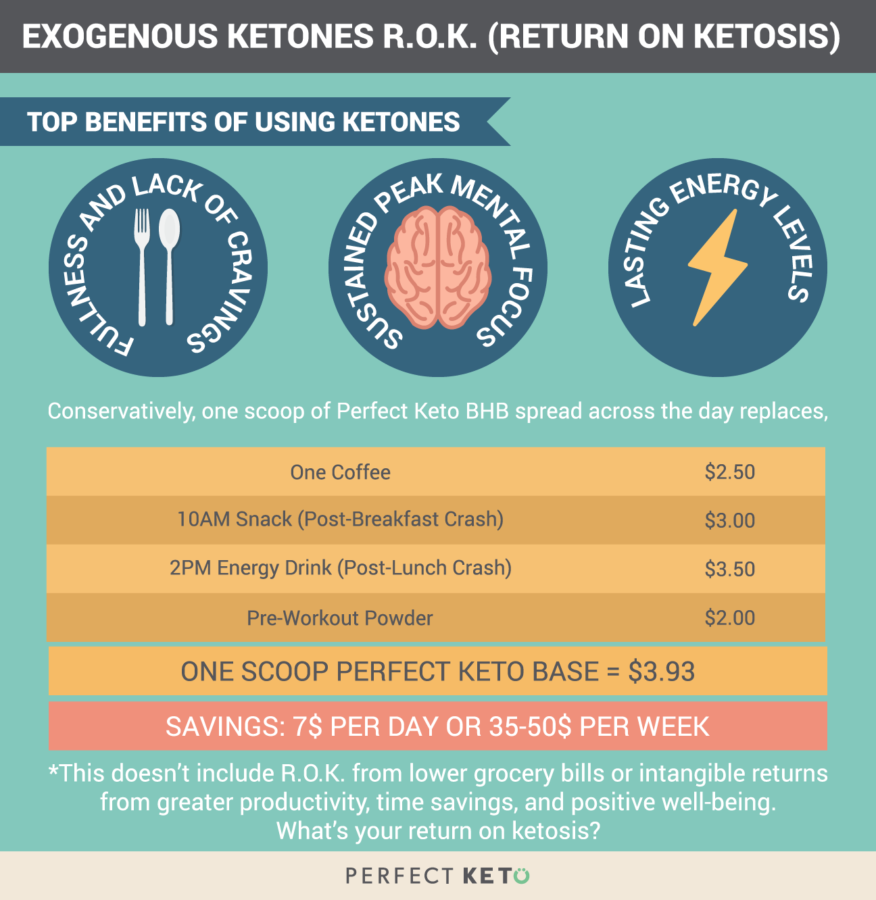 PK Challenge: What is your Return on Ketosis? Take one minute right now to sketch the ledger. Is it different than the graphic? Please share in the comments or to [email protected]
Summary
Are exogenous ketones worth it? And to expand on this topic, is the price of being healthy worth it?
Exogenous ketones carry tangible and intangible benefits that are up to you to examine and then decide if they are worth it.
In a broader sense, it's up to you to examine whether it is "worth it" to make health decisions that cost money, regardless of what style of eating and exercise you follow or specific goals you may have.
I've heard the quickest way to find out what you care about is to look at your credit card statement and your weekends. In other words, what do you spend your free time and money on? This is the objective way to see (by your actions) if you feel it is "worth it" to be healthy.
In the first half of life, many people waste their health trying to make money and then in the second half of life they spend the money trying to get their health back.
The choices are yours to own.