Move over carbohydrate filled pancakes that are bound to kick you out of ketosis, this delicious stack may not be what you are used to, but will certainly peak your interest.  If you've gotten bored of eating the same breakfast over and over again, you'll love the extra flavor and huge nutrient boost from these pancakes.  They are quick to prepare, great for meal prep and batch cooking, and of course a great fit into your ketogenic diet meal plan.
The Main Ingredients in These Pancakes Include:
Coconut flour
Zucchini
Chia seeds
A ketogenic diet is great for weight loss, but what many people fail to remember is that microdensity is important for overall health and wellness.  Many people who eat a keto diet forget that incorporating a wide variety of low carb vegetables and healthy fats not only keeps meals interesting, but will also give your body nutrients that can't be obtained from bacon and butter alone.
Chia seeds are a wonderful source of these nutrients and can easily be incorporated into meals.  You can sprinkle them onto your salads, grind them up into a powder for baking, add them to your smoothies, or use them as whole seeds in your recipes.  The chia seeds in these pancakes soak up the moisture and water from the zucchini, but also provide a unique texture. Not only that, they are a powderhouse when it comes to nutritional benefits.
Benefits of Chia Seeds:
Rich in Omega-3 Fatty Acids
Improve Digestion
Lower Cholesterol
#1: Healthy Fats
One of the greatest reasons to incorporate chia seeds into your diet is they are a wonderful source of plant based healthy fats.  They are high in linoleic acid which helps the body absorb fat soluble vitamins.  In addition, these Omega 3 fatty acids can also protect the heart, lower blood pressure, reduce 'bad' cholesterol, and bring down inflammation in your body.
#2: Fiber & Prebiotics
Chia seeds provide a big dose of fiber in your diet.  Fiber is essential for gut health and balancing insulin levels.  It will also help regulate bowel movements and ease digestive issues such as constipation and IBS.  Chia seeds also work as a prebiotic that supports the growth of healthy bacteria in your stomach.
#3: Heart Healthy
These seeds may be tiny in size, but can make a big impact on your heart.  Chia seeds have a unique ability to reduce oxidative stress in your body by reducing and reversing inflammation.  The Omega 3 content helps raise HDL cholesterol that protects against heart attack and stroke.
The next time you want to change things up for breakfast, whip up a batch of these veggie pancakes.  You will love the extra boost of vitamins, minerals, and healthy fats they will provide. Don't be afraid to add even more low carb vegetables for an even bigger dose of micronutrients.
Print
Delish Zucchini Pancakes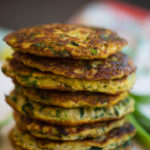 Author:
Total Time:

10 minutes

Yield:

6

pancakes

1

x
Scale
Ingredients
1

Large zucchini (finely shredded and drained)

1 cup

chopped spinach

1/4 cup

coconut flour

1/4 cup

almond flour

3 tablespoons

chia seeds

3

Large eggs

1/2 teaspoon

salt

1 teaspoon

baking soda

1/4 teaspoon

salt

1 teaspoon

onion powder

1/2 cup

milk of choice

2

–

3

tablespoons butter, ghee, or coconut oil for frying
Instructions
Add coconut flour, almond flour, baking soda, salt, pepper, onion powder, and chia seeds to a large bowl. Stir to combine. Add in eggs and milk. Whisk batter until smooth. Stir in shredded zucchini and chopped spinach.

Preheat a cast iron griddle or large pan and coat with butter. Pour in batter, cover, and cook for 3-4 minutes until golden brown on both sides.
Nutrition
Serving Size:

1 pancake

Calories:

146

Fat:

6g

Carbohydrates:

Net Carbs: 1g

Protein:

5g