If you enjoy rich, creamy soups, then blender soups are the way to go. Using your Vitamix to blend up a delicious and comforting soup is one of the most efficient ways to get some warm and comforting soup into your belly.
While traditional blenders can get the job done, nothing creates a smooth puree as well as a Vitamix.
Below is a list of 15 keto-friendly soups that you can whip up instantly in your Vitamix blender. From vegetable soups to protein-rich chowders, we've got your soup needs covered.
15 Vitamix Soup Recipes for Your Low-Carb, Keto Lifestyle
#1 Keto Tomato Soup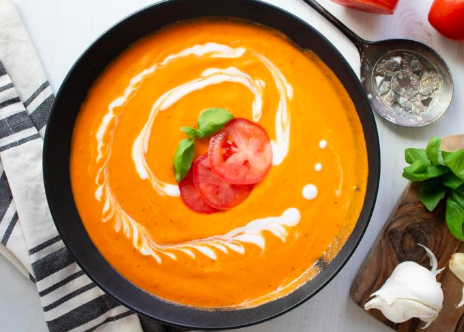 Tomato soup is a classic. While traditionally, you might serve this soup recipe with a side of crackers, you can replace your saltines with some keto-friendly alternatives like gluten-free crunchy rosemary crackers or keto cream cheese crackers.
Check out this savory classic keto tomato soup.
#2 Broccoli Cheese Soup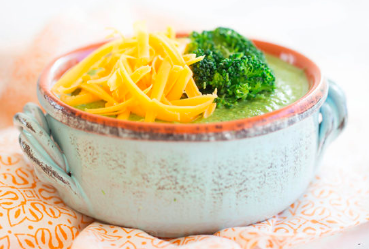 This rich and creamy broccoli cheddar has a secret ingredient…gouda cheese. It also sneaks in some extra veggies like carrots, onions, and spinach for a low-carb keto version of an all-time favorite.
Check out this creamy broccoli soup.
#3 Mexican Chicken Soup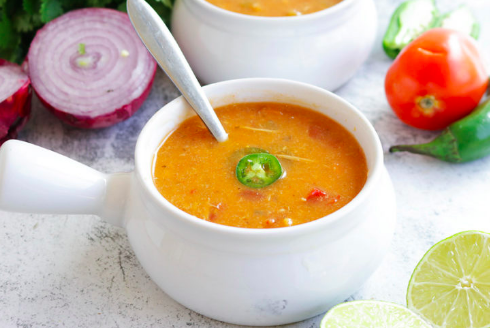 For this recipe, you can either hold off on adding the chicken before you blend, or you can blend it in for a puree style soup. It goes great with some low-carb tortilla chips like Siete brand, or crispy pork rinds sprinkled on top for some crunch. Top it with cilantro for some extra flavor.
Check out this spicy Mexican chicken soup.
#4 Keto Cream Of Chicken Soup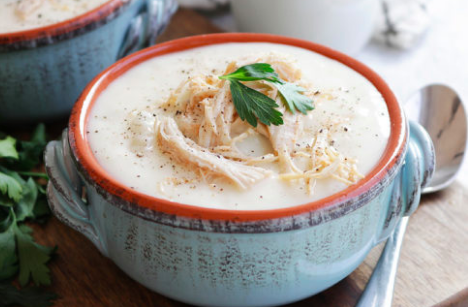 The hearty soup is a perfect weeknight dinner option during the colder months. Packed with savory vegetables and spices, each cup of this creamy chicken soup contains only six net carbs.
Check out this flavorful cream of chicken soup.
#5 Cream Of Asparagus Soup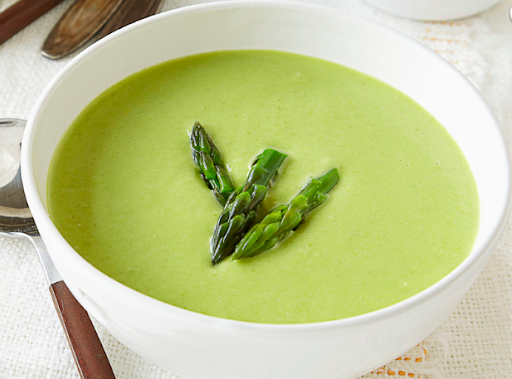 This simple recipe is a fantastic way to get more greens into your diet. It's ready in under 30 minutes and can be made with just a handful of fresh ingredients.
Check out this tasty cream of asparagus soup.
#6 Cauliflower Soup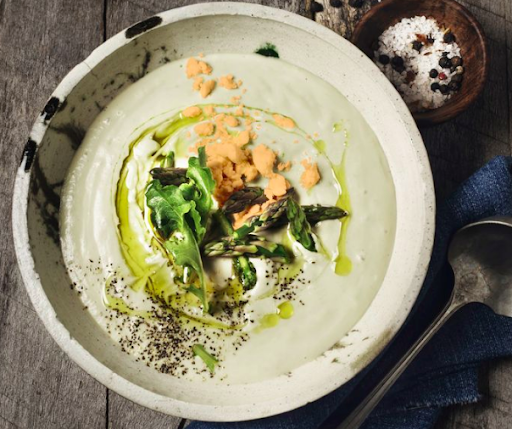 This keto cauliflower soup is incredibly smooth and creamy, made with heavy cream and butter. If you like a heartier soup, you can top it with roasted cauliflower or sprinkled pumpkin seeds. It also goes great with some shredded cheddar cheese and olive oil.
Check out this flavorful cauliflower soup.
#7 Low Carb Kale and Spinach Soup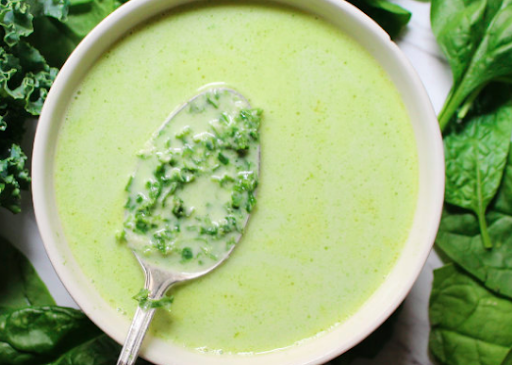 Not getting enough green leafy veggies into your diet? This soup offers an excellent way to get an extra hit of nutrients. And with only 6.5 net carbs per serving, it makes a perfect side dish.
Check out this low-carb kale and spinach soup.
#8 Butternut Squash Soup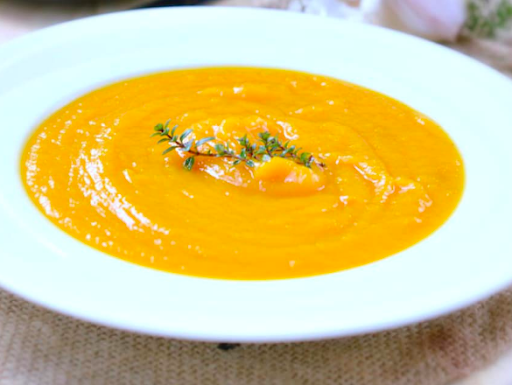 Many people believe butternut squash is too carb-heavy for the keto diet. While you don't want to go overboard, butternut is actually one root vegetable that can easily be worked into your low-carb meal plan. This soup contains only ten net carbs per serving, so this is one Fall classic you can enjoy worry-free. It also makes a great alternative to sweet potato soup.
Check out this creamy butternut squash soup.
#9 Low-Carb Carrot Soup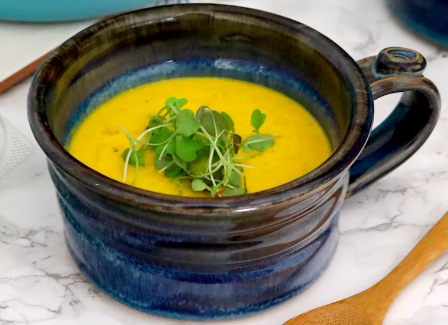 This soup is not only keto-friendly, but it's also dairy-free and made with vegetable broth providing an excellent choice for low-carb vegan dieters. Each serving is 150 calories and has five grams net carbs. If you want to beef it up a bit (and go the non-vegan route), you can add some pulled chicken or top it with your favorite cheese.
Check out this low-carb carrot soup.
#10 Avocado Cucumber Gazpacho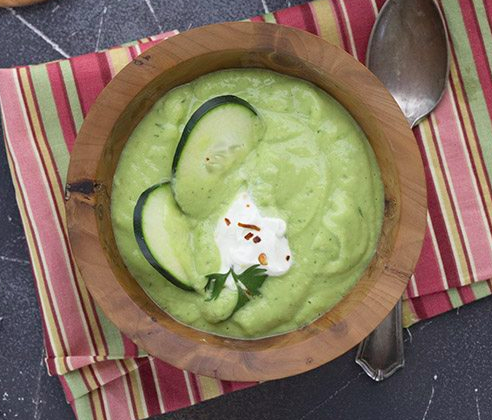 This cold soup recipe takes your traditional gazpacho and adds the satiating fat of avocado. The result is a creamy texture with tons of flavor. All you need to do is add all the ingredients to your Vitamix, blend, and you're ready to enjoy.
Check out this refreshing avocado cucumber gazpacho.
#11 Broccoli and Coconut Milk Soup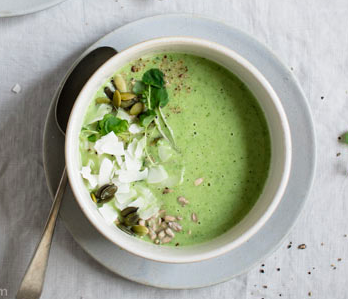 This simple broccoli soup recipe is creamy, and dairy-free. It's packed with coconut ingredients, making it a fantastic immune-boosting meal, and contains only eight net carbs[*][*].
Check out this broccoli and coconut milk soup.
#12 Low-Carb Zucchini and Basil Soup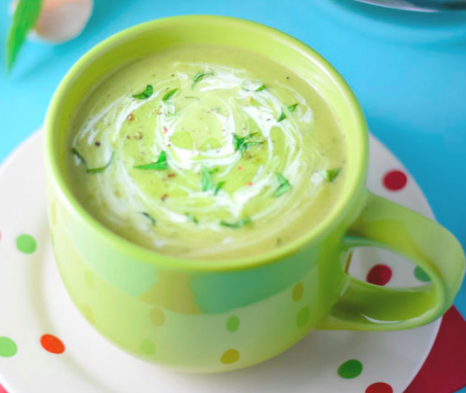 There's nothing quite like the flavor of fresh basil. This keto zucchini and basil soup is a great staple to have on hand for lunch or dinner to pair with a protein dish. It's only 115 calories per serving and under 10 grams net carbs.
Check out this delightful zucchini and basil soup.
#13 Broccoli, Cheddar, and Bacon Chowder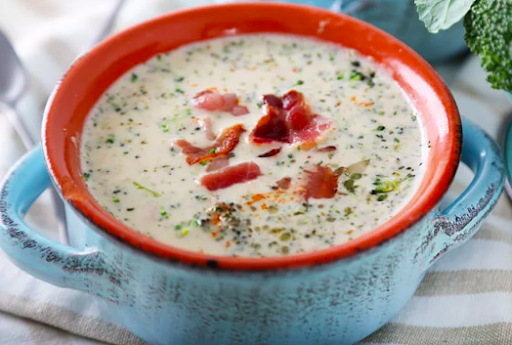 This rich and savory soup recipe can be made chunky without the blender, or smooth and silky using a Vitamix. It has only eight grams of net carbs and 20 grams of protein per serving, making it a fantastic main dish meal.
Check out this rich and satisfying broccoli, cheddar, and bacon chowder.
#14 Keto Turmeric Cauliflower Soup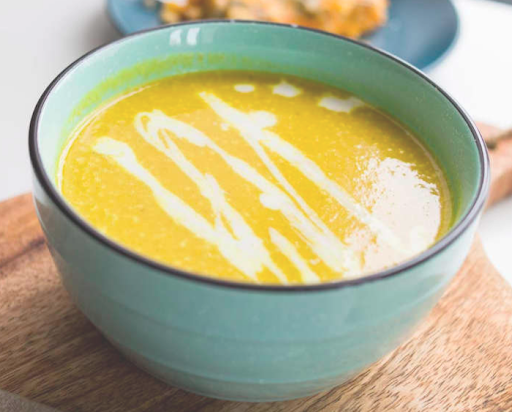 Turmeric is one of the most well-researched anti-inflammatory herbs. Although its health benefits have been known for thousands of years in traditional cultures, it's only just becoming a mainstream spice in Western culture. Along with its well-established anti-inflammatory benefits, turmeric also has antioxidant, antimicrobial, and anti-cancer properties[*].
Make this turmeric cauli soup a staple in your diet to reap the benefits of this fantastic herb.
Check out this spicy turmeric cauliflower soup.
#15 Thai Pumpkin Soup with Coconut Milk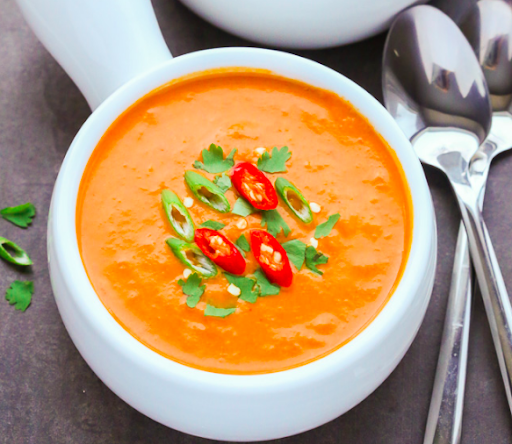 This delicious Thai soup only takes 20 minutes to prepare and comes packed with nutrient-dense ingredients like coconut milk, pumpkin puree, fresh ginger, and garlic.
Check out this delicious Thai pumpkin soup.
Takeaway
If you're craving some healthy soup but don't want to slave over the stove, these Vitamix soup recipes can provide an excellent option. Whether you're looking for a stew, chowder, bisque, or vegetable soup — you can find a simple and quick recipe to suit your needs.