Those new to the keto diet may be struggling with the thought that they won't be able to indulge in their favorite treats. However, this is simply not the case. In fact, transitioning to the keto diet is easily done simply by finding low carb substitutes to your favorite foods. This allows you to still indulge in your go-to high carb foods without feeling unfulfilled or deprived. Ice cream is no different. This Keto No Churn Chocolate Ice Cream is a great low carb alternative to your favorite frozen sweet treat.
The ingredients that make up this tasty treat include eggs, Stevia sweetener (or other low carb sugar confectioners), cream of tartar, Lily's dark chocolate baking chips, organic full fat coconut cream, and a hint of vanilla.
The macros from this chocolate ice cream are hard to beat, making it the perfect low carb treat sure to help you maintain ketosis. One serving (or two to three scoops) of this No Churn Keto Ice Cream include a total of 178 calories with 15 grams of fat, five grams of protein and only four grams of net carbs.
Using a sweetener abundant in stevia or monk fruit not only makes your sweet treats extra tasty, but it does so without other harmful effects from artificial sweeteners. Their main benefit is their lack of blood sugar spike they produce. This can be extremely beneficial for those who struggle with diabetes or weight loss.
Looking to try a low carb or ketogenic diet but worried you won't be able to maintain ketosis? No need to worry. This Chocolate No Churn Keto Ice Cream is the perfect way to indulge in your favorite sweet treat without any stress of going over your carb limit for the day. With this short list of ingredients, you'll be sure to maintain a ketogenic state while enjoying your favorite frozen dessert.
Print
Creamy Chocolate No Churn Keto Ice Cream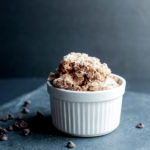 Author:
Total Time:

6 hours or more

Yield:

6

servings

1

x
Instructions
Separate the egg whites from the egg yolks.

Whisk the egg whites and add the cream of tartar.

As the egg whites thicken, add in Stevia.

Whisk until they create stiff bumps. In another bowl, whisk in the coconut cream.

In a third bowl, mix the egg yolks with the vanilla extract.

Melt the chocolate chips and mix in with the egg whites.

Slowly fold the whisked egg whites into the whipped cream. Then add the egg yolk mixture and gently fold in using a spatula until well combined.

Place the mixture in a loaf pan or a freezer-friendly container and freeze for at least 4 hours.
Nutrition
Serving Size:

1 cup (about 2-3 scoops)

Calories:

178

Fat:

15g

Carbohydrates:

Net Carbs: 4g

Fiber:

17g

Protein:

5g