on December 12, 2018
With winter here, it's time to cozy up with this rich and creamy hot chocolate.
But wait. Isn't hot chocolate packed with sugar, milk, artificial flavors, and a number of other things that aren't keto-friendly? Nope, not this version.
This low carb hot chocolate recipe is made of heavy cream, 100% cocoa, stevia, and collagen. If you look at the nutrition facts below, you'll see one serving contains just 3 grams of net carbs, 13 grams of protein, and 13 grams of fat. Does that sound like your average mug of hot cocoa?
Keep reading to learn how to make this delicious holiday treat and why it's so low in carbohydrates.
How to Make Low Carb Hot Chocolate
To give your favorite hot chocolate recipe a low carb spin, you'll need to make a couple adjustments:
Use real dark chocolate (or pure cacao)

Only use full-fat heavy cream (or coconut cream)

Forgo added sugar
With those simple tweaks, this keto recipe will fit in perfectly with your weekly meal plan.
Choose Dark Chocolate or Pure Cacao
In its purest form (i.e. before it's processed and mixed with milk and sugar to make milk chocolate), cacao is healthy.
Cacao beans come from the seeds of the cacao tree. These beans are then processed and broken down to into cocoa powder, or can be dried and broken down into cacao nibs. Both are used in the recipe below.
Cacao powder is packed with magnesium, dietary fiber, and iron[*]. Cacao is also a great source of polyphenols and antioxidants, which help your body fight free radicals.
Only Choose Full-Fat Dairy Products (or Full-Fat Coconut Milk)
You can make this recipe in one of two ways: with or without dairy. If you can tolerate dairy (meaning, you don't experience gas or bloating when you eat it), dairy is completely fine to consume on keto, with a few caveats.
First, only choose full-fat products. Items like heavy cream, heavy whipping cream, and other products are fine, while skim and low fat milk should be avoided.
Secondly, always choose the highest quality dairy you can afford, selecting grass-fed, organic dairy products whenever possible.
If you believe you are lactose intolerant or experience gastrointestinal discomfort when consuming dairy products, you can easily substitute a dairy-free version.
Almond milk, hazelnut milk, or coconut milk are all excellent options. If you enjoy an extra creamy hot chocolate, use coconut cream, which gives it a thicker consistency.
One final recipe note on dairy substitutes: If you love your hot cocoa with a dollop of whipped cream, you can whip coconut cream, coconut oil, and vanilla extract with a hand mixer to a make a dairy-free whipped cream.
Only Use a Low Glycemic Sweetener
Most hot chocolate mixes are packed with unnecessary and undesirable ingredients, particularly when it comes to sugar. Luckily, there are plenty of options when it comes to sweeteners suitable for a keto diet. Monk fruit and stevia (used below) are sugar-free sweeteners that are also incredibly low in carbohydrates (if they contain carbs at all), have a minimal effect on blood sugar levels, and contain zero grams of sugar.
Why Use Stevia?
Native to South America, stevia has sweetened food and beverages for roughly 200 years. While it's 250–300 times sweeter than sugar, it doesn't spike your blood glucose levels[*].
And because it's so sweet, you only need to use stevia sparingly. Many times, just a few drops of liquid stevia, or less than one packet of the powdered version, is enough to sweeten your favorite low carb recipes.
Like pure cacao, stevia has multiple health benefits. Stevia has been shown to have positive effects on blood glucose levels, improve insulin sensitivity, and prevent oxidative stress[*][*].
Why Add Collagen?
The two scoops of chocolate collagen certainly add to the flavor of this hot chocolate, but you'll really love it for its health benefits.
Collagen is the most abundant protein in your body. It is found naturally in bones, tendons, cartilage, heart, gut, and other connective tissue.
Collagen has been shown to improve joint health, help strengthen hair and nails, support gut health, and even prevent cellulite[*][*][*][*].
Since Perfect Keto Grass-Fed Chocolate Keto Collagen contains 5,000 mg of MCTs per serving, you'll get even more health benefits, including improved gut health, quick energy, and increased sports performance.
Warm Up With a Mug of Keto Hot Chocolate
This sugar-free hot chocolate is the perfect guilt-free treat for this winter season. It requires just five clean ingredients, hardly any prep time, and just a two minutes on the stovetop to prepare. Plus, by using a zero-sugar sweetener and 100% cacao, you can keep your net carb count in check.
So cozy up next to the fire (or space heater!) with a warm blanket, a must-read novel, and a piping mug of hot chocolate. It's the perfect way to spend a winter evening.
Print
Creamy Keto Hot Chocolate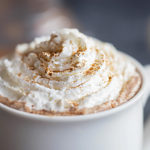 This cozy, creamy keto hot chocolate won't leave you feeling left out this winter when you're less healthy friends are getting their sugar load on.Get cozy with this rich and creamy hot chocolate!
Author:
Prep Time:

5 minutes

Cook Time:

N/A

Total Time:

5 minutes

Yield:

2

Category:

Dessert

Cuisine:

American
Ingredients
12oz hot water
1/4 cup heavy cream or coconut cream
4 pieces 100% cacao (finely chopped)
2 heaped tablespoons cacao powder
1/2 teaspoon ceylon cinnamon
stevia to taste
Instructions
Simmer water and cream for 1-2 minutes until it comes to a soft boil.

Turn heat OFF and stir in chopped chocolate, cacao powder, Perfect Keto collagen, cinnamon, and stevia.

Stir until smooth.  

Pour and add a sprinkle of cinnamon if desired.
Nutrition
Serving Size:

10 ounces

Calories:

284

Fat:

13g

Carbohydrates:

Net Carbs: 3g

Protein:

13g
Keywords: creamed spinach