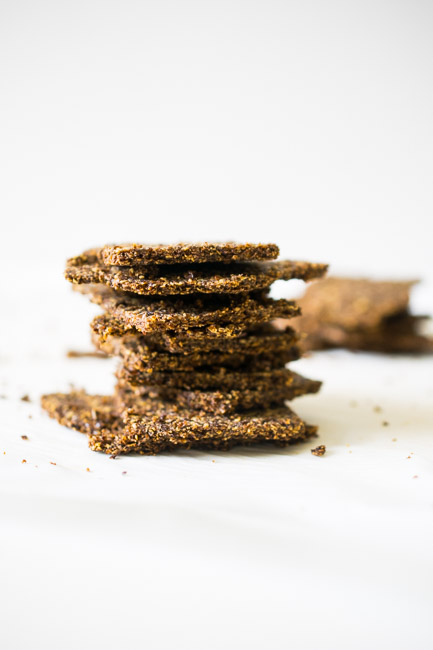 When you first started the keto diet, you probably avoided the snack aisle altogether. Salty, crunchy snack foods like crackers, chips and cereal are known for being loaded with carbohydrates while lacking in fat, protein or fiber.
If you've been craving your long-lost snacks, you're in luck. These low carb crackers contain over 25 grams of fat and 5 grams of protein. They are filled with dietary fiber and have zero net carbs.
This four-ingredient low carb cracker recipe is easy to make. You don't need any fancy equipment — just a baking sheet (or cookie sheet), rolling pin and parchment paper. Pro tip: Use a pizza cutter to cut the crackers in a grid-like pattern before placing in the oven. This will give you the perfect square shape you're looking for.
Carve out 25 minutes for prep time as the ingredients will need to set before baking. A cook time of 45 minutes will result in a perfectly crisp, golden brown cracker. Your low carb crackers should be ready in a total time of 70 minutes.
Print
Flaxseed Crackers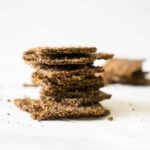 Missing salty snacks on the ketogenic diet? Get your salty fix while staying in ketosis with these four-ingredient low carb crackers with flaxseed.
Author:
Prep Time:

25 minutes

Cook Time:

45 minutes

Total Time:

1 hour 10 minutes

Yield:

3

Servings

1

x
Category:

Sides

Cuisine:

American
Instructions
In a bowl mix all of the ingredients. Mix until well combined. Let the mix sit for 20 minutes.

Preheat oven on 300F convection bake (or 320F bake).

Using a spatula transfer your flaxseed mix to a sheet of parchment paper.

Cover with a second sheet and flatten.

Use a rolling pin to continue to flatten until you have a square or shape that is about 8×8.

Remove the top sheet of parchment paper and move the bottom sheet with dough on it to a baking pan.

Pop in the oven and bake for 40-45 minutes until the center is firm, when you tap it it should feel solid.

Remove from the oven and let cool to room temp.

Transfer the parchment paper with cracker mass on it to a cutting board and with a large kitchen knife cut into squares to break into desired shapes.
Nutrition
Serving Size:

1/3 the total crackers

Calories:

322

Fat:

25.7

Carbohydrates:

10.9

Fiber:

10.1

Protein:

6.9
Keywords: flaxseed crackers
What Is Flaxseed Meal, and Why Bake With It?
Flaxseeds come from flax, one of the oldest fiber crops in the world. Flaxseed meal, which is roughly ground flaxseeds, is commonly used in low carb or gluten-free baking as a substitute for conventional flours.
Benefits When Baking
Swapping out high carb white flour for a low carb alternative — like flaxseed meal — is a great way to enjoy your favorite snack foods while keeping your carb count low. You can find it in most health food stores or on Amazon.
Because of its earthy flavor and gritty texture, flaxseed meal works well in crackers and pizza crusts. It also makes a great oatmeal substitute, either as a morning breakfast bowl or no-bake treat. Finally, if you (or someone you know) has a coconut or nut allergy, it's a preferable alternative to almond flour, almond meal or coconut flour in grain-free baking.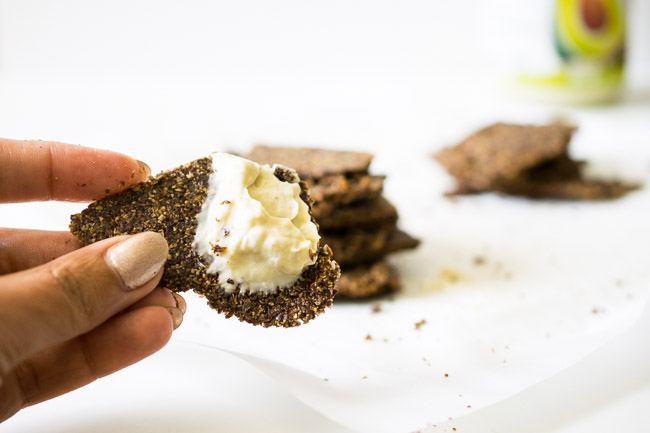 Benefits When Getting Into Ketosis
Nuts and seeds like flax are typically high in fat while and low in net carbs. Therefore, it is perfectly fine to consume them on the keto diet.
On the ketogenic diet, fat should make up roughly three-fourths of your caloric percent daily values. Your target macronutrient breakdown should look something like this: 5-10% carbs, 20-25% protein and 70-80% fats. However, brand name crackers — Ritz, Saltines, Triscuits — give you the exact opposite (high carbs and low fat).
Not all are carbs are created equal. There are two kinds of carbs: impact and non-impact. Impact carbs, like your beloved Ritz cheese crackers, rapidly digest in your bloodstream and spike your blood glucose level. Non-impact carbs are digested more slowly, allowing for more sustained energy.
The Health Benefits of Flaxseeds
Flaxseeds are filled with healthy omega-3 fatty acids, which help you enter ketosis faster. However, just one look at its nutritional information tells you this is only one of many health benefits. It's loaded with vitamins and minerals such as calcium, magnesium and phosphorus. It also contains healthy antioxidants and high amounts of dietary fiber. Therefore, flaxseeds are popular not only in keto, but other low carb and low-calorie diets.
Here's what makes flax so nutrition-packed:
Flax Contains Lignans and ALA
Two compounds make flaxseed unique:
ALA: ALA is a short-chain, essential fatty acid, meaning the body cannot produce it on its own[*].
Lignans: Lignans are compounds found in plants which act as antioxidants. Flaxseed contains more lignans than any other plant on earth. In fact, it contains 800 more lignans than sesame seeds, the second-best lignan source[*].
ALA has been reported to benefit various health conditions, including cardiovascular disease, hypertension, atherosclerosis, diabetes, cancer, arthritis, osteoporosis, autoimmune and neurological disorders[*].
Lignans, particularly those that come from flax, have been shown to reduce the growth of cancerous tumors, especially those in breast, endometrium and prostate cancer[*].
The combination of ALA and lignans in flaxseed may help boost heart health. Both compounds contain anti-inflammatory properties, which may prevent the onset of cardiovascular disease[*][*]. A diet rich in ALA has been shown to prevent the buildup of plaque in the arteries, which could lessen your chance of a heart attack or stroke[*]. Some studies have shown flaxseed can help lower blood pressure, which is a sign of cardiovascular disease and other illnesses[*].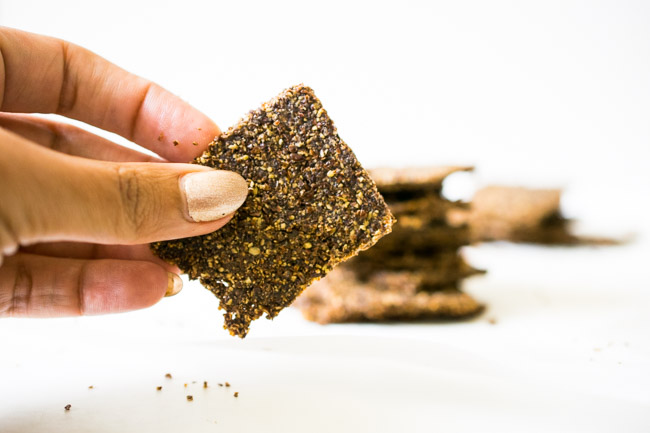 Flax is an Excellent Source of Dietary Fiber
Flaxseed meal is also incredibly high in insoluble and soluble fiber. If you check out the nutrition facts below, you might be alarmed at the 8 grams of total carbohydrates. However, 95% of those come from fiber, resulting in zero net carbs per serving.
Remember the impact vs. non-impact carbs discussed earlier? Fiber is usually the deciding differentiator between the two. However, that isn't the only health benefit. Fiber helps you:
Regulate blood sugar and cholesterol levels
Promote digestive health
Maintain bowel health
Reduce your risk of diabetes, stroke and heart disease
Maintain a healthy weight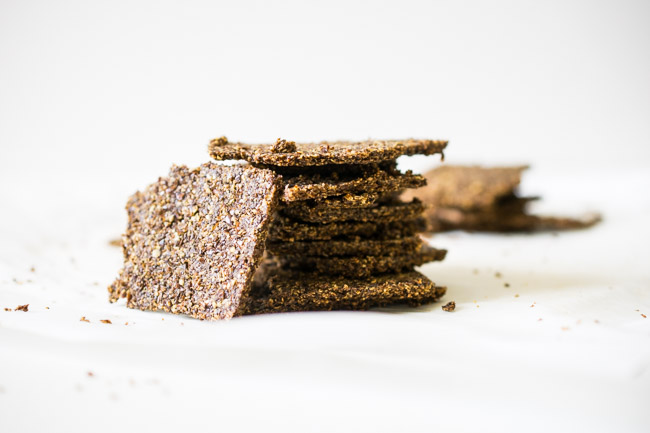 Enjoy Low Carb Crackers
These low carb crackers provide the perfect, satisfying crunch when you're overcome with carb cravings. These crackers are seasoned with just a pinch of sea salt, but you can experiment with creating different flavors by adding half a teaspoon of garlic powder or rosemary.
These gluten-free crackers are a great recipe for a party appetizer or evening snack. Top your crackers however you wish, or try one of these ideas:
Smear with cream cheese, then top with smoked salmon and dill
Add a slice of prosciutto and cheddar cheese
Top with a dollop of pesto, then sprinkle on parmesan cheese and sliced tomatoes
Top with another low carb recipe on this site, like this keto chicken salad
If there are any leftovers, simply store in an airtight container. Your low carb crackers should keep for one to two weeks.