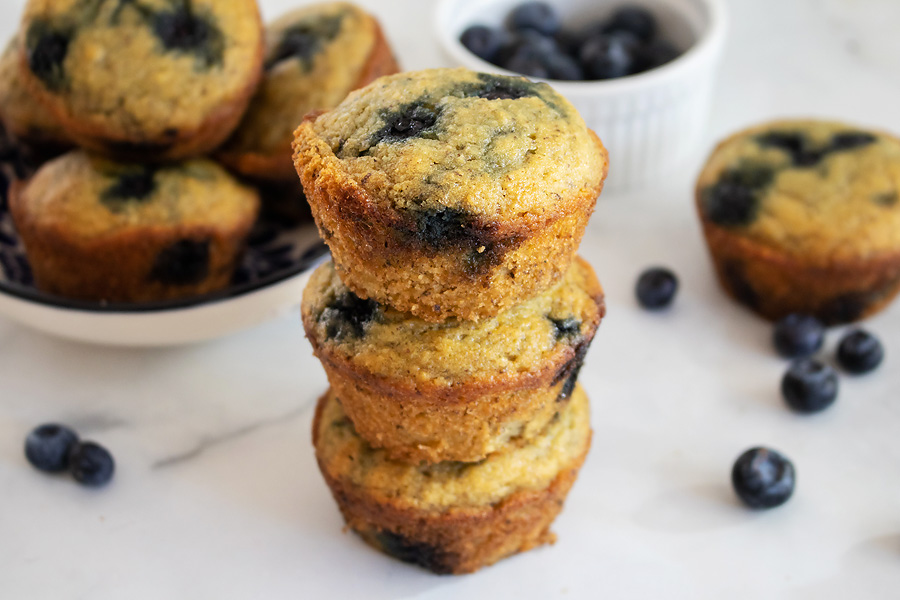 Let's be honest: healthy blueberry muffin recipes tend to be dry and tasteless. In fact, healthy recipes for any baked goods aren't easy to come by. But finding easy, portable options for your keto diet is so important if you want to stay in ketosis for the long-haul.
These keto blueberry muffins are based on classic blueberry muffin recipes, sans the whole wheat flour, all-purpose flour, oatmeal, and sugar that most supposedly "healthy" muffins contain. 
That means these muffins aren't just gluten-free, paleo-friendly, refined sugar-free, and dairy-free — they're also keto. So, they aren't just good for you because we use super clean ingredients, they also won't kick you out of ketosis.
Using only simple, low-carb ingredients, this keto recipe skips the flour and processed sugar and keeps it clean with almond flour, eggs, monk fruit, and collagen. 
This low-carb muffin recipe is: 
Soft 

Comforting

Sweet

delicious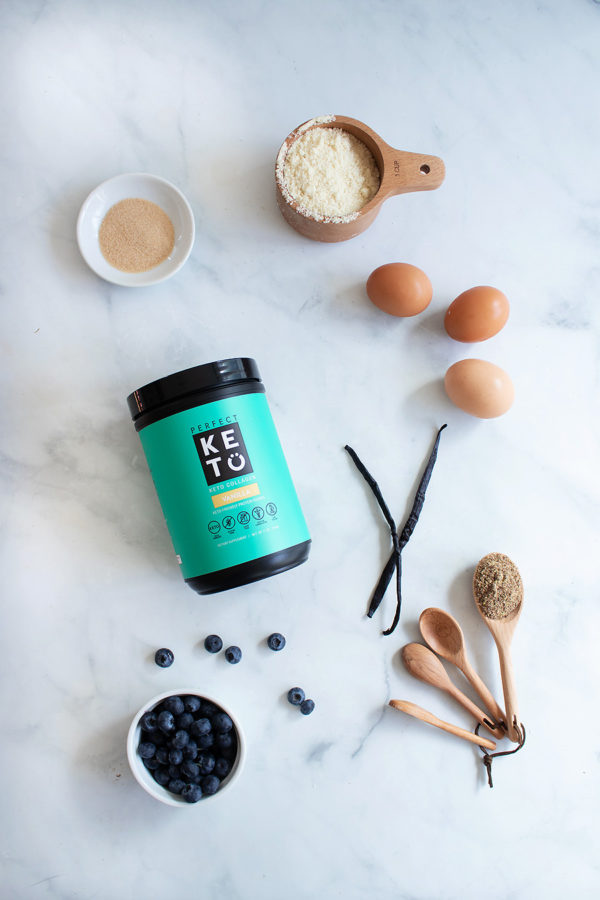 The main ingredients are: 
Optional additional ingredients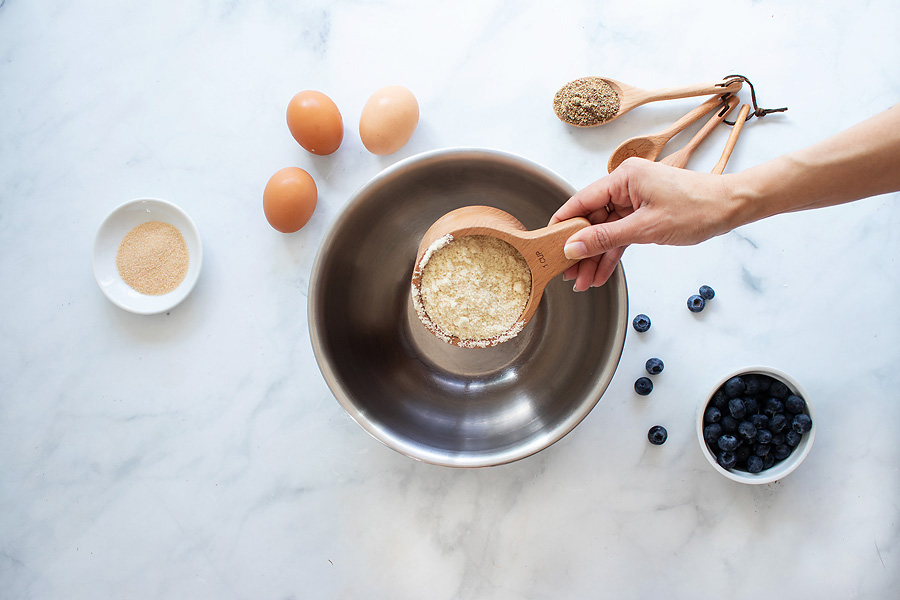 Healthy Blueberry Muffin Tips
Allow your muffins to cool completely before storing them. 

For the best storage, keep them in an air-tight container or ziplock bag at room temperature for 1-3 days. 

You can also refrigerate for up to 5 days or freeze for up to one month and defrost as needed.

When defrosting, pop them into the toaster oven for 1-3 minutes. Apply melted butter or Perfect Keto Nut Butter for even more taste.

Perfect for a quick breakfast or part of a decadent brunch.

Use either fresh blueberries or frozen

Your milk of choice can include unsweetened almond milk, coconut milk, or if you can tolerate dairy, full-fat milk. Just make sure to check the label for carbs.

For a little extra zest, try adding a tablespoon of lemon juice to the muffin mix. 

To make this recipe vegan, skip the collagen and use chia seeds and water to replace the eggs. 

Any natural sweetener will work, as long as it's sugar-free. You can use monk fruit, stevia, swerve, or erythritol.
Check out these other keto-friendly muffins (and muffin tops) for even more breakfast goodness:
How to Make Keto-Friendly Blueberry Muffins
If your breakfast meal plan is looking bland, it may be time to incorporate a new twist on your low-carb morning routine. These muffins are ready in just 20 minutes, so preheat your oven to 350 degrees and let's get started. 
Begin by lining a muffin pan with non-stick spray or muffin cups.
Next, add all dry ingredients to a mixing bowl (collagen protein powder, almond flour, flax meal, monk fruit, baking soda, and salt). Whisk the ingredients together until they're well combined.
Add your eggs one at a time to the dry mixture, and then add the milk and coconut oil. Mix the wet ingredients into the muffin batter until it's smooth.
Next, divide and portion your batter into the muffin tin evenly and bake for 15 to 18 minutes. 
Once they're done, remove the muffins from the oven and let them cool to room temperature.
Health Benefits of These Keto Muffins
Rich In Antioxidants 
Antioxidants are crucial compounds that help your body fight off oxidative stress caused by free radicals. While oxidation is a natural process, for many people, oxidative stress can get out of hand, resulting in imbalances in your body, or even illness.
These blueberry muffins come packed with one of the most well-known antioxidants foods — blueberries. But in addition to the berries, monk fruit (your sugar replacement), eggs, and almond flour all contain antioxidant compounds as well[*][*][*][*].
Packed With A Variety of Healthy Fats
The old saying "variety is the spice of life," has never been more true than when you're following a keto diet. Getting into a food rut isn't just boring, but it also means that your body is potentially missing out on the variety of nutrients it needs to function optimally.
In these little keto blueberry muffins, you're getting a range of healthy fats, including omega-3s from the flax seeds, omega-9s from the almonds, and saturated fat from the coconut oil[*][*][*].
Each of these different types of fat plays essential roles in your body, so getting not just one — but all of them — is crucial.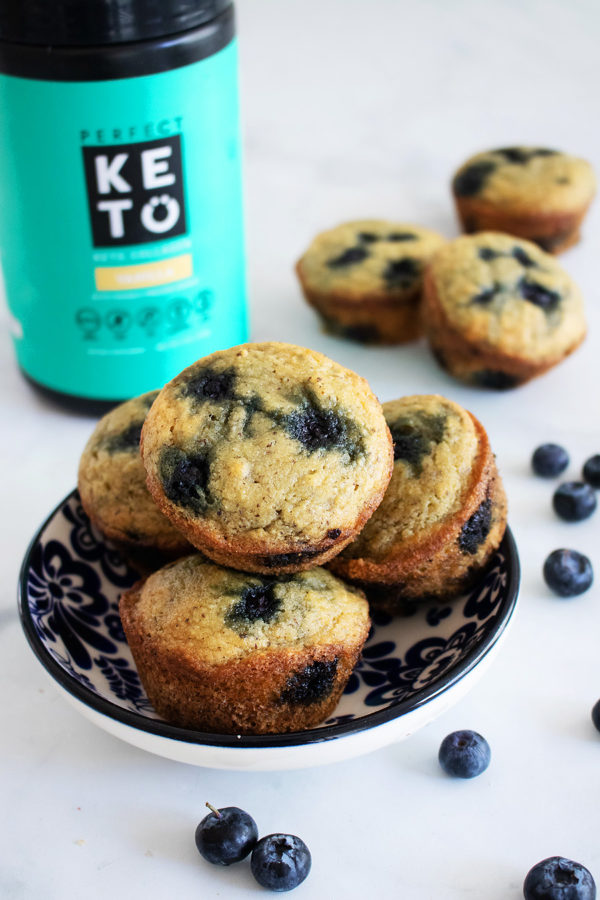 Print
Healthy Blueberry Muffin Recipe With Collagen
Author:
Prep Time:

5 minutes

Total Time:

20 minutes

Yield:

12

muffins

1

x
Instructions
Preheat oven to 350 degrees and line a cupcake pan with liners or coat with non stick spray. Set aside.

Add dry ingredients to a large bowl (collagen, almond flour, flax meal, monk fruit baking soda, and salt). Whisk well until combined.

Add eggs one at a time, then milk, and melted coconut oil. Mix well until batter is smooth.

Divide and portion batter into muffin tin. Bake for 15-18 minutes until a toothpick comes out clean when inserted into the center of each muffin. Remove from oven and let cool for 5 minutes before transferring to a wire rack.
Nutrition
Serving Size:

1 muffin

Calories:

147

Fat:

12g

Carbohydrates:

5g(Net: 3g)

Fiber:

2g

Protein:

7g