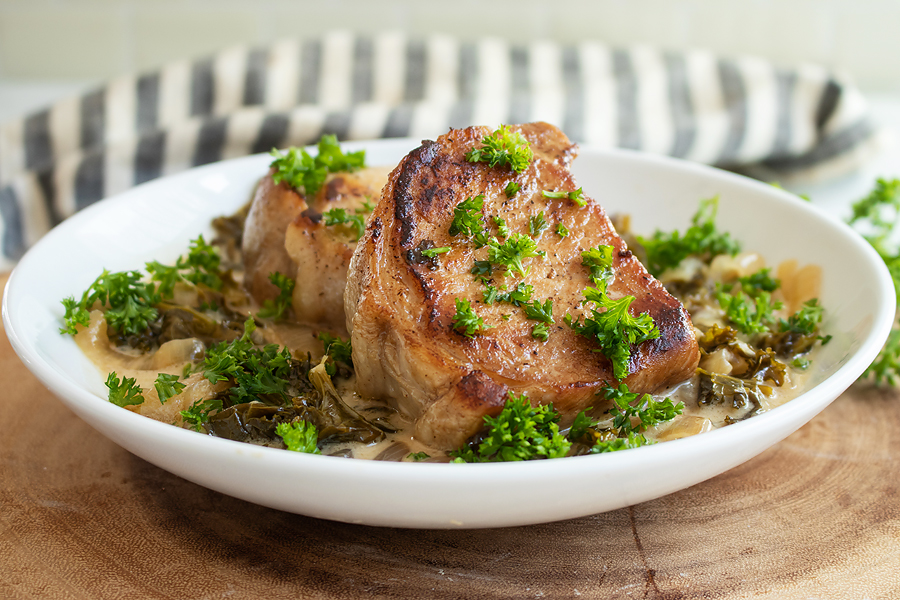 Pork chops may seem simple, but they can be tricky. Done just right, pork chops are juicy and tender. However, if you overcook your pork chops, it's easy to turn this comfort food into pork-flavored a hockey puck.
That's where pork chop recipes like this one come in. Using an Instant Pot allows you to get your chops just right. And it's so straightforward and simple; this could even become a weeknight go-to.
With this easy recipe, you won't have to sear, deglaze, or follow any other complicated cooking techniques — pressure cooking cuts down the time and gives you all the flavor you could possibly want.
Pair this recipe with some cauliflower "mashed potatoes" or your favorite veggies.
Like these creamy garlic mashed cauliflower "potatoes," these classic mashed cauli-potatoes, or creamy turnip mashed "potatoes" with butter and bacon.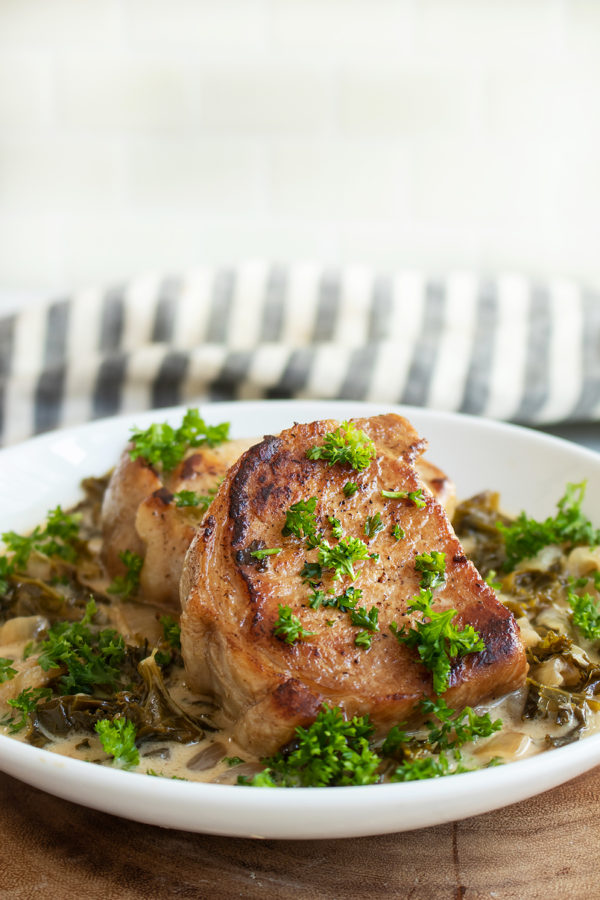 This instant pot recipe is:
Savory
Comforting
Delicious
Satisfying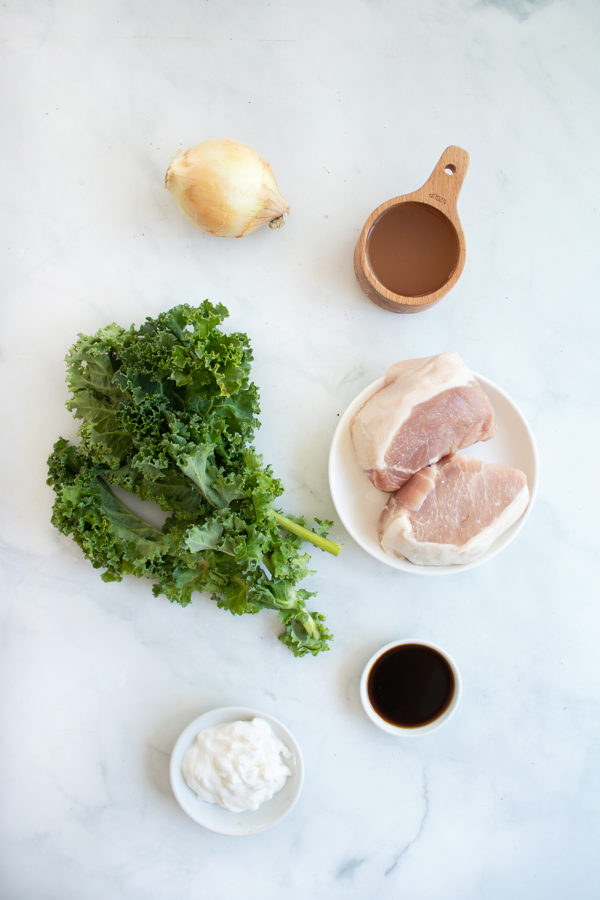 The main ingredients are: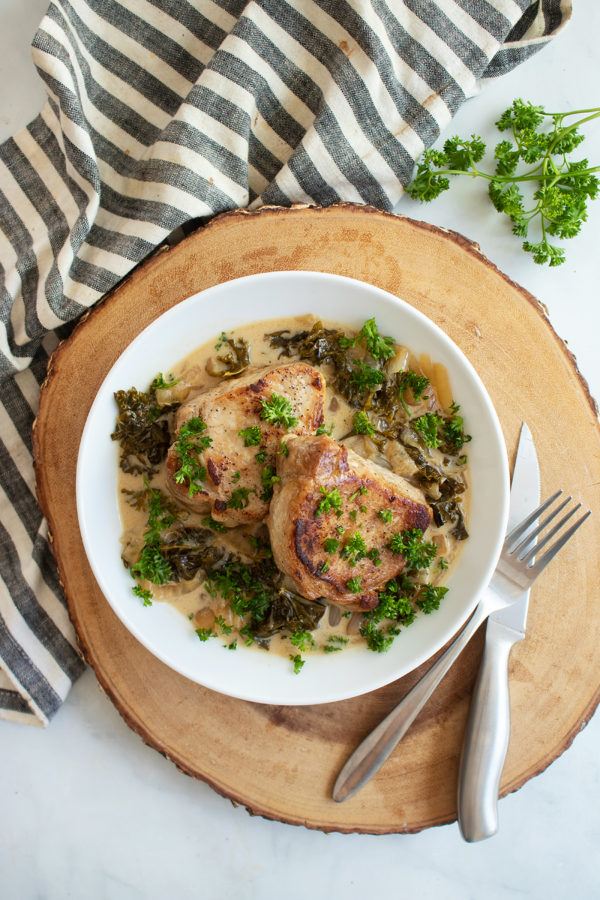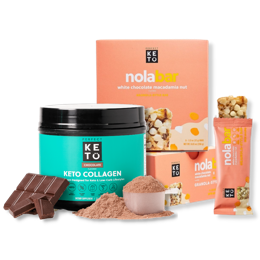 Browse our curated collection of fan-favorites and discover your new favorite snack or supplement.
Shop Best Sellers
Optional additional ingredients:
Health Benefits of This Pork Chops Recipe
Rich In Full-Fat Dairy
There was a time when many health professionals warned against full-fat dairy, suggesting that folks opt for the skim or fat-free options instead. The fear was that full-fat dairy, rich in saturated fat, would lead to heart disease. Luckily for you, those days are gone.
In fact, some research even shows that full-fat dairy may be beneficial for heart health[*].
What's more, dairy happens to be a good source of both calcium and vitamin A. With vitamin A being a fat-soluble vitamin; this makes the fat content of full-fat dairy even more beneficial[*].
This recipe not only calls for butter, but you'll also be getting a hit of full-fat goodness from the sour cream.
Protein From Pork
Protein is a crucial macronutrient for muscle growth and maintenance, but not all protein sources are created equally. Getting your protein from an animal source like pork ensures that you're getting a complete protein — in other words, it has all the essential amino acids in the amounts that your body needs.
Furthermore, pork is a great source of B vitamins, which are vital for energy production, and play a number of different roles in keeping your metabolism strong[*][*].
Instant Pot Pork Chops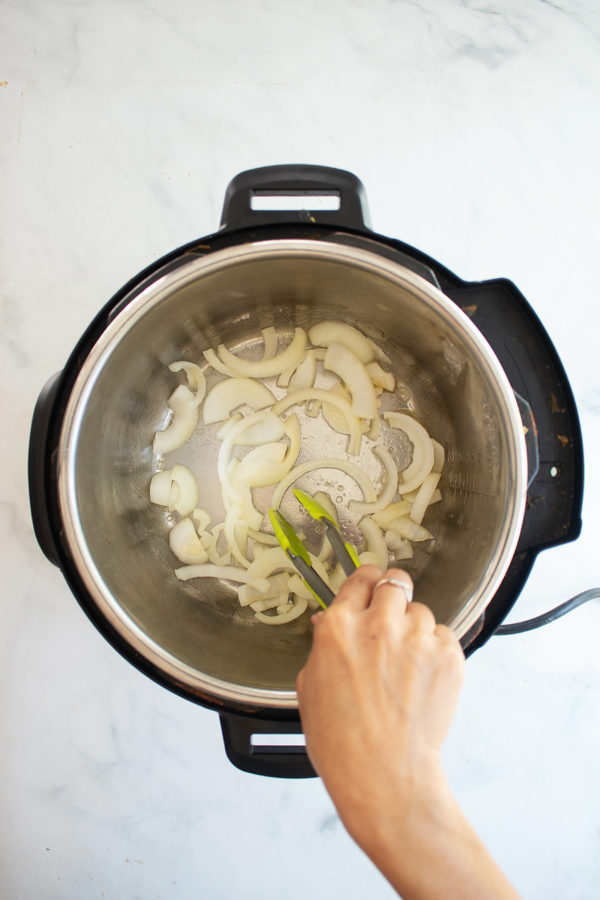 Are you ready to whip up some tender pork chops? Grab your Instant Pot or pressure cooker, and let's go.
Remove the lid from your Instant Pot and turn on the saute setting for 10 minutes. Next, add your butter and onions, and cook them for three to four minutes.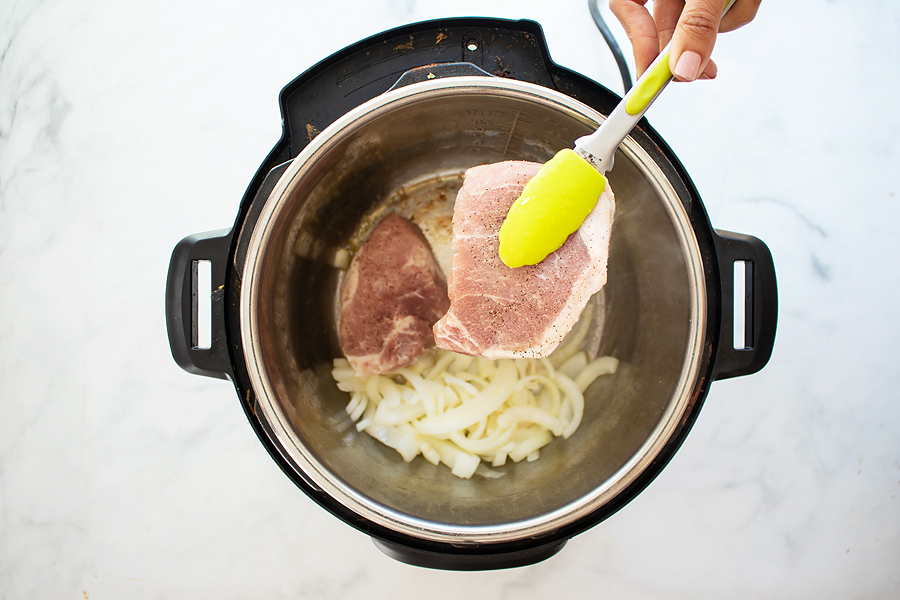 Meanwhile, sprinkle your pork chops with salt and pepper, and then pushing the onions aside, add the chops to the bottom of the pot.
Note: you can use either fresh or frozen pork chops.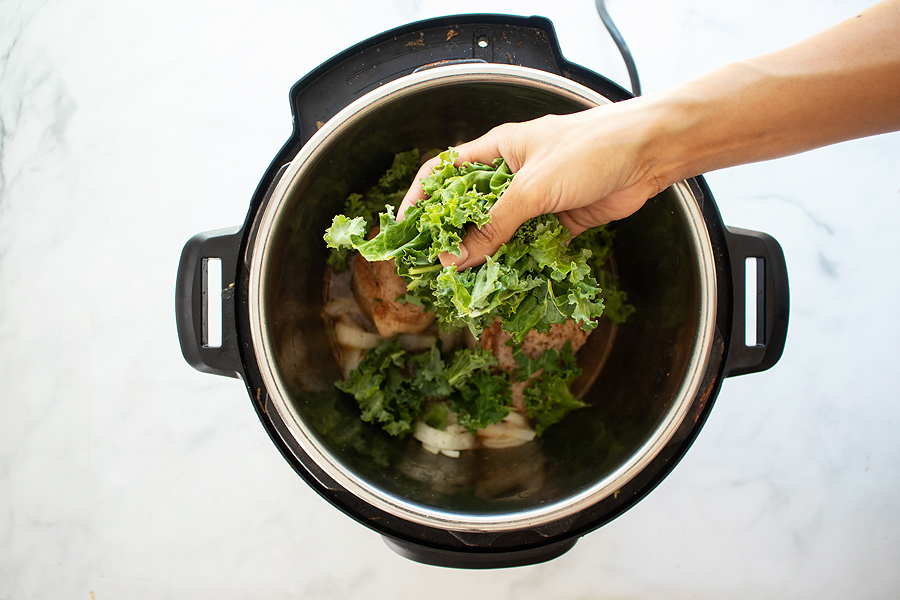 Cook pork chops until they're browned on both sides, and then add in beef stock and Worcestershire sauce. Stir liquid well.
Replace the lid and close your Instant Pot valve. Press MANUAL +8 minutes to continue cooking. When the timer goes off, allow a natural release of the Instant Pot.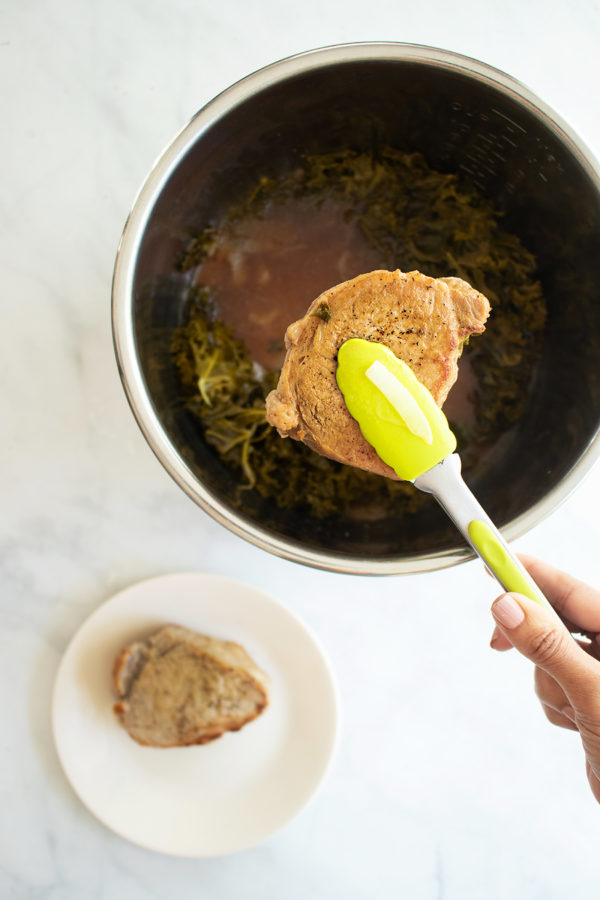 Remove the pork chops and place them on a plate. In a small bowl, stir in arrowroot and sour cream.
Finally, spoon the cream sauce and onions onto pork chops to serve.
Instant Pot Pork Chops Cooking Tips:
If you don't have a pressure cooker or Instant Pot, you can get the same juicy tenderness by using a slow cooker or crockpot — it will just take more time.
For the liquid addition, you can use any type of stock or broth you have. Bone broth, chicken stock, and chicken broth all work.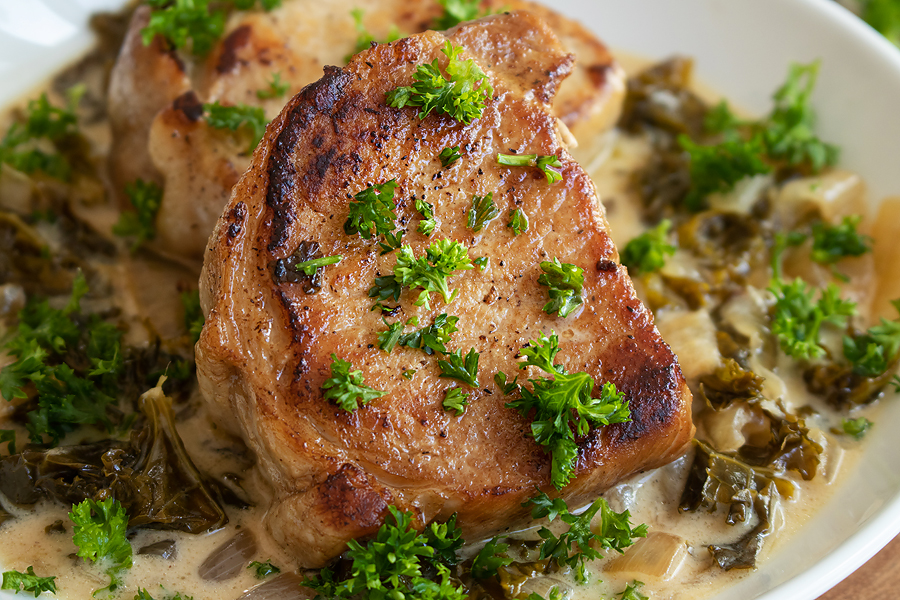 Print
Instant Pot Pork Chops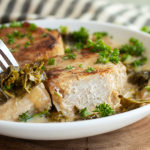 Author:
Total Time:

15 minutes

Yield:

2

pork chops

1

x
Instructions
Remove Instant Pot lid and press SAUTE +10 minutes. Add butter and onions, cook for 3-4 minutes. Add salt and pepper to pork chops. Push onions to one side and add chops to the bottom of the Instant Pot. 

Once the pork chops are browned on both sides, add beef stock and Worcestershire sauce.  Stir liquid well.

Replace lid close Instant Pot valve. Press MANUAL +8 minutes. When the timer goes off, let Instant Pot naturally release pressure.

Remove pork chops and place on a plate. Stir in arrowroot and sour cream.

Spoon cream sauce and onions onto pork chops to serve.
Nutrition
Serving Size:

1 pork chop

Calories:

289

Fat:

17g

Carbohydrates:

11g (net. 6g)

Fiber:

5g

Protein:

25g