Thinking you can't feel satiated and full without stuffing yourself with carbs?
Think again.
This mashed cauliflower is sure to give you all the volume you need in your low carb or keto diet without feeling like you're depriving yourself of a fulfilling meal.
Out of all the veggies you can choose from, cauliflower is one of the most versatile foods you can cook with while still offering an amazing amount of health benefits. Cauliflower can be blanched, steamed, roasted, mashed, riced and more. Still wondering what makes cauliflower the ultimate low carb friendly superfood?
Cauliflower is part of the cruciferous vegetable family. Among its family members are broccoli, cabbage, brussels sprouts, and kale. One cup of raw cauliflower contains only 25 total calories, including three grams of net carbs, two grams of fiber, two grams of protein, and zero grams of fat.
So, what benefits does cauliflower offer?
#1: Fights Inflammation
Along with other cruciferous vegetables, cauliflower is abundant in anti-inflammatories such as antioxidants, which are key in fighting off free radicals (the cause of inflammation). Cauliflower contains a number of antioxidants, including beta-carotene, beta-cryptoxanthin, caffeic acid, cinnamic acid, ferulic acid, quercetin, pulin, and kaempferol.
#2: Abundant in Vitamins and Minerals
Along its killer antioxidant profile, cauliflower is also rich in multiple vitamins and minerals — particularly vitamins C and K. Consuming vitamin K along with healthy fats is key in making sure you receive all the benefits of the fats since vitamin K is considered a fat-soluble vitamin.
#3: Helps Balance Hormones
The antioxidants found in cauliflower also play a role in reducing high levels of estrogen. If your hormones are off balanced, the rest of your biological functions could be thrown off sync as well.
Wondering what dish to make for your next big gathering? Try this mashed cauliflower recipe.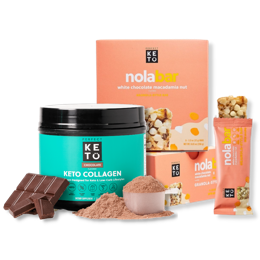 Browse our curated collection of fan-favorites and discover your new favorite snack or supplement.
Shop Best Sellers
Print
Creamy Cauliflower Mashed 'Potatoes'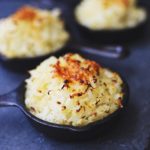 Author:
Prep Time:

10 minutes

Total Time:

25 minutes
Instructions
Fill a pot with water and place on the stove.

Place broken up pieces of cauliflower in the water and bring to a boil.

Once it reaches a boil, bring down to let simmer for 12-15 minutes or until cauliflower is soft.

Drain the cauliflower and place in a large bowl.

Use a masher to get the cauliflower to your desired consistency.

Add in milk, butter, and cheese and blend together.
You can serve it like this, or continue on to the following steps:
Set oven to broil.

Place mashed cauliflower in baking pan or skillet and then top with parmesan.

Broil on high until the parmesan begins to crisp.
Nutrition
Serving Size:

1

Fat:

7g

Carbohydrates:

Net Carbs: 1.5g

Fiber:

1g

Protein:

1g