This decadent keto chicken cordon bleu is as easy to make as it is delicious — with minimal prep time. Rich with cream and spices, this casserole is one you'll want to add to your roster of keto chicken recipes for the whole family. Plus, it's gluten-free, grain-free, and loaded with protein to support your healthy keto lifestyle.
This low-carb recipe is:
Creamy
Cheesy
Satisfying
Protein-rich
The main ingredients in this keto chicken cordon bleu include:
Chicken (free-range)
Garlic
Classic cordon bleu is covered in a cream-based sauce and stuffed with ham and cheese. While that may sound low-carb, the cream sauce usually has a white flour base, and the chicken is typically covered in breadcrumbs.
Even that small amount of starch can take you straight out of keto and into a high blood sugar zone. The good news is that these high-carb ingredients have keto-friendly replacements that make this recipe just as delicious as the original. Stick with this keto rendition of a classic French main course for just a fraction of the carbs and all the rich, creamy flavor.
Health Benefits of Keto Chicken Cordon Bleu
You might not think that such a decadently creamy recipe would offer many health benefits, but rest assured, this one packs a punch. Not only is this dish a great source of healthy, high-quality protein, it's also rich in healthy fatty acids like MCT, omega-3s, and CLA.
#1. Protein for Immunity
This low-carb chicken cordon bleu recipe features high-quality chicken. Much like grass-fed beef, pasture-raised chickens (and other animals) are allowed to roam outside, eat seeds and grubs, and soak up the sun.
By choosing this type of chicken over the conventional or cage-free versions, you're not supporting animal cruelty and you're also getting a much better product.
The end result is chicken meat (and eggs when you need them) that is more nutrient-dense (think fat-soluble vitamins like vitamin E and vitamin D and omega-3s) and free from the harmful chemicals associated with big agribusiness[*]. All good things.
Chicken is also a great source of protein to fuel your body. Eating the right amount of protein on the keto diet is critical for maintaining muscle mass and staying full throughout the day.
You need adequate protein even if you're not working out hard. Protein is essential for:
Promoting muscle growth and maintenance
Producing enzymes that are responsible for thousands of biochemical reactions in your body
Helping make important messenger hormones
Making collagen and other structural tissue
Building immunity
Helping transport and store nutrients
This creamy chicken cordon bleu also has plenty of fresh garlic, which has been shown in studies to boost the immune system[*].
You'll get even more out of your garlic clove when you crush it and let it sit for a few minutes before adding it to your food. Researchers found that when you crush garlic, it releases a compound called allicin as a natural defense mechanism.
Allicin is known for being a potent anti-inflammatory and antioxidant, both of which are essential for a robust immune system[*][*].
#2. Coconut Cream Is Loaded With Nutrients
Coconut cream contains a lot of the same beneficial nutrients found in coconut oil and whole coconut, including healthy fats like MCTs, or medium-chain triglycerides. It's rich in vitamin C, folate, selenium, manganese, copper, potassium, magnesium, and iron[*].
Nutrient-dense coconut cream and coconut oil offer some impressive health benefits, from reducing inflammation to acting as a potent antiviral and antibacterial[*][*].
Coconut cream is also an amazing dairy-free substitute for heavy cream. It can work in basically any recipe (sweet or savory) when you need a high-fat, nutrient-dense ingredient that's easy to digest. It also happens to be delicious on its own.
#3. Supports Healthy Digestion
Most people wouldn't think a dish so rich in dietary fat and flavor could actually be good for your gut, but this keto chicken cordon bleu is.
Organic, pastured chicken provides your body with an array of amino acids that contribute to muscle building and a strong immune system. Protein is also essential for a healthy gut.
Grass-fed butter contains a short-chain fatty acid called butyric acid, which promotes good gut bacteria and a strong colon[*]. It's also rich in a number of other nutrients that its conventional counterpart lacks.
CLA and omega-3 fatty acids are both beneficial nutrients present in much higher quantities in grass-fed butter — grass-fed cows have a better diet comprised of natural grasses, which in turn makes higher quality milk that is used to make butter.
Omega-3 was found to be 26% higher in grass-fed butter in one study, and CLA might be as much as 500% higher in grass-fed dairy than the conventional stuff[*][*]. Omega-3s are anti-inflammatory, which helps improve gut health and overall human health, and CLA has been studied for its anti-cancer properties, though more work in this area needs to be done[*][*].
Grass-fed butter also offers a good amount of vitamin A, and vitamin K2, both fat-soluble vitamins[*][*]. The presence of healthy fats and fat-soluble vitamins is the perfect combination to make this nutrient available to you when you eat grass-fed butter.
And coconut cream contains an array of gut-healing nutrients and antimicrobials that also support gut health[*].
With all these features combined, this dish is a gut health winner. It's a simple keto recipe that will taste as decadent as your favorite restaurant dish. Even cook time is minimal — a perfect addition to your weekly keto diet meal plan.
Serve this rich, creamy main dish with a side of roasted Brussels sprouts or cauliflower mash to round out the flavors.
Print
Keto Chicken Cordon Bleu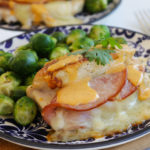 This creamy keto chicken cordon bleu is low-carb, gluten-free, and grain-free. Plus, it's as easy to make as it is delicious.
Author:
Total Time:

20 minutes

Yield:

4

servings

1

x
Instructions
Preheat oven to 400°F.
Carefully cut a pocket in each chicken breast, ensuring you don't slice through completely. Add one slice of ham and one slice of cheese to each chicken breast pocket. Fold chicken back over to close.
Season stuffed chicken breasts with 1/4 teaspoon of salt, a pinch of pepper, 1/4 teaspoon of paprika, and 1/4 teaspoon of garlic powder.
Heat a cast-iron skillet to medium-high heat and coat with olive oil or grass-fed butter. Sear chicken on both sides.
Turn off heat and bake in the oven for 10-15 minutes in a casserole dish until chicken is thoroughly cooked.
Make the sauce by adding coconut cream, lemon juice, and mustard to a small pot. Heat on high for 5-6 minutes until thickened.
Season with remaining garlic powder, paprika, salt, and pepper to taste.
Pour the sauce all over the cooked chicken, garnish with parsley and parmesan cheese (optional), and serve.
Notes
Get the biggest chicken breasts you can find. They'll be easier to stuff. Although crispy chicken skin is amazing, it might be easier to work with skinless chicken breasts.
Nutrition
Serving Size:

1 serving

Calories:

331

Fat:

19g

Carbohydrates:

2g

Fiber:

0g

Protein:

37g
Keywords: keto chicken cordon bleu